U.S. Fed rate hikes cause problems for Trkiye and emerging markets: experts – Reuters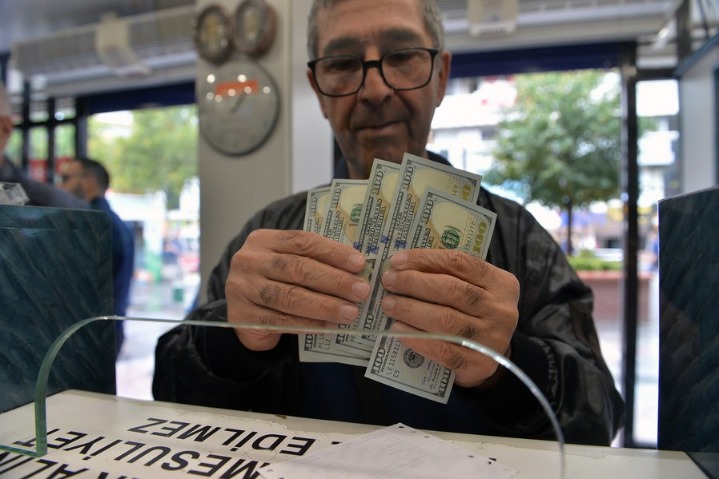 ANKARA — The U.S. Federal Reserve's aggressive rate hikes are having a drastic effect on emerging markets, especially import-dependent Trkiye, floundering with a weak currency and runaway inflation, experts said.
On September 22, the Fed decided on a third consecutive three-quarter point rate hike as it continues to step up its fight against soaring inflation in the country.
Following the decision, the Turkish lira weakened to a record high of 18.42 per US dollar. On Tuesday morning, the lira traded at a new all-time low of 18.49 against the dollar as many economists predict a further decline in the Turkish currency.
Emerging markets are suffering from rising US rates, bond yields and a stronger dollar. In June, the Fed raised its key rate by 75 basis points for the first time in 28 years despite the risk of a global recession.
Trkiye, which imports nearly all energy supplies in dollars and has significant dollar-denominated debt, is even more reeling from the Fed's rate hikes as it will have to pay more to refinance its debt, experts say.
The Fed's repeated rate hikes will have a negative impact on Turkey's economy "because Trkiye has a huge foreign debt of about $450 billion, of which $182 billion will be rolled over in a year," Yalcin Karatepe said, professor of economics and finance at Ankara University, told Xinhua in an interview.
Nurullah Gur, a Turkish economic commentator, echoed Karatepe's remarks in Daily Sabah.
"As the Fed raises interest rates, the dollar strengthens around the world. This process calls into question the macroeconomic balances of developing countries," he said.
Analysts are also predicting further flight from emerging market assets with the Fed's monetary tightening policy.
"Capital outflows may continue to developing countries," said Seda Yalcinkaya Ozer of Istanbul-based Integral Investment.
Since the end of 2021, Trkiye has been experiencing economic difficulties not seen in decades, as households have seen their purchasing power drop sharply despite government measures and wage increases.
Most countries raised interest rates to combat the economic impact of Fed rate hikes to protect their currencies and prevent the outflow of foreign funds.
But Trkiye did the exact opposite. It has lowered its key rate by 700 basis points since September 2021 despite inflation above 80%.
The pound has lost around 55% against the dollar since the Turkish central bank began its easing cycle, making it one of the worst performing currencies over the period.
Turkish President Recep Tayyip Erdogan, however, backs the policy in hopes of boosting growth and jobs with the aim of creating a current account surplus rather than tackling 24-year high inflation.
Many economists have warned that Trkiye may no longer bear rising levels of risk premiums that raise the specter of a debt repayment crisis.
"Trikiye's inflation is currently over 80%, compared to just 19.25% at this time last year. The main change is in the benchmark rate," Karatepe said.
Nevertheless, Erdogan remained unfazed by the criticism and predicted that inflation "will fall back to reasonable levels in February".
Sources
2/ https://www.chinadaily.com.cn/a/202209/28/WS6333a54aa310fd2b29e7a288.html
The mention sources can contact us to remove/changing this article
What Are The Main Benefits Of Comparing Car Insurance Quotes Online
LOS ANGELES, CA / ACCESSWIRE / June 24, 2020, / Compare-autoinsurance.Org has launched a new blog post that presents the main benefits of comparing multiple car insurance quotes. For more info and free online quotes, please visit https://compare-autoinsurance.Org/the-advantages-of-comparing-prices-with-car-insurance-quotes-online/ The modern society has numerous technological advantages. One important advantage is the speed at which information is sent and received. With the help of the internet, the shopping habits of many persons have drastically changed. The car insurance industry hasn't remained untouched by these changes. On the internet, drivers can compare insurance prices and find out which sellers have the best offers. View photos The advantages of comparing online car insurance quotes are the following: Online quotes can be obtained from anywhere and at any time. Unlike physical insurance agencies, websites don't have a specific schedule and they are available at any time. Drivers that have busy working schedules, can compare quotes from anywhere and at any time, even at midnight. Multiple choices. Almost all insurance providers, no matter if they are well-known brands or just local insurers, have an online presence. Online quotes will allow policyholders the chance to discover multiple insurance companies and check their prices. Drivers are no longer required to get quotes from just a few known insurance companies. Also, local and regional insurers can provide lower insurance rates for the same services. Accurate insurance estimates. Online quotes can only be accurate if the customers provide accurate and real info about their car models and driving history. Lying about past driving incidents can make the price estimates to be lower, but when dealing with an insurance company lying to them is useless. Usually, insurance companies will do research about a potential customer before granting him coverage. Online quotes can be sorted easily. Although drivers are recommended to not choose a policy just based on its price, drivers can easily sort quotes by insurance price. Using brokerage websites will allow drivers to get quotes from multiple insurers, thus making the comparison faster and easier. For additional info, money-saving tips, and free car insurance quotes, visit https://compare-autoinsurance.Org/ Compare-autoinsurance.Org is an online provider of life, home, health, and auto insurance quotes. This website is unique because it does not simply stick to one kind of insurance provider, but brings the clients the best deals from many different online insurance carriers. In this way, clients have access to offers from multiple carriers all in one place: this website. On this site, customers have access to quotes for insurance plans from various agencies, such as local or nationwide agencies, brand names insurance companies, etc. "Online quotes can easily help drivers obtain better car insurance deals. All they have to do is to complete an online form with accurate and real info, then compare prices", said Russell Rabichev, Marketing Director of Internet Marketing Company. CONTACT: Company Name: Internet Marketing CompanyPerson for contact Name: Gurgu CPhone Number: (818) 359-3898Email: [email protected]: https://compare-autoinsurance.Org/ SOURCE: Compare-autoinsurance.Org View source version on accesswire.Com:https://www.Accesswire.Com/595055/What-Are-The-Main-Benefits-Of-Comparing-Car-Insurance-Quotes-Online View photos
to request, modification Contact us at Here or [email protected]