India's words are anti-war, but New Delhi's actions support Putin's regime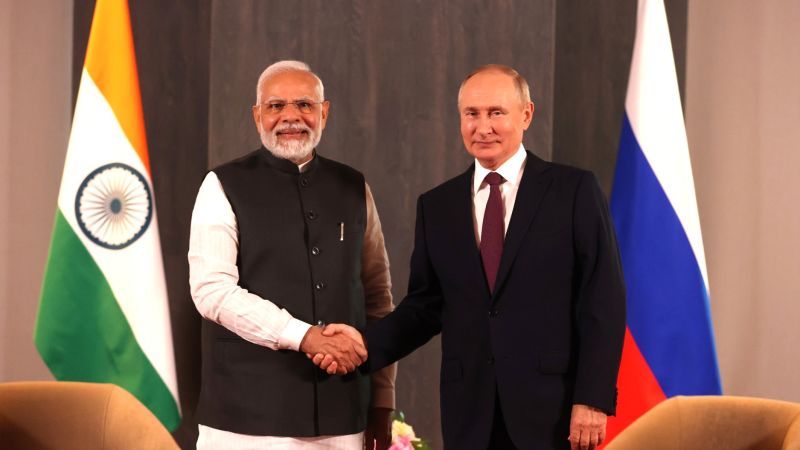 CNN
—

When Indian Prime Minister Narendra Modi told Vladimir Putin that today's era is not one of war last month, the West took his comments as a sign that the world's largest democracy was finally breaking away from Russia's unprovoked invasion of Ukraine.
French President Emmanuel Macron praised Modi and the White House hailed what it called a statement of principle.
But the reality, analysts say, is less simple.
Rather than cutting economic ties with the Kremlin, India undermined Western sanctions by increasing its purchases of Russian oil, coal and fertilizer, giving Putin a vital financial lifeline.
New Delhi has repeatedly abstained from votes condemning Russia at the United Nations, giving Moscow a veneer of international legitimacy. And in August, India took part in Russia's large-scale Vostok military exercises alongside China, Belarus, Mongolia and Tajikistan, where Moscow paraded its vast arsenal.
India last week abstained from another UN draft resolution condemning Russia for its sham referendums in four regions of Ukraine, which served as a pretext for Moscow to illegally annex Ukrainian territory. , greatly raising the stakes of the war.
India is deeply troubled by the developments in Ukraine, said Ruchira Kamboj, New Delhi's permanent representative to the UN, but refrained from assigning blame and called for an immediate ceasefire and to the resolution of the conflict.
This apparent contradiction illustrates India's unique position on the war: verbally distancing itself from Russia, while continuing to maintain essential ties with Moscow.
Modis' stronger language towards Putin must be seen in the context of rising food, fuel and fertilizer prices, and the difficulties it was creating for other countries, said research professor and director Deepa Ollapally. of the Rising Powers Initiative at the Elliott School of International Affairs. , George Washington University.
There is a certain level of impatience (for India) with the escalation of the war, she says. There is a feeling that Putin is pushing the boundaries of India because in some ways he is putting himself in danger. And this is not a comfortable position for India.
As Russian troops massed at the Ukrainian border in December last year, Modi hosted Putin in New Delhi for the 21st annual India-Russia summit.
My dear friend, President Vladimir Putin, said Modi, your attachment to India and your personal commitment symbolizes the importance of Indo-Russian relations and I am very grateful to you.
New Delhi has had close ties with Moscow since the Cold War, and India remains heavily dependent on the Kremlin for military equipment, a vital link given India's ongoing tensions on its common Himalayan border with an increasingly China. more assertive.
But analysts say India fears Putin's growing isolation could push Moscow closer to Beijing, prompting India to tread carefully.
New Delhi's warped maneuver in its stance on Russian aggression in Ukraine was on full display when, alongside China, it took part in Russia's Vostok military drills, a move under attack from its Western partners.
It can be seen as a tale of two indies, Ollapally said. On the one hand, they push back against China and then exercise with China and Russia, giving Russia some legitimacy.
Superficially at least, India and China also seem to have similar positions on the war in Ukraine. The two positioned themselves as neutral spectators rather than vocal adversaries. Both also called for peace but refused to condemn the invasion outright.
But that's where the similarities seem to end, analysts say.
China has denounced Western sanctions and repeatedly blamed the United States and NATO for the conflict, echoing Russia's view that NATO precipitated the crisis by expanding eastward. Chinese state media has also amplified Russian talking points and disinformation. India, on the other hand, has avoided criticizing NATO and has used stronger language to call for peace as the war escalates.
But despite India's growing closeness to the West, it is prioritizing dangers in its own backyard, analysts say.
China remains the big threat on India's borders and India would not want the Russian-Chinese alliance to become very strong, said Sushant Singh, senior fellow at the New Delhis Center for Policy Research. It is not in India's interest.
US President Joe Biden has, since the start of Russian aggression, used Putin's war to bolster his global campaign for democracy.
Ukraine and its people are on the front line to save their nation, he said during a speech in March. And their courageous resistance is part of a larger fight for essential democratic principles that unite all free people.
While New Delhi's ties to the West have grown ever closer since Modis was elected in 2014, India, the world's largest democracy with 1.3 billion people, does not think like United States.
For years after independence, India's international relations were defined by its policy of non-alignment, the Cold War-era stance that avoided siding with the United States or the Soviet Union.
Despite India's contemporary alliance with the West and pressure from the United States to take a tougher stance, this policy continues to unfold, analysts say.
And according to Singh, India's actions were to protect its own interests.
Speaking on the sidelines during a face-to-face meeting with Putin at the Shanghai Cooperation Organization summit last month, Modi said the world faced challenges including food and energy shortages, which particularly affected developing countries.
I know that the era of today is not one of war and we have spoken to you on the phone several times about the fact that democracy, diplomacy and dialogue are all those things that affect the world, a Modi told Putin.
And under the Modis government, which has been decried for its crackdown on free speech and discriminatory policies against minority groups, India risks being branded a hypocrite for it, according to Singh.
India has been very hesitant to raise questions about democracy because it has been repeatedly denounced for its authoritarian nature and undemocratic acts against religious minorities, Singh said.
But while Ollapally said what India was doing was understandable as a developing country, New Delhi could do more to uphold the democratic principles set out in the preamble to the country's constitution.
I think there's definitely more that (India) could do on that front, at least in their statements, because they really don't have much to lose by making those statements, she said. .
Sources
2/ https://www.cnn.com/2022/10/03/india/india-russia-war-putin-modi-intl-hnk
The mention sources can contact us to remove/changing this article
What Are The Main Benefits Of Comparing Car Insurance Quotes Online
LOS ANGELES, CA / ACCESSWIRE / June 24, 2020, / Compare-autoinsurance.Org has launched a new blog post that presents the main benefits of comparing multiple car insurance quotes. For more info and free online quotes, please visit https://compare-autoinsurance.Org/the-advantages-of-comparing-prices-with-car-insurance-quotes-online/ The modern society has numerous technological advantages. One important advantage is the speed at which information is sent and received. With the help of the internet, the shopping habits of many persons have drastically changed. The car insurance industry hasn't remained untouched by these changes. On the internet, drivers can compare insurance prices and find out which sellers have the best offers. View photos The advantages of comparing online car insurance quotes are the following: Online quotes can be obtained from anywhere and at any time. Unlike physical insurance agencies, websites don't have a specific schedule and they are available at any time. Drivers that have busy working schedules, can compare quotes from anywhere and at any time, even at midnight. Multiple choices. Almost all insurance providers, no matter if they are well-known brands or just local insurers, have an online presence. Online quotes will allow policyholders the chance to discover multiple insurance companies and check their prices. Drivers are no longer required to get quotes from just a few known insurance companies. Also, local and regional insurers can provide lower insurance rates for the same services. Accurate insurance estimates. Online quotes can only be accurate if the customers provide accurate and real info about their car models and driving history. Lying about past driving incidents can make the price estimates to be lower, but when dealing with an insurance company lying to them is useless. Usually, insurance companies will do research about a potential customer before granting him coverage. Online quotes can be sorted easily. Although drivers are recommended to not choose a policy just based on its price, drivers can easily sort quotes by insurance price. Using brokerage websites will allow drivers to get quotes from multiple insurers, thus making the comparison faster and easier. For additional info, money-saving tips, and free car insurance quotes, visit https://compare-autoinsurance.Org/ Compare-autoinsurance.Org is an online provider of life, home, health, and auto insurance quotes. This website is unique because it does not simply stick to one kind of insurance provider, but brings the clients the best deals from many different online insurance carriers. In this way, clients have access to offers from multiple carriers all in one place: this website. On this site, customers have access to quotes for insurance plans from various agencies, such as local or nationwide agencies, brand names insurance companies, etc. "Online quotes can easily help drivers obtain better car insurance deals. All they have to do is to complete an online form with accurate and real info, then compare prices", said Russell Rabichev, Marketing Director of Internet Marketing Company. CONTACT: Company Name: Internet Marketing CompanyPerson for contact Name: Gurgu CPhone Number: (818) 359-3898Email: [email protected]: https://compare-autoinsurance.Org/ SOURCE: Compare-autoinsurance.Org View source version on accesswire.Com:https://www.Accesswire.Com/595055/What-Are-The-Main-Benefits-Of-Comparing-Car-Insurance-Quotes-Online View photos
to request, modification Contact us at Here or [email protected]