Indonesian President Joko Widodo orders an audit of the national stadium, while the FIFA boss offers help to solve the country's football problems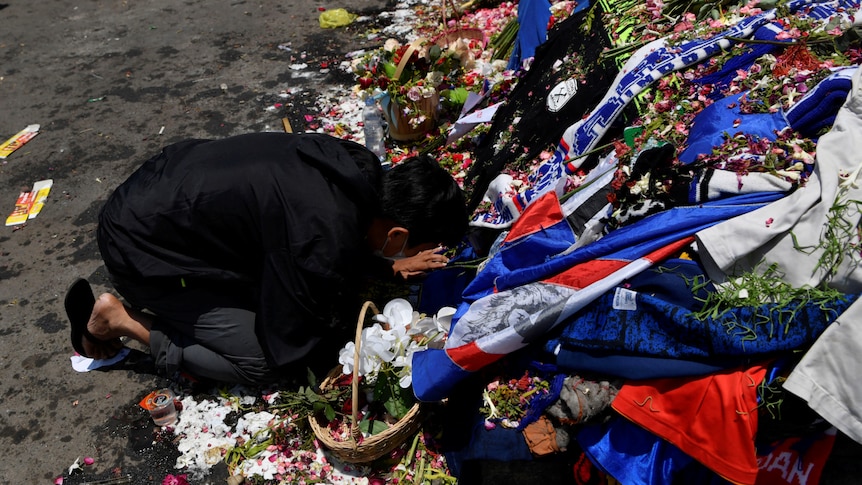 Indonesian President Joko Widodo has ordered a comprehensive audit of stadiums across the country, to ensure compliance with safety and security protocols.
Key points:
President JokoWidodo says it's up to FIFA to decide on possible sanctions
FIFA has asked the Indonesian football federation for a full report
Mr Widodo said the problem during the deadly stampede was 'locked doors and steep stairs'
On Wednesday, Mr Widodo also said football's world governing body FIFA had offered to help his country with its football problems, after speaking to body chief Gianni Infantino about the deadly stampede in the weekend stadium.
In one of the world's worst football disasters, hundreds of fans were crushed as they tried to flee the crowded stadium in Indonesia's East Java region on Saturday after police fired tear gas to disperse the agitated supporters of the losing team, Arema FC, who had poured on the ground.
Authorities said at least 131 people died, including 33 minors.
Mr Widodo said MrInfantino had offered his support.
"He said that if necessary, FIFA can help fix the management of Indonesian football," he said.
"The doors should have been opened"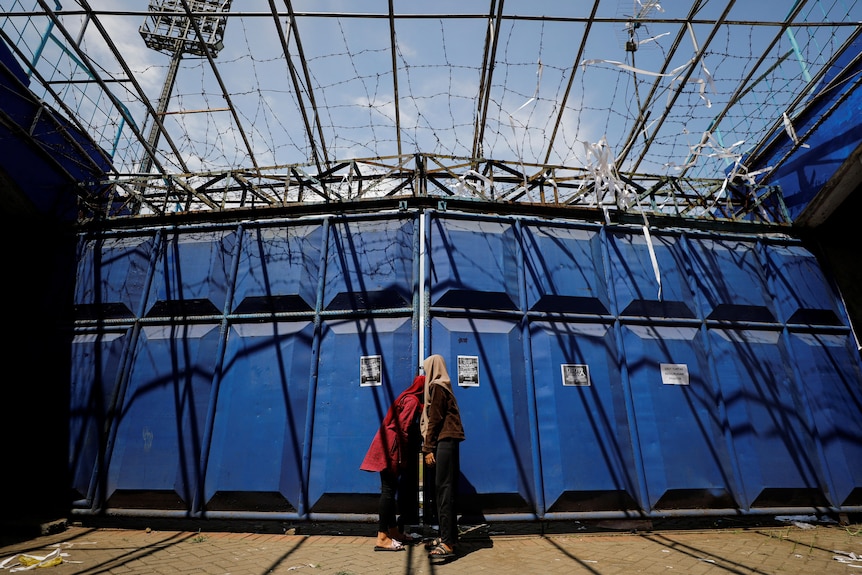 Football is hugely popular in the country of 270 million, where the sport has had its fair share of problems, from hooliganism and brutal policing to mismanagement of events.
Asked earlier about the possibility of FIFA sanctions following the disaster, Mr Widodo said it was up to the sport's governing body to decide.
FIFA, which called the incident an "incomprehensible tragedy", has asked the Indonesian football federation for a full report.
Indonesia has set up an investigation team made up of football experts, academics and ministry officials in hopes of exposing the culprits.
Police are investigating dozens of officers for alleged breaches of ethics, and nine have been suspended.
The Indonesian Football Association has permanently suspended the general manager and security coordinator of the team that hosted Saturday's match, Arema FC, for failing to secure the pitch and promptly issuing an order to unlock the gates.
"The doors should have been opened, but were closed," said Erwin Tobing, head of the association's disciplinary committee.
On Wednesday, Mr Widodo said the main problem during the stampede was "locked doors and steep stairs".
Speaking during a visit to the stadium where the disaster took place, he said he expected a safety assessment of all stadiums in Indonesia to be completed within a month.
The safety standards in question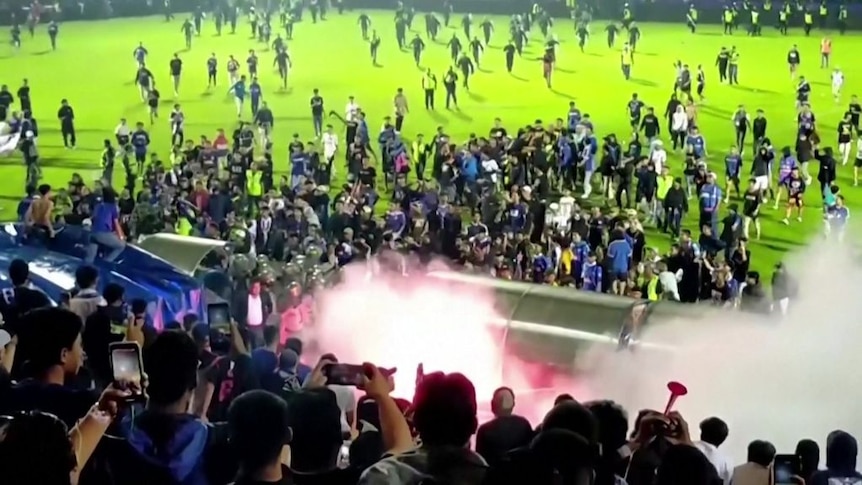 According to FIFA and Asian Football Confederation recommendations, stadium exits must be unlocked at all times during a match for security reasons.
These rules do not necessarily apply to state or national leagues, but are nonetheless a safety standard, as is the recommendation against the use of tear gas as a crowd control measure.
Photos from Malang Stadium showed four interconnecting door panels forming a gate.
There were 14 gates in total.
Police said their investigation focused on video footage from surveillance cameras at six of the 14 gates where most of the victims died.
"For those six doors, they weren't closed but they were too small. They had a capacity for two people but there were hundreds coming out. There was a crush there," the doorman said. word of police Dedi Prasetyo to reporters.
He added that the gates were the responsibility of the organizers.
Most of the deaths occurred when riot police fired tear gas and drove fans into a panicked, chaotic race for the exits.
Police acted after some of Arema's 42,000 supporters stormed onto the pitch in anger after their side lost 3-2, their first home loss to visiting Persebaya Surabaya in 23 years.
The stadium was designed to accommodate a maximum crowd of 38,000.
On Monday, police announced they had sacked a chief constable and nine elite officers, and 18 others were being investigated for responsibility for firing tear gas inside the stadium.
Son/ABC
Sources
2/ https://www.abc.net.au/news/2022-10-05/indonesia-president-says-fifa-boss-offered-help-to-fix-country-s/101505736
The mention sources can contact us to remove/changing this article
What Are The Main Benefits Of Comparing Car Insurance Quotes Online
LOS ANGELES, CA / ACCESSWIRE / June 24, 2020, / Compare-autoinsurance.Org has launched a new blog post that presents the main benefits of comparing multiple car insurance quotes. For more info and free online quotes, please visit https://compare-autoinsurance.Org/the-advantages-of-comparing-prices-with-car-insurance-quotes-online/ The modern society has numerous technological advantages. One important advantage is the speed at which information is sent and received. With the help of the internet, the shopping habits of many persons have drastically changed. The car insurance industry hasn't remained untouched by these changes. On the internet, drivers can compare insurance prices and find out which sellers have the best offers. View photos The advantages of comparing online car insurance quotes are the following: Online quotes can be obtained from anywhere and at any time. Unlike physical insurance agencies, websites don't have a specific schedule and they are available at any time. Drivers that have busy working schedules, can compare quotes from anywhere and at any time, even at midnight. Multiple choices. Almost all insurance providers, no matter if they are well-known brands or just local insurers, have an online presence. Online quotes will allow policyholders the chance to discover multiple insurance companies and check their prices. Drivers are no longer required to get quotes from just a few known insurance companies. Also, local and regional insurers can provide lower insurance rates for the same services. Accurate insurance estimates. Online quotes can only be accurate if the customers provide accurate and real info about their car models and driving history. Lying about past driving incidents can make the price estimates to be lower, but when dealing with an insurance company lying to them is useless. Usually, insurance companies will do research about a potential customer before granting him coverage. Online quotes can be sorted easily. Although drivers are recommended to not choose a policy just based on its price, drivers can easily sort quotes by insurance price. Using brokerage websites will allow drivers to get quotes from multiple insurers, thus making the comparison faster and easier. For additional info, money-saving tips, and free car insurance quotes, visit https://compare-autoinsurance.Org/ Compare-autoinsurance.Org is an online provider of life, home, health, and auto insurance quotes. This website is unique because it does not simply stick to one kind of insurance provider, but brings the clients the best deals from many different online insurance carriers. In this way, clients have access to offers from multiple carriers all in one place: this website. On this site, customers have access to quotes for insurance plans from various agencies, such as local or nationwide agencies, brand names insurance companies, etc. "Online quotes can easily help drivers obtain better car insurance deals. All they have to do is to complete an online form with accurate and real info, then compare prices", said Russell Rabichev, Marketing Director of Internet Marketing Company. CONTACT: Company Name: Internet Marketing CompanyPerson for contact Name: Gurgu CPhone Number: (818) 359-3898Email: [email protected]: https://compare-autoinsurance.Org/ SOURCE: Compare-autoinsurance.Org View source version on accesswire.Com:https://www.Accesswire.Com/595055/What-Are-The-Main-Benefits-Of-Comparing-Car-Insurance-Quotes-Online View photos
to request, modification Contact us at Here or [email protected]