School shooter kills 3 in Brazil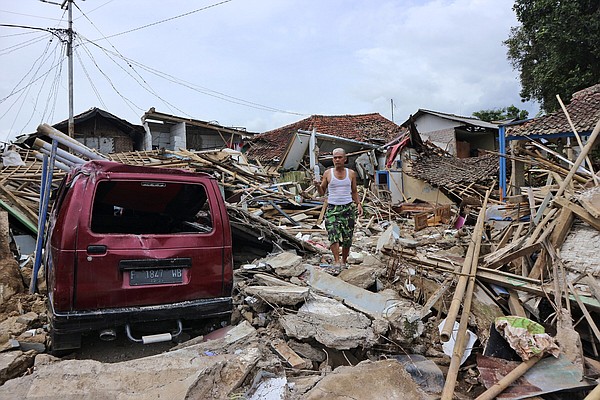 School shooter kills 3 in Brazil
BRASILIA, Brazil — A former student armed with a semi-automatic pistol and wearing a bulletproof vest shot and killed two teachers and a student, and injured 13 after bursting into two schools on Friday in the south- eastern Brazil, authorities said.
The shootings took place at campuses on the same street in Aracruz, Espirito Santo state, the state's public security secretariat said in a statement.
About four hours later, the shooter, identified as a 16-year-old boy who was studying at public school, was arrested by police, Espirito Santo Governor Renato Casagrande said. Authorities have not released the name of the suspect.
Security camera footage showed the attacker wearing a bulletproof vest and using a semi-automatic pistol for the attacks, Espirito Santo Public Security Secretary Marcio Celante said. Casagrande said the gun belonged to the former student's father, a military police officer.
In addition to the dead, 13 people were injured, including nine instructors, said Celante, who noted that at the public school the shooter gained access to the staff room after breaking a lock.
310 dead in Java earthquake; 24 missing
CIANJUR, Indonesia — The death toll from the earthquake that struck the Indonesian island of Java earlier this week has risen to 310 after rescuers found more bodies under landslides, an official said. . At least 24 people are still missing.
Bodies were found Friday in two areas of the mountainous district of Cianjur where landslides triggered by Monday's earthquake brought tons of mud, rocks and broken trees, said Henri Alfiandi, head of the Agency. National Search and Rescue.
More than 1,400 rescuers have searched the rubble since the 5.6 magnitude quake injured more than 2,000 people.
National Disaster Management Agency chief Suharyanto, who uses a single name, said rescuers will continue to search until reconstruction begins.
Suharyanto said distribution of food and other aid is improving and reaching more people in 110 evacuation locations.
The disaster management agency said the quake damaged at least 56,000 homes and displaced at least 36,000 people. Hundreds of public facilities were destroyed, including 363 schools.
Fearing the Kurds, Iran reinforces the Iraqi border
BAGHDAD – Iran has sent additional special forces units to fortify its northern border with Iraq and crack down on what it says is infiltration by Kurdish opposition groups, Iranian state media reported on Friday.
General Mohammad Pakpour, head of Iran's paramilitary Revolutionary Guard ground forces, said 'armored and special forces' units had been deployed in western and northwestern provinces to bolster existing border security , the official IRNA news agency reported.
The deployment aims to prevent the infiltration and smuggling of weapons into the north by exiled Kurdish opposition groups in Iraq which Tehran says are orchestrating anti-government protests. This is a claim that Kurdish groups deny and, to date, Iran has provided no supporting evidence.
Iran has several military bases near the Iraqi border and has had forces there on a rotating basis for decades.
The troop movement also comes after Iraq issued directives to tighten security along its border to prevent further bombardment by Iran, according to a statement issued by Iraqi military spokesman Gen. division Yahya Rasool. Kurdish opposition groups have bases in the Kurdish-ruled northern region of Iraq.
Turks stop women's rally against violence
ISTANBUL — Turkish police broke up a rally calling for an end to violence against women and Turkey's return to a treaty to protect them, arresting dozens of people on Friday.
Protesters attempted to march along Istanbul's main pedestrian street, Istiklal, to mark the November 25 International Day for the Elimination of Violence against Women, defying an order by authorities banning the rally for reasons of security and public order.
Police blocked protesters from entering the streets leading to Istiklal, surrounded groups of protesters and then apprehended them. An Associated Press reporter saw three buses full of detained protesters being taken to a nearby police station.
Istanbul's governor's office announced on Friday that it was banning the installation of concerts, exhibitions and food stalls on Istiklal.
Earlier this year, parliament passed a bill increasing prison sentences for crimes where the victim is a woman and making stalking a crime punishable by imprisonment.
Speaking at an event marking the international day, Turkish President Recep Tayyip Erdogan pledged to "constantly raise the bar" in preventing violence against women. Yet human rights groups say the measures in place do not adequately protect women or hold perpetrators accountable.
At least 349 women have been killed so far this year in Turkey, according to advocacy group We Will Stop Femicide.
Sources
2/ https://www.nwaonline.com/news/2022/nov/26/school-gunman-kills-3-people-in-brazil-deaths-hit/
The mention sources can contact us to remove/changing this article
What Are The Main Benefits Of Comparing Car Insurance Quotes Online
LOS ANGELES, CA / ACCESSWIRE / June 24, 2020, / Compare-autoinsurance.Org has launched a new blog post that presents the main benefits of comparing multiple car insurance quotes. For more info and free online quotes, please visit https://compare-autoinsurance.Org/the-advantages-of-comparing-prices-with-car-insurance-quotes-online/ The modern society has numerous technological advantages. One important advantage is the speed at which information is sent and received. With the help of the internet, the shopping habits of many persons have drastically changed. The car insurance industry hasn't remained untouched by these changes. On the internet, drivers can compare insurance prices and find out which sellers have the best offers. View photos The advantages of comparing online car insurance quotes are the following: Online quotes can be obtained from anywhere and at any time. Unlike physical insurance agencies, websites don't have a specific schedule and they are available at any time. Drivers that have busy working schedules, can compare quotes from anywhere and at any time, even at midnight. Multiple choices. Almost all insurance providers, no matter if they are well-known brands or just local insurers, have an online presence. Online quotes will allow policyholders the chance to discover multiple insurance companies and check their prices. Drivers are no longer required to get quotes from just a few known insurance companies. Also, local and regional insurers can provide lower insurance rates for the same services. Accurate insurance estimates. Online quotes can only be accurate if the customers provide accurate and real info about their car models and driving history. Lying about past driving incidents can make the price estimates to be lower, but when dealing with an insurance company lying to them is useless. Usually, insurance companies will do research about a potential customer before granting him coverage. Online quotes can be sorted easily. Although drivers are recommended to not choose a policy just based on its price, drivers can easily sort quotes by insurance price. Using brokerage websites will allow drivers to get quotes from multiple insurers, thus making the comparison faster and easier. For additional info, money-saving tips, and free car insurance quotes, visit https://compare-autoinsurance.Org/ Compare-autoinsurance.Org is an online provider of life, home, health, and auto insurance quotes. This website is unique because it does not simply stick to one kind of insurance provider, but brings the clients the best deals from many different online insurance carriers. In this way, clients have access to offers from multiple carriers all in one place: this website. On this site, customers have access to quotes for insurance plans from various agencies, such as local or nationwide agencies, brand names insurance companies, etc. "Online quotes can easily help drivers obtain better car insurance deals. All they have to do is to complete an online form with accurate and real info, then compare prices", said Russell Rabichev, Marketing Director of Internet Marketing Company. CONTACT: Company Name: Internet Marketing CompanyPerson for contact Name: Gurgu CPhone Number: (818) 359-3898Email: [email protected]: https://compare-autoinsurance.Org/ SOURCE: Compare-autoinsurance.Org View source version on accesswire.Com:https://www.Accesswire.Com/595055/What-Are-The-Main-Benefits-Of-Comparing-Car-Insurance-Quotes-Online View photos
to request, modification Contact us at Here or [email protected]