A common strategy is needed to fight terrorism: PM Shehbaz – Pakistan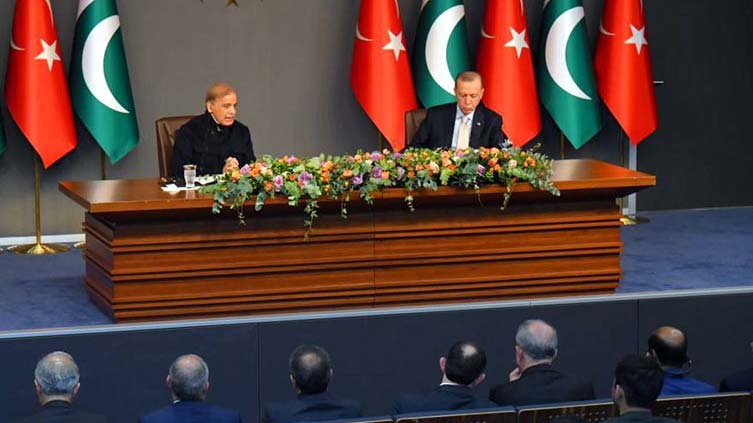 Pakistan
Prime Minister Shehbaz said Pakistan is ready to cooperate fully for the elimination of terrorism.
November 26, 2022

1:34 p.m.

ISTANBUL (Dunya News) – Prime Minister Shehbaz Sharif is on a two-day tour of Turkey to inaugurate the Milgem Corvette ship, PNS Khyber. During his speech on Saturday, he said that a common strategy is needed to fight terrorism.
In his address to the Pakistani-Turkish Business Council, Prime Minister Shehbaz strongly condemned the recent terrorist attack in Turkey which claimed precious innocent lives.
He said Pakistan is ready to cooperate fully for the elimination of terrorism.
The Prime Minister said that terrorists have no religion, they are inhuman people. He also added that Turkey has also been a target of terrorism like Pakistan, while Pakistan has made great sacrifices in the war on terror. he said we stand with Turkiye to end the threat of terrorism. "Every section of society has sacrificed to defeat terrorism," he said.
Prime Minister Shehbaz urged Turkish companies to invest in Pakistan as the endless potential between the two brotherly countries should also be reflected in bilateral trade and business.
Addressing a Turkey-Pakistan Business Council meeting, the prime minister said his government will no longer tolerate hitches and obstacles to investment by foreign investors, including the Turkish brothers.
He assured that his government will fully provide a hassle-free and red tape-free environment for Turkish investors.
He informed that during his meeting with President Recep Tayyip Erdogan, it was indicated that more Turkish companies are eager to come to Pakistan.
The Prime Minister said it was regrettable that under the previous regime, Turkish companies that invested in Pakistan did not receive the payments due to them. Similarly, this was the case with Turkish airlines operating in Pakistan.
The Prime Minister said such lethargy and bureaucracy was not acceptable to his government and the people of Pakistan as they had benefited from Turkish investment and support.
"I want to convey this message to all, through you, that we are brothers and family and that we will not tolerate such hitches and obstacles that harm our bonds," he said, and assured that his government would remove all problems and solve their real problems. .
He said to further promote their bilateral trade and commerce relations, work on the "trade and goods agreement" between the two brotherly countries would be accelerated.
He said they had signed a memorandum of understanding to increase bilateral trade volume up to $5 billion over the next three years.
Turkey's annual trade was around $250 billion and the trade between Pakistan and Turkey hovered around one and a half billion dollars, which was a peanut considering the huge potential, he added.
The Prime Minister stressed that such a scenario did not reflect their exemplary brotherly bonds and insisted on full exploration of the undefined potential on both sides.
He said they should make efforts and strive to double this business volume in the next three years with strong commitment and sincerity, because "only hard work and tireless efforts will be the key to a wonderful success".
Shehbaz Sharif thanked the Turkish government which sent 13 freight trains carrying 72,000 tons of humanitarian goods and 15 Turkish military planes carrying food, tents, medicine and medical teams for people affected by the recent floods in Pakistan .
Speaking on the occasion, President Erdogan said that MILGEM is one of the major mutual cooperation projects that manifests our relationship with brotherly Pakistan in the defense industry.
He said that we will support Pakistan's efforts against terrorism. Speaking about the huge losses suffered by Pakistan in the recent floods, he said his country had sent humanitarian goods and medicine for those affected by the floods.
President Recep Tayyip Erdogan said trade volume with Pakistan had crossed the $1 billion mark.
Prime Minister Shehbaz hailed the launch of the Milgem Corvette ship, PNS Khyber, as a "big step forward" in Pakistan-Turkey relations.
A day earlier, Prime Minister Shehbaz and Turkish President Recep Tayyip Erdogan jointly inaugurated the third of Pakistan Navy's four combat ships at the Istanbul Shipyard.
'; var i = Math.floor(r_text.length * Math.random()); document.write(r_text[i]);
Sources
2/ https://dunyanews.tv/en/Pakistan/676686-A-joint-strategy-needed-to-fight-terrorism-PM-Shehbaz
The mention sources can contact us to remove/changing this article
What Are The Main Benefits Of Comparing Car Insurance Quotes Online
LOS ANGELES, CA / ACCESSWIRE / June 24, 2020, / Compare-autoinsurance.Org has launched a new blog post that presents the main benefits of comparing multiple car insurance quotes. For more info and free online quotes, please visit https://compare-autoinsurance.Org/the-advantages-of-comparing-prices-with-car-insurance-quotes-online/ The modern society has numerous technological advantages. One important advantage is the speed at which information is sent and received. With the help of the internet, the shopping habits of many persons have drastically changed. The car insurance industry hasn't remained untouched by these changes. On the internet, drivers can compare insurance prices and find out which sellers have the best offers. View photos The advantages of comparing online car insurance quotes are the following: Online quotes can be obtained from anywhere and at any time. Unlike physical insurance agencies, websites don't have a specific schedule and they are available at any time. Drivers that have busy working schedules, can compare quotes from anywhere and at any time, even at midnight. Multiple choices. Almost all insurance providers, no matter if they are well-known brands or just local insurers, have an online presence. Online quotes will allow policyholders the chance to discover multiple insurance companies and check their prices. Drivers are no longer required to get quotes from just a few known insurance companies. Also, local and regional insurers can provide lower insurance rates for the same services. Accurate insurance estimates. Online quotes can only be accurate if the customers provide accurate and real info about their car models and driving history. Lying about past driving incidents can make the price estimates to be lower, but when dealing with an insurance company lying to them is useless. Usually, insurance companies will do research about a potential customer before granting him coverage. Online quotes can be sorted easily. Although drivers are recommended to not choose a policy just based on its price, drivers can easily sort quotes by insurance price. Using brokerage websites will allow drivers to get quotes from multiple insurers, thus making the comparison faster and easier. For additional info, money-saving tips, and free car insurance quotes, visit https://compare-autoinsurance.Org/ Compare-autoinsurance.Org is an online provider of life, home, health, and auto insurance quotes. This website is unique because it does not simply stick to one kind of insurance provider, but brings the clients the best deals from many different online insurance carriers. In this way, clients have access to offers from multiple carriers all in one place: this website. On this site, customers have access to quotes for insurance plans from various agencies, such as local or nationwide agencies, brand names insurance companies, etc. "Online quotes can easily help drivers obtain better car insurance deals. All they have to do is to complete an online form with accurate and real info, then compare prices", said Russell Rabichev, Marketing Director of Internet Marketing Company. CONTACT: Company Name: Internet Marketing CompanyPerson for contact Name: Gurgu CPhone Number: (818) 359-3898Email: [email protected]: https://compare-autoinsurance.Org/ SOURCE: Compare-autoinsurance.Org View source version on accesswire.Com:https://www.Accesswire.Com/595055/What-Are-The-Main-Benefits-Of-Comparing-Car-Insurance-Quotes-Online View photos
to request, modification Contact us at Here or [email protected]