Broke, Shanghai residents protest against Xi Jinping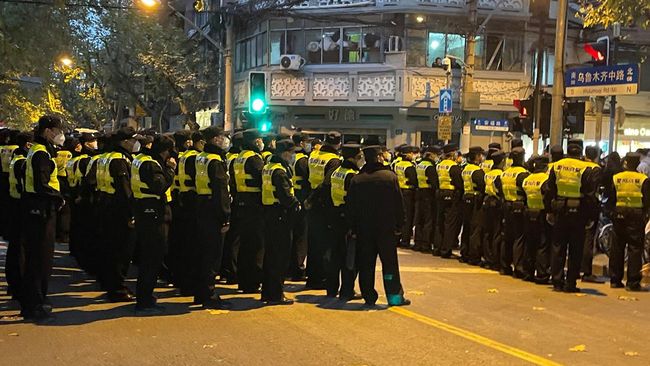 Jakarta, CNBC Indonesia – Protests over China's tough Covid-19 restrictions spread to more cities, including the financial hub of Shanghai, on Sunday, nearly three years after the pandemic began, a fresh wave of anger sparked by a fire murderer in the westernmost tip of the country.
Reported CNBC International, a fire that killed 10 people Thursday in a skyscraper in Xinjiang's capital, Urumqi, sparked widespread public outrage. Many netizens suspected that the building had been partially blocked off, preventing residents from escaping in time. However, on this matter, city officials have denied the problem.
The fires sparked a wave of civil disobedience, notably in Urumqi on Friday, unprecedented on the Chinese mainland since Xi Jinping came to power ten years ago.
In Shanghai, China's most populous city, residents gathered on Urumqi Street on Saturday evening, turning into protests in the early hours of Sunday. A large group of police watched as the crowd held up a blank sheet of paper as a symbol of protest against censorship.
According to a video circulating on social media, they then shouted, "Unblock Urumqi, unblock Xinjiang, unblock all of China!"
At another point, a large group began chanting "Down with the Chinese Communist Party, overthrow Xi Jinping", in a rare public demonstration against the Chinese leader, according to witnesses and videos.
China is sticking to its zero Covid policy, even as most of the world tries to coexist with the coronavirus. China's case count is low by global standards, but nearly 40,000 new infections were recorded on Saturday, hitting a multi-day high.
China maintains its zero Covid policy, signed by President Xi, as saving and necessary to prevent the health system from being redundant. Officials vowed to continue, despite mounting public opposition and growing pressure on the world's second-largest economy.
On Sunday, Xinjiang officials said public transportation in Urumqi would gradually resume from Monday. Its 4 million residents have been confined to their homes for up to 100 days in China's longest lockdown.
The day before, Xinjiang Communist Party Secretary Ma Xingrui called on the region to improve security maintenance and curb "the illegal violence rejection of COVID prevention measures".
Widespread public protests are rare in China because there is little room for dissent under Xi Jinping, and citizens are forced to vent on social media, where they play cat and mouse with censors.
More than a month after Xi Jinping won his third term as head of the Chinese Communist Party, discontent is at its height.
"It will put serious pressure on the party to respond. One response will likely be a crackdown, and they will arrest and try some of the protesters," said Dan Mattingley of Yale University, an assistant professor of political science. 2022).
Reject blocks
In the northwest city of Lanzhou, social media posts showed residents toppling Covid staff tents and vandalizing a testing site on Saturday. Protesters say they are locked down even though no one has tested positive.
Candlelight lighting for victims in Urumqi took place at universities in cities including Nanjing and Beijing lit up all night.
"We don't want health codes"
Pictured: Police officers reconcile protesters during a protest against coronavirus disease (COVID-19) restrictions in Shanghai, China, November 27, 2022, in a screenshot obtained from a social media video. (Getty Images/HECTOR RETAMAL)
Video from Shanghai shows crowds facing police and chanting 'Serve the people', 'We want freedom' and 'We don't want health codes', a reference to cellphone apps that must be scanned to entering public places across China.
However, the Shanghai government did not immediately respond to a request for comment on Sunday.
The city of 25 million people was shut down for two months earlier this year, sparking anger and protests.
Chinese authorities have since sought to be more targeted in Covid containment, efforts that have been resisted by a spike in infections as the country faces its first winter with the highly transmissible variant of Omicron.
On Friday evening, crowds took to the streets of Urumqi, chanting "End of lockdown!" and throwing fists in the air after the fire, according to videos on social media.
In Beijing, 2,700 km (1,700 miles) away, some residents under lockdown staged small protests or confronted local officials on Saturday over restrictions on movement, with some successfully pressuring them to lift restrictions more sooner than expected.
A video shared with Reuters shows Beijing residents marching through an unrecognizable part of the capital on Saturday, chanting "End of lockdown!"
However, once again, the government in Beijing has still not responded to the request.
[Gambas:Video CNBC]
next article
Excited Xi Jinping putsch and under house arrest! Oh good?
(the the)
Sources
2/ https://www.cnbcindonesia.com/news/20221127195035-4-391608/pecah-warga-shanghai-protes-teriak-gulingkan-xi-jinping
The mention sources can contact us to remove/changing this article
What Are The Main Benefits Of Comparing Car Insurance Quotes Online
LOS ANGELES, CA / ACCESSWIRE / June 24, 2020, / Compare-autoinsurance.Org has launched a new blog post that presents the main benefits of comparing multiple car insurance quotes. For more info and free online quotes, please visit https://compare-autoinsurance.Org/the-advantages-of-comparing-prices-with-car-insurance-quotes-online/ The modern society has numerous technological advantages. One important advantage is the speed at which information is sent and received. With the help of the internet, the shopping habits of many persons have drastically changed. The car insurance industry hasn't remained untouched by these changes. On the internet, drivers can compare insurance prices and find out which sellers have the best offers. View photos The advantages of comparing online car insurance quotes are the following: Online quotes can be obtained from anywhere and at any time. Unlike physical insurance agencies, websites don't have a specific schedule and they are available at any time. Drivers that have busy working schedules, can compare quotes from anywhere and at any time, even at midnight. Multiple choices. Almost all insurance providers, no matter if they are well-known brands or just local insurers, have an online presence. Online quotes will allow policyholders the chance to discover multiple insurance companies and check their prices. Drivers are no longer required to get quotes from just a few known insurance companies. Also, local and regional insurers can provide lower insurance rates for the same services. Accurate insurance estimates. Online quotes can only be accurate if the customers provide accurate and real info about their car models and driving history. Lying about past driving incidents can make the price estimates to be lower, but when dealing with an insurance company lying to them is useless. Usually, insurance companies will do research about a potential customer before granting him coverage. Online quotes can be sorted easily. Although drivers are recommended to not choose a policy just based on its price, drivers can easily sort quotes by insurance price. Using brokerage websites will allow drivers to get quotes from multiple insurers, thus making the comparison faster and easier. For additional info, money-saving tips, and free car insurance quotes, visit https://compare-autoinsurance.Org/ Compare-autoinsurance.Org is an online provider of life, home, health, and auto insurance quotes. This website is unique because it does not simply stick to one kind of insurance provider, but brings the clients the best deals from many different online insurance carriers. In this way, clients have access to offers from multiple carriers all in one place: this website. On this site, customers have access to quotes for insurance plans from various agencies, such as local or nationwide agencies, brand names insurance companies, etc. "Online quotes can easily help drivers obtain better car insurance deals. All they have to do is to complete an online form with accurate and real info, then compare prices", said Russell Rabichev, Marketing Director of Internet Marketing Company. CONTACT: Company Name: Internet Marketing CompanyPerson for contact Name: Gurgu CPhone Number: (818) 359-3898Email: [email protected]: https://compare-autoinsurance.Org/ SOURCE: Compare-autoinsurance.Org View source version on accesswire.Com:https://www.Accesswire.Com/595055/What-Are-The-Main-Benefits-Of-Comparing-Car-Insurance-Quotes-Online View photos
to request, modification Contact us at Here or [email protected]