Attention Jokowi, RI is very dependent on China and America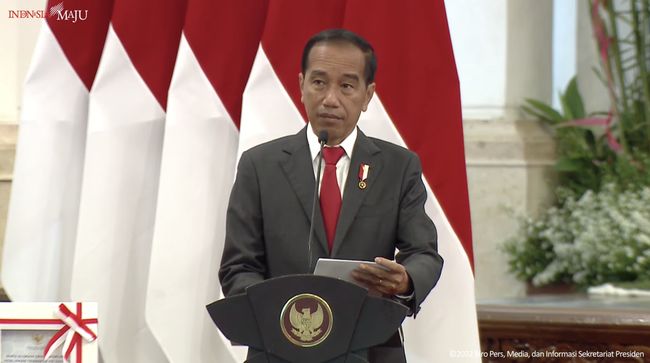 Jakarta, CNBC Indonesia –The United States (US) and China, the two economic giants of the world are experiencing an economic downturn. Almost all analysts and economists predict that the United States will experience a recession next year.
This worries President Joko Widodo (Jokowi), as these two countries are Indonesia's main export markets.
"Therefore, in 2023, we really have to be vigilant. I agree, we have to be optimistic, but we have to be cautious and alert. The first is that Indonesia's exports this year last year have a lot jumped, but be careful that next year it might go down," Jokowi said during a speech at Bank Indonesia's (BI) annual meeting on Wednesday (11/30/2022).
Based on recordings from CNBC's research team in Indonesia, Jokowi said the word "watch out" 9 times in 15 minutes.
This implies serious problems that Indonesia could face next year. The Indonesian economy has benefited from strong exports this year, mainly due to high commodity prices.
Indonesia's trade balance has recorded a surplus for 30 consecutive months. In addition, with high commodity prices, domestic industry is of course strained.
Next year the story could be different, China is experiencing an economic slowdown, the United States and even the world is predicted to be in recession. There is a risk that the demand for raw materials will decrease. Without strong demand, the price is also threatened with a fall, the "manna" enjoyed by Indonesia has disappeared.
China is Indonesia's largest export market, its value from January to October was $51.5 billion and contributed 22.3% of total exports.
Next comes the United States with a market share of 10.4%. Its value during the same period reached 24 billion US dollars.
There is another European Union which is also at risk of recession, Indonesia's export value to it is $18.1 billion, which is 7.85%.
If the three are combined, total exports amount to more than 40%. So naturally, Jokowi warned next year to be careful. Moreover, not only the three, other countries will also experience the same so the challenges will be tough.
Chief Economist Chatib Basri, said Indonesia should be worried about China as it is Indonesia's biggest export market.
"Actually, I'm more worried about (the impact) of the Chinese economy than the US economy on us because if China is affected, our (Indonesian) exports will really be affected," Chatib told the mid-October.
According to him, in the long term, the Chinese economy will suffer new normal Or it won't grow anymore.
"Maybe long term growthit is around 4%, far, (but) that we must anticipate. I'm not talking about this year, but long term growthIt can go that way," he said.
Thus, there is a risk that the demand for commodities from China will not be as high in the long term as it is today.
The impact of the economic downturn has been felt domestically, particularly in export-oriented industries.
The textile and textile products (TPT) industry is the first to suffer.
The economic downturn in export destination countries has triggered a reduction and restriction of orders to TPT factories in the country.
As a result, there has been a decrease in production capacity. Until he provoked employee efficiency, even laying off layoffs.
"Layoffs of employees are still happening," Redma Gita Wirawasta, secretary general of the Indonesian Filament and Yarn Fiber Association (APSyFI), told CNBC Indonesia on Wednesday evening (11/30/2022).
"Staff reductions have exceeded 100,000. Some have been laid off, reductions in working hours, breaches of contracts, and even layoffs," he added.
This condition, he said, has occurred in the textile industry from upstream to downstream.
"(Location) West Java and Central Java," Redma said.
This symptom of employee layoffs has persisted for the past month. Redma said the production capacity of the TPT plant continues to drop even by 50 percent and fears it will continue until 2023.
[Gambas:Video CNBC]
next article
China 'throws away' IDR 1.5 trillion in US bonds, what's the signal?
(pap/pap)
Sources
2/ https://www.cnbcindonesia.com/market/20221202062552-17-393095/hati-hati-jokowi-ri-sangat-tergantung-dengan-china-amerika
The mention sources can contact us to remove/changing this article
What Are The Main Benefits Of Comparing Car Insurance Quotes Online
LOS ANGELES, CA / ACCESSWIRE / June 24, 2020, / Compare-autoinsurance.Org has launched a new blog post that presents the main benefits of comparing multiple car insurance quotes. For more info and free online quotes, please visit https://compare-autoinsurance.Org/the-advantages-of-comparing-prices-with-car-insurance-quotes-online/ The modern society has numerous technological advantages. One important advantage is the speed at which information is sent and received. With the help of the internet, the shopping habits of many persons have drastically changed. The car insurance industry hasn't remained untouched by these changes. On the internet, drivers can compare insurance prices and find out which sellers have the best offers. View photos The advantages of comparing online car insurance quotes are the following: Online quotes can be obtained from anywhere and at any time. Unlike physical insurance agencies, websites don't have a specific schedule and they are available at any time. Drivers that have busy working schedules, can compare quotes from anywhere and at any time, even at midnight. Multiple choices. Almost all insurance providers, no matter if they are well-known brands or just local insurers, have an online presence. Online quotes will allow policyholders the chance to discover multiple insurance companies and check their prices. Drivers are no longer required to get quotes from just a few known insurance companies. Also, local and regional insurers can provide lower insurance rates for the same services. Accurate insurance estimates. Online quotes can only be accurate if the customers provide accurate and real info about their car models and driving history. Lying about past driving incidents can make the price estimates to be lower, but when dealing with an insurance company lying to them is useless. Usually, insurance companies will do research about a potential customer before granting him coverage. Online quotes can be sorted easily. Although drivers are recommended to not choose a policy just based on its price, drivers can easily sort quotes by insurance price. Using brokerage websites will allow drivers to get quotes from multiple insurers, thus making the comparison faster and easier. For additional info, money-saving tips, and free car insurance quotes, visit https://compare-autoinsurance.Org/ Compare-autoinsurance.Org is an online provider of life, home, health, and auto insurance quotes. This website is unique because it does not simply stick to one kind of insurance provider, but brings the clients the best deals from many different online insurance carriers. In this way, clients have access to offers from multiple carriers all in one place: this website. On this site, customers have access to quotes for insurance plans from various agencies, such as local or nationwide agencies, brand names insurance companies, etc. "Online quotes can easily help drivers obtain better car insurance deals. All they have to do is to complete an online form with accurate and real info, then compare prices", said Russell Rabichev, Marketing Director of Internet Marketing Company. CONTACT: Company Name: Internet Marketing CompanyPerson for contact Name: Gurgu CPhone Number: (818) 359-3898Email: [email protected]: https://compare-autoinsurance.Org/ SOURCE: Compare-autoinsurance.Org View source version on accesswire.Com:https://www.Accesswire.Com/595055/What-Are-The-Main-Benefits-Of-Comparing-Car-Insurance-Quotes-Online View photos
to request, modification Contact us at Here or [email protected]