President Joko Widodo launches Indonesian ASEAN Chairmanship in 2023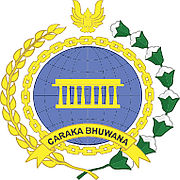 JAKARTA, January 30, 2023-(ACN Newswire)-The kick off of Indonesia's ASEAN Chairmanship in 2023 was held at Indonesia Hotel roundabout on Sunday (01/29) morning. The event was marked by a rebana biang musical instrument struck by President Joko Widodo at the roundabout of the Hotel Indonesia, in the presence of thousands of people. President Joko Widodo expressed his optimism that ASEAN will remain relevant, create a peaceful and stable Indo-Pacific and become a center of economic growth.
President Joko Widodo (middle) strikes the tambourine as a sign of launching Indonesia's ASEAN chairmanship in 2023 at Hotel Indonesia roundabout in Jakarta, Sunday, Jan. 29, 2023. Under his leadership, the president is optimistic about the continued growth of ASEAN and its regional and global contribution.
The launch event was a collaboration between the Jakarta Provincial Government and the Ministry of Foreign Affairs. Coinciding with Motor Vehicle Free Day (HBKB), the atmosphere appeared different and livelier than usual with the Nusantara Parade. The parade lineup was colorful and lively, consisting of marching bands, carnival outfits, percussion music groups and Jakarta art groups, such as the Betawi and ondel-ondel dancers. After a bicycle ride accompanied by the Minister of Foreign Affairs, the Acting Governor of DKI Jakarta and several ministers, President Joko Widodo joined the parade line in front of Sarinah, marching together towards the HI roundabout.
The parade involved more than 500 people from various representative groups, namely Mawar Budaya Group, Jakarta Music House, DKI Jakarta Paskibra, students from several high schools in Jakarta, Altajuru Music Group, Fire Brigade and SSY. Also participating in the parade were ambassadors of friendly countries and representatives of international organizations. The joy of HBKB was further enhanced by the presence of an entertainment scene hosted by a number of artists including Rara Lida, Putra Lida and Maria Callista.
The transfer of the ASEAN Chairmanship from Cambodia to Indonesia took place during the 42nd ASEAN Summit in Phnom Penh in November 2022. Indonesia's ASEAN Chairmanship period began on January 1 2023 and will last for one year until December 31, 2023. As one of the founding countries of ASEAN and the largest country in ASEAN, many parties rely on Indonesia to be able to make various breakthroughs and innovations in addressing various global issues that the region is also facing.
Through the ASEAN Chairmanship theme of "ASEAN Matters: The Epicenter of Growth", Indonesia is determined to guide ASEAN cooperation in 2023 to continue and enhance the relevance of ASEAN in responding to regional and global challenges, and strengthening ASEAN's position as the epicenter of regional economic growth, for the prosperity of the peoples of ASEAN.
The kick-off took place ahead of the ASEAN Foreign Ministers' Meeting on February 3-4, 2023, which will take place at the ASEAN Secretariat Building in Jakarta.
–Included between
Sources
2/ https://www.newsmaker.com.au/news/387209/president-joko-widodo-launches-indonesias-2023-asean-chairmanship
The mention sources can contact us to remove/changing this article
What Are The Main Benefits Of Comparing Car Insurance Quotes Online
LOS ANGELES, CA / ACCESSWIRE / June 24, 2020, / Compare-autoinsurance.Org has launched a new blog post that presents the main benefits of comparing multiple car insurance quotes. For more info and free online quotes, please visit https://compare-autoinsurance.Org/the-advantages-of-comparing-prices-with-car-insurance-quotes-online/ The modern society has numerous technological advantages. One important advantage is the speed at which information is sent and received. With the help of the internet, the shopping habits of many persons have drastically changed. The car insurance industry hasn't remained untouched by these changes. On the internet, drivers can compare insurance prices and find out which sellers have the best offers. View photos The advantages of comparing online car insurance quotes are the following: Online quotes can be obtained from anywhere and at any time. Unlike physical insurance agencies, websites don't have a specific schedule and they are available at any time. Drivers that have busy working schedules, can compare quotes from anywhere and at any time, even at midnight. Multiple choices. Almost all insurance providers, no matter if they are well-known brands or just local insurers, have an online presence. Online quotes will allow policyholders the chance to discover multiple insurance companies and check their prices. Drivers are no longer required to get quotes from just a few known insurance companies. Also, local and regional insurers can provide lower insurance rates for the same services. Accurate insurance estimates. Online quotes can only be accurate if the customers provide accurate and real info about their car models and driving history. Lying about past driving incidents can make the price estimates to be lower, but when dealing with an insurance company lying to them is useless. Usually, insurance companies will do research about a potential customer before granting him coverage. Online quotes can be sorted easily. Although drivers are recommended to not choose a policy just based on its price, drivers can easily sort quotes by insurance price. Using brokerage websites will allow drivers to get quotes from multiple insurers, thus making the comparison faster and easier. For additional info, money-saving tips, and free car insurance quotes, visit https://compare-autoinsurance.Org/ Compare-autoinsurance.Org is an online provider of life, home, health, and auto insurance quotes. This website is unique because it does not simply stick to one kind of insurance provider, but brings the clients the best deals from many different online insurance carriers. In this way, clients have access to offers from multiple carriers all in one place: this website. On this site, customers have access to quotes for insurance plans from various agencies, such as local or nationwide agencies, brand names insurance companies, etc. "Online quotes can easily help drivers obtain better car insurance deals. All they have to do is to complete an online form with accurate and real info, then compare prices", said Russell Rabichev, Marketing Director of Internet Marketing Company. CONTACT: Company Name: Internet Marketing CompanyPerson for contact Name: Gurgu CPhone Number: (818) 359-3898Email: cgurgu@internetmarketingcompany.BizWebsite: https://compare-autoinsurance.Org/ SOURCE: Compare-autoinsurance.Org View source version on accesswire.Com:https://www.Accesswire.Com/595055/What-Are-The-Main-Benefits-Of-Comparing-Car-Insurance-Quotes-Online View photos
to request, modification Contact us at Here or collaboration@support.exbulletin.com