Trump rages on Truth Social after ex-prosecutor reveals slew of evidence to indict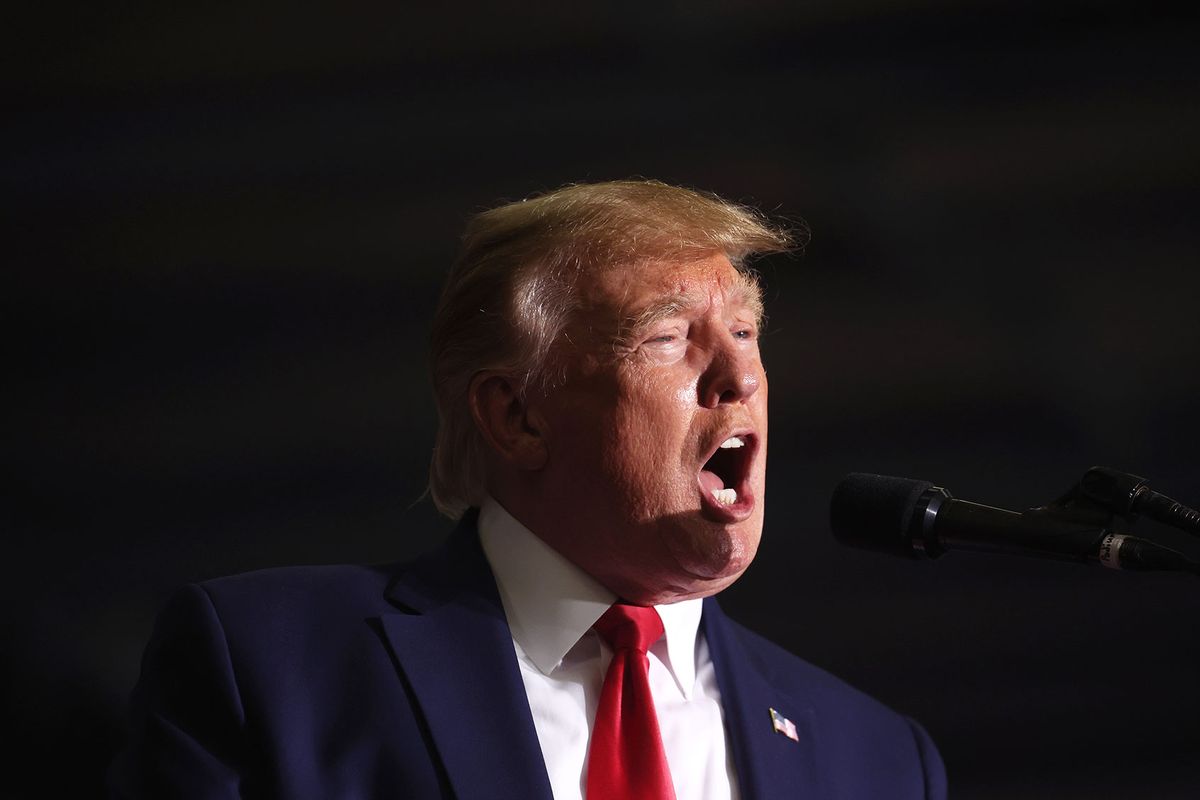 Mark Pomerantz, a former lead prosecutor on the Manhattan District Attorney's team investigating former President Donald Trump and his organization's business dealings, said there is "a great deal of evidence" that the district attorney could use to bring criminal charges against the former president.
Pomerantz made the comments in a "60 Minutes" interview promoting a new book about his time investigating Trump, in which he compares him to John Gotti, the leader of the Gambino organized crime family, also known as the name of "Teflon Don" who died in prison. in 2002.
"If you take the exact same line and don't talk about Donald Trump or a former president of the United States, would the case have been charged? It would have been charged in a flat second," Pomerantz told CBS. News. Whitaker.
New York Attorney General Letitia James has filed a civil lawsuit against Trump, the Trump Organization and his three eldest children, alleging they engaged in a decade-long fraud scheme using false financial statements related to business operations to obtain favorable loan and insurance rates and tax breaks.
The allegations come nearly a year after Pomerantz resigned from the district attorney's office. The release of her new book prompted a backlash from Manhattan District Attorney Alvin Bragg.
Bragg's office asked to review the book before publication to ensure it would not reveal information obtained from a grand jury, CNN reported.
"After closely reviewing all of the evidence from Mr. Pomerantz's investigation, I came to the same conclusion as several senior prosecutors involved in the case, as well as those I brought in: more work was needed." , Bragg said in a statement to CNN. "In other words, Mr. Pomerantz's plane was not ready to take off."
In January, a New York judge fined the Trump Organization $1.6 million for running a years-long tax evasion scheme. The Trump Corp. and the Trump Payroll Corp. were convicted last year of 17 crimes, including tax evasion and forgery of business documents. Trump himself has never been charged or convicted.
Trump responded to the release of Pomerantz's book with a lengthy rant on Truth Social.
"Wow, the book just released by Crooked Hillary Clinton attorney Mark Pomerantz turns out to be a success for the district attorney and the 'weak' case 'with many fatal flaws,'" he said. he posted Friday night. "Prosecutors in the DA's office actually resigned in protest that they felt it was 'irresponsible' and very 'unfair' to 'President Trump'. They also felt they did not want to rely on a lawyer from hell disbarred from the SleazeBag like Michael Cohen as a witness.
Want a daily recap of all the news and commentary Salon has to offer? Subscribe to our morning newsletter, Crash Course.
Trump's attorney also sent a letter to Pomerantz threatening legal action against the former prosecutor if he publishes the book.
The attorney, Joe Tacopina, said in a statement to CNN that "Pomerantz's desperate attempt to sell books will cost him everything." Not to mention, it's clear he was very much in the minority in his position that President Trump committed a crime. "
After the 60 Minutes interview aired, Trump returned to Truth Social, continuing to attack Pomerantz.
"Pomerantz and his law firm were Clinton's lawyers who then went to work for the DA to 'get Trump,' Pomerantz and his antics to keep me from being treated fairly, and NOBODY GOT HURT!" said Trump.
Pomerantz's book, "The People vs. Donald Trump: An Inside Account," will be released on Tuesday. It exposes the complicated investigation into Trump and his relatives who have been charged with crimes, according to an advance copy obtained by The New York Times.
"Pomerantz got a book deal and is obsessively spreading lies about me," Trump wrote on Sunday. "With all this vicious misinformation exposed by a 'Prosecutor,' how can I be treated fairly in New York, or anywhere else? End the witch hunt!"
Learn more
about the Manhattan DA probe
Sources
2/ https://www.salon.com/2023/02/06/rages-on-truth-social-after-ex-prosecutor-reveals-many-bits-and-pieces-of-evidence-to-indict/
The mention sources can contact us to remove/changing this article
What Are The Main Benefits Of Comparing Car Insurance Quotes Online
LOS ANGELES, CA / ACCESSWIRE / June 24, 2020, / Compare-autoinsurance.Org has launched a new blog post that presents the main benefits of comparing multiple car insurance quotes. For more info and free online quotes, please visit https://compare-autoinsurance.Org/the-advantages-of-comparing-prices-with-car-insurance-quotes-online/ The modern society has numerous technological advantages. One important advantage is the speed at which information is sent and received. With the help of the internet, the shopping habits of many persons have drastically changed. The car insurance industry hasn't remained untouched by these changes. On the internet, drivers can compare insurance prices and find out which sellers have the best offers. View photos The advantages of comparing online car insurance quotes are the following: Online quotes can be obtained from anywhere and at any time. Unlike physical insurance agencies, websites don't have a specific schedule and they are available at any time. Drivers that have busy working schedules, can compare quotes from anywhere and at any time, even at midnight. Multiple choices. Almost all insurance providers, no matter if they are well-known brands or just local insurers, have an online presence. Online quotes will allow policyholders the chance to discover multiple insurance companies and check their prices. Drivers are no longer required to get quotes from just a few known insurance companies. Also, local and regional insurers can provide lower insurance rates for the same services. Accurate insurance estimates. Online quotes can only be accurate if the customers provide accurate and real info about their car models and driving history. Lying about past driving incidents can make the price estimates to be lower, but when dealing with an insurance company lying to them is useless. Usually, insurance companies will do research about a potential customer before granting him coverage. Online quotes can be sorted easily. Although drivers are recommended to not choose a policy just based on its price, drivers can easily sort quotes by insurance price. Using brokerage websites will allow drivers to get quotes from multiple insurers, thus making the comparison faster and easier. For additional info, money-saving tips, and free car insurance quotes, visit https://compare-autoinsurance.Org/ Compare-autoinsurance.Org is an online provider of life, home, health, and auto insurance quotes. This website is unique because it does not simply stick to one kind of insurance provider, but brings the clients the best deals from many different online insurance carriers. In this way, clients have access to offers from multiple carriers all in one place: this website. On this site, customers have access to quotes for insurance plans from various agencies, such as local or nationwide agencies, brand names insurance companies, etc. "Online quotes can easily help drivers obtain better car insurance deals. All they have to do is to complete an online form with accurate and real info, then compare prices", said Russell Rabichev, Marketing Director of Internet Marketing Company. CONTACT: Company Name: Internet Marketing CompanyPerson for contact Name: Gurgu CPhone Number: (818) 359-3898Email: cgurgu@internetmarketingcompany.BizWebsite: https://compare-autoinsurance.Org/ SOURCE: Compare-autoinsurance.Org View source version on accesswire.Com:https://www.Accesswire.Com/595055/What-Are-The-Main-Benefits-Of-Comparing-Car-Insurance-Quotes-Online View photos
to request, modification Contact us at Here or collaboration@support.exbulletin.com