Boris Johnson faces double humiliation from Commons over Partygate and Brexit rebellion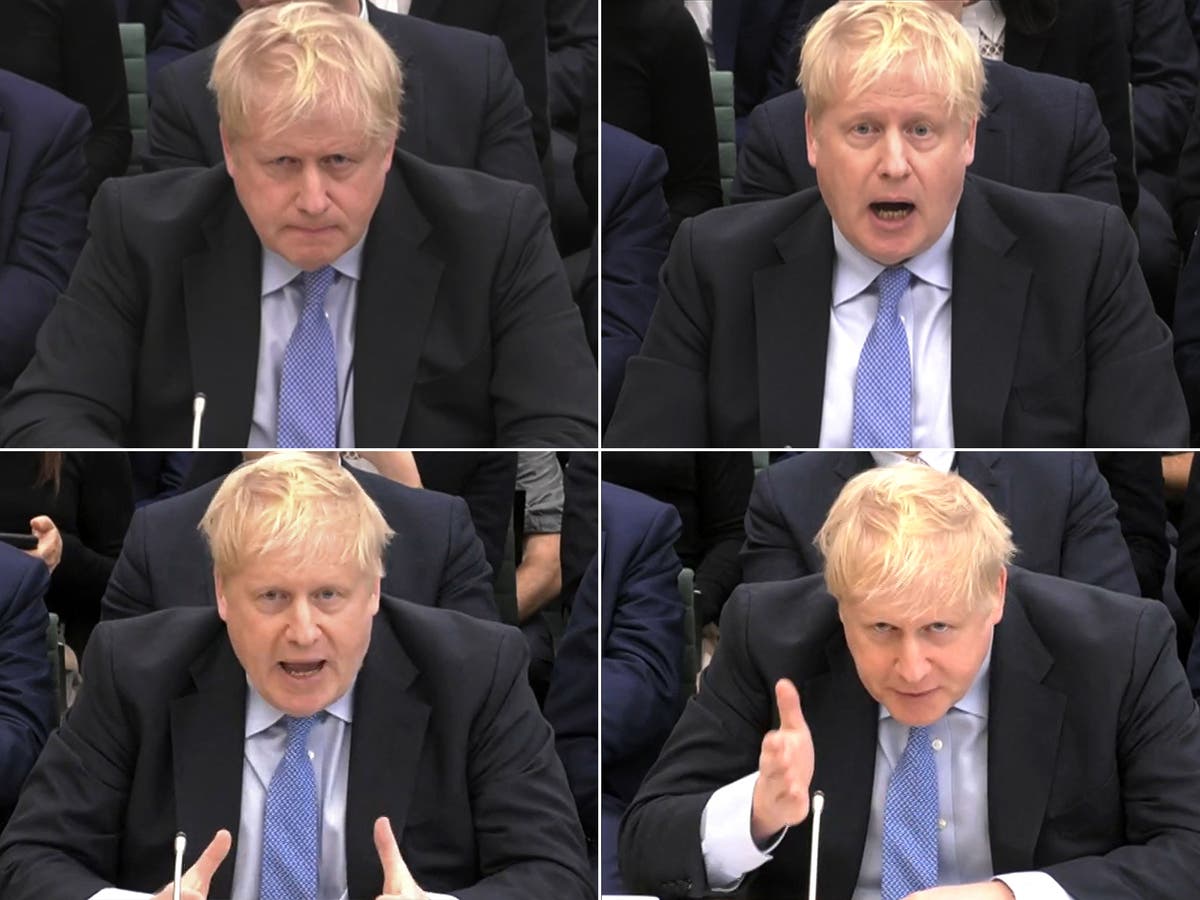 Boris Johnson was handed two humiliating blows in Parliament on Wednesday as he was forced to plead hand on heart that he had not lied to MPs about Partygate when he had also not led a Commons revolt against Rishi Sunak.
During a sometimes moody three-hour grill, the former prime minister defended the decision to hold parties inside No 10 during the pandemic, including one attended by his wife and son interior designer, claiming they were necessary for professional purposes.
It also emerged that Mr Johnson had been explicitly warned against claiming that all Covid guidelines had been followed, but did so anyway.
Meanwhile, his efforts to undermine Mr Sunak's post-Brexit deal with the EU ended in dismal failure as a vote on the Windsor framework passed the House of Commons with a majority gigantic 486 votes.
Only 22 Tory MPs have rebelled against the compromise to end the row over the Northern Ireland Protocol, in what will be seen as another blow to Mr Johnson's crumbling authority.
It came as Mr. Johnson:
said he would have been completely mad to knowingly lie in parliament, after taking an oath on the Bible
described leaving drinks for No 10 staff during lockdown was key
said No 10 staff hadn't touched pens during the pandemic, but admitted of course they had passed glasses to each other at events
complained about the manifestly unfair conduct of the hearing
The parliamentary inquiry, led by the Commons Privileges Committee, is looking into whether Mr Johnson deliberately or recklessly misled the Commons with his statements.
If found to have done so, he could be suspended as an MP, potentially triggering a by-election in his constituency of Uxbridge and South Ruislip.
Mr Johnson came under pressure at the hearing as Harriet Harman, the Labor chairman of the Conservative majority committee, asked if he could understand why MPs were appalled at the flimsy nature of the assurances he swore on was supported for his statements in the Commons.
Mr Johnson also defended his decision to seek such assurances from his media advisers, after Tory MP Sir Bernard Jenkin said that in Mr Johnson's position he would have sought legal advice if there was even the any doubt about compliance with the rules.
During the session, Mr Johnson defended a birthday party attended by his wife and interior designer inside No 10 as reasonably necessary for business purposes.
Leaving drinks for staff at No 10 was essential, he said. I will believe until the day I die that it was my job to thank the staff who worked so hard during Covid, he told the committee.
But Sir Bernard told her that the Covid guidelines did not say parties were allowed if they were deemed important. The boards don't say that, he said.
Mr Johnson admitted he should have told the Commons the rules were followed, rather than the guidelines followed at all times in Number 10. He said he misremembered the line that had given to the media when the scandal broke. .
'Complete nonsense': Moment Boris Johnson loses his temper during combative Partygate hearing
But in a further blow to Mr Johnson, it also emerged that Cabinet Secretary Simon Case had given him no assurances that Covid rules had been followed at all times in No 10 during the lockdown.
It emerged Mr Johnson had been warned by Principal Private Secretary Martin Reynolds against claiming all Covid guidelines had been followed, but went ahead and made the claim in the Commons.
Even before Wednesday's hearing began, he was overtaken by allegations that Mr Johnson's supporters had sought to intimidate committee members.
Grilled on whether he agreed with his allies that the committee was a kangaroo court, Mr Johnson said he did not want to see any intimidation, but warned grimly: I will wait until see how you will proceed with the evidence you have.
Mr Johnson was adamant that he would be exonerated, saying it would have been totally foolish to mislead Parliament and that it would be unfair and wrong for the committee to conclude he had done so.
Backed in the committee room by arch-loyalist Jacob Rees-Mogg, Mr Johnson also accused Ms Harman of previously making comments prejudicial to his case.
Ms. Harman warned: Our democracy depends on trusting that what ministers tell MPs in the House of Commons is the truth. And without that trust, our whole parliamentary democracy is undermined.
After the hearing Mr Johnson's former boss Max Hastings told LBC: I don't think you can strike Boris Johnson off until he is buried at a crossroads with a stake driven into his heart…he is a scourge not only on the Conservative Party, but on the British body politic.
Sources
2/ https://www.independent.co.uk/news/uk/politics/boris-johnson-partygate-commitee-brexit-rebellion-b2306195.html
The mention sources can contact us to remove/changing this article
What Are The Main Benefits Of Comparing Car Insurance Quotes Online
LOS ANGELES, CA / ACCESSWIRE / June 24, 2020, / Compare-autoinsurance.Org has launched a new blog post that presents the main benefits of comparing multiple car insurance quotes. For more info and free online quotes, please visit https://compare-autoinsurance.Org/the-advantages-of-comparing-prices-with-car-insurance-quotes-online/ The modern society has numerous technological advantages. One important advantage is the speed at which information is sent and received. With the help of the internet, the shopping habits of many persons have drastically changed. The car insurance industry hasn't remained untouched by these changes. On the internet, drivers can compare insurance prices and find out which sellers have the best offers. View photos The advantages of comparing online car insurance quotes are the following: Online quotes can be obtained from anywhere and at any time. Unlike physical insurance agencies, websites don't have a specific schedule and they are available at any time. Drivers that have busy working schedules, can compare quotes from anywhere and at any time, even at midnight. Multiple choices. Almost all insurance providers, no matter if they are well-known brands or just local insurers, have an online presence. Online quotes will allow policyholders the chance to discover multiple insurance companies and check their prices. Drivers are no longer required to get quotes from just a few known insurance companies. Also, local and regional insurers can provide lower insurance rates for the same services. Accurate insurance estimates. Online quotes can only be accurate if the customers provide accurate and real info about their car models and driving history. Lying about past driving incidents can make the price estimates to be lower, but when dealing with an insurance company lying to them is useless. Usually, insurance companies will do research about a potential customer before granting him coverage. Online quotes can be sorted easily. Although drivers are recommended to not choose a policy just based on its price, drivers can easily sort quotes by insurance price. Using brokerage websites will allow drivers to get quotes from multiple insurers, thus making the comparison faster and easier. For additional info, money-saving tips, and free car insurance quotes, visit https://compare-autoinsurance.Org/ Compare-autoinsurance.Org is an online provider of life, home, health, and auto insurance quotes. This website is unique because it does not simply stick to one kind of insurance provider, but brings the clients the best deals from many different online insurance carriers. In this way, clients have access to offers from multiple carriers all in one place: this website. On this site, customers have access to quotes for insurance plans from various agencies, such as local or nationwide agencies, brand names insurance companies, etc. "Online quotes can easily help drivers obtain better car insurance deals. All they have to do is to complete an online form with accurate and real info, then compare prices", said Russell Rabichev, Marketing Director of Internet Marketing Company. CONTACT: Company Name: Internet Marketing CompanyPerson for contact Name: Gurgu CPhone Number: (818) 359-3898Email: [email protected]: https://compare-autoinsurance.Org/ SOURCE: Compare-autoinsurance.Org View source version on accesswire.Com:https://www.Accesswire.Com/595055/What-Are-The-Main-Benefits-Of-Comparing-Car-Insurance-Quotes-Online View photos
to request, modification Contact us at Here or [email protected]