Karnataka polls: Congress abused me 91 times, says PM Modi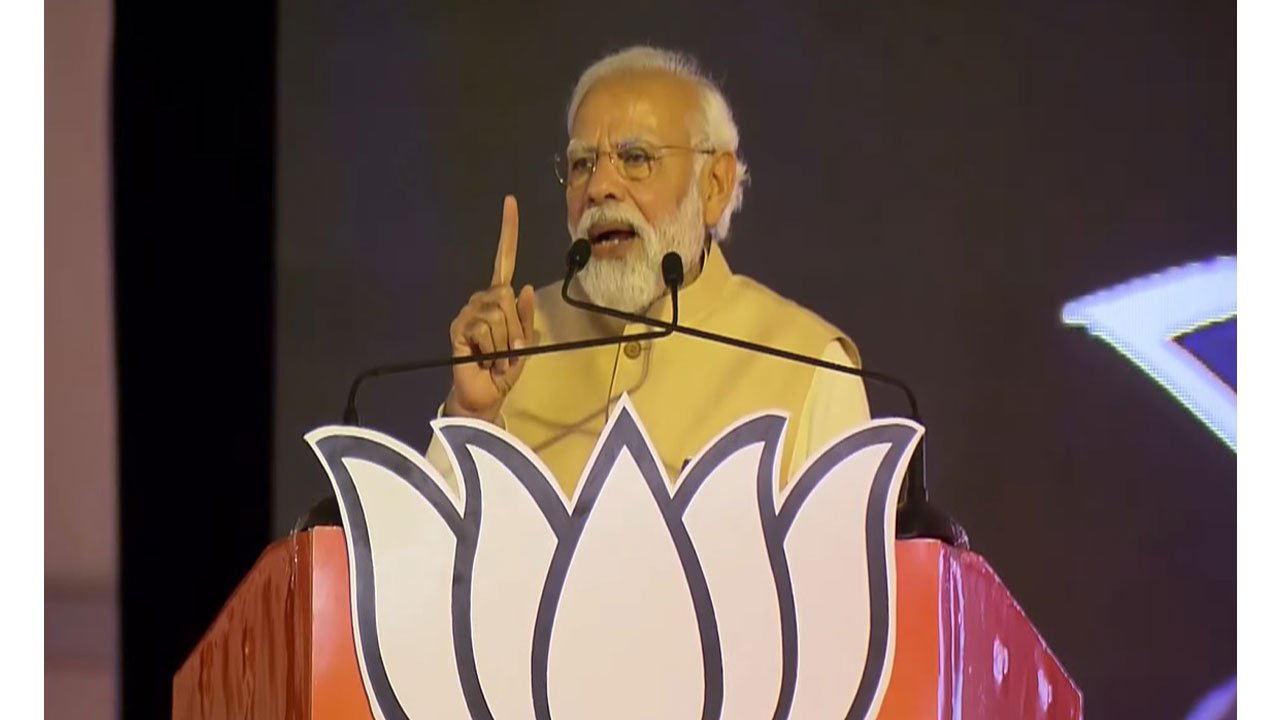 Bidar/Hyderabad, April 29 (Maxim News): Reacting to the recent controversy over Congress Speaker Mallikarjun Kharge's 'venomous snake remark' against him, the Prime Minister says the Congress party abused him 91 times , let Congress fool me: "I will continue to work for the people of Karnataka," he said.
Prime Minister Modi, who was on a two-day visit to Karnataka as part of the BJP campaign in Karnataka, during which he will hold six public meetings and two tours. He arrived today morning in Humnabad, Bidar district, to address his first public meeting of the day, where he said the upcoming elections on May 10 were not just about winning, but about bringing the state in first place in the country.
"Congress has started abusing me again. Someone made a list of the names they called me. Every time Congress mistreats me, they get knocked down. Congress has fooled me 91 times. Let Congress abuse me, I will continue to work for the people of Karnataka, he said.
I received Bidar's blessing earlier too. This election is not only to win, it is an election to make Karnataka the number 1 state in the country. The state can only develop when all its parts are developed. This election will decide the role of the state and to make it number 1, a dual engine government is very important," he added.
He also stressed the importance of a dual-engine government and said: Foreign investment has increased three times in the state under BJP rule compared to Congress rule. There is a double-speed development in the state. Karnataka is ready for the BJP government again. Congress had made only false promises to the farmers and people of Karnataka. Farmers in the state received no benefits under Congress government.
He also said that Congress had blocked the development of the state. Congress will never understand the struggle and pain of the poor. Congress has slowed the pace of houses here. But the BJP has given ownership of houses to women here. Congress has only played the policy of appeasement. Karnataka has suffered under Congress government. Congress only cares about the seats, not the people of the state. Congress blocked the development of the state, he said. (Maxim News)
---
Next story:
Hyderabad: Three people allegedly holding religious slogans at Mecca Masjid were arrested by police today.

---

Delhi/Hyderabad, April 29 (Maxim News): A Delhi court on Saturday extended the custody of Aam Aadmi Party (AAP) leader and former Delhi Deputy Chief Minister Manish Sisodia in the case of the Delhi Liquor scam. In that case, filed by the Enforcement Branch, Rouse Avenue District Court extended his custody until May 8. ED officials presented him in court today.

---

Hyderabad, April 29 (Maxim News): Two chain thieves who snatched a gold chain from a woman were arrested by Rachakonda Police today. Police recovered a gold chain weighing three tolas and seized a motorcycle from them.

---

Hyderabad, April 29 (Maxim News): Detectives from the Hyderabad Counter Narcotics Squad today arrested five people involved in the supply and sale of hash oil. Police seized 2.5 liters of hash oil, five cell phones and a car.

---

Hyderabad, April 29 (Maxim News): Sophomore and final year students can opt for area-specific skill development courses as part of elective courses starting from the next academic year.

---
You can now get the latest Indtoday stories at Telegram every day. Click the link to subscribe. Click to follow the Indtodays Facebook and Twitter page and instagram. For all the latest updates from Hyderabad News
Sources
2/ https://indtoday.com/karnataka-polls-congress-abused-me-91-times-says-pm-modi/
The mention sources can contact us to remove/changing this article
What Are The Main Benefits Of Comparing Car Insurance Quotes Online
LOS ANGELES, CA / ACCESSWIRE / June 24, 2020, / Compare-autoinsurance.Org has launched a new blog post that presents the main benefits of comparing multiple car insurance quotes. For more info and free online quotes, please visit https://compare-autoinsurance.Org/the-advantages-of-comparing-prices-with-car-insurance-quotes-online/ The modern society has numerous technological advantages. One important advantage is the speed at which information is sent and received. With the help of the internet, the shopping habits of many persons have drastically changed. The car insurance industry hasn't remained untouched by these changes. On the internet, drivers can compare insurance prices and find out which sellers have the best offers. View photos The advantages of comparing online car insurance quotes are the following: Online quotes can be obtained from anywhere and at any time. Unlike physical insurance agencies, websites don't have a specific schedule and they are available at any time. Drivers that have busy working schedules, can compare quotes from anywhere and at any time, even at midnight. Multiple choices. Almost all insurance providers, no matter if they are well-known brands or just local insurers, have an online presence. Online quotes will allow policyholders the chance to discover multiple insurance companies and check their prices. Drivers are no longer required to get quotes from just a few known insurance companies. Also, local and regional insurers can provide lower insurance rates for the same services. Accurate insurance estimates. Online quotes can only be accurate if the customers provide accurate and real info about their car models and driving history. Lying about past driving incidents can make the price estimates to be lower, but when dealing with an insurance company lying to them is useless. Usually, insurance companies will do research about a potential customer before granting him coverage. Online quotes can be sorted easily. Although drivers are recommended to not choose a policy just based on its price, drivers can easily sort quotes by insurance price. Using brokerage websites will allow drivers to get quotes from multiple insurers, thus making the comparison faster and easier. For additional info, money-saving tips, and free car insurance quotes, visit https://compare-autoinsurance.Org/ Compare-autoinsurance.Org is an online provider of life, home, health, and auto insurance quotes. This website is unique because it does not simply stick to one kind of insurance provider, but brings the clients the best deals from many different online insurance carriers. In this way, clients have access to offers from multiple carriers all in one place: this website. On this site, customers have access to quotes for insurance plans from various agencies, such as local or nationwide agencies, brand names insurance companies, etc. "Online quotes can easily help drivers obtain better car insurance deals. All they have to do is to complete an online form with accurate and real info, then compare prices", said Russell Rabichev, Marketing Director of Internet Marketing Company. CONTACT: Company Name: Internet Marketing CompanyPerson for contact Name: Gurgu CPhone Number: (818) 359-3898Email: [email protected]: https://compare-autoinsurance.Org/ SOURCE: Compare-autoinsurance.Org View source version on accesswire.Com:https://www.Accesswire.Com/595055/What-Are-The-Main-Benefits-Of-Comparing-Car-Insurance-Quotes-Online View photos
to request, modification Contact us at Here or [email protected]