Potential Timeline of Trump Investigation in Fulton County in August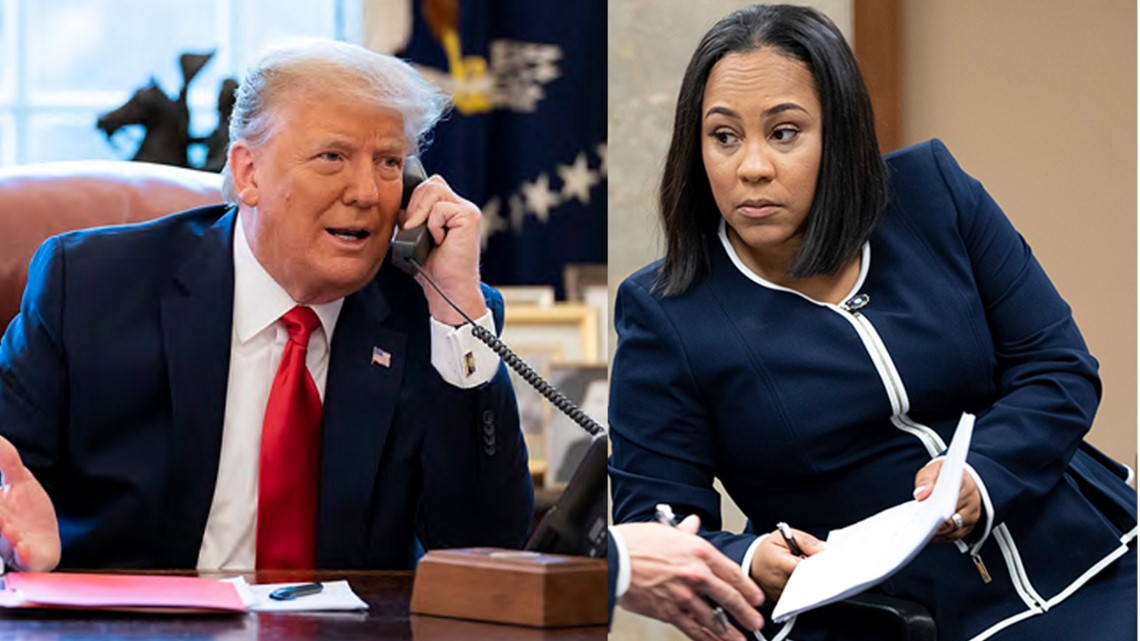 DA Fani Willis sent a letter Thursday to a Fulton County judge outlining a plan to have many of his staff work remotely on some days in August.
ATLANTA Atlanta District Attorney Fani Willis told senior county officials Thursday that many of her staff will be working remotely in the first half of August and asked county judges not to hear trial during part of this period.
The letter makes no outright mention of former President Donald Trump, but the move is fueling speculation that in August a Fulton County grand jury could reveal whether Trump and his allies will be indicted in connection. of the 2020 election survey in Georgia.
In a letter sent to Fulton County Superior Court Chief Judge Ural Glanville, Willis said approximately 70% of his staff will be working remotely on July 31, August 1, August 7, August 8, August 10, August 11. August 14, August 15, August 17 and August 18.
RELATED: Donald Trump's Attempts To Derail Georgia 2020 Election Probe Should Be Blocked, Says Fulton DA
Willis also requested that the judges not schedule in-person trials or hearings for Aug. 7-14. If the hearings take place during this week, members of senior management at Willis will handle the proceedings.
Note that during this time, my management team, all armed investigators, my Case Intake Division and Juvenile Court Building staff will be working every day, including scheduled partial remote workdays, wrote Willis. During this three week period, on days other than those listed above, all of my staff will be present as usual.
The Fulton County District Attorney's Office declined to comment for this story.
Willis previously told 11Alive that July 17 was the first a Fulton County grand jury could hear evidence related to the Trump investigation. In an earlier letter to Atlanta law enforcement, Willis said potential indictments against Trump and others would have come before September 1.
This week's letter appears to offer a tighter timeline. The New York Times reports that letters were sent to 21 Fulton County officials.
Anthony Kreis, a professor at Georgia State University School of Law who has followed the Trump investigation closely, told 11Alive that Willis' decision was "highly unusual."
"The announcement of reduced hours in the office on grand jury days is … (an) incredibly specific decision that signals that the DA's office plans to present evidence to the regular grand jury in time for potential indictments in August" , said Kreis. "Between this and Willis' previous letter to law enforcement asking them to be on heightened alert over the summer, the likelihood of major indictments coming down appears high."
Willis' decision comes as a Fulton County judge weighs a motion by Trump and one of his allies seeking to derail the case before it begins.
Fulton County Superior Court Judge Robert McBurney on Friday denied a motion by Trump's lawyers asking for 21 days to respond to a filing Willis filed earlier this week.
In a separate filing, a group of former prosecutors and state attorneys filed a motion opposing Trump's attempt to dump the election investigation.
The investigation began shortly after Trump called Georgian Secretary of State Brad Raffensperger on January 2, 2021 and asked the state's top election official to find enough votes to overturn the state's result. .
Fulton County Superior Court judges voted in January 2022 to appoint the special purpose grand jury at Willis' request. In May 2022, the jurors were sworn in and the jury completed its work in January 2023.
Jurors heard from 75 witnesses during the roughly eight-month inquest. Its final report remains mostly secret, but the document recommends indictments for more than a dozen people, jury chairperson Emily Kohrs told media earlier this year.
The special grand jury had no power to issue indictments. To seek charges, Willis must take the case to a regular grand jury.
This is a developing story. Check back often for new information.
Also download the 11Alive News app and sign up to receive breaking news alerts on this story and other breaking news in Atlanta and North Georgia.
Sources
2/ https://www.11alive.com/article/news/politics/fulton-county-trump-investigation-da-fani-willis-signals-august-timeline/85-9f482a46-4a6b-423a-9ce7-c26bfe7542ae
The mention sources can contact us to remove/changing this article
What Are The Main Benefits Of Comparing Car Insurance Quotes Online
LOS ANGELES, CA / ACCESSWIRE / June 24, 2020, / Compare-autoinsurance.Org has launched a new blog post that presents the main benefits of comparing multiple car insurance quotes. For more info and free online quotes, please visit https://compare-autoinsurance.Org/the-advantages-of-comparing-prices-with-car-insurance-quotes-online/ The modern society has numerous technological advantages. One important advantage is the speed at which information is sent and received. With the help of the internet, the shopping habits of many persons have drastically changed. The car insurance industry hasn't remained untouched by these changes. On the internet, drivers can compare insurance prices and find out which sellers have the best offers. View photos The advantages of comparing online car insurance quotes are the following: Online quotes can be obtained from anywhere and at any time. Unlike physical insurance agencies, websites don't have a specific schedule and they are available at any time. Drivers that have busy working schedules, can compare quotes from anywhere and at any time, even at midnight. Multiple choices. Almost all insurance providers, no matter if they are well-known brands or just local insurers, have an online presence. Online quotes will allow policyholders the chance to discover multiple insurance companies and check their prices. Drivers are no longer required to get quotes from just a few known insurance companies. Also, local and regional insurers can provide lower insurance rates for the same services. Accurate insurance estimates. Online quotes can only be accurate if the customers provide accurate and real info about their car models and driving history. Lying about past driving incidents can make the price estimates to be lower, but when dealing with an insurance company lying to them is useless. Usually, insurance companies will do research about a potential customer before granting him coverage. Online quotes can be sorted easily. Although drivers are recommended to not choose a policy just based on its price, drivers can easily sort quotes by insurance price. Using brokerage websites will allow drivers to get quotes from multiple insurers, thus making the comparison faster and easier. For additional info, money-saving tips, and free car insurance quotes, visit https://compare-autoinsurance.Org/ Compare-autoinsurance.Org is an online provider of life, home, health, and auto insurance quotes. This website is unique because it does not simply stick to one kind of insurance provider, but brings the clients the best deals from many different online insurance carriers. In this way, clients have access to offers from multiple carriers all in one place: this website. On this site, customers have access to quotes for insurance plans from various agencies, such as local or nationwide agencies, brand names insurance companies, etc. "Online quotes can easily help drivers obtain better car insurance deals. All they have to do is to complete an online form with accurate and real info, then compare prices", said Russell Rabichev, Marketing Director of Internet Marketing Company. CONTACT: Company Name: Internet Marketing CompanyPerson for contact Name: Gurgu CPhone Number: (818) 359-3898Email: [email protected]: https://compare-autoinsurance.Org/ SOURCE: Compare-autoinsurance.Org View source version on accesswire.Com:https://www.Accesswire.Com/595055/What-Are-The-Main-Benefits-Of-Comparing-Car-Insurance-Quotes-Online View photos
to request, modification Contact us at Here or [email protected]