The word stimulates the community with a shared future in the region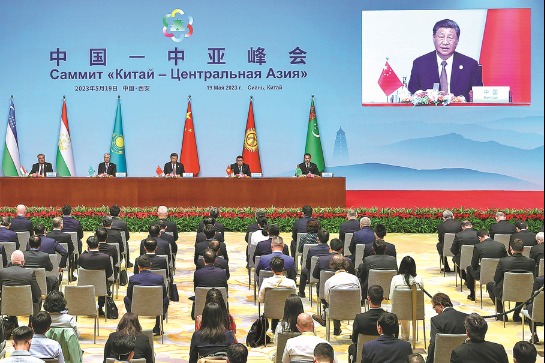 Summit vision extends to fruitful global development cooperation
President Xi Jinping and the leaders of five Central Asian countries, Kazakhstan, Kyrgyzstan, Tajikistan, Turkmenistan and Uzbekistan, championed peace, stability, harmony and greater regional connectivity during the first-ever China-Central Asia summit which concluded in Xi'an, northwestern China's Shaanxi province on Friday, experts said.
The main theme of Xi's speech at the summit was to further strengthen the concept of a China-Central Asia community of shared destiny, said Mehmood Ul Hassan Khan, executive director of the Center for South Asia and International Studies.
"To achieve this end goal, the Chinese president has rightly identified a simple but highly effective recipe of deepening strategic mutual trust and maintaining clear and strong support for each other in matters of sovereignty, independence, national dignity and long-term development," Khan said.
He also said Xi called for efforts to fully unleash the potential for cooperation in traditional areas such as trade, industrial capacity, energy and transportation, and to foster new engines of growth in such areas. as finance, agriculture, poverty reduction, low carbon economic activities, health and security. digital innovation.
"Building a common community across China and Central Asia will not only benefit the countries concerned, but will contribute to the development of the world," said Professor Lawrence Loh, director of the Center for Governance and Sustainability, which is part of the National University. from Singapore.
President Xi's speech is "very timely as the world urgently needs peace and prosperity at this time of intense geopolitical and macroeconomic challenges," Loh said. Instead of favoring polarization and instigative diplomacy, countries must collaborate by leveraging common ideals and resources to advance collective progress.
Loh noted that Central Asia, as a connecting node on the Silk Road, will require a coordinated approach to boost trade and investment in Asian, Middle Eastern and European regions.
Xi's speech 'signifies the importance he attaches to China's connectivity with Central Asia, and Central Asia's role in the Belt and Road Initiative introduced 10 years ago "said Mustafa Hyder Sayed, executive director of the Pakistan-China Institute in Islamabad.
After the launch of the BRI, the unique infrastructure projects along the Caspian Sea transformed the landlocked region. "We see that after 10 years of successful BRI, the future vision of connectivity, or part of it, is presented by President Xi in his summit address," he said.
Xi's speech is full of optimism and assurance, said Karori Singh, former director of the Center for South Asian Studies at the University of Rajasthan in India. He said there was "a collective wish to stand in solidarity for a lasting friendship and to share 'happiness and misfortune' together for the benefit of the people of the region".
Identifying a long list of areas for collaboration makes it clear that China's policy in Central Asia is an important part of its broader comprehensive vision of common development and security for a community with a shared future, the professor said.
"All major Central Asian countries can thus collaborate and cooperate in joining the community with a shared future and play their constructive role in contributing to the development which is not against anyone in the region," he said.
Ina Stasevic, a Croatian journalist and medical expert, said the two-day summit certainly opened a new chapter in China-Central Asia cooperation.
"With the support of the other five presidents, President Xi has given us a vision for global development, a clear vision for the future, opening the door to a step forward in the world," she said.
Sources
2/ https://www.chinadaily.com.cn/a/202305/20/WS646806dca310b6054fad4170.html
The mention sources can contact us to remove/changing this article
What Are The Main Benefits Of Comparing Car Insurance Quotes Online
LOS ANGELES, CA / ACCESSWIRE / June 24, 2020, / Compare-autoinsurance.Org has launched a new blog post that presents the main benefits of comparing multiple car insurance quotes. For more info and free online quotes, please visit https://compare-autoinsurance.Org/the-advantages-of-comparing-prices-with-car-insurance-quotes-online/ The modern society has numerous technological advantages. One important advantage is the speed at which information is sent and received. With the help of the internet, the shopping habits of many persons have drastically changed. The car insurance industry hasn't remained untouched by these changes. On the internet, drivers can compare insurance prices and find out which sellers have the best offers. View photos The advantages of comparing online car insurance quotes are the following: Online quotes can be obtained from anywhere and at any time. Unlike physical insurance agencies, websites don't have a specific schedule and they are available at any time. Drivers that have busy working schedules, can compare quotes from anywhere and at any time, even at midnight. Multiple choices. Almost all insurance providers, no matter if they are well-known brands or just local insurers, have an online presence. Online quotes will allow policyholders the chance to discover multiple insurance companies and check their prices. Drivers are no longer required to get quotes from just a few known insurance companies. Also, local and regional insurers can provide lower insurance rates for the same services. Accurate insurance estimates. Online quotes can only be accurate if the customers provide accurate and real info about their car models and driving history. Lying about past driving incidents can make the price estimates to be lower, but when dealing with an insurance company lying to them is useless. Usually, insurance companies will do research about a potential customer before granting him coverage. Online quotes can be sorted easily. Although drivers are recommended to not choose a policy just based on its price, drivers can easily sort quotes by insurance price. Using brokerage websites will allow drivers to get quotes from multiple insurers, thus making the comparison faster and easier. For additional info, money-saving tips, and free car insurance quotes, visit https://compare-autoinsurance.Org/ Compare-autoinsurance.Org is an online provider of life, home, health, and auto insurance quotes. This website is unique because it does not simply stick to one kind of insurance provider, but brings the clients the best deals from many different online insurance carriers. In this way, clients have access to offers from multiple carriers all in one place: this website. On this site, customers have access to quotes for insurance plans from various agencies, such as local or nationwide agencies, brand names insurance companies, etc. "Online quotes can easily help drivers obtain better car insurance deals. All they have to do is to complete an online form with accurate and real info, then compare prices", said Russell Rabichev, Marketing Director of Internet Marketing Company. CONTACT: Company Name: Internet Marketing CompanyPerson for contact Name: Gurgu CPhone Number: (818) 359-3898Email: [email protected]: https://compare-autoinsurance.Org/ SOURCE: Compare-autoinsurance.Org View source version on accesswire.Com:https://www.Accesswire.Com/595055/What-Are-The-Main-Benefits-Of-Comparing-Car-Insurance-Quotes-Online View photos
to request, modification Contact us at Here or [email protected]