Boneheaded: Legal experts slam Trump lawyers for stupid DOJ letter complaining about Hunter Biden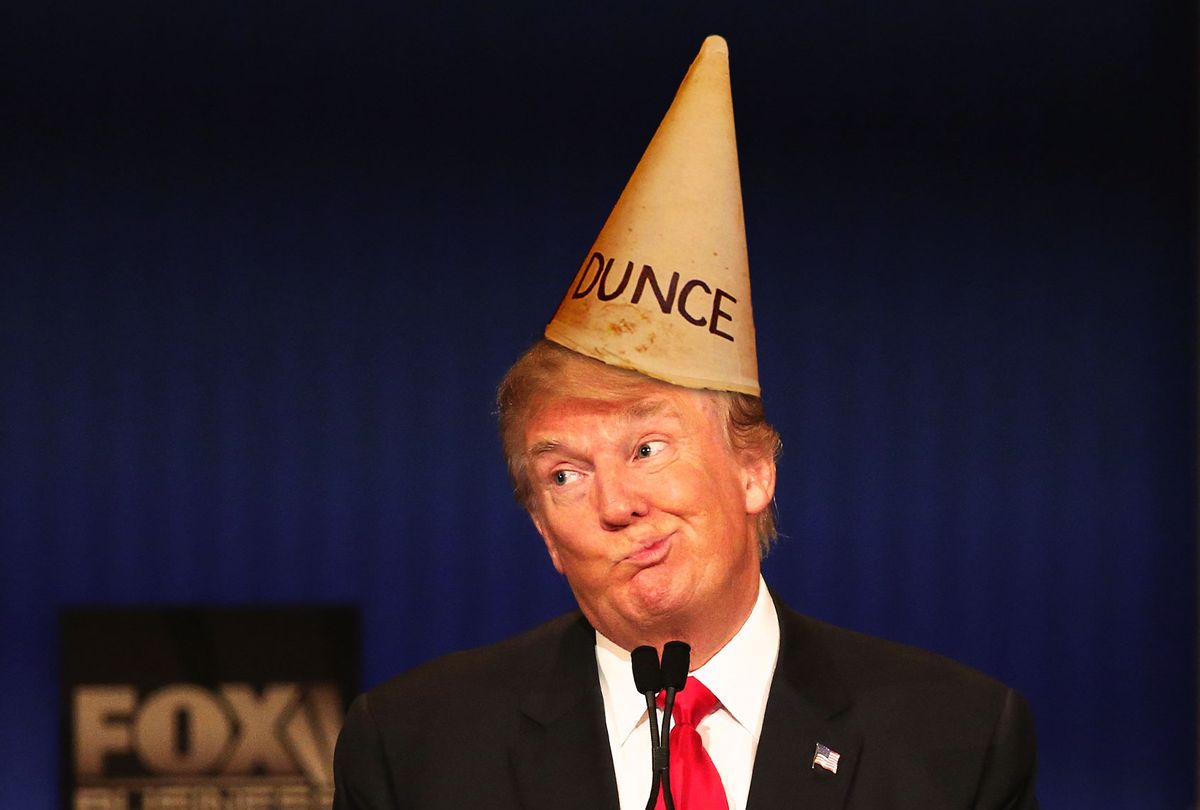 Legal experts slammed Donald Trump's lawyers on Wednesday after his legal team sent a letter to the Justice Department requesting a meeting about special counsel Jack Smith's investigations of the former president.
Trump attorneys John Rowley and James Trusty requested a meeting with Attorney General Merrick Garland on Tuesday to "present arguments that Trump should not be charged in the investigation related to his alleged mishandling of classified documents," they said. sources familiar with the situation told ABC News.
In the letter, which the former president shared on Truth Social, Rowley and Trusty argued that Trump was being "treated unfairly."
"Unlike President Biden, his son Hunter, and the Biden family, President Trump is being treated unfairly," the letter said. "No President of the United States has ever, in the history of our country, been the subject of a baseless investigation in such an outrageous and unlawful manner. We request a meeting at the earliest opportunity to discuss the continuing injustice perpetrated by your special counsel and his prosecutors."
Reactions to the letter grew on Wednesday with legal experts criticizing the arguments of Trump's lawyers and even calling the letter a ploy to curry favor with Trump's supporter base.
"As always, the Trump team foolishly mixes law and politics," tweeted former U.S. Attorney Harry Litman. "If you have a point to make about getting a meeting with the GA, comparing Trump to 'Hunter and the Biden Family' is not the way to go. The letter was written for public consumption."
"The letter requesting a meeting with Garland was a dumb way of trying to dissuade the DOJ from indicting him, but it tells us what Trump's line of response/attachment will be," he added.
Litman expanded on his comments during an appearance on MSNBC Wednesday night, explaining that "it's unlikely" the attorney general would agree to meet with Trump's team.
"I've seen that happen if they want to show they're giving them all the process in the world, but, of course, it's clearly a charade," he said. "The way the letter is written, nobody expects it. It's obviously not a real call to think about it."
He told host Joy-Ann Reid that Garland could take Trump's lawyers' request either way, but will likely ask them to speak with Smith first.
"It's not that the request is outlandish. It's that the request is so nasty and polemical and kind of a PR move, so it's definitely not designed to be successful," Litman said.
When Reid asked if the letter was either a sign of panic from Trump's lawyers over his possible indictment or an attempt to raise money from his supporters, Litman explained that he thought it was both.
"They certainly believe, I think, that the hammer is down on them and soon. Not that they think they'll talk Garland out of it, but you take all the hits you can," he said.
"What's weird here is that it doesn't look like the defense attorneys wrote it." he continued. "It looks like Trump dictated it, and that's not a good way to get a meeting or get a meeting done."
Want a daily recap of all the news and commentary Salon has to offer? Subscribe to our morning newsletter, Crash Course.
Former United States Acting Solicitor General Neal Katyal echoed Litman's sentiments during another appearance on MSNBC.
"It's very clear that Trump is trying to make that last push," he told host Nicolle Wallace. "It's the kind of thing you do just before you think you're about to be charged, and it's probably almost certainly going nowhere."
Katyal breached the special counsel's regulations, saying they ensure an independent party is selected to investigate "high-level presidential wrongdoing" to avoid bias. He said regulations require Smith to have "day-to-day independence" and that the attorney general consider his decisions with "great weight."
"The Attorney General can overrule it, but the standard is very high," he said.
He added that he expects Garland to take a hands-off approach to Smith's investigation and only step in if he finds something is "grossly wrong", citing the Attorney General's similar approach during the recent investigation by Special Counsel John Durham.
"I also think that's what Donald Trump himself thinks," Katyal said before getting back to the letter. "If you were a serious lawyer and wanted to meet the Attorney General, the way to do that is not to write this letter that talks about Hunter Biden and being treated unfairly and then immediately give it to the press. ."
"It's not conducive to the kind of serious Justice Department meeting that would otherwise take place," he concluded.
Learn more
on Trump's legal woes
Sources
2/ https://www.salon.com/2023/05/25/boneheaded-legal-experts-trash-lawyers-over-foolish-doj-letter-whining-about-hunter-biden/
The mention sources can contact us to remove/changing this article
What Are The Main Benefits Of Comparing Car Insurance Quotes Online
LOS ANGELES, CA / ACCESSWIRE / June 24, 2020, / Compare-autoinsurance.Org has launched a new blog post that presents the main benefits of comparing multiple car insurance quotes. For more info and free online quotes, please visit https://compare-autoinsurance.Org/the-advantages-of-comparing-prices-with-car-insurance-quotes-online/ The modern society has numerous technological advantages. One important advantage is the speed at which information is sent and received. With the help of the internet, the shopping habits of many persons have drastically changed. The car insurance industry hasn't remained untouched by these changes. On the internet, drivers can compare insurance prices and find out which sellers have the best offers. View photos The advantages of comparing online car insurance quotes are the following: Online quotes can be obtained from anywhere and at any time. Unlike physical insurance agencies, websites don't have a specific schedule and they are available at any time. Drivers that have busy working schedules, can compare quotes from anywhere and at any time, even at midnight. Multiple choices. Almost all insurance providers, no matter if they are well-known brands or just local insurers, have an online presence. Online quotes will allow policyholders the chance to discover multiple insurance companies and check their prices. Drivers are no longer required to get quotes from just a few known insurance companies. Also, local and regional insurers can provide lower insurance rates for the same services. Accurate insurance estimates. Online quotes can only be accurate if the customers provide accurate and real info about their car models and driving history. Lying about past driving incidents can make the price estimates to be lower, but when dealing with an insurance company lying to them is useless. Usually, insurance companies will do research about a potential customer before granting him coverage. Online quotes can be sorted easily. Although drivers are recommended to not choose a policy just based on its price, drivers can easily sort quotes by insurance price. Using brokerage websites will allow drivers to get quotes from multiple insurers, thus making the comparison faster and easier. For additional info, money-saving tips, and free car insurance quotes, visit https://compare-autoinsurance.Org/ Compare-autoinsurance.Org is an online provider of life, home, health, and auto insurance quotes. This website is unique because it does not simply stick to one kind of insurance provider, but brings the clients the best deals from many different online insurance carriers. In this way, clients have access to offers from multiple carriers all in one place: this website. On this site, customers have access to quotes for insurance plans from various agencies, such as local or nationwide agencies, brand names insurance companies, etc. "Online quotes can easily help drivers obtain better car insurance deals. All they have to do is to complete an online form with accurate and real info, then compare prices", said Russell Rabichev, Marketing Director of Internet Marketing Company. CONTACT: Company Name: Internet Marketing CompanyPerson for contact Name: Gurgu CPhone Number: (818) 359-3898Email: [email protected]: https://compare-autoinsurance.Org/ SOURCE: Compare-autoinsurance.Org View source version on accesswire.Com:https://www.Accesswire.Com/595055/What-Are-The-Main-Benefits-Of-Comparing-Car-Insurance-Quotes-Online View photos
to request, modification Contact us at Here or [email protected]