Jutarnji list – China undermines Putin's key project, increasing nervousness in Moscow: There is no other option…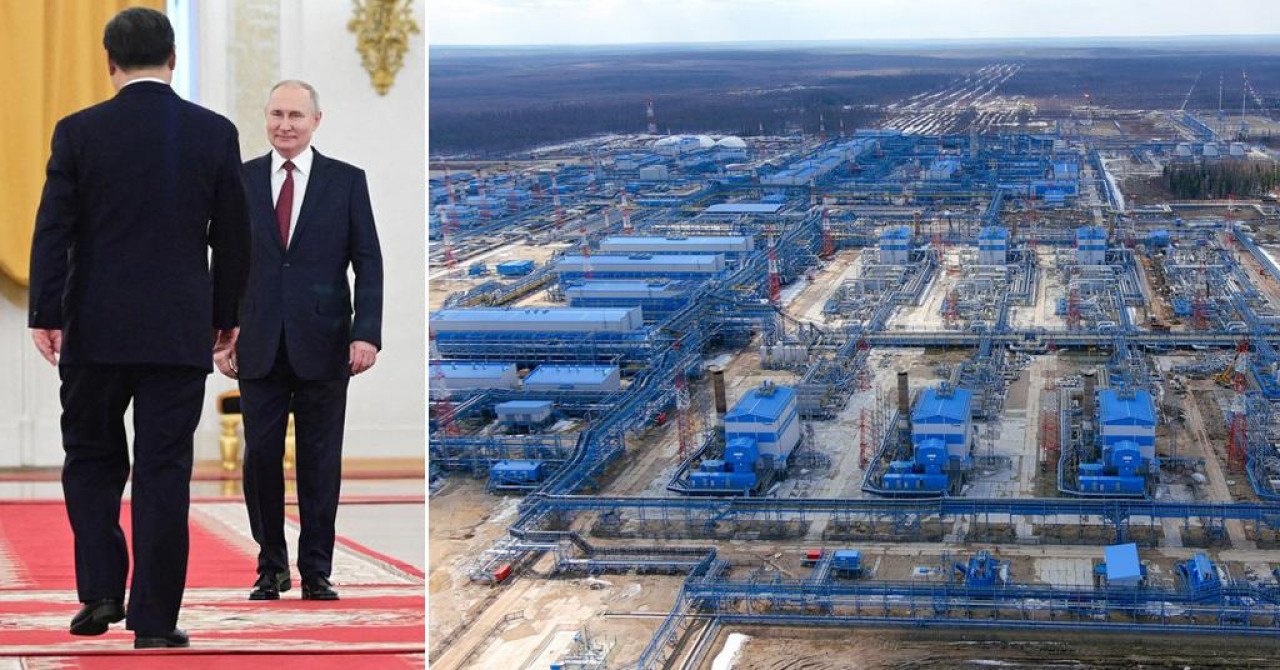 Russian prime minister Mihail Miustin this week it left China without the loot Moscow has long sought – Beijing's clear commitment to building the Power of Siberia 2 gas pipeline, a major project that would transform energy flows across the Asian continent. The project was conceived more than a decade ago to help Russia "turn east" – a gas pipeline through Mongolia to China would be a way to diversify gas trade, increase revenue and to increase the diplomatic power of the Kremlin.
This project, initially named "Altai", named after the mountainous region of southern Siberia, the Altai Mountains, became even more external, and its implementation even more urgent after the start of the Russian invasion. of Ukraine, because Moscow is now looking for new routes. for the gas that flowed to Europe before that, unprecedented Western sanctions were imposed on the Kremlin.
The problem for Moscow is that Beijing – which has become its main Russian economic partner since the start of the full-scale invasion of Ukraine – does not think it should rush into the project. It's a question of restraint, which analysts say clearly shows how much Moscow's bargaining power has weakened during the war against an economically stronger neighbor, as he writes FinancialTimes.
Another Russian gas pipeline, the Power of Siberia, was commissioned in 2019 and is expected to reach its maximum capacity of 38 billion cubic meters per year by 2024. However, this pipeline relies on the development of new gas fields in Siberia Eastern Europe, whose energy was never routed to Europe, which made it less useful to the Kremlin's diversification strategy.
Finding an alternative is the only Russian option
In contrast, the Power of Siberia 2 pipeline would supply China with gas from the northeast Yamal Peninsula, which has historically supplied Europe via several pipelines, including the Nord Stream, through which gas was cut off l last year due to sanctions imposed by European countries. was later implicated in sabotage. The search for an alternative has gone from a strategic choice for Russia to its only option.
"Beijing has a habit of delaying negotiations in order to reach a better deal – that was the case when Power of Siberia 1 was negotiated," he says. Alicja Bachulska, China policy expert at the European Council on Foreign Relations. "As Russian aggression against Ukraine has turned into a protracted war, Beijing believes that its negotiating position with Moscow can only grow stronger," he added. The delay could allow China to get a lower price for the gas it receives through the pipeline, Bachulska says.
Sino-Russian negotiations over the pipeline intensified in the months leading up to the start of the war. During the Beijing Olympics, Vladimir Poutine I Xi Jinping they signed a 25-year contract for the Far East route and "definitely talked about Power of Siberia 2", he says Tatjana Mitrovaresearcher at the Center for Global Energy Policy at Columbia University.
However, since then, while Russia has repeatedly stressed that it is ready to start the project, Beijing has remained remarkably silent at the same time. During a visit to the Kremlin in July, Xi dodged the subject of Power of Siberia 2, while Putin spoke of the plan as if it were a done deal, saying "virtually all the parameters… . are finalized".
Extending the partnership a matter of time?
Keen not to become too dependent on a single supplier, China has been very active in securing natural gas contracts for larger quantities than it actually needs, he explains. Gergely Molnar, an analyst for gas affairs at the International Energy Agency. China depends on Russia for just over 5% of its gas supply, he said. Along with the planned increase in supply via existing routes from Russia, the Power of Siberia 2 deal would increase this share to around 20% by the early 2030s.
China would benefit from the pipeline. Its intention is to diversify the country's energy sources, including land supply from Russia and Central Asia, which would be safer than sea routes in the event of geopolitical or military tensions with the West. "It is safer to transport gas through Russia, overland, compared to the distant Middle East," he said. Lin Boqiangdirector of the China Institute for Energy Policy Studies at Xiamen University.
Although there are some geopolitical complications in negotiating a deal amid the war in Ukraine, some Chinese political insiders believe that a deepening energy partnership with Russia is just a matter of time. "No one should expect China to really have to cut off its access to Russian oil and gas," he says. Victor Gao, vice president of the Center for China and Globalization based in Beijing. "This kind of trade is normal, it's a peaceful trade." He says the huge energy trade between Russia and China will eventually lead to the reconfiguration of the world's oil and gas supply and that, as he says, the West should not interfere ."
For Russia, building Siberia Force 2 is the only way to compensate at least some of the lost European trade. Most of the gas produced on the Yamal Peninsula went to these three countries. But it also means that there is now no special incentive for China to agree to a new pipeline.
Compensation for losses in Europe not available
Meanwhile, China was also busy developing other overland supply routes. At the summit with Central Asian countries last week, Xi advocated the construction of the so-called Line D gas pipeline, which would be China's fourth pipeline in the region through which gas from Turkmenistan would pass.
About 35 billion cubic meters of gas was exported from Turkmenistan to China via three pipelines last year, compared to 16 billion cubic meters sent by Russia via the Power of Siberia. even with the Power of Siberia 2 gas pipeline, Russia would not be able to compensate for what it is with the interruption of supplies from Europe. In addition, the price of this gas would also be lower. Gas sent through the Power of Siberia pipeline – under the conditions reached when Russia's negotiating position was much stronger – is priced significantly lower than the old European price.
Sergei Vakulenko, the former chief strategy officer of Russian energy giant Gazprom, says Russia can't even keep up with the price China pays for imports through other suppliers' pipelines. Given these facts, the Power of Siberia 2 gas pipeline would earn Gazprom about $12 billion a year, of which the state would lose about $4.6 billion through tariffs and taxes, he says. Ronald Smithvii oil and gas analyst at investment firm BCS Global Markets.
This amount, equivalent to less than half of Russia's average monthly energy income in 2023, can hardly satisfy Moscow. However, the Kremlin is desperate for additional revenue as its budget deficit and war costs rise and gas sales in Europe decline. "This gas is not available anywhere else," concludes Tatjana Mitrova.
Sources
2/ https://www.jutarnji.hr/vijesti/svijet/kina-minira-putinov-kljucni-projekt-u-moskvi-sve-veca-nervoza-druge-opcije-nema-15339673
The mention sources can contact us to remove/changing this article
What Are The Main Benefits Of Comparing Car Insurance Quotes Online
LOS ANGELES, CA / ACCESSWIRE / June 24, 2020, / Compare-autoinsurance.Org has launched a new blog post that presents the main benefits of comparing multiple car insurance quotes. For more info and free online quotes, please visit https://compare-autoinsurance.Org/the-advantages-of-comparing-prices-with-car-insurance-quotes-online/ The modern society has numerous technological advantages. One important advantage is the speed at which information is sent and received. With the help of the internet, the shopping habits of many persons have drastically changed. The car insurance industry hasn't remained untouched by these changes. On the internet, drivers can compare insurance prices and find out which sellers have the best offers. View photos The advantages of comparing online car insurance quotes are the following: Online quotes can be obtained from anywhere and at any time. Unlike physical insurance agencies, websites don't have a specific schedule and they are available at any time. Drivers that have busy working schedules, can compare quotes from anywhere and at any time, even at midnight. Multiple choices. Almost all insurance providers, no matter if they are well-known brands or just local insurers, have an online presence. Online quotes will allow policyholders the chance to discover multiple insurance companies and check their prices. Drivers are no longer required to get quotes from just a few known insurance companies. Also, local and regional insurers can provide lower insurance rates for the same services. Accurate insurance estimates. Online quotes can only be accurate if the customers provide accurate and real info about their car models and driving history. Lying about past driving incidents can make the price estimates to be lower, but when dealing with an insurance company lying to them is useless. Usually, insurance companies will do research about a potential customer before granting him coverage. Online quotes can be sorted easily. Although drivers are recommended to not choose a policy just based on its price, drivers can easily sort quotes by insurance price. Using brokerage websites will allow drivers to get quotes from multiple insurers, thus making the comparison faster and easier. For additional info, money-saving tips, and free car insurance quotes, visit https://compare-autoinsurance.Org/ Compare-autoinsurance.Org is an online provider of life, home, health, and auto insurance quotes. This website is unique because it does not simply stick to one kind of insurance provider, but brings the clients the best deals from many different online insurance carriers. In this way, clients have access to offers from multiple carriers all in one place: this website. On this site, customers have access to quotes for insurance plans from various agencies, such as local or nationwide agencies, brand names insurance companies, etc. "Online quotes can easily help drivers obtain better car insurance deals. All they have to do is to complete an online form with accurate and real info, then compare prices", said Russell Rabichev, Marketing Director of Internet Marketing Company. CONTACT: Company Name: Internet Marketing CompanyPerson for contact Name: Gurgu CPhone Number: (818) 359-3898Email: [email protected]: https://compare-autoinsurance.Org/ SOURCE: Compare-autoinsurance.Org View source version on accesswire.Com:https://www.Accesswire.Com/595055/What-Are-The-Main-Benefits-Of-Comparing-Car-Insurance-Quotes-Online View photos
to request, modification Contact us at Here or [email protected]