Imran Khan Added to No-Fly List: Latest Pakistan Media Updates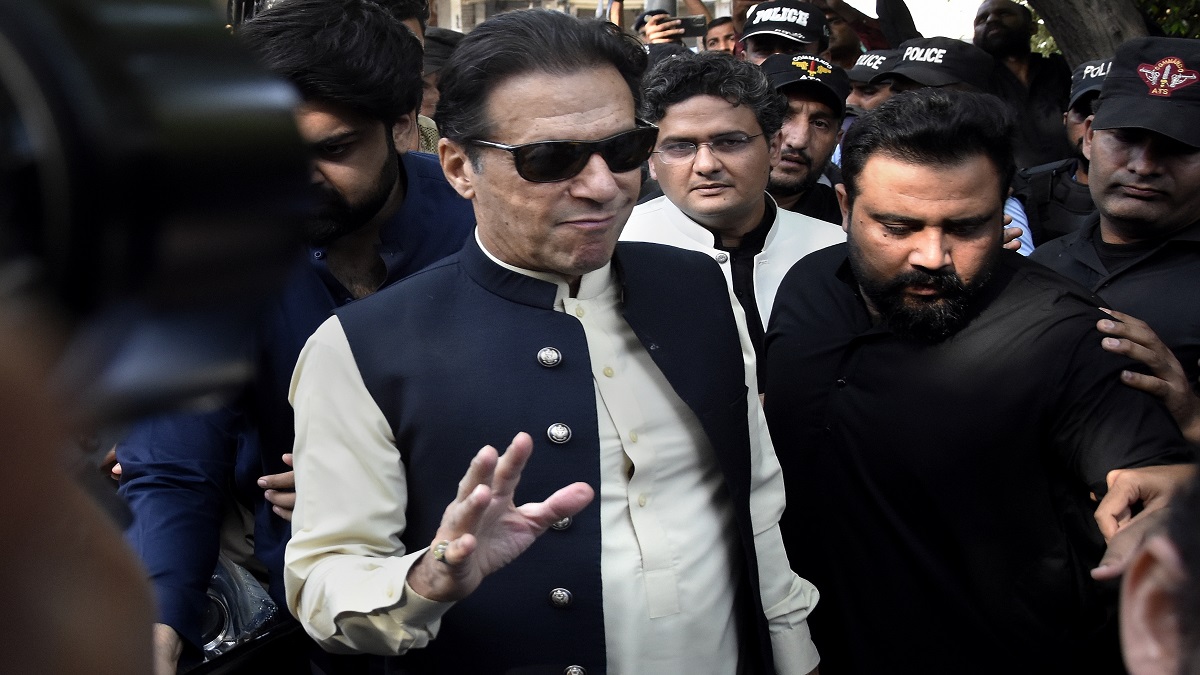 Image source: PTI/ REPRESENTATIONAL (FILE). Imran Khan added to no-fly list: Pakistan Media
Pakistan's Tehreek-e-Insaaf (PTI) leader and former Prime Minister of Pakistan Imran Khan has been added to the no-fly list, Pakistani media reported Thursday citing sources. Daily Twitter citing sources. The Pakistan Daily is a digital news portal in Pakistan that mainly reports political updates from Pakistan.
However, there has been no official confirmation of Imran Khan's addition to the no-fly list. It comes a day after Pakistani Defense Minister Khawaja Asif said the government was considering imposing a ban on Pakistan Tehreek-e-Insaf (PTI) for the incidents that occurred on May 9, Dawn reported.
Speaking to reporters in Islamabad, Khawaja Asif said: "No decision has been made yet, but a review is certainly underway. He called the vandalism of military installations across Pakistan on May 9 "coordinated attacks" planned by PTI chairman Imran Khan, according to Dawn.
Earlier, Dawn reported that police had sent the names of 245 PTI activists, including three former members of the provincial assembly, to the federal government for inclusion on the Provisional National Identification List (PNIL), to prevent them from leave the country.
Attributing it to sources, Dawn wrote on Thursday that Rawalpindi district police gave around 319 names on their wanted list and handed over the names of 245 PTI activists who are being held by the Federal Investigation Agency (FIA). . The other 74 people have not yet been arrested.
Dawn is one of Pakistan's leading media houses that reports national and international issues related to Pakistan. Dawn had reported that on Tuesday, Lahore police had applied for 746 PTI leaders to be placed on the no-fly list, in a bid to impose a month-long restriction on their overseas travel. After the request made by the Rawalpindi Police, the total number of PTI activists likely to be listed stands at 991.
Under the PNIL, people on the police wanted list are barred from leaving the country by air for 30 days, Dawn wrote quoting a senior police official After reviewing the cases of those arrested, police have finalized the names of 245 people detained during and after the May 9 violence. These names were then sent to the FIA ​​to restrict their movement by air, land or sea.
Among those still wanted by police but not yet arrested are ex-PTI MPA Rashid Hafeez, Sheikh Rasheed's nephew; Fayyazul Hassan Chohan, who was previously arrested and later released; and Umar Tanveer Butt, Dawn reported. According to information provided to the federal government, it was revealed that 31 suspects were arrested by RA Bazar police in connection with the attack on GHQ, while 27 other people wanted by the police are still at large, said reported Dawn.
The temporary travel restrictions were proposed by police after identifying PTI supporters involved in violent protests through video clips, CCTV footage, intelligence and geofences. Under the supervision of City Police Officer (CPO) Syed Khalid Hamdani, the police investigation team arrested 104 suspects in connection with the GHQ attack case, and identification parades for 23 people were carried out.
Police have been ordered to speed up legal proceedings against those arrested in connection with the May 9 violence, Dawn reported. In this regard, the police also requested the Punjab Home Affairs Department to form a Joint Investigation Team (JIT) to investigate terrorism. related cases filed under Section 7 of the Anti-Terrorism Act (ATA). A police crackdown is underway to apprehend the suspects sought in connection with these cases.
Meanwhile, officers said two separate police teams, each overseen by a Superintendent of Police, have been formed to apprehend PTI Punjab and KP leaders and militants. They added that Punjab and KP police were being contacted to help arrest those wanted by the capital's police in connection with these cases, Dawn reported. However, comments received from KP police were not encouraging, officers said.
They explained that police in the capital have received a response indicating that they are likely to encounter significant resistance during house searches for arrests, as it goes against the local culture for foreigners to enter. at their home. The police in the capital also asked the Ministry of Interior to put the names of the PTI leaders registered in the PNIL and the Exit Control List (ECL), who are still at large in the context of the cases registered against them. for violence in May 2022 and 2023.
(With ANI inputs)
ALSO READ: 'You are our last hope': Imran Khan urges Supreme Court justices to save democracy in Pakistan
ALSO READ: Imran Khan's aide Fawad Chaudhry resigns from Pakistan Tehreek-e-Insaf
latest world news
Sources
2/ https://www.indiatvnews.com/news/world/imran-khan-added-to-no-fly-list-pakistan-latest-updates-former-pak-prime-minister-pti-chief-pakistan-tehreek-e-insaaf-2023-05-25-872558
The mention sources can contact us to remove/changing this article
What Are The Main Benefits Of Comparing Car Insurance Quotes Online
LOS ANGELES, CA / ACCESSWIRE / June 24, 2020, / Compare-autoinsurance.Org has launched a new blog post that presents the main benefits of comparing multiple car insurance quotes. For more info and free online quotes, please visit https://compare-autoinsurance.Org/the-advantages-of-comparing-prices-with-car-insurance-quotes-online/ The modern society has numerous technological advantages. One important advantage is the speed at which information is sent and received. With the help of the internet, the shopping habits of many persons have drastically changed. The car insurance industry hasn't remained untouched by these changes. On the internet, drivers can compare insurance prices and find out which sellers have the best offers. View photos The advantages of comparing online car insurance quotes are the following: Online quotes can be obtained from anywhere and at any time. Unlike physical insurance agencies, websites don't have a specific schedule and they are available at any time. Drivers that have busy working schedules, can compare quotes from anywhere and at any time, even at midnight. Multiple choices. Almost all insurance providers, no matter if they are well-known brands or just local insurers, have an online presence. Online quotes will allow policyholders the chance to discover multiple insurance companies and check their prices. Drivers are no longer required to get quotes from just a few known insurance companies. Also, local and regional insurers can provide lower insurance rates for the same services. Accurate insurance estimates. Online quotes can only be accurate if the customers provide accurate and real info about their car models and driving history. Lying about past driving incidents can make the price estimates to be lower, but when dealing with an insurance company lying to them is useless. Usually, insurance companies will do research about a potential customer before granting him coverage. Online quotes can be sorted easily. Although drivers are recommended to not choose a policy just based on its price, drivers can easily sort quotes by insurance price. Using brokerage websites will allow drivers to get quotes from multiple insurers, thus making the comparison faster and easier. For additional info, money-saving tips, and free car insurance quotes, visit https://compare-autoinsurance.Org/ Compare-autoinsurance.Org is an online provider of life, home, health, and auto insurance quotes. This website is unique because it does not simply stick to one kind of insurance provider, but brings the clients the best deals from many different online insurance carriers. In this way, clients have access to offers from multiple carriers all in one place: this website. On this site, customers have access to quotes for insurance plans from various agencies, such as local or nationwide agencies, brand names insurance companies, etc. "Online quotes can easily help drivers obtain better car insurance deals. All they have to do is to complete an online form with accurate and real info, then compare prices", said Russell Rabichev, Marketing Director of Internet Marketing Company. CONTACT: Company Name: Internet Marketing CompanyPerson for contact Name: Gurgu CPhone Number: (818) 359-3898Email: [email protected]: https://compare-autoinsurance.Org/ SOURCE: Compare-autoinsurance.Org View source version on accesswire.Com:https://www.Accesswire.Com/595055/What-Are-The-Main-Benefits-Of-Comparing-Car-Insurance-Quotes-Online View photos
to request, modification Contact us at Here or [email protected]