How Erdoan showcased his 'great achievements' in science and technology in the election campaign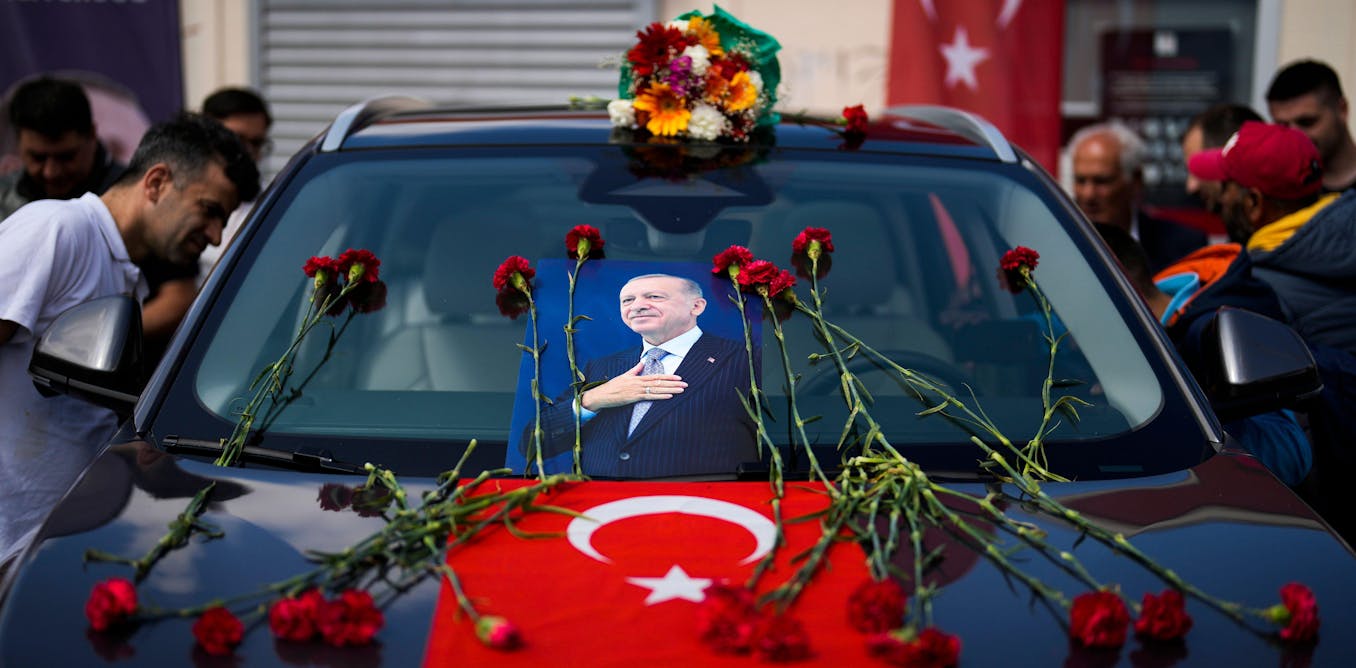 President Recep Tayyip Erdoan has ruled Turkey for 21 years. During the first terms of his reign, Turkey experienced economic growth and one reduction In inequality. It was widely considered to be a pattern for Erdo's long-term popularity.
However, inflation reached a A 24-year high of 85.5% in November 2022, creating speculation that economic instability was playing against Erdoan in the 2023 general election.
Despite this, in the first round of the election Erdogan garnered 49.5% of the vote. Some argued than what Erdoan calls his great achievements in science and technology were an important reason for its continued popularity.
In the weeks leading up to the first round, Erdoan made a series of announcements about his major achievements and upcoming plans. He unveiled plans for Turkey to send its first astronaut to the International Space Station by the end of the year. THE Aerospace and Technology Festival Teknofest was held to present many of these projects to the public. Erdoan also introduced Turkey's new multifunction amphibious assault ship And a new Turkish armed droneable to take off aircraft carrier.
Erdoan clearly hoped that these announcements would boost his popularity, creating an image of Turkey becomes a world leader in science and technology. Erdoan's government also oversaw the country Black Sea Gas Pipeline Projectan attempt to make Turkey energy independent. And more than 55 billion had been invested in the national defense industry as part of a project to make Turkey a world leader in defense products.
Create the Turkeys Own Car
Although the automotive industry has had an important role in the Turkish economyhe was dominated by foreign car manufacturers. But the idea of ​​having a national car brand has a long history. In 1961 the military government attempted develop the first Turkish car, Revolution, as a symbol of modern Turkey, but it was not very successful. This desire for a Turkish national car even turned into a popular movie.
In 2017, Erdoan invited six business groups to produce a 100% domestic and national car by 2023a year that marked the 100th anniversary of the Republic of Turkey in addition to being an election year.
The six business groups and the ministry of science, technology and industry form Trkiyes Automotive Joint Venture Group (Togg) in 2019, aiming to build the first car made entirely in Turkey, which was also going to be an electric vehicle. Togg received the highest support package would have been given to any car company in Europe and North America (about 2.8 billion).
Despite the significant financial support and hype, the Togg car could not be 100% national and national because national suppliers did not have the capacity to make the main parts. Crucial, complex and expensive components, such as the battery, had to be imported.
In the end, only 51% of the Togg car was of domestic origin. This led to a change in the way it was described, rather than a 100% national and national car, Erdoan started calling it Trkiye's car and claimed the product as a Turkish industrial victory.
Social costs
With political economists Gabor Scheiring And Tamas Gerocs I studied the implications of policies related to the Turkish automotive industry on social and economic development. The political interventions that led to the development of Togg and other Erdo achievements came to the detriment of workers. Changes made during the Erdoan years subcontracting legal for large companies, resulting in more precarious and poorly paid employment.
The number of unionized workers in the auto industry fell from 68% to just 17% between 2003 and 2023. Labor rights violations were reported at the Toggs plant.
Most people in Türkiye are unable to afford a new average car, not to mention the Togg car, which will be sold for 953,000 Turkish liras (38,500). This is approximately 112 times the minimum wage. More than 70% of workers in Türkiye earn the minimum wage or less.
Togg received broad public support despite his inability to deliver on the promise of a 100% Turkish car and deteriorating working conditions. In a survey, 94% of the population supported the initiative and this support was mainly based on nationalistic and patriotic motives, such as help your own country.
The car was described as a major success that would add success to turkeys ongoing achievement list. Erdoan described Togg as the shared pride of Trkiye and 85 million people. The companies involved in Togg have been declared good people.
Even supporters of opposition supported Togg and blamed opposition leader Kemal Kldarolu for not giving enough support to such an important initiative.
Rallying to nationalist support
It is not surprising that Erdo's great achievements are at at the center of his electoral campaign. A few days before the first round, Erdoan rode in the first Togg car to get media coverage. He said the car will travel the roads of Europe with all its models soon and the Europeans will say that crazy Turks are coming.
The government has created an understanding that every Turk must work hard to raise the country to the level of developed civilizations. Low wages and precarious employment are the sacrifice what workers need to do for their country to achieve this goal. Those who die in industrial accidents such as mining disaster in Soma are called martyrs.
However, without being able to turn the economy around, Erdo's projection of Turkey's success and place in the world seems to have won.
Sources
2/ https://theconversation.com/how-erdogan-framed-his-science-and-tech-great-achievements-as-part-of-election-campaign-206029
The mention sources can contact us to remove/changing this article
What Are The Main Benefits Of Comparing Car Insurance Quotes Online
LOS ANGELES, CA / ACCESSWIRE / June 24, 2020, / Compare-autoinsurance.Org has launched a new blog post that presents the main benefits of comparing multiple car insurance quotes. For more info and free online quotes, please visit https://compare-autoinsurance.Org/the-advantages-of-comparing-prices-with-car-insurance-quotes-online/ The modern society has numerous technological advantages. One important advantage is the speed at which information is sent and received. With the help of the internet, the shopping habits of many persons have drastically changed. The car insurance industry hasn't remained untouched by these changes. On the internet, drivers can compare insurance prices and find out which sellers have the best offers. View photos The advantages of comparing online car insurance quotes are the following: Online quotes can be obtained from anywhere and at any time. Unlike physical insurance agencies, websites don't have a specific schedule and they are available at any time. Drivers that have busy working schedules, can compare quotes from anywhere and at any time, even at midnight. Multiple choices. Almost all insurance providers, no matter if they are well-known brands or just local insurers, have an online presence. Online quotes will allow policyholders the chance to discover multiple insurance companies and check their prices. Drivers are no longer required to get quotes from just a few known insurance companies. Also, local and regional insurers can provide lower insurance rates for the same services. Accurate insurance estimates. Online quotes can only be accurate if the customers provide accurate and real info about their car models and driving history. Lying about past driving incidents can make the price estimates to be lower, but when dealing with an insurance company lying to them is useless. Usually, insurance companies will do research about a potential customer before granting him coverage. Online quotes can be sorted easily. Although drivers are recommended to not choose a policy just based on its price, drivers can easily sort quotes by insurance price. Using brokerage websites will allow drivers to get quotes from multiple insurers, thus making the comparison faster and easier. For additional info, money-saving tips, and free car insurance quotes, visit https://compare-autoinsurance.Org/ Compare-autoinsurance.Org is an online provider of life, home, health, and auto insurance quotes. This website is unique because it does not simply stick to one kind of insurance provider, but brings the clients the best deals from many different online insurance carriers. In this way, clients have access to offers from multiple carriers all in one place: this website. On this site, customers have access to quotes for insurance plans from various agencies, such as local or nationwide agencies, brand names insurance companies, etc. "Online quotes can easily help drivers obtain better car insurance deals. All they have to do is to complete an online form with accurate and real info, then compare prices", said Russell Rabichev, Marketing Director of Internet Marketing Company. CONTACT: Company Name: Internet Marketing CompanyPerson for contact Name: Gurgu CPhone Number: (818) 359-3898Email: [email protected]: https://compare-autoinsurance.Org/ SOURCE: Compare-autoinsurance.Org View source version on accesswire.Com:https://www.Accesswire.Com/595055/What-Are-The-Main-Benefits-Of-Comparing-Car-Insurance-Quotes-Online View photos
to request, modification Contact us at Here or [email protected]