Imran Khan says after being placed on no-fly list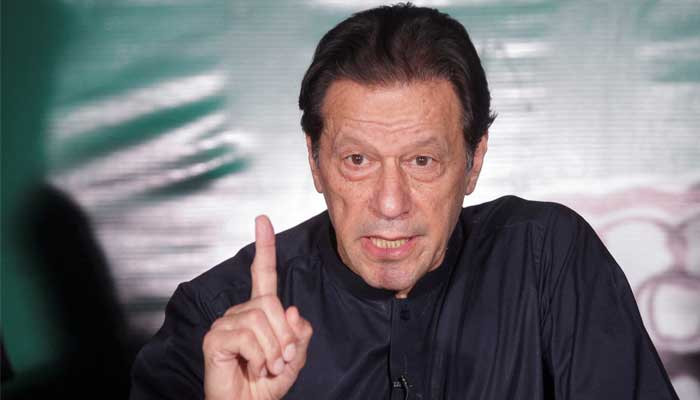 Pakistan's former Prime Minister Imran Khan gestures as he addresses members of the media at his residence in Lahore, Pakistan May 18, 2023. ReutersImran Khan thanks the government for placing him on the list of flight ban. The former prime minister says he won't go because he has no overseas assets. The head of the PTI says he will instead spend a holiday in the mountains of Pakistan.
After being placed on the no-fly list along with 226 leaders and lawmakers from his party, Pakistan Tehreek-e-Insaf (PTI) President Imran Khan on Friday thanked the government for saying it does not did not plan to travel abroad.
A day earlier, Khan and hundreds of PTI leaders, sources say, were added to the FIA's Provisional National Identification List (PNIL) to prevent them from traveling overseas for their involvement in the violent riots of May 9 causing damage to public and private property, especially those belonging to the country's armed forces.
Taking to Twitter, the PTI chief wrote: "I want to thank the government for putting my name on the ECL as I have no plans to travel overseas."
Citing reasons for his plans, the former prime minister who was removed from office following a vote of no confidence in April last year said he had 'no property or business there. abroad or even a bank account outside the country".
However, if he has the opportunity to go on vacation, Khan said he would choose the mountains in the north of the country, calling these sites his "favorite place on earth".
"If and when I have the opportunity to vacation, it will be in our northern mountains, my favorite place on earth," he added.
According to the sources, Khan's wife Bushra Bibi was also placed on the list which also includes PTI politicians Murad Saeed, Maleeka Bokhari, Fawad Chaudhry, Hammad Azhar, Qasim Suri, Asad Qaiser, Yasmin Rashid and Mian Aslam Iqbal.
The sources further claimed that some PTI leaders and bureau members had attempted to leave the country in the past three days, but were detained at airports.
In order to prevent them from leaving the country, their names were sent by the police, the counter-terrorism department (CTD) and intelligence agencies.
Thousands of workers and party leaders have been arrested in the crackdown on the PTI since May 9 for their alleged involvement in the riots that left at least 8 dead and injured dozens more.
Several party leaders and lawmakers, including Shireen Mazari, Fawad Chaudhry, Aamir Mehmood Kiani, Malik Amin Aslam, Mahmood Moulvi, Aftab Siddiqui, Fayyazul Hassan Chohan, among others, have since publicly denounced the attacks on state facilities and announced their departure from the former party in power since the May 9 Vandalism.
Sources
2/ https://www.geo.tv/latest/489417-no-plans-to-travel-abroad-imran-khan-says-after-being-placed-on-no-fly-list
The mention sources can contact us to remove/changing this article
What Are The Main Benefits Of Comparing Car Insurance Quotes Online
LOS ANGELES, CA / ACCESSWIRE / June 24, 2020, / Compare-autoinsurance.Org has launched a new blog post that presents the main benefits of comparing multiple car insurance quotes. For more info and free online quotes, please visit https://compare-autoinsurance.Org/the-advantages-of-comparing-prices-with-car-insurance-quotes-online/ The modern society has numerous technological advantages. One important advantage is the speed at which information is sent and received. With the help of the internet, the shopping habits of many persons have drastically changed. The car insurance industry hasn't remained untouched by these changes. On the internet, drivers can compare insurance prices and find out which sellers have the best offers. View photos The advantages of comparing online car insurance quotes are the following: Online quotes can be obtained from anywhere and at any time. Unlike physical insurance agencies, websites don't have a specific schedule and they are available at any time. Drivers that have busy working schedules, can compare quotes from anywhere and at any time, even at midnight. Multiple choices. Almost all insurance providers, no matter if they are well-known brands or just local insurers, have an online presence. Online quotes will allow policyholders the chance to discover multiple insurance companies and check their prices. Drivers are no longer required to get quotes from just a few known insurance companies. Also, local and regional insurers can provide lower insurance rates for the same services. Accurate insurance estimates. Online quotes can only be accurate if the customers provide accurate and real info about their car models and driving history. Lying about past driving incidents can make the price estimates to be lower, but when dealing with an insurance company lying to them is useless. Usually, insurance companies will do research about a potential customer before granting him coverage. Online quotes can be sorted easily. Although drivers are recommended to not choose a policy just based on its price, drivers can easily sort quotes by insurance price. Using brokerage websites will allow drivers to get quotes from multiple insurers, thus making the comparison faster and easier. For additional info, money-saving tips, and free car insurance quotes, visit https://compare-autoinsurance.Org/ Compare-autoinsurance.Org is an online provider of life, home, health, and auto insurance quotes. This website is unique because it does not simply stick to one kind of insurance provider, but brings the clients the best deals from many different online insurance carriers. In this way, clients have access to offers from multiple carriers all in one place: this website. On this site, customers have access to quotes for insurance plans from various agencies, such as local or nationwide agencies, brand names insurance companies, etc. "Online quotes can easily help drivers obtain better car insurance deals. All they have to do is to complete an online form with accurate and real info, then compare prices", said Russell Rabichev, Marketing Director of Internet Marketing Company. CONTACT: Company Name: Internet Marketing CompanyPerson for contact Name: Gurgu CPhone Number: (818) 359-3898Email: [email protected]: https://compare-autoinsurance.Org/ SOURCE: Compare-autoinsurance.Org View source version on accesswire.Com:https://www.Accesswire.Com/595055/What-Are-The-Main-Benefits-Of-Comparing-Car-Insurance-Quotes-Online View photos
to request, modification Contact us at Here or [email protected]