Pakistani Prime Minister Imran Khan calls for urgent talks amid aid crackdown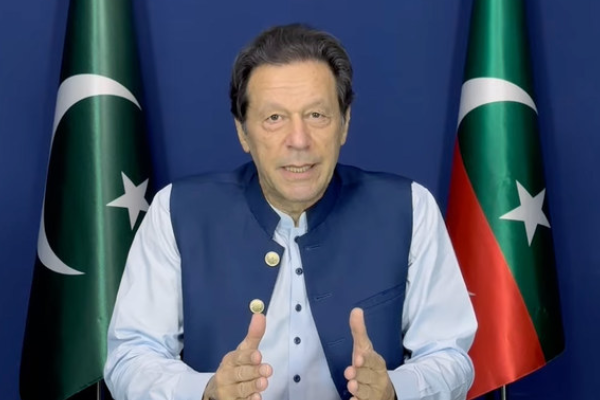 Former Pakistani Prime Minister Imran Khan has demanded emergency talks with state officials amid mounting pressure on him following a crackdown on top aides and supporters that resulted in jailing of thousands of people and the abandonment of his party.
Since Khan was ousted from office last year in a legislative vote he says was manipulated by senior army generals, he has been embroiled in a dispute with the army, but the armed forces disputed this.
The clash escalated when earlier this month Khan's supporters were involved in violent protests after his brief arrest on May 9.
As Pakistan endures its biggest economic crisis in decades, political unrest has intensified.
Inflation is at an all-time high, economic development is slow and there are fears that the government will fail to repay its foreign loans unless the International Monetary Fund cancels deferred payments.
The majority of Khan's top advisers were arrested shortly after his supporters stormed and burned down a number of military installations across the country. Many were released and subsequently resigned from Khan's party. Dozens of additional middle managers also left.
Khan said they were forced to resign under duress in an effort to weaken him and dismantle his party. He distanced his party from attacks on military installations during the unrest following his arrest and reiterated a call for an investigation to determine who was involved.
Members of Khan's party said they were leaving of their own free will. Many of them spoke of concerns for their families and their health.
The former prime minister, however, struck a defiant tone, warning that his party's popularity was only growing due to the crackdown and that he would always win an election whenever it was held. He said he only wanted to talk to get the country out of the current crisis.
A national election is scheduled for November and polls show Khan remains the country's most popular leader.
Khan had said earlier this week that he would set up a committee to conduct negotiations.
He says previous attempts to talk to the country's powerful generals went unanswered. The civilian government, a coalition of his political rivals, has not indicated it is willing to talk as the crackdown on his party continues.
The 33 defendants are among thousands detained since Khan's arrest on May 9 sparked violent protests across Pakistan.
Khan was arrested for bribery, which he denies, and later released on bail.
Sources
2/ https://www.tvcnews.tv/2023/05/fmr-pakistan-pm-imran-khan-calls-for-urgent-talks-amidst-crack-down-on-aides/
The mention sources can contact us to remove/changing this article
What Are The Main Benefits Of Comparing Car Insurance Quotes Online
LOS ANGELES, CA / ACCESSWIRE / June 24, 2020, / Compare-autoinsurance.Org has launched a new blog post that presents the main benefits of comparing multiple car insurance quotes. For more info and free online quotes, please visit https://compare-autoinsurance.Org/the-advantages-of-comparing-prices-with-car-insurance-quotes-online/ The modern society has numerous technological advantages. One important advantage is the speed at which information is sent and received. With the help of the internet, the shopping habits of many persons have drastically changed. The car insurance industry hasn't remained untouched by these changes. On the internet, drivers can compare insurance prices and find out which sellers have the best offers. View photos The advantages of comparing online car insurance quotes are the following: Online quotes can be obtained from anywhere and at any time. Unlike physical insurance agencies, websites don't have a specific schedule and they are available at any time. Drivers that have busy working schedules, can compare quotes from anywhere and at any time, even at midnight. Multiple choices. Almost all insurance providers, no matter if they are well-known brands or just local insurers, have an online presence. Online quotes will allow policyholders the chance to discover multiple insurance companies and check their prices. Drivers are no longer required to get quotes from just a few known insurance companies. Also, local and regional insurers can provide lower insurance rates for the same services. Accurate insurance estimates. Online quotes can only be accurate if the customers provide accurate and real info about their car models and driving history. Lying about past driving incidents can make the price estimates to be lower, but when dealing with an insurance company lying to them is useless. Usually, insurance companies will do research about a potential customer before granting him coverage. Online quotes can be sorted easily. Although drivers are recommended to not choose a policy just based on its price, drivers can easily sort quotes by insurance price. Using brokerage websites will allow drivers to get quotes from multiple insurers, thus making the comparison faster and easier. For additional info, money-saving tips, and free car insurance quotes, visit https://compare-autoinsurance.Org/ Compare-autoinsurance.Org is an online provider of life, home, health, and auto insurance quotes. This website is unique because it does not simply stick to one kind of insurance provider, but brings the clients the best deals from many different online insurance carriers. In this way, clients have access to offers from multiple carriers all in one place: this website. On this site, customers have access to quotes for insurance plans from various agencies, such as local or nationwide agencies, brand names insurance companies, etc. "Online quotes can easily help drivers obtain better car insurance deals. All they have to do is to complete an online form with accurate and real info, then compare prices", said Russell Rabichev, Marketing Director of Internet Marketing Company. CONTACT: Company Name: Internet Marketing CompanyPerson for contact Name: Gurgu CPhone Number: (818) 359-3898Email: [email protected]: https://compare-autoinsurance.Org/ SOURCE: Compare-autoinsurance.Org View source version on accesswire.Com:https://www.Accesswire.Com/595055/What-Are-The-Main-Benefits-Of-Comparing-Car-Insurance-Quotes-Online View photos
to request, modification Contact us at Here or [email protected]