Erdogan seeks to extend his reign in the second round of presidential elections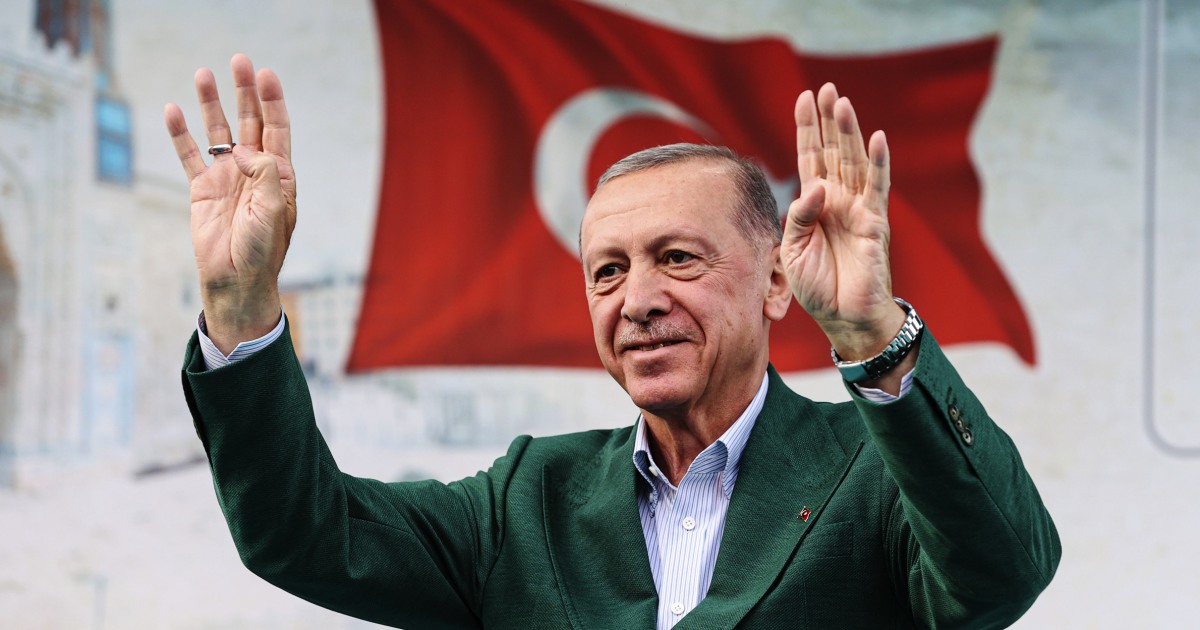 ANKARA, Turkey It's been one of the most contested presidential elections in recent times, but at Arjantin lkokulu elementary school in Ankara, Turkey's capital, the mood was calm, orderly and calm.
There was no jostling as voters lined up to decide whether the country's longtime leader Recep Tayyip Erdoan extends his rule to a third decade or is overthrown by challenger Kemal Kilicdaroglu, who has promised to restore a more democratic society. Continuity or change?
I hope it will be good for Turkey, said geologist Salami Toprak, 67, shortly after voting. Let's see what will come out. He added that he was thinking of the next generation while voting.
Closely watched from Washington and Kiev to Moscow and Beijing, the run-off of the Turkish Republics Centenary Year comes after none of the candidates was able to secure more than 50% of the vote in the first round of May 14, Erdoan fell short by a tiny amount.
Kilicdaroglu, 74, described the second round as a referendum on the country's future. The leader of the center-left secular Republican People's Party, or CHP, since 2010 is a starkly different figure from Erdoan, who is known for his bombastic speeches. With a soft voice, he has the reputation of being a builder of bridges.
In addition to returning the country to parliamentary democracy, Kilicdaroglu and the alliance pledged to establish the independence of the judiciary and central bank, institute checks and balances, and reverse democratic backsliding and repression. freedom of expression and dissent.
But Erdoan is favorite to win, after his ruling Justice and Development Party (AKP) retained a majority in parliament in elections earlier this month.
Initially, however, he trailed in opinion polls during a campaign dominated by the fallout from the devastating earthquake that killed more than 50,000 people earlier this year and the country's economic turmoil.
Erdoan raised salaries and pensions ahead of the first round of elections and subsidized electricity costs and gas bills in a bid to woo voters who faced a steep cost-of-living and housing crisis. currency precipitated by numerous rate cuts by the government in an attempt to boost exports.
Immigration was also high on the agenda and both candidates sought to bolster their nationalist credentials ahead of the second round.
Before the first vote, Kilicdaroglu said he intended to repatriate the refugees within two years by creating favorable conditions for their return. But he has since hardened his stance and pledged to send all refugees home once elected president.
Erdoan, meanwhile, courted and secured the support of nationalist politician Sinan Ogan, the former academic who was backed for the presidency by an anti-migrant party but was eliminated after finishing third in the first round of voting. During the election campaign, Ogan said he would consider forcibly returning migrants if necessary.
While the economy and migration were big issues, Erdoan managed to secure the election and convinced his base that national security was at stake, said Dimitar Bechev, lecturer on Turkey at the University of Turkey. Oxford in the UK, author of Turkey under Erdoan. He added that identity politics revolving around ethnicity and religion determined much of the vote allocation.
The results will also have multiple ramifications outside of Turkey, which enjoys a strategic location at the crossroads of Europe and Asia. Turkey has the second-largest armed force in NATO after the United States, controls the crucial Bosphorus strait and is widely believed to harbor US nuclear missiles on its soil.
Despite being a member of NATO, the country maintained close ties with Russia and blocked Sweden's membership in the Western military alliance.
A victory for Erdoan would likely deepen the country's relations with Moscow, according to Nilgun Arisan Eralp, director of the Center for European Studies at Turkey's Economic Policy Research Institute in Ankara.
Given the difficult economic situation the economy finds itself in, Russian money will be needed to keep the regime going, Eralp said, adding that it was likely he would continue to reject Sweden's membership in the regime. NATO, damaging relations with the United States and bringing the country closer to the Kremlin.
Ankara has long accused Sweden of harboring activists from the banned Kurdistan Workers' Party, which is a designated terror group in Turkey, Sweden and the United States.
In Istanbul, Emre Trkolu, 36, said he awaited the results with enthusiasm.
It's important to be here today, said the travel agent. But I think there was no need for a second round because we all know President Erdoan is going to win anyway. The past two weeks have been an uncertain time. I don't like uncertainty in politics
Matt Bradley and Paul Goldman reported from Ankara. Leila Sackur reported from London.
Elden of Neyran contributed.
Sources
2/ https://www.nbcnews.com/news/world/turkey-president-election-erdogan-kilicdaroglu-earthquakes-economy-rcna86586
The mention sources can contact us to remove/changing this article
What Are The Main Benefits Of Comparing Car Insurance Quotes Online
LOS ANGELES, CA / ACCESSWIRE / June 24, 2020, / Compare-autoinsurance.Org has launched a new blog post that presents the main benefits of comparing multiple car insurance quotes. For more info and free online quotes, please visit https://compare-autoinsurance.Org/the-advantages-of-comparing-prices-with-car-insurance-quotes-online/ The modern society has numerous technological advantages. One important advantage is the speed at which information is sent and received. With the help of the internet, the shopping habits of many persons have drastically changed. The car insurance industry hasn't remained untouched by these changes. On the internet, drivers can compare insurance prices and find out which sellers have the best offers. View photos The advantages of comparing online car insurance quotes are the following: Online quotes can be obtained from anywhere and at any time. Unlike physical insurance agencies, websites don't have a specific schedule and they are available at any time. Drivers that have busy working schedules, can compare quotes from anywhere and at any time, even at midnight. Multiple choices. Almost all insurance providers, no matter if they are well-known brands or just local insurers, have an online presence. Online quotes will allow policyholders the chance to discover multiple insurance companies and check their prices. Drivers are no longer required to get quotes from just a few known insurance companies. Also, local and regional insurers can provide lower insurance rates for the same services. Accurate insurance estimates. Online quotes can only be accurate if the customers provide accurate and real info about their car models and driving history. Lying about past driving incidents can make the price estimates to be lower, but when dealing with an insurance company lying to them is useless. Usually, insurance companies will do research about a potential customer before granting him coverage. Online quotes can be sorted easily. Although drivers are recommended to not choose a policy just based on its price, drivers can easily sort quotes by insurance price. Using brokerage websites will allow drivers to get quotes from multiple insurers, thus making the comparison faster and easier. For additional info, money-saving tips, and free car insurance quotes, visit https://compare-autoinsurance.Org/ Compare-autoinsurance.Org is an online provider of life, home, health, and auto insurance quotes. This website is unique because it does not simply stick to one kind of insurance provider, but brings the clients the best deals from many different online insurance carriers. In this way, clients have access to offers from multiple carriers all in one place: this website. On this site, customers have access to quotes for insurance plans from various agencies, such as local or nationwide agencies, brand names insurance companies, etc. "Online quotes can easily help drivers obtain better car insurance deals. All they have to do is to complete an online form with accurate and real info, then compare prices", said Russell Rabichev, Marketing Director of Internet Marketing Company. CONTACT: Company Name: Internet Marketing CompanyPerson for contact Name: Gurgu CPhone Number: (818) 359-3898Email: [email protected]: https://compare-autoinsurance.Org/ SOURCE: Compare-autoinsurance.Org View source version on accesswire.Com:https://www.Accesswire.Com/595055/What-Are-The-Main-Benefits-Of-Comparing-Car-Insurance-Quotes-Online View photos
to request, modification Contact us at Here or [email protected]