Presidential elections in Turkey: Recep Tayyip Erdogan is closing in on victory in a historic second round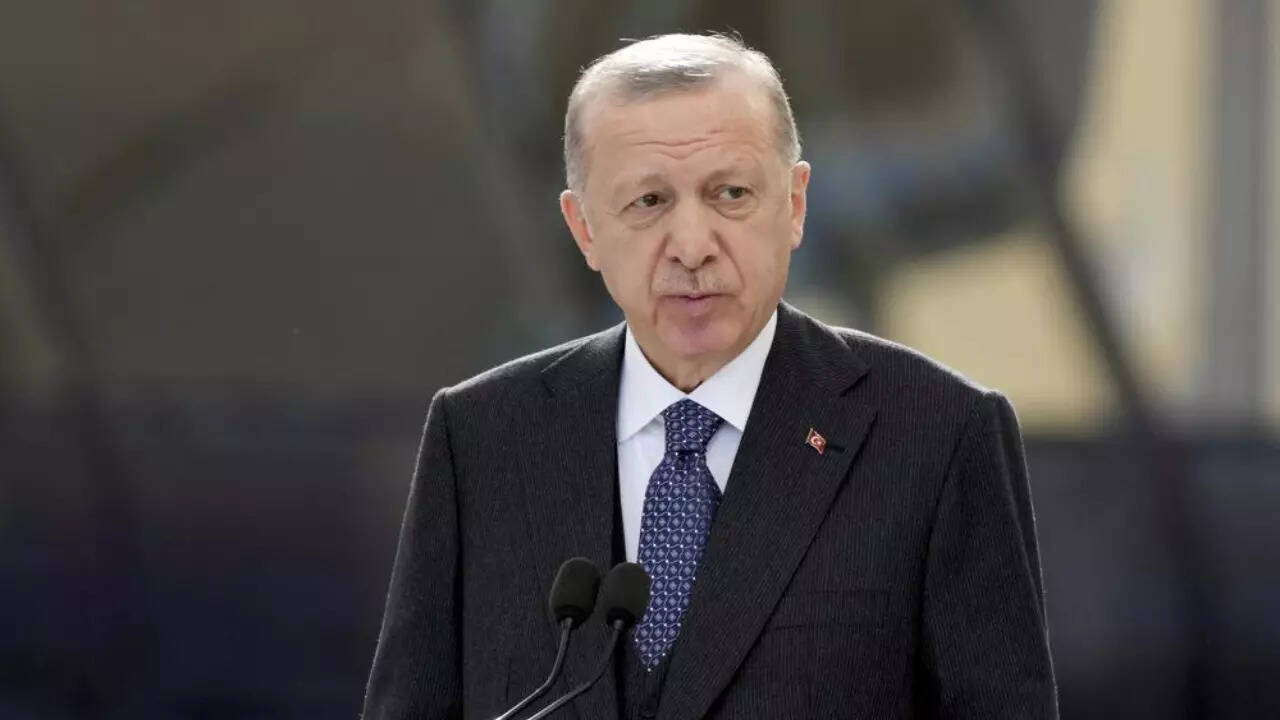 Turkish President Recep Tayyip Erdogan (file image)
Photo: AP
Ankara: Turkish President Recep Tayyip Erdogan edged closer to victory on Sunday in a historic runoff that posed the greatest challenge to his transformative but divisive 20-year rule. The 69-year-old leader has faced Turkey's biggest economic crisis in generations and a united opposition to take a dominant direction.
The official Anadolu state news agency showed the leader of Islamic origin ahead of his secular opposition rival Kemal Kilicdaroglu by four percentage points, with 97% of the vote counted. A separate tally published by the pro-opposition Anka news agency showed Erdogan leading by a similar margin.
Turkey's longest-serving leader, a member of NATO, was tested like never before in what was widely regarded as the country's most important election in its 100-year rule. history as a post-Ottoman republic. Kilicdaroglu has cobbled together a powerful coalition of Erdogan's disillusioned former allies with secular nationalists and religious conservatives.
He pushed Erdogan in his first run-off on May 14 and further reduced the margin in the second round. Opposition supporters saw it as a chance to save Turkey from being turned into an autocracy by a man whose consolidation of power rivals that of the Ottoman sultans.
"I invite all my citizens to vote in order to get rid of this authoritarian regime and bring true freedom and democracy to this country," Kilicdaroglu said after casting his vote in the first run-off of Turkey's presidential election. Erdogan looked tired but comfortable as he voted with his wife Emine in a conservative district of Istanbul, telling citizens to "show up and vote without complacency". Emir Bilgin responded to the appeal of the Turkish leader.
"I will vote for Erdogan. There is no one else like him," said the 24-year-old from a working-class district of Istanbul where the young future president grew up playing street football.
– Opposition bet –
Kilicdaroglu reappeared a transformed man after the first round. The former civil servant's message of social unity and freedoms gave way to hard-hitting speeches on the need to deport migrants immediately and fight terrorism. His turn to the right was aimed at the nationalists who emerged as the big winners in the parallel legislative elections.
The 74-year-old has always adhered to the firm nationalist principles of Mustafa Kemal Atatürk, a revered military commander who formed Turkey and Kilicdaroglu's secular CHP party. But these had played a secondary role in his promotion of the socially liberal values ​​practiced by young voters and inhabitants of the big cities.
Analysts wondered if Kilicdaroglu's bet would work. His informal alliance with a pro-Kurdish party that Erdogan describes as the political wing of banned activists has exposed him to accusations of collaborating with "terrorists". And Kilicdaroglu's courtship of Turkey's hard-right has been hampered by the endorsement Erdogan received from an ultra-nationalist who finished third two weeks ago.
Some opposition supporters appeared defeated after walking out of the polls. "Today is not like the last time. I was more excited back then," said Bayram Ali Yuce in one of Istanbul's anti-Erdogan neighborhoods. "The result seems more obvious now. But I voted anyway."
– Champion of the poor –
Erdogan is revered by poorer, more rural sections of fractured Turkish society for his promotion of religious freedoms and the modernization of once-dilapidated towns in the heart of Anatolia. "It was important for me to keep what I acquired over the past 20 years in Turkey," company director Mehmet Emin Ayaz told AFP in Ankara.
"Turkey is not what it once was. There is a new Turkey today," the 64-year-old said. But Erdogan has caused growing consternation in the Western world over his crackdown on dissent and the pursuit of a heavy-handed foreign policy. He launched military incursions into Syria that infuriated European powers and placed Turkish soldiers on the opposite side of US-backed Kurdish forces.
Her personal relationship with Russian President Vladimir Putin also survived the Kremlin's war on Ukraine. Turkey's struggling economy is benefiting from a crucial payment deferral on Russian energy imports that has helped Erdogan spend lavishly on campaign promises this year. Erdogan has also delayed Finland's NATO membership and still refuses to let Sweden join the US-led defense bloc.
– 'Day of recognition' –
Turkey's crumbling economy will be the most immediate test of who wins the vote. Erdogan went through a series of central bankers to find one who would fulfill his wish to cut interest rates at all costs in 2021 – flouting conventional economics in the belief that lower rates can cure chronically high inflation.
The Turkish currency quickly went into free fall and the annual inflation rate reached 85% last year. Erdogan vowed to continue these policies and dismissed analysts' predictions of economic peril. Turkey burned tens of billions of dollars trying to prop up the pound against politically sensitive falls ahead of the vote.
Many analysts say Turkey must now raise interest rates or abandon attempts to prop up the lira. "Doomsday for Turkey's economy and financial markets may now be approaching," analysts at Capital Economics warned.
Sources
2/ https://www.timesnownews.com/world/turkey-presidential-elections-recep-tayyip-erdogan-closes-in-on-victory-in-historic-runoff-article-100574354
The mention sources can contact us to remove/changing this article
What Are The Main Benefits Of Comparing Car Insurance Quotes Online
LOS ANGELES, CA / ACCESSWIRE / June 24, 2020, / Compare-autoinsurance.Org has launched a new blog post that presents the main benefits of comparing multiple car insurance quotes. For more info and free online quotes, please visit https://compare-autoinsurance.Org/the-advantages-of-comparing-prices-with-car-insurance-quotes-online/ The modern society has numerous technological advantages. One important advantage is the speed at which information is sent and received. With the help of the internet, the shopping habits of many persons have drastically changed. The car insurance industry hasn't remained untouched by these changes. On the internet, drivers can compare insurance prices and find out which sellers have the best offers. View photos The advantages of comparing online car insurance quotes are the following: Online quotes can be obtained from anywhere and at any time. Unlike physical insurance agencies, websites don't have a specific schedule and they are available at any time. Drivers that have busy working schedules, can compare quotes from anywhere and at any time, even at midnight. Multiple choices. Almost all insurance providers, no matter if they are well-known brands or just local insurers, have an online presence. Online quotes will allow policyholders the chance to discover multiple insurance companies and check their prices. Drivers are no longer required to get quotes from just a few known insurance companies. Also, local and regional insurers can provide lower insurance rates for the same services. Accurate insurance estimates. Online quotes can only be accurate if the customers provide accurate and real info about their car models and driving history. Lying about past driving incidents can make the price estimates to be lower, but when dealing with an insurance company lying to them is useless. Usually, insurance companies will do research about a potential customer before granting him coverage. Online quotes can be sorted easily. Although drivers are recommended to not choose a policy just based on its price, drivers can easily sort quotes by insurance price. Using brokerage websites will allow drivers to get quotes from multiple insurers, thus making the comparison faster and easier. For additional info, money-saving tips, and free car insurance quotes, visit https://compare-autoinsurance.Org/ Compare-autoinsurance.Org is an online provider of life, home, health, and auto insurance quotes. This website is unique because it does not simply stick to one kind of insurance provider, but brings the clients the best deals from many different online insurance carriers. In this way, clients have access to offers from multiple carriers all in one place: this website. On this site, customers have access to quotes for insurance plans from various agencies, such as local or nationwide agencies, brand names insurance companies, etc. "Online quotes can easily help drivers obtain better car insurance deals. All they have to do is to complete an online form with accurate and real info, then compare prices", said Russell Rabichev, Marketing Director of Internet Marketing Company. CONTACT: Company Name: Internet Marketing CompanyPerson for contact Name: Gurgu CPhone Number: (818) 359-3898Email: [email protected]: https://compare-autoinsurance.Org/ SOURCE: Compare-autoinsurance.Org View source version on accesswire.Com:https://www.Accesswire.Com/595055/What-Are-The-Main-Benefits-Of-Comparing-Car-Insurance-Quotes-Online View photos
to request, modification Contact us at Here or [email protected]