Liz Cheney urges grads not to compromise with truth in commencement speech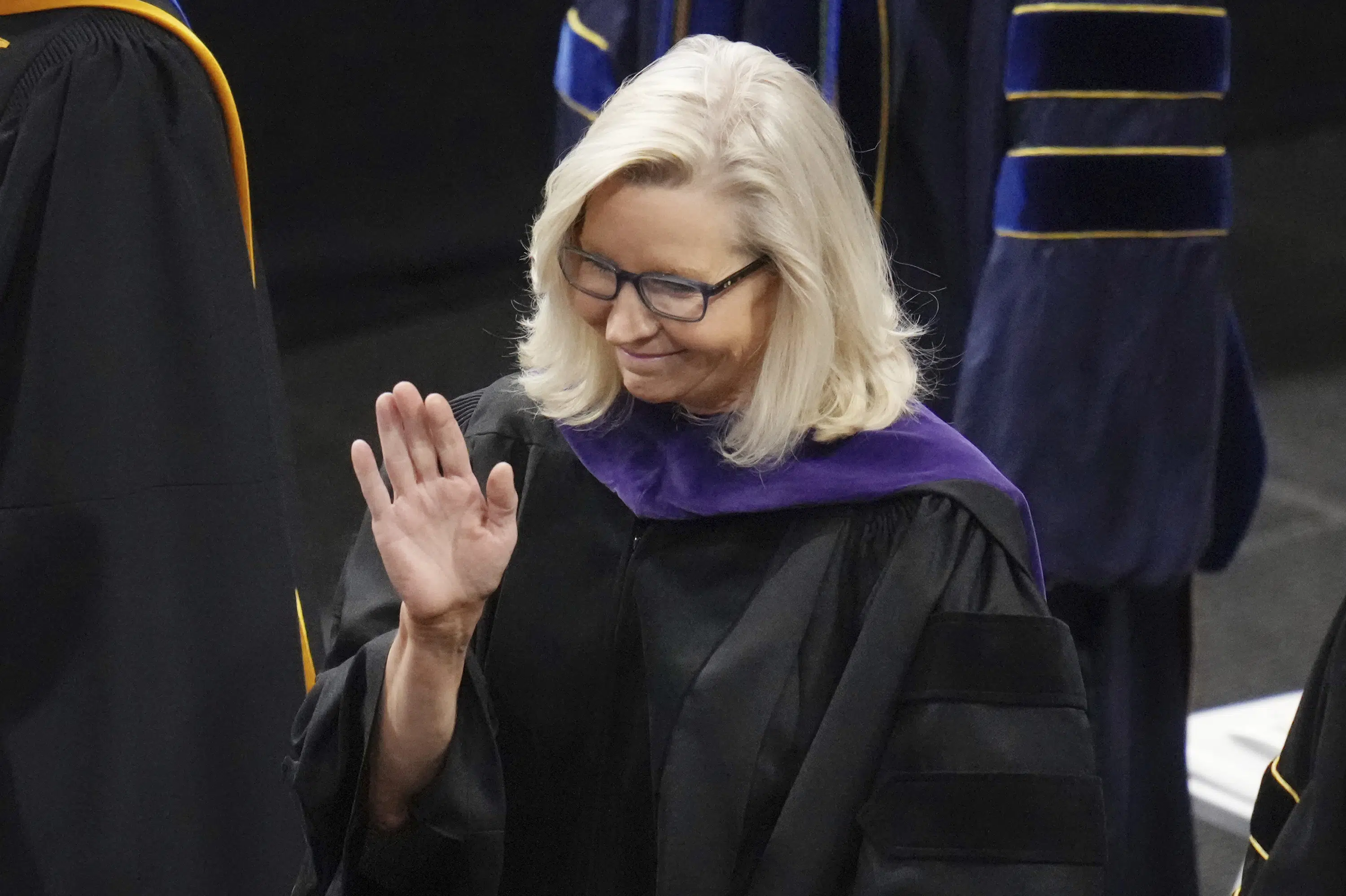 Former US Representative Liz Cheney implored new college graduates not to compromise on the truth, excoriating fellow House Republicans for not doing enough to combat former President Donald Trump's lies that the 2020 elections were stolen.
In a commencement speech at Colorado College, the Wyoming Republican repeated her fierce criticism of Trump but avoided discussing his 2024 re-election campaign or her own political future.
Cheney, a 1988 graduate of Colorado College, recalls being a political science student as he entered a building on campus where a Bible verse was inscribed above the entrance that read: You shall know the truth, and the truth shall set you free. .
After the 2020 election and the January 6 bombing, my fellow Republicans wanted me to lie. They wanted me to say the 2020 election was stolen, the Jan. 6 attack wasn't serious, and Donald Trump wasn't dangerous, Cheney said Sunday in Colorado Springs, relating her experiences as a college student. to his work in the United States House of Representatives. I had to choose between lying and losing my job as House leader.
In three terms, Cheney rose to the No. 3 GOP leadership position in the House, a position she lost after voting to impeach Trump for the Jan. 6, 2021, uprising on Capitol Hill and then failed to relented in his criticism of the former president.
Cheney's speech touched on similar themes to those she has promoted since leaving office in January: addressing her work on the House committee investigating the January 6, 2021 attack on the U.S. Capitol and oppose the threat she believes Trump poses to democracy. She also encouraged more women to run for office and lambasted one of the non-election lawyers who worked for Trump after the 2020 election for his recent remarks on student voting.
Cleta Mitchell, an election denier and adviser to former President Trump, recently told a gathering of Republicans that making sure students don't vote was critically important, Cheney said. Those trying to unravel the foundations of our republic, who threaten the rule of law and the sanctity of our elections, know they cannot succeed if you vote.
In an audio recording of Mitchell's presentation at a recent Republican National Committee retreat, she warns of polling places on college campuses and the ease of voting as potential problems, The Washington Post reported.
Most of the students and parents in the audience cheered throughout Cheney's remarks, but some booed. Some students opposed to Cheney's choice as speaker turned their chairs away from the stage as she spoke.
Cheney's busy speaking program and topic has fueled speculation about whether she could enter the 2024 GOP presidential primary since leaving office. Candidates ranging from Florida Governor Ron DeSantis to former South Carolina Governor Nikki Haley have calibrated their remarks about Trump, aiming to counter his attacks without alienating the supporters who won him the White House seven years ago. .
Although some have issued measured criticism, no avowed or potential challenger has embraced anti-Trump messages to the same extent as Cheney. She did not refer to her plans on Sunday, but has previously said she remains undecided on whether she wants to run for president.
Though she would face an uphill battle, Cheney's fierce anti-Trump stance and her role as House committee vice-chairman raised her platform high enough to appeal to a nationwide network of donors and critics. of Trump to support a race for the White House.
A super PAC organized to support his candidacy has remained active, including buying attack ads on New Hampshire airwaves against Trump this month.
After leaving office and being replaced by a Trump-backed Republican who defeated her in last year's primaries, Cheney was named a professor at the University of Virginia and wrote Oath and Honor, a memoir that should be released in November.
Two of Cheney's five children and his mother are also liberal arts college graduates.
Cheney's speaking tour appears to be resuming. She is scheduled to appear Thursday at the Mackinac Policy Conference in Michigan.
___
Metz reported from Salt Lake City.
Sources
2/ https://apnews.com/article/liz-cheney-commencement-colorado-trump-524dd575a29b18f8a028a533ab33a126
The mention sources can contact us to remove/changing this article
What Are The Main Benefits Of Comparing Car Insurance Quotes Online
LOS ANGELES, CA / ACCESSWIRE / June 24, 2020, / Compare-autoinsurance.Org has launched a new blog post that presents the main benefits of comparing multiple car insurance quotes. For more info and free online quotes, please visit https://compare-autoinsurance.Org/the-advantages-of-comparing-prices-with-car-insurance-quotes-online/ The modern society has numerous technological advantages. One important advantage is the speed at which information is sent and received. With the help of the internet, the shopping habits of many persons have drastically changed. The car insurance industry hasn't remained untouched by these changes. On the internet, drivers can compare insurance prices and find out which sellers have the best offers. View photos The advantages of comparing online car insurance quotes are the following: Online quotes can be obtained from anywhere and at any time. Unlike physical insurance agencies, websites don't have a specific schedule and they are available at any time. Drivers that have busy working schedules, can compare quotes from anywhere and at any time, even at midnight. Multiple choices. Almost all insurance providers, no matter if they are well-known brands or just local insurers, have an online presence. Online quotes will allow policyholders the chance to discover multiple insurance companies and check their prices. Drivers are no longer required to get quotes from just a few known insurance companies. Also, local and regional insurers can provide lower insurance rates for the same services. Accurate insurance estimates. Online quotes can only be accurate if the customers provide accurate and real info about their car models and driving history. Lying about past driving incidents can make the price estimates to be lower, but when dealing with an insurance company lying to them is useless. Usually, insurance companies will do research about a potential customer before granting him coverage. Online quotes can be sorted easily. Although drivers are recommended to not choose a policy just based on its price, drivers can easily sort quotes by insurance price. Using brokerage websites will allow drivers to get quotes from multiple insurers, thus making the comparison faster and easier. For additional info, money-saving tips, and free car insurance quotes, visit https://compare-autoinsurance.Org/ Compare-autoinsurance.Org is an online provider of life, home, health, and auto insurance quotes. This website is unique because it does not simply stick to one kind of insurance provider, but brings the clients the best deals from many different online insurance carriers. In this way, clients have access to offers from multiple carriers all in one place: this website. On this site, customers have access to quotes for insurance plans from various agencies, such as local or nationwide agencies, brand names insurance companies, etc. "Online quotes can easily help drivers obtain better car insurance deals. All they have to do is to complete an online form with accurate and real info, then compare prices", said Russell Rabichev, Marketing Director of Internet Marketing Company. CONTACT: Company Name: Internet Marketing CompanyPerson for contact Name: Gurgu CPhone Number: (818) 359-3898Email: [email protected]: https://compare-autoinsurance.Org/ SOURCE: Compare-autoinsurance.Org View source version on accesswire.Com:https://www.Accesswire.Com/595055/What-Are-The-Main-Benefits-Of-Comparing-Car-Insurance-Quotes-Online View photos
to request, modification Contact us at Here or [email protected]