How Donald Trump could win again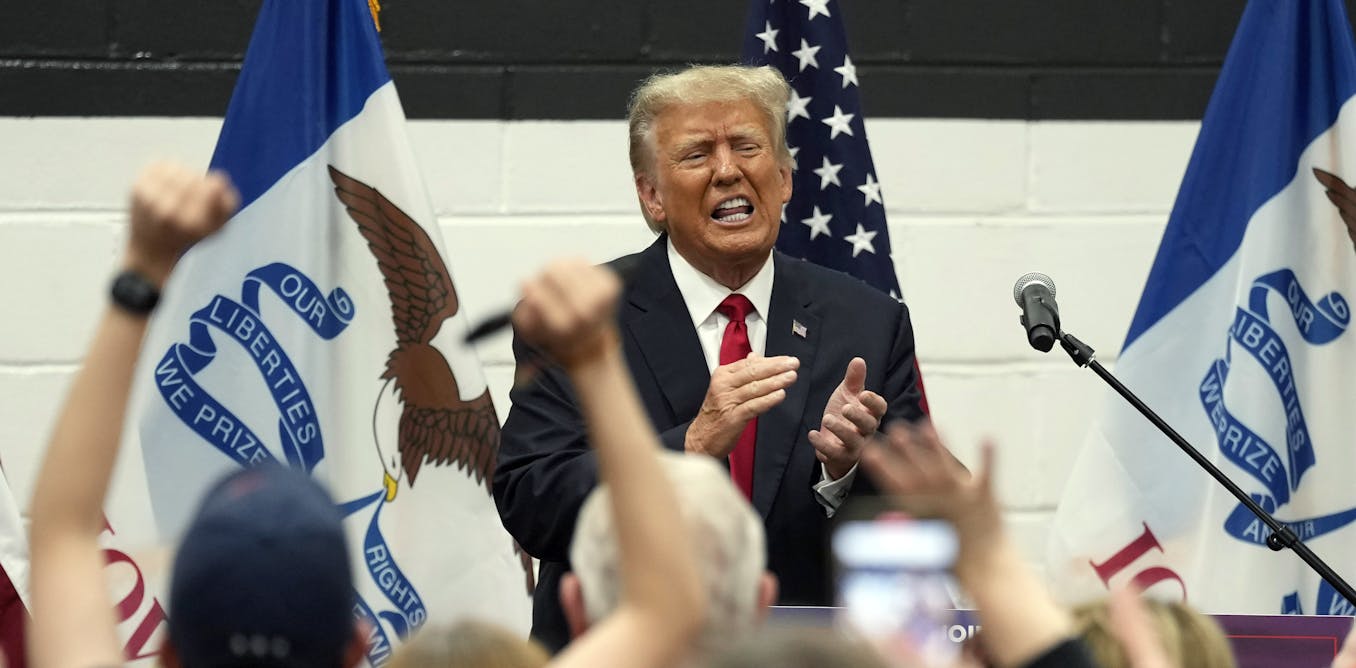 Forget policies and plans, just delight them in a tale. One that begins with hate and ends with revenge. A revenge in which they can participate. Economist Andres Miguel Rondn, 2017.
Donald Trump is likely to win the Republican party's nomination for president in 2024. Even under impeachment, his popularity among many Republicans and MAGA supporters remains intact. With that unwavering support, he could become president of the United States again.
How?
Trump and his political team have created a political image based on a narrative that makes him hard to beat. I call it the survivalist framework. It is based on anger and fear, but offers a path to power for Americans who feel marginalized.
Trump was thrown into their minds as a hero, now unjustly persecuted by the criminal justice system, which knows the truth. They perceive a weakness in society and its inability to work for them.
Clear the swamp
In 2016, Trump took the stage heavily sporting a red cap (an endearing symbol for everyone), promising a new realm in which he and his supporters have agency, aided by the call and response of Drain the Swamp and make America great again.
Its political image was technically constructed through the lens of a camera and social media (Truth Social and before that, Twitter), but its main strength is a culture ready to accept a revolutionary message.
No imagery can flourish without a fertile cultural ground, including an energized group ready to receive and shape it. Trump recognizes this narrative and is able to embrace it.
As American public policy professor David Gergen noted in 2016, Trump's political success hinges on his emotional appeal. In politics, Gergen writes, emotions matter as much as math.
Donald Trump speaks during a campaign stop in Arizona in 2016. (AP Photo/Matt York) Marginalized people as heroes
In popular culture, the United States is replete with similar narratives that portray the marginalized as heroes and public officials and institutions as corrupt and incompetent.
In this environment, the activation of a political framework may be closer to the experience of a successful first date, an instinctive and immediate love at first sight, rather than any rational measure of a political campaign. .
A frame rests on the stories we tell ourselves and is pulled to the surface by words, images or sounds that remind us of an immediate, unconscious neurological reaction.
Trump knows that when it comes to political appeal, emotions rule and that a political framework must be underpinned by a deeper cultural narrative.
The mainstream movies, video games, and graphic novels help build and sustain the survivalist narrative through powerful art.
Examples like The Walking Dead and Game of Thrones support this narrative, as they all feature protagonists struggling against world-changing political upheaval and overcoming it with a survivalist response. They defy the environment and retaliate with murderous violence fueled by revenge.
Even superheroes have gone from supporters of the government (the rule of law) to survivalists. A powerful example is Frank Millers Batman which portrays the superhero as a brutal vigilante who openly challenges state authority and offers examples of victor's justice by maiming and even murdering his opponents.
The antihero is also now the norm, rather than the exception, in popular comics.
The government as an enemy
Art makes culture and culture often makes politics.
In the art world as in the real world, the survivalist narrative is robust but vague. The government is the enemy, but it's thrown into dark conspiracies with some kind of elusive evil working behind the scenes.
The framework has many entry points and can support many people's narratives that they just need to feel like outsiders who think their abilities and values ​​are underestimated, combined with the idea that the political system is seemingly callous, corrupt, and unwilling to protect them.
In this environment, the ground is ripe for a strong leader to rise up and take power. Trump's strongman/underdog position makes sense in this world and, for many in the GOP, is deeply desired.
Read more: Trump's inauguration ushers in 2017, the year of the strongman
Our imaginations are complex and stories intertwine in many ways, a phenomenon that cannot easily be captured by empirical methods. That's why Trump's support is often hard to detect in traditional polls.
Trump wins in 2024?
The Trump team so deftly carved out one aspect of the survivalist trope that it led to unexpected political success in 2016, which can certainly be transferred to 2024.
For what? Once a leader's image has been incorporated into a compelling narrative, he is on his way to becoming a legend. And living legends are immune to a number of political criticisms and hard to defeat in an election.
If Trump's political opponents don't understand his cultural appeal, they won't be able to counter him.
The shrewd presentation of his survivalist framework by past presidents could propel him to a second term in the White House. Whether portrayed as a hero or a villain, Trump has his own superpower.
Sources
2/ https://theconversation.com/a-survivors-vengeance-how-donald-trump-could-win-again-206469
The mention sources can contact us to remove/changing this article
What Are The Main Benefits Of Comparing Car Insurance Quotes Online
LOS ANGELES, CA / ACCESSWIRE / June 24, 2020, / Compare-autoinsurance.Org has launched a new blog post that presents the main benefits of comparing multiple car insurance quotes. For more info and free online quotes, please visit https://compare-autoinsurance.Org/the-advantages-of-comparing-prices-with-car-insurance-quotes-online/ The modern society has numerous technological advantages. One important advantage is the speed at which information is sent and received. With the help of the internet, the shopping habits of many persons have drastically changed. The car insurance industry hasn't remained untouched by these changes. On the internet, drivers can compare insurance prices and find out which sellers have the best offers. View photos The advantages of comparing online car insurance quotes are the following: Online quotes can be obtained from anywhere and at any time. Unlike physical insurance agencies, websites don't have a specific schedule and they are available at any time. Drivers that have busy working schedules, can compare quotes from anywhere and at any time, even at midnight. Multiple choices. Almost all insurance providers, no matter if they are well-known brands or just local insurers, have an online presence. Online quotes will allow policyholders the chance to discover multiple insurance companies and check their prices. Drivers are no longer required to get quotes from just a few known insurance companies. Also, local and regional insurers can provide lower insurance rates for the same services. Accurate insurance estimates. Online quotes can only be accurate if the customers provide accurate and real info about their car models and driving history. Lying about past driving incidents can make the price estimates to be lower, but when dealing with an insurance company lying to them is useless. Usually, insurance companies will do research about a potential customer before granting him coverage. Online quotes can be sorted easily. Although drivers are recommended to not choose a policy just based on its price, drivers can easily sort quotes by insurance price. Using brokerage websites will allow drivers to get quotes from multiple insurers, thus making the comparison faster and easier. For additional info, money-saving tips, and free car insurance quotes, visit https://compare-autoinsurance.Org/ Compare-autoinsurance.Org is an online provider of life, home, health, and auto insurance quotes. This website is unique because it does not simply stick to one kind of insurance provider, but brings the clients the best deals from many different online insurance carriers. In this way, clients have access to offers from multiple carriers all in one place: this website. On this site, customers have access to quotes for insurance plans from various agencies, such as local or nationwide agencies, brand names insurance companies, etc. "Online quotes can easily help drivers obtain better car insurance deals. All they have to do is to complete an online form with accurate and real info, then compare prices", said Russell Rabichev, Marketing Director of Internet Marketing Company. CONTACT: Company Name: Internet Marketing CompanyPerson for contact Name: Gurgu CPhone Number: (818) 359-3898Email: [email protected]: https://compare-autoinsurance.Org/ SOURCE: Compare-autoinsurance.Org View source version on accesswire.Com:https://www.Accesswire.Com/595055/What-Are-The-Main-Benefits-Of-Comparing-Car-Insurance-Quotes-Online View photos
to request, modification Contact us at Here or [email protected]