Two men in the $ 10 million proposal – National
TITLE Case JC action plan, the single page drew up a plan to free Joko Soegiarto Tjandra, the defendant in the Bank Bali case. The action plan contained a table in seven columns with the appropriate actions to be taken, as well as the schedule, costs and responsible persons.
The action plan was developed by Pinangki Sirna Malasari, Head of Monitoring and Evaluation Unit II of the Planning Office of the Prosecutor's Office (AGO); the deputy leader of the South Sulawesi National Democratic Party (Nasdem), Andi Irfan Jaya, a colleague of Pinangki; and Joko Tjandra's lawyer, Anita Kolopaking. The proposal to seek legal advice from the Supreme Court on Joko's lack of legal action was submitted to him in November 2019. "Pinangki and his colleagues submitted the action plan," Joko Tjandra's lawyer said. , Soesilo Aribowo, Thursday, September 10.
The AGO apprehended Pinangki and Andi on suspicion of accepting bribes from Joko Tjandra. Anita was arrested by the Criminal Investigation Department at the National Police Headquarters for her alleged involvement in a false letter used by Joko Tjandra to return to Indonesia. Joko himself, after 11 years on the run, was brought back from Malaysia by police on July 30.
The first point of the proposal defined an action for the signing of a letter of authorization to be carried out between February 13 and 23. The approval was to ensure that the entire action plan would be implemented. After that, Anita Kolopaking and Andi Irfan Jaya would send a letter requesting legal advice to "BR". Two people familiar with the proposal said BR was appointing Attorney General Sanitiar Burhanuddin.
According to the proposal, from February 26 to March 1, Burhanuddin would send a letter requesting legal advice from "HA". The same two sources said HA was Hatta Ali, who was head of the Supreme Court at the time the proposal was submitted. Hatta came to the pension on April 6 and was replaced by Syarifuddin. Next in the plan, Hatta would issue a legal opinion between March 6 and March 16. During these 10 days, Burhanuddin would issue instructions for the further execution of the Supreme Court's opinion. If all went according to plan, Joko Tjandra would be free and return to Indonesia in April or May of this year.
A copy of Pinangki's interrogation document obtained by Time said the proposal was valued at US $ 100 million, or about Rs 1.4 trillion. But Joko only accepted $ 10 million. He submitted US $ 500,000, or about Rp 7 billion, as an advance payment. Despite the advance already paid, Joko Tjandra's attorney, Soesilo Aribowo, said the plan was canceled halfway. "No deal has been made, nor any deal," he said.
***
Pinangki Sirna Malasari's meeting with Joko Tjandra in Kuala Lumpur, Malyasia, was facilitated by Joshua Rahmat, a businessman close to Joko. In a letter sent to Time Joshua Rahmat said on September 11 that Pinangki and Anita forwarded the request during a lunch meeting with him at a hotel in South Jakarta in early November 2019. "I texted then Joko directly via WhatsApp, "Pak someone would like to meet you," "Rahmat wrote in his letter. Rahmat then sent a photo of Pinangki's business card.
Several days later, on November 11, 2019, Rahmat said, Joko replied that he might meet the next day in Kuala Lumpur. Rahmat contacted Pinangki who was in Singapore. They agreed to meet at Kuala Lumpur International Airport at 10 a.m. They then went together to Joko's office at The Exchange 106 the next day. Time The August 25-31 edition of the magazine reported that the meeting took place in September 2019.
To Joko, Pinangki declared that she was able to take him out without tape. In 2009, the Supreme Court sentenced Joko to two years imprisonment at Bank Bali assignment case for allegedly causing losses to the state amounting to Rp 904 billion. During the lunch meeting, Pinangki submitted the proposal to Joko. But the 70-year-old turned it down because Pinangki was a state official and a civil servant. Pinangki returned to Singapore the same afternoon. Rahmat said he had no knowledge of what was discussed between Pinangki and Joko.
On November 19, 2019, Rahmat and Pinangki came with Anita and Andi Irfan Jaya to Joko's office on the 105th floor of The Exchange 106. Anita forwarded a letter of attorney as a lawyer, which Joko signed on the spot. After having lunch together and stopping in at Joko's apartment on the 39th floor of the West Tower Oval Apartments, Anita left to attend an ASEAN Law Association (ALA) forum in Phuket, Thailand. A few days later, Andi Irfan submitted the action plan to Joko via WhatsApp.
A lawyer familiar with Anita's activities said that in Phuket, Joko's lawyer allegedly met with Hatta Ali, who at the time was still chief of the Supreme Court. According to this lawyer, the meeting was facilitated by Hatta staff member Soesilowati and discussed the submission of Joko's legal opinion and a court review of the case. The Supreme Court's website indicates that Hatta Ali and Soesilowati did attend the All-ASEAN Justice Conference. Also present were the Deputy Chief of Judicial Affairs of the Supreme Court, Mr. Syarifuddin – now Chief of the Supreme Court – and two Supreme Justices, namely I Gusti Agung Sumanatha and Ibrahim.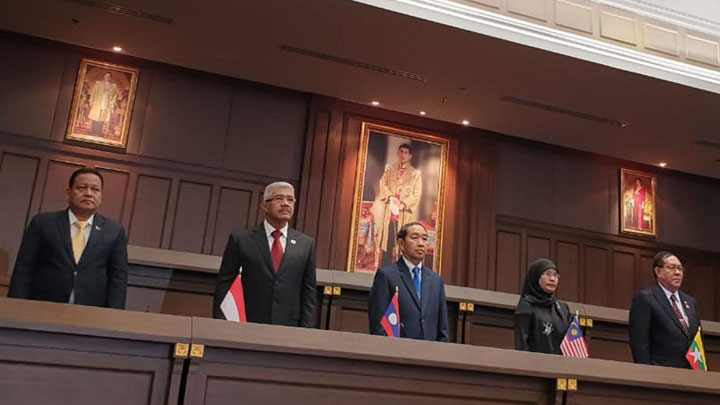 Former Supreme Court President Hatta Ali (second from left) in Phuket, Thailand, November 2019. mahkamahagung.go.id
Hatta Ali rejected an interview request for Time. He asked Supreme Court spokesman Andi Samsan Nganro to answer questions. Andi has verified the information that Hatta and Anita were present at the same forum. He said, Hatta was the head of the Indonesian ALA, comprising judges, judges and lawyers. Anita herself was a member of ALA. "So, yes, she met Pak Hatta," he said. Regarding Anita's special meeting with Hatta organized by Soesilowati, he said: "According to protocol, any meeting with Pak Hatta would be based on an arrangement. mother Soesilowati. Andi added that Hatta did not discuss Joko Tjandra during the meeting.
A source familiar with the plan said Anita and Pinangki shared their chores. Anita was tasked with approaching Hatta Ali, while Pinangki was tasked with putting pressure on Attorney General Sanitiar Burhanuddin. Pinangki's interrogation document obtained by Time states how she reported all meetings with Joko Tjandra to Burhanuddin. The source said conversations between Anita and Pinangki always referred to Hatta as "Anita's father", while Burhanuddin was "Pinangki's father".
The same source said that upon returning from Thailand, Anita had a discussion with Pinangki regarding the option of a pardon for Joko Tjandra. Says the source, Anita had submitted a pardon request. But Pinangki feared that the option would jeopardize the whole plan. She demanded that Anita investigate the head of the Supreme Court's criminal chamber, Suhadi, about the quashing of the pardon request. The same source said Pinangki had also contacted an adjutant to President Joko Widodo about the pardon request.
Supreme Court spokesman Andi Samsan Nganro said he requested information about the case from Suhadi. "Pak Suhadi doesn't know Anita," he said. Andi also said that Anita never submitted a request for a pardon for her client to her institution. Presidential legal expert staff member Dini Purwono said she had no knowledge of Pinangki approaching an adjutant to the president. "Maybe you could ask the Presidential Personnel Office, the Ministry of Justice and Human Rights or the Attorney General," Dini said.
To pave the way for the Supreme Court's legal opinion, Anita and Pinangki are believed to have arranged meetings with Hatta and Attorney General Burhanuddin. Said the source with knowledge of the plot, Anita and Pinangki set up a meeting for December 7, 2019. But the meeting was canceled. It was not until December 13 that Hatta met Burhanuddin. The results of the meeting, the same source said, were transmitted by Burhanuddin to Pinangki the same evening.
Andi Samsan verified that the meeting took place. "It was a courtesy call to maintain good inter-institutional relations," Andi said. Burhanuddin did not respond to an interview request from Time. Previously, he claimed that Pinangki never reported to him regarding meetings with Joko Tjandra. "Pinangki never made a report," he said. He also said he did not know of any money surrounding the proposal. "Not to mention the money, I'm not involved in any of this."
Anita's lawyer, Tommy Sihotang, is unaware of a meeting between her client and Hatta Ali. "Ibu Anita never told us about these things," he said. Pinangki was also quiet after his 2 p.m. interrogation on Wednesday, September 9.
The project to seek a court decision has stopped in its tracks. Along with Anita, Joko Tjandra came out of hiding and submitted a case review request to the South Jakarta State Court on June 8. At the end of July, the court rejected the request for review.
Joko Tjandra's lawyer, Soesilo Aribowo, said his client accepted Pinangki and his friends' proposal, believing it could pave the way for his release. Additionally, Soesilo said, Joko was vehement that the two-year sentence dropped by the Supreme Court was unfair. "That was the reason he left Indonesia," Soesilo said.
LINDA TRIANITA, HUSSEIN ABRI DONGORAN, ANDITA RAHMA, EGI ADYATAMA
What Are The Main Benefits Of Comparing Car Insurance Quotes Online
LOS ANGELES, CA / ACCESSWIRE / June 24, 2020, / Compare-autoinsurance.Org has launched a new blog post that presents the main benefits of comparing multiple car insurance quotes. For more info and free online quotes, please visit https://compare-autoinsurance.Org/the-advantages-of-comparing-prices-with-car-insurance-quotes-online/ The modern society has numerous technological advantages. One important advantage is the speed at which information is sent and received. With the help of the internet, the shopping habits of many persons have drastically changed. The car insurance industry hasn't remained untouched by these changes. On the internet, drivers can compare insurance prices and find out which sellers have the best offers. View photos The advantages of comparing online car insurance quotes are the following: Online quotes can be obtained from anywhere and at any time. Unlike physical insurance agencies, websites don't have a specific schedule and they are available at any time. Drivers that have busy working schedules, can compare quotes from anywhere and at any time, even at midnight. Multiple choices. Almost all insurance providers, no matter if they are well-known brands or just local insurers, have an online presence. Online quotes will allow policyholders the chance to discover multiple insurance companies and check their prices. Drivers are no longer required to get quotes from just a few known insurance companies. Also, local and regional insurers can provide lower insurance rates for the same services. Accurate insurance estimates. Online quotes can only be accurate if the customers provide accurate and real info about their car models and driving history. Lying about past driving incidents can make the price estimates to be lower, but when dealing with an insurance company lying to them is useless. Usually, insurance companies will do research about a potential customer before granting him coverage. Online quotes can be sorted easily. Although drivers are recommended to not choose a policy just based on its price, drivers can easily sort quotes by insurance price. Using brokerage websites will allow drivers to get quotes from multiple insurers, thus making the comparison faster and easier. For additional info, money-saving tips, and free car insurance quotes, visit https://compare-autoinsurance.Org/ Compare-autoinsurance.Org is an online provider of life, home, health, and auto insurance quotes. This website is unique because it does not simply stick to one kind of insurance provider, but brings the clients the best deals from many different online insurance carriers. In this way, clients have access to offers from multiple carriers all in one place: this website. On this site, customers have access to quotes for insurance plans from various agencies, such as local or nationwide agencies, brand names insurance companies, etc. "Online quotes can easily help drivers obtain better car insurance deals. All they have to do is to complete an online form with accurate and real info, then compare prices", said Russell Rabichev, Marketing Director of Internet Marketing Company. CONTACT: Company Name: Internet Marketing CompanyPerson for contact Name: Gurgu CPhone Number: (818) 359-3898Email: [email protected]: https://compare-autoinsurance.Org/ SOURCE: Compare-autoinsurance.Org View source version on accesswire.Com:https://www.Accesswire.Com/595055/What-Are-The-Main-Benefits-Of-Comparing-Car-Insurance-Quotes-Online View photos
picture credit
to request, modification Contact us at Here or [email protected]