Covid pandemic: Why Indonesia has become a testing ground for the Chinese Covid-19 vaccine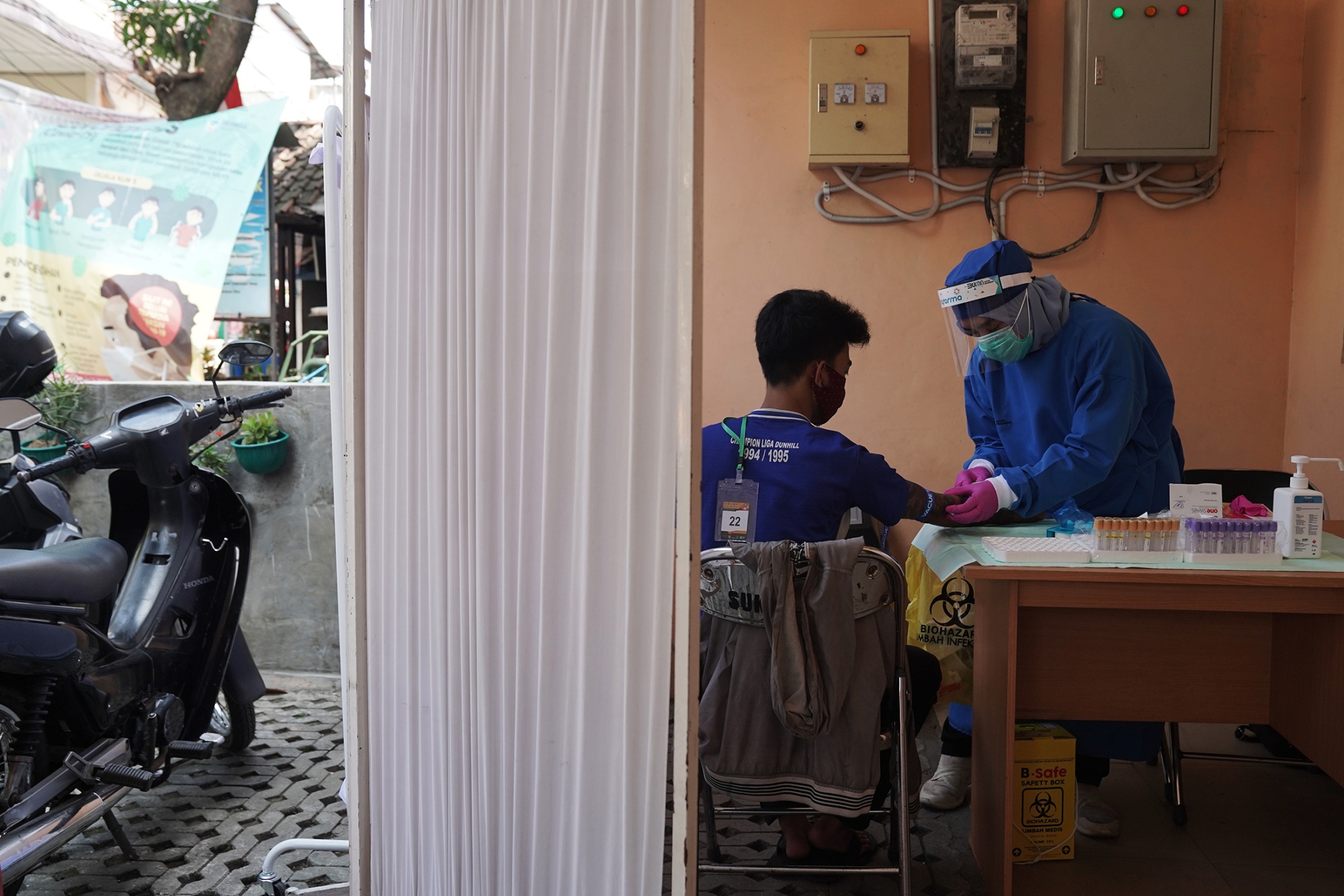 On a hot August day in Bandung, the capital of West Java province, two dozen volunteers arrive at a small community clinic inside a narrow lane to participate in the final leg of one of the trials. the fastest in the world for acoronavirus vaccine.
There, surrounded by cramped houses and children playing outside without masks, they prepare to take an experimental photo developed by China.Sinovac Biotech Ltd., many of whom in Indonesia hope will end the destruction caused by the virus. With around a quarter of a million infections, Indonesia's outbreak is Southeast Asia's second worst after the Philippines, with its daily number of cases hitting record highs every week since the end of August.
"I am tired of how we deal with this disease. I just want to help in any way I can, "says 27-year-old microbiologist Abinubli Tariswafi Mawarid, one of the volunteers. "I believe the vaccine is the miracle solution to solving this pandemic. This is the most appropriate solution. "
Few countries have embraced the possibility of a vaccine with as much fervor as Indonesia, where the government predicts the pandemic will push 4.9 million more people into poverty, weighing heavily on its population of around 270 million. 'inhabitants. The country offers insight into the outsized expectations that are driving rapid development of Covid-19 vaccines globally – as well as potential pitfalls – as entire countries seek a quick fix.

In Bandung, a resort area of ​​more than 2 million people, clinical trials led by a state-owned pharmaceutical companyPT Bio Farma, were accompanied with great fanfare. Many of the 1,620 people from Bandung and neighboring towns who registered for the Sinovac trial have been interviewed in local media. The region's police chief received an injection (which could have been the trial vaccine or a placebo), as did his governor, who promoted the experiment on Instagram. Bio Farma has worked with regulators to speed up approval of the Sinovac vaccine. He says he will manufacture 10 to 20 million doses before even getting the green light, so the vaccine will be immediately available.
Iin Susanti, head of planning and business strategy at Bio Farma, says wider distribution will not begin until after Indonesian regulators give emergency approval. President Joko Widodo has said his government is aiming for such a clearance for CoronaVac, as it is known, by January. The first batches will go to health workers.
Yet despite all the local hype, this help is at hand to finally tame the virus, which hasinfected 29 million people worldwide, it is not known for sure when a successful shot will be available. Health experts warn of the safety risks if speed is not carefully balanced, and little is known about the effectiveness of any inoculation. The risk of unexpected delays became apparent after theAstraZeneca Plchas halted testing of its experimental vaccine – considered one of the most promising in the world – over concerns over a participant who fell ill. The company has sincerestarted testing in the UK after regulators said it was safe to do so.

Global delays in the search for an effective vaccine would be devastating for countries that have staked heavily on a vaccine. Indonesia, for example, has a large informal workforce that risks starving to death during lockdowns. Its economy contracted 5.32% in the second quarter from a year earlier, the strongest since the aftermath of the Asian financial crisis in the late 1990s. The government briefly relaxed social distancing rules , but infections have increased. There are fears that Jakarta, the capital, may run out of hospital beds. The city has restricted the use of public transport and required non-essential industries for people to work from home.
"The physical distancing protocol will continue. But ultimately, the vaccine is the answer to ending this pandemic, "Jokowi, as the president is popularly called, to a group of foreign reporters in his palace on September 1." There is no any other way I know of. . But even he acknowledged the uncertainties, pointing out that it is still not known how long the protective effects of a vaccine will last.
CoronaVac is also in trial phase III in Brazil and other parts of the world. (Late-stage trials require large numbers of participants in a location where the epidemic is active. This is not possible in China, which has largely eliminated local transmission.) Made using an inactivated version virus, CoronaVac is neck and neck with other global brands, including the vaccineModerna Inc., in its pace of development.
Jokowi's administration also tasked local research institutes and universities to develop the country's vaccine, dubbed "the red-white vaccine" after the colors of the Indonesian flag, by mid-2021. The most large pharmaceutical company in Indonesia,PT Kalbe Farma, has partnered with South Korean biotechnologyGenexine Co. and will begin phase II clinical trials in November, which measure a drug's effectiveness and short-term risks.
Balancing safety and speed remains a challenge. The rate at which companies around the world are rushing into clinical studies to administer a vaccine against the coronavirus is unprecedented. Vaccine development, which can normally take up to a decade, is being cut to less than a year by drug makers, leaving some researchers concerned about the lack of time to fully understand the potential risks that any vaccine could. present.
Russia, for example, hashas approved its coronavirus vaccine, dubbed Sputnik V, before the final phase of human testing is complete, raising safety concerns. And President Trump haslobbied for a vaccine in October as part of his administration's Operation Warp Speed ​​program. Meanwhile, AstraZeneca's vaccine developers at Moderna have pledged to avoid shortcuts to science, and the U.S. Food and Drug Administration has instituted safeguards to ensure criteria for safety and efficacy are not met. not missed in the middle of a rush to the finish line.
Data from advanced stage trials like the one Bio Farma is underway in Indonesia is believed to be the ultimate test of a vaccine's ability to protect people against the virus. Sinovac said the vaccine had no safety concerns in the Phase I and II trials, and Bio Farma said it would not reduce the timeframe.
Ensuring the safety of coronavirus vaccines will be critical as a single adverse event found in a study involving tens of thousands of people could translate into hundreds of thousands of people falling ill or dying when regulators give the green light to billion to get the hits, says William Haseltine, a pioneering AIDS researcher who chairs Access Health International Inc., a New York-based think tank.

The timeline suggested by vaccine developers around the world means "you can't do a one-year safety trial, so you're not – under any circumstances – going to know the long-term effect of these vaccines." , Haseltine said.
Sinovac says it has security protocols in place. "Any clinical trial involving the use of a vaccine on a large number of healthy people will have plans to deal with safety concerns," a spokesperson said.
Jeremy Lim, assistant professor at the Saw Swee Hock School of Public Health in Singapore, says it's likely that any vaccine will only produce partial immunity in certain groups of people, and vaccines might be contraindicated for some. due to unacceptable side effects.
Distribution is also a challenge. For Indonesia, which occupies the largest archipelago in the world and stretches roughly the distance between New York and Alaska, another hurdle is transporting any vaccine safely across its 6,000 inhabited islands, especially since the Sinovac vaccine should be stored between 2 ° C and 8 ° C (35.6 ° F -46.4F) to work effectively.
So even if a vaccine ticks all the boxes on safety and effectiveness, it's still not a good idea to bet all of them, according to Takeshi Kasai, regional director for the Western Pacific at the World Health Organization. "Even if they succeed in developing safe and effective vaccines, the production capacity would not really meet the demand from around the world," Kasai said in a briefing last month. It is important to continue to improve existing containment measures such as mask wearing and social distancing, he says, and "not just hope for the vaccine." —Harry Suhartono and Lyu Dong
Read more:China's 40-year-old billion-tree project is a lesson for the world
LOWER LINE –
With a large informal workforce that cannot be confined to their homes, Indonesia is eager to get vaccinated against the coronavirus. But with 6,000 inhabited islands, distributing one will be difficult.
What Are The Main Benefits Of Comparing Car Insurance Quotes Online
LOS ANGELES, CA / ACCESSWIRE / June 24, 2020, / Compare-autoinsurance.Org has launched a new blog post that presents the main benefits of comparing multiple car insurance quotes. For more info and free online quotes, please visit https://compare-autoinsurance.Org/the-advantages-of-comparing-prices-with-car-insurance-quotes-online/ The modern society has numerous technological advantages. One important advantage is the speed at which information is sent and received. With the help of the internet, the shopping habits of many persons have drastically changed. The car insurance industry hasn't remained untouched by these changes. On the internet, drivers can compare insurance prices and find out which sellers have the best offers. View photos The advantages of comparing online car insurance quotes are the following: Online quotes can be obtained from anywhere and at any time. Unlike physical insurance agencies, websites don't have a specific schedule and they are available at any time. Drivers that have busy working schedules, can compare quotes from anywhere and at any time, even at midnight. Multiple choices. Almost all insurance providers, no matter if they are well-known brands or just local insurers, have an online presence. Online quotes will allow policyholders the chance to discover multiple insurance companies and check their prices. Drivers are no longer required to get quotes from just a few known insurance companies. Also, local and regional insurers can provide lower insurance rates for the same services. Accurate insurance estimates. Online quotes can only be accurate if the customers provide accurate and real info about their car models and driving history. Lying about past driving incidents can make the price estimates to be lower, but when dealing with an insurance company lying to them is useless. Usually, insurance companies will do research about a potential customer before granting him coverage. Online quotes can be sorted easily. Although drivers are recommended to not choose a policy just based on its price, drivers can easily sort quotes by insurance price. Using brokerage websites will allow drivers to get quotes from multiple insurers, thus making the comparison faster and easier. For additional info, money-saving tips, and free car insurance quotes, visit https://compare-autoinsurance.Org/ Compare-autoinsurance.Org is an online provider of life, home, health, and auto insurance quotes. This website is unique because it does not simply stick to one kind of insurance provider, but brings the clients the best deals from many different online insurance carriers. In this way, clients have access to offers from multiple carriers all in one place: this website. On this site, customers have access to quotes for insurance plans from various agencies, such as local or nationwide agencies, brand names insurance companies, etc. "Online quotes can easily help drivers obtain better car insurance deals. All they have to do is to complete an online form with accurate and real info, then compare prices", said Russell Rabichev, Marketing Director of Internet Marketing Company. CONTACT: Company Name: Internet Marketing CompanyPerson for contact Name: Gurgu CPhone Number: (818) 359-3898Email: [email protected]: https://compare-autoinsurance.Org/ SOURCE: Compare-autoinsurance.Org View source version on accesswire.Com:https://www.Accesswire.Com/595055/What-Are-The-Main-Benefits-Of-Comparing-Car-Insurance-Quotes-Online View photos
picture credit
to request, modification Contact us at Here or [email protected]