Von der Leyen calls China 'competitor and rival' in EU speech
European Commission President Ursula von der Leyen called China a "competitor and rival" in her first annual State of the Union address on Wednesday.
Von der Leyen's speech reflected on 12 difficult months and outlined the bloc's goals for next year regarding climate change, COVID-19, relations with China and Russia and Brexit.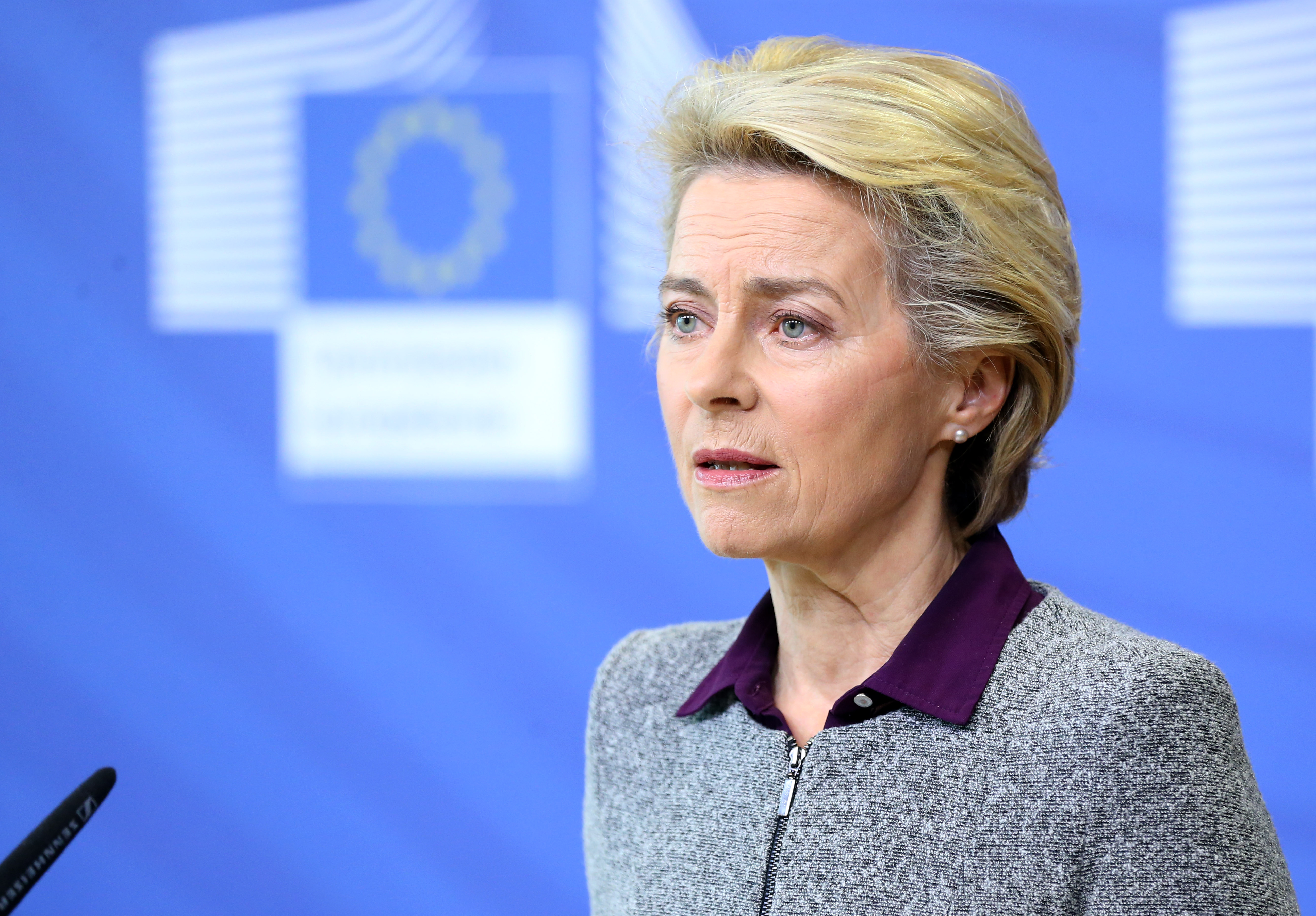 European Commission President Ursula von der Leyen delivered her State of the Union address on Wednesday, outlining the EU's goals for the next 12 months. / AFP
European Commission President Ursula von der Leyen delivered her State of the Union address on Wednesday, outlining the EU's goals for the next 12 months. / AFP
China
On Monday, Von der Leyen was part of an EU party that met with Chinese President Xi Jinping at the last China-EU summit to map out details of their future relationship.
After the talks, which she summed up as "frank and open," Von der Leyen said progress had been made in a host of key areas and hailed the potential for a future successful trade partnership with China, but admitted that there was still a lot to do. finished.
China responded by urging the EU not to interfere in internal matters, after condemning the new national security law in Hong Kong. Xi said, "China firmly opposes any person or force that creates instability, division and chaos in China, and interference in China's internal affairs by any country."
Von der Leyen used his speech to re-address the challenges the two sides face in working together in the years to come despite their conflicting political ideologies.
"The last EU-China summit highlights one of the most difficult challenges," she said. "China is a competitor and a rival. We are promoting very different systems."
We propose to reduce emissions by at least 55% by 2030.
– Ursula Von der Leyen, President of the European Commission
Climate change
This year, the EU must update its long-term climate change targets to meet the targets set in the Paris climate agreement, which aims to make the continent carbon neutral by 2050.
MEPs are pushing for the EU to set more ambitious targets and cut carbon emissions by 55% by 2030, but the bloc may struggle to find a collective agreement between its 27 member states.
But Von der Leyen says she remains confident in achieving the goals and says the EU's Green Deal, which aims to build a sustainable economy, will be the key to lasting change.
"The climate has continued to warm up and we are seeing the consequences of Mont Blanc on the destroyed crops in Romania," she said. "We cherish green spaces, we know change is needed. The European Green Deal is our model for change.
"We looked at our 2050 goals and held a broad consultation; we are proposing to reduce emissions by at least 55% by 2030. If others follow our example, we can meet the goals of the Paris Agreement.
"We are committed to achieving this goal. It will create jobs and cut air pollution by more than half. We need to adapt energy policies. The Green Deal goes beyond cutting emissions and cutting 37% of the budget of the next generation will go directly to the Green Deal. projects. "
Von der Leyen also called on China to do more to help the global collective fight against climate change. "China has shown its willingness to dialogue on climate change but must keep its promises in the Paris agreement."
In case you missed it:
Chinese owners of holiday brand Thomas Cook relaunch online-only brand
Chinese blockbuster "The Eight Hundred released" in UK and Ireland
COVID-19[feminine
Les pays de l'UE ont été durement touchés par la pandémie de COVID-19 et il y a des craintes qu'une deuxième vague du virus au cours des mois d'hiver ne fasse peser plus de misère sur les États membres.
Mais Von der Leyen dit que l'UE a de quoi être fière en termes de réponse à la pandémie et d'efforts continus pour coopérer avec d'autres pays pour trouver un vaccin.
Elle a déclaré: "L'UE s'est mobilisée pour diriger la réponse mondiale. Avec la société civile, le G20, l'Organisation mondiale de la santé et d'autres, nous avons réuni plus de 40 pays pour collecter 19 milliards de dollars pour financer la recherche sur les vaccins, les tests et les traitements pour le monde entier . C'est le pouvoir de rassemblement inégalé de l'UE en action. "
Mais elle a également mis en garde contre les dangers des pays qui ne travaillent pas ensemble sur la recherche sur les vaccins, les États-Unis ayant récemment annoncé leur intention de se retirer de l'OMS.
<< Le nationalisme vaccinal met des vies en danger, seule la coopération vaccinale sauve des vies. Nous avons besoin d'une OMS forte et d'une OMC forte, mais la réforme du système multilatéral n'a jamais été aussi urgente. [health] The system has fallen into a rampant paralysis as the great powers withdraw.
"I want the EU to lead the reforms of the WHO and the WTO."
Saving lives at sea is not optional
– Von der Leyen wants member states to share the burden of welcoming migrants and refugees
Migration
The number of migrants and refugees entering Europe from Asia and Africa has declined significantly since the 2015 crisis, but this remains a matter of concern for the EU.
Several EU countries, notably Greece and Turkey, have made concerted efforts to prevent migrants and refugees from entering their countries.
Von der Leyen says it is vitally important that EU member states work together to share the burden of welcoming migrants and refugees and providing them with the tools for a better future.
She added: "Next week we will present the new compact on migration. We will adopt a human and human approach. Saving lives at sea is not an option and countries which fulfill their legal and moral obligations or are more exposed than others must be able to count on the solidarity of the whole EU.
"We will take action to combat smugglers and strengthen the external borders. We will ensure that those who are allowed to stay are welcome."
Von der Leyen added: "We are working with Greece on a new camp on Lesvos. I expect all member states to step up too. Migration is a European challenge and all of Europe must do its part."
Relations with the United States and Russia
Donald Trump's desire to quit the WHO and Russia's alleged involvement in poisoning opposition politician Alexei Navalny have posed diplomatic challenges for the EU.
But Von der Leyen remains optimistic about improving relations and believes that common ground can still be found, despite their current differences.
She said: "We need to revitalize our most important relationship, we may not agree with the White House, but we need to cooperate and build a new transatlantic agenda on trade and other issues.
But Von der Leyen also reiterated his condemnation of Russia on Navalny although the Russian government has firmly denied any involvement and said the EU supports the Belarusian people and their desire for a democratic future.
"On Russia, the poisoning of Alexei Navalny is irrelevant. This pattern of electoral interference, etc., is not changing.
"The European Union is on the side of the Belarusian people. They must be free to decide their own future, these are not pieces on someone else's chessboard."
Brexi
Another key target for the EU by the end of the year is the conclusion of Brexit negotiations with the UK.
The terms of a possible trade deal are due to be finalized by October 15, but have been complicated by attempts by the UK to rewrite parts of the Withdrawal Agreement.
Von der Leyen says the UK must withdraw its new legislation, which she says violates international law.
"The emotional farewell to UK singing Auld Lang Syne showed our dedication, "she says.
But discussions about the future relationship are difficult. We worked line by line, word by word, on the withdrawal agreement, it guaranteed citizens' rights and the Good Friday agreement. We are going to defend that, it has been ratified and we will not let it change.
"As Margaret Thatcher said, we do not violate international treaties."
What Are The Main Benefits Of Comparing Car Insurance Quotes Online
LOS ANGELES, CA / ACCESSWIRE / June 24, 2020, / Compare-autoinsurance.Org has launched a new blog post that presents the main benefits of comparing multiple car insurance quotes. For more info and free online quotes, please visit https://compare-autoinsurance.Org/the-advantages-of-comparing-prices-with-car-insurance-quotes-online/ The modern society has numerous technological advantages. One important advantage is the speed at which information is sent and received. With the help of the internet, the shopping habits of many persons have drastically changed. The car insurance industry hasn't remained untouched by these changes. On the internet, drivers can compare insurance prices and find out which sellers have the best offers. View photos The advantages of comparing online car insurance quotes are the following: Online quotes can be obtained from anywhere and at any time. Unlike physical insurance agencies, websites don't have a specific schedule and they are available at any time. Drivers that have busy working schedules, can compare quotes from anywhere and at any time, even at midnight. Multiple choices. Almost all insurance providers, no matter if they are well-known brands or just local insurers, have an online presence. Online quotes will allow policyholders the chance to discover multiple insurance companies and check their prices. Drivers are no longer required to get quotes from just a few known insurance companies. Also, local and regional insurers can provide lower insurance rates for the same services. Accurate insurance estimates. Online quotes can only be accurate if the customers provide accurate and real info about their car models and driving history. Lying about past driving incidents can make the price estimates to be lower, but when dealing with an insurance company lying to them is useless. Usually, insurance companies will do research about a potential customer before granting him coverage. Online quotes can be sorted easily. Although drivers are recommended to not choose a policy just based on its price, drivers can easily sort quotes by insurance price. Using brokerage websites will allow drivers to get quotes from multiple insurers, thus making the comparison faster and easier. For additional info, money-saving tips, and free car insurance quotes, visit https://compare-autoinsurance.Org/ Compare-autoinsurance.Org is an online provider of life, home, health, and auto insurance quotes. This website is unique because it does not simply stick to one kind of insurance provider, but brings the clients the best deals from many different online insurance carriers. In this way, clients have access to offers from multiple carriers all in one place: this website. On this site, customers have access to quotes for insurance plans from various agencies, such as local or nationwide agencies, brand names insurance companies, etc. "Online quotes can easily help drivers obtain better car insurance deals. All they have to do is to complete an online form with accurate and real info, then compare prices", said Russell Rabichev, Marketing Director of Internet Marketing Company. CONTACT: Company Name: Internet Marketing CompanyPerson for contact Name: Gurgu CPhone Number: (818) 359-3898Email: [email protected]: https://compare-autoinsurance.Org/ SOURCE: Compare-autoinsurance.Org View source version on accesswire.Com:https://www.Accesswire.Com/595055/What-Are-The-Main-Benefits-Of-Comparing-Car-Insurance-Quotes-Online View photos
picture credit
to request, modification Contact us at Here or [email protected]