Xi welcomes Suga on election as Japanese prime minister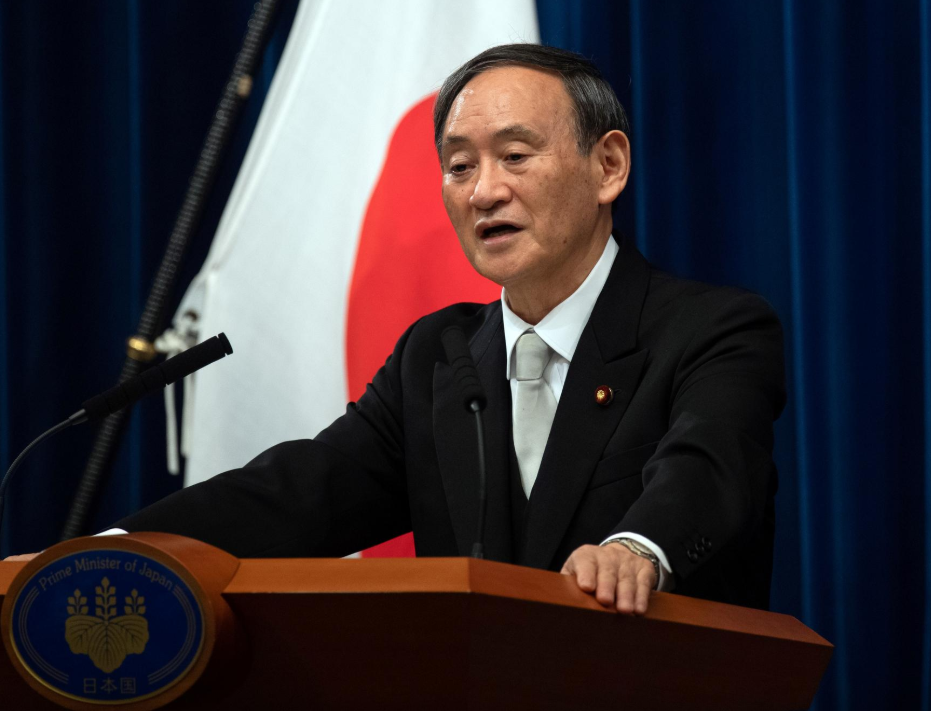 The message calls for a relationship that benefits two peoples, is compatible with the new era
President Xi Jinping on Wednesday sent a congratulatory message to Yoshihide Suga on his election as Prime Minister of Japan, saying the two countries should forge a bilateral relationship in line with the needs of the new era and benefiting both nations and peoples.
In the message, Xi said that a long-term, stable, friendly and cooperative relationship between China and Japan, as friendly neighbors and important countries in Asia and the world, is in the core interests of both. peoples.
A healthy bilateral relationship also contributes to the peace, stability and prosperity of Asia and the world, he said.
The two sides must abide by the principles set by the four political documents and the four-point agreement in principle between the two nations and make positive contributions to world peace and common development, he said.
Premier Li Keqiang also sent a congratulatory message to Suga on Wednesday.
China is ready to work with Japan to intensify friendly exchanges and pragmatic cooperation in various fields and strive for greater progress in bilateral relations, he said.
Suga was named Japan's new prime minister following a vote in the country's parliament on Wednesday, succeeding Shinzo Abe as the world's third-largest economy.
Relations between Beijing and Tokyo have been stable for several years. Li paid an official visit to Japan in May 2018, the first by a Chinese premier in eight years, and Abe visited China in October of the same year.
While attending the G20 summit in Osaka in June 2019, Xi in principle accepted an invitation from Abe to pay a state visit to Japan in the spring. The visit was delayed due to the COVID-19 pandemic.
During a press briefing on Wednesday, Foreign Ministry spokesman Wang Wenbin said Beijing endorsed recent statements made by Suga to establish stable diplomatic ties with neighboring countries, including China.
Da Zhigang, a Japanese studies researcher at the Heilongjiang Provincial Academy of Social Sciences, wrote in a signed article online that stability may remain a political priority for Suga in his diplomatic policies with China.
"Suga's fundamental consideration in relations with China may amplify the positive legacy that Abe left in Japan-China relations," he said.
He said Suga could follow Abe's bilateral policy of defending his positions with Beijing in areas such as diplomacy while continuing to focus on improving bilateral relations on a flexible basis.
With COVID-19 raging around the world and multilateralism tested, it is time for China and Japan to strengthen anti-epidemic cooperation and consolidate trade and economic cooperation, Da said.
Suga was chosen Monday as head of the ruling Liberal Democratic Party in Japan with around 70% of the vote.
After becoming Japan's first new leader in nearly eight years, the 71-year-old son of a strawberry farmer pledged to do everything possible to contain the pandemic and deal with its economic fallout, which led to the country's worst contraction in modern times.
In a sign that Suga will place a high priority on political stability and continuity, he chose half of the new government from the postponements of Abe's administration, with several important posts remaining unchanged.
"The new Cabinet has shown Suga's concern for his allies," said Yuzo Tanaka, professor of economics at Kyoto Ryukoku University. "The problem is whether they can cope with a plethora of challenges, including tackling COVID-19 while reviving a struggling economy and dealing with an aging and rapidly declining population.
"There is only a short window for Suga to deliver results and he will decide whether he will be a long term leader or just an interim leader," Tanaka added.
What Are The Main Benefits Of Comparing Car Insurance Quotes Online
LOS ANGELES, CA / ACCESSWIRE / June 24, 2020, / Compare-autoinsurance.Org has launched a new blog post that presents the main benefits of comparing multiple car insurance quotes. For more info and free online quotes, please visit https://compare-autoinsurance.Org/the-advantages-of-comparing-prices-with-car-insurance-quotes-online/ The modern society has numerous technological advantages. One important advantage is the speed at which information is sent and received. With the help of the internet, the shopping habits of many persons have drastically changed. The car insurance industry hasn't remained untouched by these changes. On the internet, drivers can compare insurance prices and find out which sellers have the best offers. View photos The advantages of comparing online car insurance quotes are the following: Online quotes can be obtained from anywhere and at any time. Unlike physical insurance agencies, websites don't have a specific schedule and they are available at any time. Drivers that have busy working schedules, can compare quotes from anywhere and at any time, even at midnight. Multiple choices. Almost all insurance providers, no matter if they are well-known brands or just local insurers, have an online presence. Online quotes will allow policyholders the chance to discover multiple insurance companies and check their prices. Drivers are no longer required to get quotes from just a few known insurance companies. Also, local and regional insurers can provide lower insurance rates for the same services. Accurate insurance estimates. Online quotes can only be accurate if the customers provide accurate and real info about their car models and driving history. Lying about past driving incidents can make the price estimates to be lower, but when dealing with an insurance company lying to them is useless. Usually, insurance companies will do research about a potential customer before granting him coverage. Online quotes can be sorted easily. Although drivers are recommended to not choose a policy just based on its price, drivers can easily sort quotes by insurance price. Using brokerage websites will allow drivers to get quotes from multiple insurers, thus making the comparison faster and easier. For additional info, money-saving tips, and free car insurance quotes, visit https://compare-autoinsurance.Org/ Compare-autoinsurance.Org is an online provider of life, home, health, and auto insurance quotes. This website is unique because it does not simply stick to one kind of insurance provider, but brings the clients the best deals from many different online insurance carriers. In this way, clients have access to offers from multiple carriers all in one place: this website. On this site, customers have access to quotes for insurance plans from various agencies, such as local or nationwide agencies, brand names insurance companies, etc. "Online quotes can easily help drivers obtain better car insurance deals. All they have to do is to complete an online form with accurate and real info, then compare prices", said Russell Rabichev, Marketing Director of Internet Marketing Company. CONTACT: Company Name: Internet Marketing CompanyPerson for contact Name: Gurgu CPhone Number: (818) 359-3898Email: [email protected]: https://compare-autoinsurance.Org/ SOURCE: Compare-autoinsurance.Org View source version on accesswire.Com:https://www.Accesswire.Com/595055/What-Are-The-Main-Benefits-Of-Comparing-Car-Insurance-Quotes-Online View photos
picture credit
to request, modification Contact us at Here or [email protected]