Tom Lembong questions the Indonesian president's vaccination strategy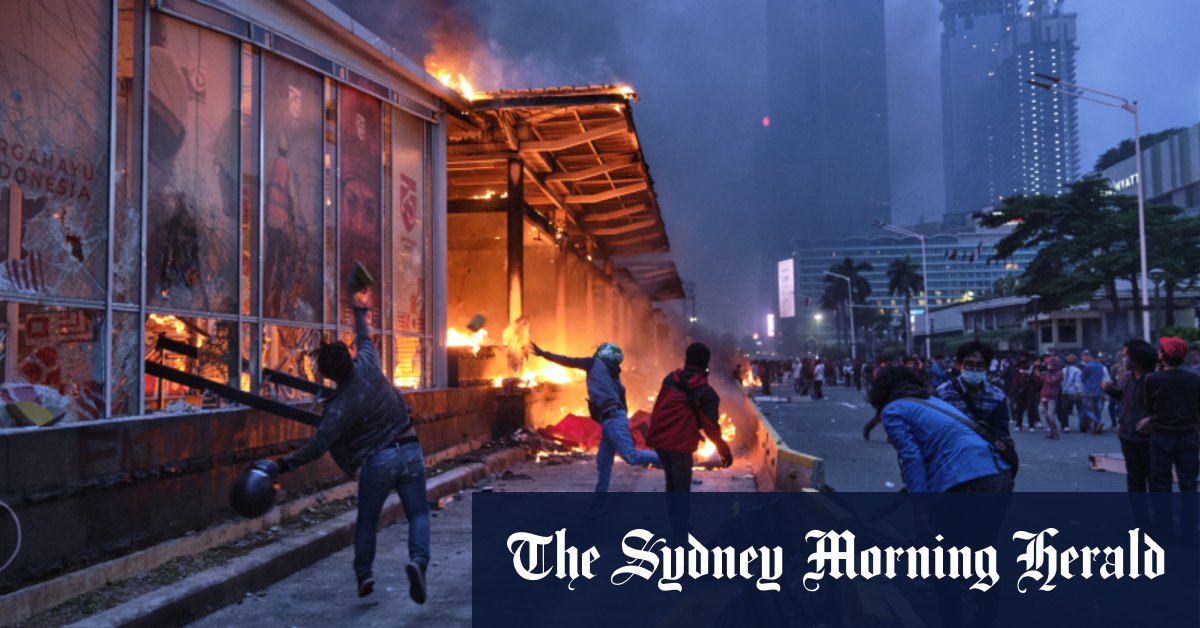 The new omnibus job creation bill, passed on October 5 but not yet entered into force, sparked days of protest across Indonesia with hundreds of arrests.
Lembong said the scientific community widely believed that "Indonesian government official data vastly understates [the number of infections]. We have the lowest testing rate of any major economy in the world. "
Indonesia has now recorded 349,160 coronavirus cases and 12,268 deaths, with daily infections of more than 4,000 people for about a month and test rates remaining stubbornly low – on the order of 25,000 to 35,000 people per day in a country of 270 million inhabitants.
The International Monetary Fund downgraded its forecast for economic growth in Indonesia this week, due to the pandemic, forecasting Southeast Asia's largest economy to contract 1.5%, from 0 , 3% expected in June.
"Conduct vaccination to catch up with the speed of spread [of COVID-19] gonna be next to impossible, right? He said.
"The government is effectively betting the farm on a successful COVID-19 vaccination campaign in 2021.
Loading
"Because infections are increasing exponentially, it seems mathematically almost impossible, to run the vaccination campaign at a rate that is catching up to the rate of spread of coronaviruss."
Indonesian state-owned company PT Bio Farma has reached an agreement with Chinese Sinovac for 125 million doses of its candidate vaccine, while separate agreements are in place for Sinopharm (50 million doses), CanSino (20 million doses ) and Britain's AstraZeneca (100 million doses). ).
Lembong cautioned about the potential complications of rolling out the immunization program.
"In western countries or rich countries, six-monthly flu shots are commonplace. In Indonesia, this is definitely not the case," he said.
"And the reason I'm talking about this is because like flu shots, most of these COVID vaccines need to be stored at plus 2 to plus 8 degrees Celsius … many need to be stored between minus 20. and minus 70 degrees Celsius, so cold storage logistics around this vaccine are incredibly difficult, especially for countries that don't already have the infrastructure in place for semi-annual and generalized influenza vaccines like Indonesia . "
Regarding changes to workplace laws, Lembong said he would "defend the modernization reforms, including labor market reforms, which are in the omnibus bill," to the end, as well as the decision to open more sectors of the economy to private sector investment. , including international capital – a controversial decision in a country that still has strong protectionist impulses.
However, the timing to ratify this omnibus law is extremely difficult, to say the least.
Lembong expressed concern that the omnibus law changes did little to address the immediate burning issues, such as delivering desperately needed improvements to the health sector, nor did they appear to be in line with the strong current global trends in favor of environmental protection or the promotion of green energy.
Loading
"Vietnam, about two years ago, started a solar energy boom. I think it would be easy for Thailand, Malaysia and Singapore to decarbonize quickly. China is the biggest producer of everything from solar panels and wind turbines to lithium-ion batteries, so they won. I have no problem decarbonising. "
"But Indonesia is only becoming more and more carbon intensive, as evidenced by the omnibus law that extends tax incentives and regulatory relief to the coal industry and owner-operators of palm oil plantations. "
"I am concerned about the near future in which exports from Vietnam, Thailand, Malaysia, Singapore and China to the EU will not be affected by the carbon tariffs officially announced by the EU and ours on font ".
President Joko defended the omnibus law citing the "urgent need for jobs" with 2.9 million new job seekers entering the labor market each year, 6.9 million unemployed in Indonesia and 3.5 million million employees affected by COVID-19.
He argued that the bill simplifies business creation and that the bill will reduce corruption by cutting red tape.
James Massola is South East Asia Correspondent based in Jakarta. He was previously chief political correspondent, based in Canberra. He has been a three-time Walkley and Quills finalist, won a Kennedy Award for Outstanding Foreign Correspondent, and is the author of The Great Cave Rescue.
What Are The Main Benefits Of Comparing Car Insurance Quotes Online
LOS ANGELES, CA / ACCESSWIRE / June 24, 2020, / Compare-autoinsurance.Org has launched a new blog post that presents the main benefits of comparing multiple car insurance quotes. For more info and free online quotes, please visit https://compare-autoinsurance.Org/the-advantages-of-comparing-prices-with-car-insurance-quotes-online/ The modern society has numerous technological advantages. One important advantage is the speed at which information is sent and received. With the help of the internet, the shopping habits of many persons have drastically changed. The car insurance industry hasn't remained untouched by these changes. On the internet, drivers can compare insurance prices and find out which sellers have the best offers. View photos The advantages of comparing online car insurance quotes are the following: Online quotes can be obtained from anywhere and at any time. Unlike physical insurance agencies, websites don't have a specific schedule and they are available at any time. Drivers that have busy working schedules, can compare quotes from anywhere and at any time, even at midnight. Multiple choices. Almost all insurance providers, no matter if they are well-known brands or just local insurers, have an online presence. Online quotes will allow policyholders the chance to discover multiple insurance companies and check their prices. Drivers are no longer required to get quotes from just a few known insurance companies. Also, local and regional insurers can provide lower insurance rates for the same services. Accurate insurance estimates. Online quotes can only be accurate if the customers provide accurate and real info about their car models and driving history. Lying about past driving incidents can make the price estimates to be lower, but when dealing with an insurance company lying to them is useless. Usually, insurance companies will do research about a potential customer before granting him coverage. Online quotes can be sorted easily. Although drivers are recommended to not choose a policy just based on its price, drivers can easily sort quotes by insurance price. Using brokerage websites will allow drivers to get quotes from multiple insurers, thus making the comparison faster and easier. For additional info, money-saving tips, and free car insurance quotes, visit https://compare-autoinsurance.Org/ Compare-autoinsurance.Org is an online provider of life, home, health, and auto insurance quotes. This website is unique because it does not simply stick to one kind of insurance provider, but brings the clients the best deals from many different online insurance carriers. In this way, clients have access to offers from multiple carriers all in one place: this website. On this site, customers have access to quotes for insurance plans from various agencies, such as local or nationwide agencies, brand names insurance companies, etc. "Online quotes can easily help drivers obtain better car insurance deals. All they have to do is to complete an online form with accurate and real info, then compare prices", said Russell Rabichev, Marketing Director of Internet Marketing Company. CONTACT: Company Name: Internet Marketing CompanyPerson for contact Name: Gurgu CPhone Number: (818) 359-3898Email: [email protected]: https://compare-autoinsurance.Org/ SOURCE: Compare-autoinsurance.Org View source version on accesswire.Com:https://www.Accesswire.Com/595055/What-Are-The-Main-Benefits-Of-Comparing-Car-Insurance-Quotes-Online View photos
picture credit
to request, modification Contact us at Here or [email protected]