Top growth center of the maritime economy in Shenzhen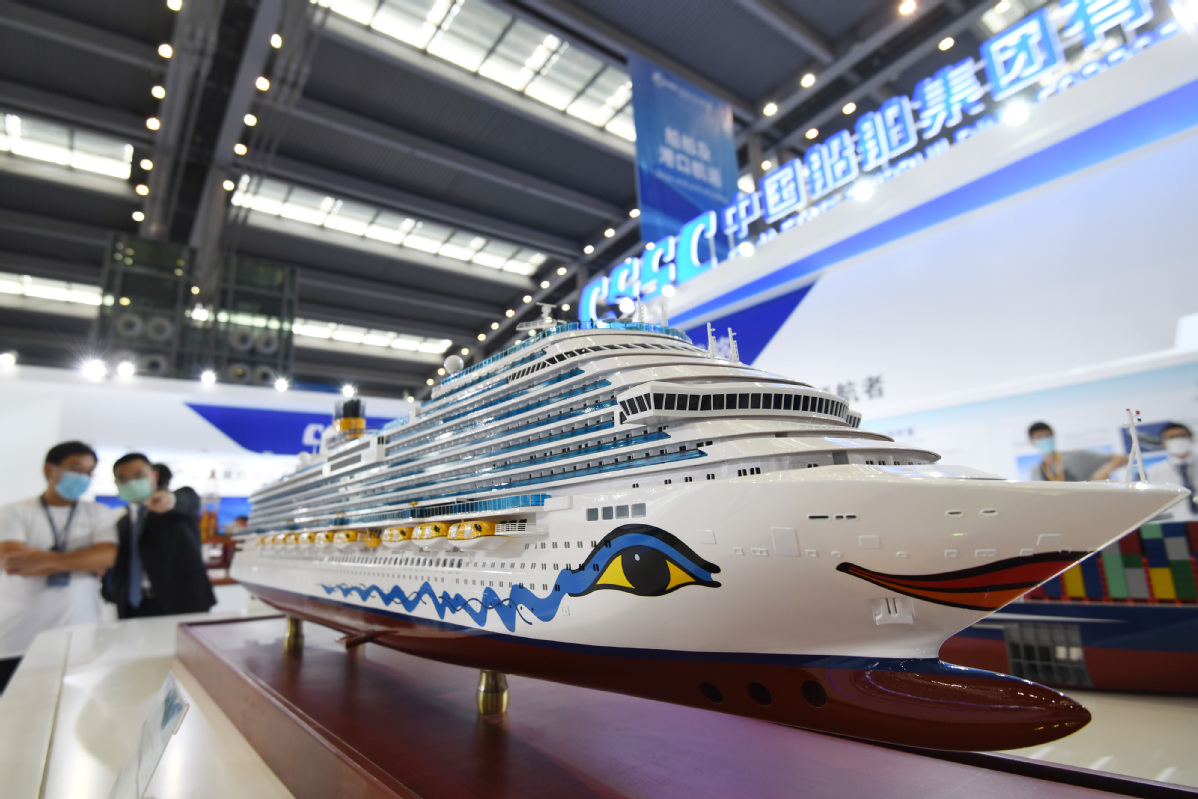 The economic powerhouse of southern Shenzhen in Guangdong province is determined to become a center of the world-class maritime economy, local officials say.
The city government will abide by President Xi Jinping's instructions on strengthening China's economy and maritime industries, and leverage Shenzhen's marine resources and scientific and technological strength to seek high-quality growth for its sectors. sailors and contribute more to the country's maritime economy, said Wang Weizhong, Party secretary of Shenzhen.
Xi, who is also general secretary of the Communist Party of China Central Committee and chairman of the Central Military Commission, has repeatedly stressed the importance of making China a strong maritime power.
Xi often calls for more attention and effort to be given to marine science and technology, the development of marine resources, the environmental protection of oceans and seas, and measures that protect the nation's marine interests.
Shenzhen intends to become a regional leader in the Asia-Pacific region in terms of marine economy by 2035 and a global maritime economic center by 2050, Wang said.
To achieve these goals, the city has started to take a series of measures, according to Li Yuchun, deputy director of the Shenzhen City Office for Planning and Management of Natural Resources.
Local authorities are advancing the creation of organizations such as an international marine development bank, a national deep-sea exploration center, a national deep-sea gene bank and a global maritime affairs think tank, did he declare.
The government has been working with national shipbuilding giants and renowned universities to set up oceanographic research organizations in the city, Li said, adding that it is also planning to build a large maritime museum.
Officials spoke at the opening of this year's China Marine Economy Expo in Shenzhen on Thursday. The event is the largest of its kind in the country and a major opportunity to showcase developments in the national and global maritime industries.
The 2020 edition of the show will last for four days and will focus on six topics, including marine resources, advanced equipment and marine biomedicine.
More than 600 national and foreign companies and research organizations will participate, according to the organizing committee.
Shenzhen now operates two national sea management and maritime economics test programs.
The city's shipping businesses have been developing and thriving for a number of years and continue to grow to represent a greater proportion of local GDP.
Shenzhen Port is connected with more than 300 ports in more than 100 countries and regions around the world.
What Are The Main Benefits Of Comparing Car Insurance Quotes Online
LOS ANGELES, CA / ACCESSWIRE / June 24, 2020, / Compare-autoinsurance.Org has launched a new blog post that presents the main benefits of comparing multiple car insurance quotes. For more info and free online quotes, please visit https://compare-autoinsurance.Org/the-advantages-of-comparing-prices-with-car-insurance-quotes-online/ The modern society has numerous technological advantages. One important advantage is the speed at which information is sent and received. With the help of the internet, the shopping habits of many persons have drastically changed. The car insurance industry hasn't remained untouched by these changes. On the internet, drivers can compare insurance prices and find out which sellers have the best offers. View photos The advantages of comparing online car insurance quotes are the following: Online quotes can be obtained from anywhere and at any time. Unlike physical insurance agencies, websites don't have a specific schedule and they are available at any time. Drivers that have busy working schedules, can compare quotes from anywhere and at any time, even at midnight. Multiple choices. Almost all insurance providers, no matter if they are well-known brands or just local insurers, have an online presence. Online quotes will allow policyholders the chance to discover multiple insurance companies and check their prices. Drivers are no longer required to get quotes from just a few known insurance companies. Also, local and regional insurers can provide lower insurance rates for the same services. Accurate insurance estimates. Online quotes can only be accurate if the customers provide accurate and real info about their car models and driving history. Lying about past driving incidents can make the price estimates to be lower, but when dealing with an insurance company lying to them is useless. Usually, insurance companies will do research about a potential customer before granting him coverage. Online quotes can be sorted easily. Although drivers are recommended to not choose a policy just based on its price, drivers can easily sort quotes by insurance price. Using brokerage websites will allow drivers to get quotes from multiple insurers, thus making the comparison faster and easier. For additional info, money-saving tips, and free car insurance quotes, visit https://compare-autoinsurance.Org/ Compare-autoinsurance.Org is an online provider of life, home, health, and auto insurance quotes. This website is unique because it does not simply stick to one kind of insurance provider, but brings the clients the best deals from many different online insurance carriers. In this way, clients have access to offers from multiple carriers all in one place: this website. On this site, customers have access to quotes for insurance plans from various agencies, such as local or nationwide agencies, brand names insurance companies, etc. "Online quotes can easily help drivers obtain better car insurance deals. All they have to do is to complete an online form with accurate and real info, then compare prices", said Russell Rabichev, Marketing Director of Internet Marketing Company. CONTACT: Company Name: Internet Marketing CompanyPerson for contact Name: Gurgu CPhone Number: (818) 359-3898Email: [email protected]: https://compare-autoinsurance.Org/ SOURCE: Compare-autoinsurance.Org View source version on accesswire.Com:https://www.Accesswire.Com/595055/What-Are-The-Main-Benefits-Of-Comparing-Car-Insurance-Quotes-Online View photos
picture credit
to request, modification Contact us at Here or [email protected]