Army of God and consumption of pork in Indonesia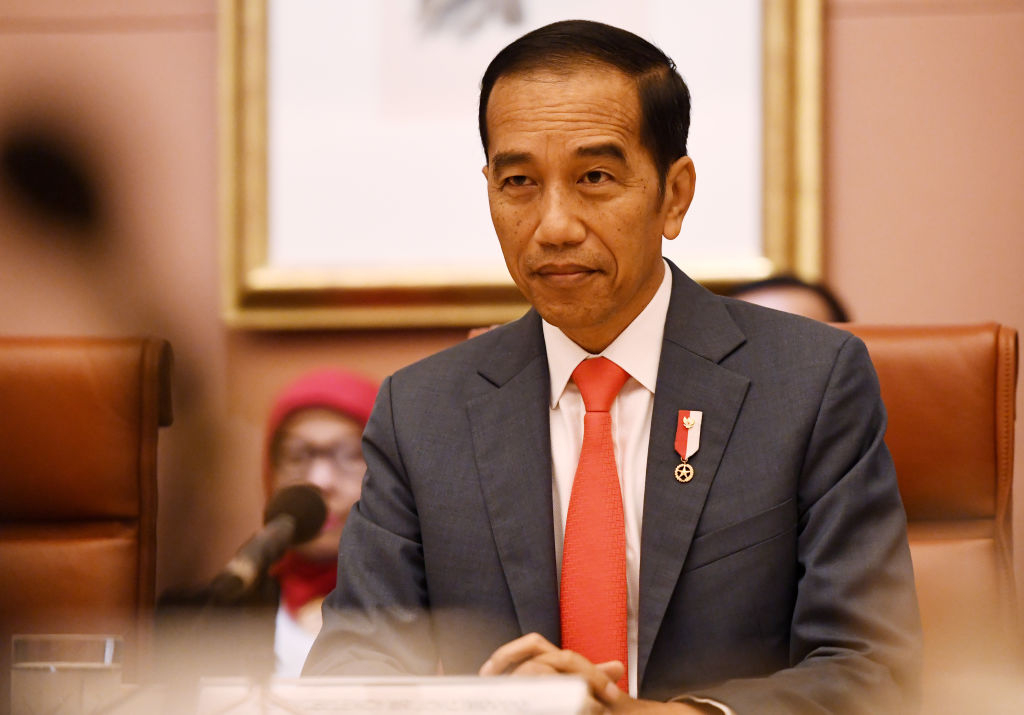 According to President Joko Widodo (photo), the Indonesian government should make every effort to manage the coronavirus crisis. What will Indonesian Islamist clerics do, pray, or find ways to bring the president down? (Photo by Tracey Nearmy – Pool / Getty Images)
The coronavirus, which has become a global pandemic, has received a different response in Indonesia than in most countries of the world. In February, as China quarantined Hubei province, prominent Indonesian clerics reduced the disease to a religious issue. As usual, the claim was marked by a religious claim of superiority and that God could easily be involved in daily life.
Instead of advising congregations in particular and Indonesians in general on the pandemic nature of the coronavirus, many religious leaders linked the virus to something supernatural that could be combated with prayer.
A popular preacher, Ustad Abdul Somad (also known as UAS), a graduate of the Egyptian University of Al-Azhar, in a public sermon in Malaysia, told his congregation that the coronavirus was the army of God sent to protect the Uyghurs in China. On February 17, declaration – under the title "UAS: Coronavirus is the army of God to protect Uighur Muslims" – has been uploaded to YouTube Hajinews TV channel. In his sermon, Somad seems to claim that Allah always helps Muslims, even if they suffer losses:
"Allah really loves this umma [Muslim community]. The umma has lost its sultanate, the umma has lost its caliphate. The umma lost them. Now the umma just needs to read the Qur'an, to recite it. But God always has mercy on them. I always feel sorry for you, said God, so God helped with all kinds of armies. "
Somad is said to have stated that, as Muslims observe a lifestyle in harmony with religious teachings and different from the majority of the population, they are protected from the deadly virus:
"There is the last army of God named corona. The people who live in Uighur (China) do not suffer from this type of virus. Many people are surprised why. One of the reasons is that they always do the ritual ablation before prayer, one of which is washing your hands. "
As one of the most eminent preachers in Indonesia, Somad and his declaration have many followers; it is also a country in which preachers or ulema [clergy] and their congregations tend to have a patron-client relationship.
On March 2, 2020, the Indonesian Ulema Council (MUI) join the choir. MUI, the country's most powerful private religious institution, went on to say that the coronavirus epidemic was not only the army of God sent to fight the Chinese, but also came as a rebuke. God.
"Ustad Somad who said that the coronavirus is the army of God is legitimate because if people are arrogant, Allah would reprimand them," said MUI vice president Muhyidin Junaidy. according to to journalist Edy Yuliansyah Sharif from Tagar.id. in an article entitled "MUI defends Ustad Abdul Somad on the coronavirus as the army of God" on March 3, 2020.
"One of the arrogances of people is to eat food that is prohibited by Islam," said Junaidy. "Allah always rebukes people through Covid-16 or Coronavirus even if the people who consume it are non-Muslim umma." He then quoted Surat Al-Baqara 168: "O people! Eat legitimate and pure things on earth and do not follow in Satan's footsteps. For he is certainly your open enemy."
According to the head of MUI, this verse is not only for Muslims; God's order is for all of humanity. The coronavirus, he continued, is the rebuke of God: many people in these coronavirus affected areas, including Jakarta, still eat food, such as pork, which is prohibited by Islam:
"If we see it from a religious point of view, we can say that it is a rebuke, because people should not eat banned food. Religiously banned food can cause disease, just like human blood, pig, live animals. "
He then said that Indonesians should be more introspective, do more repentance and ask God for forgiveness.
Indonesian Minister of Health Terawan Agus Putranto and the Indonesian vice president, Ma'ruf Amin, has also started to link the coronavirus to religious doctrines and prayer. Speaking at a national Islamic conference on March 3, 2020, Terawan asked Muslim clerics to pray against the coronavirus.
"We can only pray, and we also do it by working, by acting to detect [any virus infection]. If there is [a case of the coronavirus disease], we will respond. We always check and warn [the disease]; we are [taking measures] according to WHO standards, "Terawan shelp February 28.
"I just landed here last night, after joining the Congress of the Indonesian Islamic Community. The visit was important because I wanted to ask for a prayer," said the minister. say again March 4.
A congress was organized by the Indonesian Ulema Council (MUI) from March 11 to 14, 2020. Vice-president Ma'ruf Amin, a high Muslim dignitary who still heads the MUI, and Minister of Religious Affairs Fachrul Razi were among the main personalities present. In his opening speech, Ma'ruf said that many Muslim clerics had recited the hazelnut prayer while leading the dawn prayers, and that this could have been the reason why Indonesia had remained free of coronavirus.
"Many Muslim religious recited the hazelnut prayer, "he said, referring to the Islamoc tradition, walnut nazilah prayer is recited when the Islamic community faces a calamity, including a deadly plague. "I also read the hazelnut prayer to ward off danger, epidemics and disease. This is why the coronavirus stays away from Indonesia, "said Ma'ruf," said Dewi Nurita.
These various claims are no longer valid. Soon, unfortunately, the coronavirus quickly outpaced the prayers of millions of worshipers. On March 3, Indonesian President Joko Widodo officially ad the first two cases of coronavirus infection: a mother and a daughter are said to have been infected with the virus after being in contact with a Japanese citizen during a visit to Malaysia. The two patients were taken to hospital in Jakarta.
In an article updated on March 27, CNN Indonesia noted that the number of patients with coronavirus had reached "1,046 cases with 87 deaths and 46 others successfully cured". Such information can, of course, prompt certain Islamist clerics to pray even more for patients with coronavirus. The government, the president said, should do everything to manage the crisis. What will Indonesian Islamist clerics like Somad and his supporters at MUI do? pray or find ways to bring down the president?
Jacobus E. Lato is a journalist based in Surabaya, Indonesia. His articles appear in various media in Indonesia, Archipelago and Latitudes.Nu. (Netherlands) and Gatestone Institute (New York).
© 2020 Gatestone Institute. All rights reserved. The articles printed here do not necessarily reflect the views of the publishers or the Gatestone Institute. No part of the Gatestone website or any of its content may be reproduced, copied or modified without the prior written consent of Gatestone Institute.
What Are The Main Benefits Of Comparing Car Insurance Quotes Online
LOS ANGELES, CA / ACCESSWIRE / June 24, 2020, / Compare-autoinsurance.Org has launched a new blog post that presents the main benefits of comparing multiple car insurance quotes. For more info and free online quotes, please visit https://compare-autoinsurance.Org/the-advantages-of-comparing-prices-with-car-insurance-quotes-online/ The modern society has numerous technological advantages. One important advantage is the speed at which information is sent and received. With the help of the internet, the shopping habits of many persons have drastically changed. The car insurance industry hasn't remained untouched by these changes. On the internet, drivers can compare insurance prices and find out which sellers have the best offers. View photos The advantages of comparing online car insurance quotes are the following: Online quotes can be obtained from anywhere and at any time. Unlike physical insurance agencies, websites don't have a specific schedule and they are available at any time. Drivers that have busy working schedules, can compare quotes from anywhere and at any time, even at midnight. Multiple choices. Almost all insurance providers, no matter if they are well-known brands or just local insurers, have an online presence. Online quotes will allow policyholders the chance to discover multiple insurance companies and check their prices. Drivers are no longer required to get quotes from just a few known insurance companies. Also, local and regional insurers can provide lower insurance rates for the same services. Accurate insurance estimates. Online quotes can only be accurate if the customers provide accurate and real info about their car models and driving history. Lying about past driving incidents can make the price estimates to be lower, but when dealing with an insurance company lying to them is useless. Usually, insurance companies will do research about a potential customer before granting him coverage. Online quotes can be sorted easily. Although drivers are recommended to not choose a policy just based on its price, drivers can easily sort quotes by insurance price. Using brokerage websites will allow drivers to get quotes from multiple insurers, thus making the comparison faster and easier. For additional info, money-saving tips, and free car insurance quotes, visit https://compare-autoinsurance.Org/ Compare-autoinsurance.Org is an online provider of life, home, health, and auto insurance quotes. This website is unique because it does not simply stick to one kind of insurance provider, but brings the clients the best deals from many different online insurance carriers. In this way, clients have access to offers from multiple carriers all in one place: this website. On this site, customers have access to quotes for insurance plans from various agencies, such as local or nationwide agencies, brand names insurance companies, etc. "Online quotes can easily help drivers obtain better car insurance deals. All they have to do is to complete an online form with accurate and real info, then compare prices", said Russell Rabichev, Marketing Director of Internet Marketing Company. CONTACT: Company Name: Internet Marketing CompanyPerson for contact Name: Gurgu CPhone Number: (818) 359-3898Email: [email protected]: https://compare-autoinsurance.Org/ SOURCE: Compare-autoinsurance.Org View source version on accesswire.Com:https://www.Accesswire.Com/595055/What-Are-The-Main-Benefits-Of-Comparing-Car-Insurance-Quotes-Online View photos
picture credit
to request, modification Contact us at Here or [email protected]