Trump administration, preserve the evidence of what you did (opinion)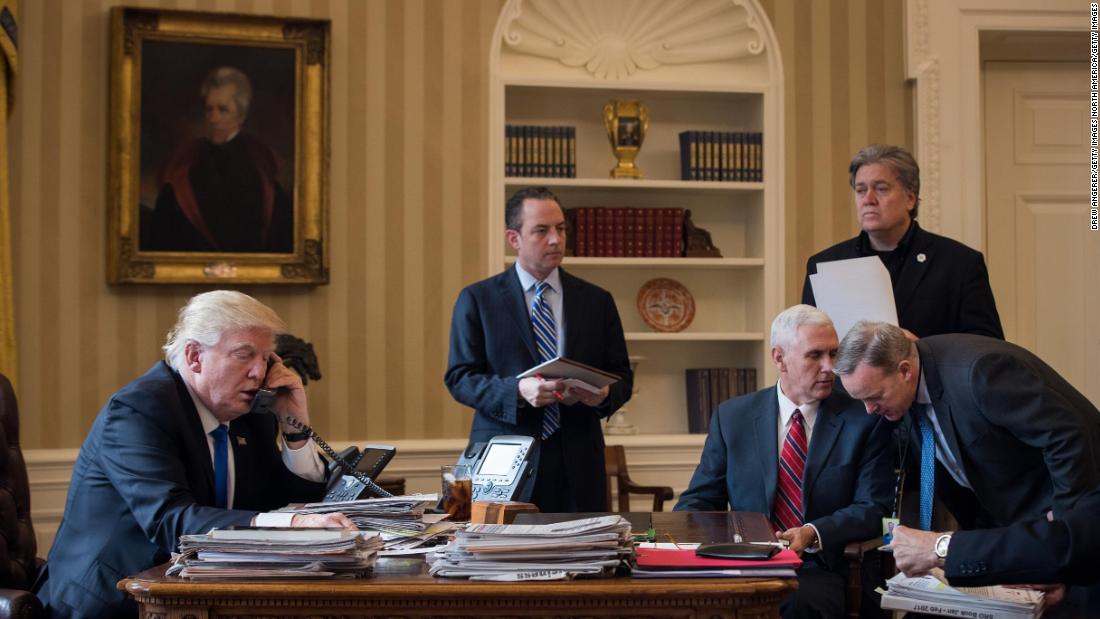 It is an expression of our most deeply rooted American patriotic values ​​allegiance to the republic and to the system of self-governance that has guided us for 244 years.
With election day behind us, our country is entering an uncertain time. Since 2016, President Donald Trump, members of his campaign and his administration have flouted both the letter and the spirit of our laws. His associates have racked up an unprecedented number of indictments and convictions. Some of them, along with a series of former cabinet members and White House officials, have normalized brazen financial and ethical conflicts of interest.
With the protections offered by presidential immunity ending in a few weeks, some officials may be tempted to cover up the traces of this administration and destroy evidence of wrongdoing.
We cannot allow that to happen.
All new administrations inherit political differences and diplomatic and military challenges from their predecessors. They inherit a job that existed before they arrived and will exist long after they leave. Maintaining the strength and resilience of the United States requires that the incoming team have access to the full account of events and internal deliberations regarding existing political challenges. Nothing good for the United States if, say, Russian President Vladimir Putin has a more complete view of US-Russian communications over the past four years than President Biden. It is precisely for this reason that Congress has adopted the Federal Records Act of 1950. and the Presidential Records Act of 1978. These laws ensure that documents, including digital and electronic records, relating to the official functions of the president, vice-president and federal agencies are preserved and preserved.
This is essential for our democracy and for a peaceful transition of power. Both laws serve and protect the American people to whom these documents belong. Anyone who breaks these laws can face criminal penalties or prosecution from the next U.S. Attorney General.
Our challenge right now is that the culture of the Trump administration has led some of its officials to treat our laws and democratic standards as obstacles rather than sacred obligations. In the past four years we have already seen violations of the PRA and the FRA: for example, Trump seized and refused to release an interpreter's notes after a meeting with Putin. White House staff, including Jared Kushner and Ivanka Trump, have reportedly relied on personal emails and encrypted messaging apps to conduct their official business.
But these only represent the "known unknowns". The PRA and FRA require the retention of all documents, not just those of which Congress is aware. Given the pattern of behavior of Trump and his senior officials, we must remain vigilant to ensure that all laws are obeyed and all documents are preserved during this transition.
And here we would like to address the employees of federal agencies who have been forced to silently testify of wrongdoing over the past four years: We thank you for your service. We support you.
It is not lost on us that for every Alexander Vindman put in the public spotlight, there are countless other quiet officials who have refused illegal orders and strived to uphold public integrity. We thank you for your dignity and patriotism, and we will work so that our country never puts you back in this situation again. We know that we can count on you to prioritize the United States of America as part of the transition process over the next 60 days.
Trump will be President until January 20, and until then he has the right to exercise all the legitimate powers of his office to faithfully execute our laws and "preserve, protect and defend the Constitution of the United States" for the good. common. But if you are asked to do something that you believe may break the law, please consult a lawyer before complying and notify your agency's Inspector General.
As members of Congress, we will be proactive during this transition, keeping in regular contact with Inspectors General and those responsible for record keeping.
In the winter of 1776, Thomas Paine wrote of those who defended our country that they "deserve the love and thanks of man and woman. Tyranny, like hell, is not easily conquered; yet we have this consolation with us, that the harder the conflict, the more glorious the triumph. "
To the American people who did not support Donald Trump and who did not give up, who walked, who organized themselves, who voted: Our republic still stands because of you. You have won our "love and thank you" many times. We cannot always count on elected officials to honor their oath to protect our Constitution. But we take comfort in the fact that we can always count on you. Stay alert. We know you will.
What Are The Main Benefits Of Comparing Car Insurance Quotes Online
LOS ANGELES, CA / ACCESSWIRE / June 24, 2020, / Compare-autoinsurance.Org has launched a new blog post that presents the main benefits of comparing multiple car insurance quotes. For more info and free online quotes, please visit https://compare-autoinsurance.Org/the-advantages-of-comparing-prices-with-car-insurance-quotes-online/ The modern society has numerous technological advantages. One important advantage is the speed at which information is sent and received. With the help of the internet, the shopping habits of many persons have drastically changed. The car insurance industry hasn't remained untouched by these changes. On the internet, drivers can compare insurance prices and find out which sellers have the best offers. View photos The advantages of comparing online car insurance quotes are the following: Online quotes can be obtained from anywhere and at any time. Unlike physical insurance agencies, websites don't have a specific schedule and they are available at any time. Drivers that have busy working schedules, can compare quotes from anywhere and at any time, even at midnight. Multiple choices. Almost all insurance providers, no matter if they are well-known brands or just local insurers, have an online presence. Online quotes will allow policyholders the chance to discover multiple insurance companies and check their prices. Drivers are no longer required to get quotes from just a few known insurance companies. Also, local and regional insurers can provide lower insurance rates for the same services. Accurate insurance estimates. Online quotes can only be accurate if the customers provide accurate and real info about their car models and driving history. Lying about past driving incidents can make the price estimates to be lower, but when dealing with an insurance company lying to them is useless. Usually, insurance companies will do research about a potential customer before granting him coverage. Online quotes can be sorted easily. Although drivers are recommended to not choose a policy just based on its price, drivers can easily sort quotes by insurance price. Using brokerage websites will allow drivers to get quotes from multiple insurers, thus making the comparison faster and easier. For additional info, money-saving tips, and free car insurance quotes, visit https://compare-autoinsurance.Org/ Compare-autoinsurance.Org is an online provider of life, home, health, and auto insurance quotes. This website is unique because it does not simply stick to one kind of insurance provider, but brings the clients the best deals from many different online insurance carriers. In this way, clients have access to offers from multiple carriers all in one place: this website. On this site, customers have access to quotes for insurance plans from various agencies, such as local or nationwide agencies, brand names insurance companies, etc. "Online quotes can easily help drivers obtain better car insurance deals. All they have to do is to complete an online form with accurate and real info, then compare prices", said Russell Rabichev, Marketing Director of Internet Marketing Company. CONTACT: Company Name: Internet Marketing CompanyPerson for contact Name: Gurgu CPhone Number: (818) 359-3898Email: [email protected]: https://compare-autoinsurance.Org/ SOURCE: Compare-autoinsurance.Org View source version on accesswire.Com:https://www.Accesswire.Com/595055/What-Are-The-Main-Benefits-Of-Comparing-Car-Insurance-Quotes-Online View photos
picture credit
to request, modification Contact us at Here or [email protected]