Economic finger in the face of Modi's incompetence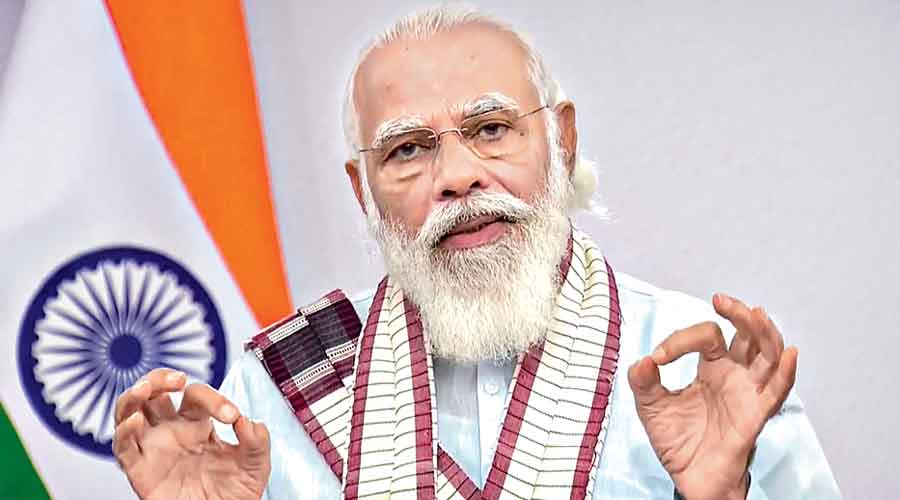 On Friday, Congress questioned whether Prime Minister Narendra Modi's "incompetence" was responsible for one of the world's most dynamic economies becoming one of its worst performers.
"It is true that Narendra Modi took care of Gujarat. But in states, financial management is a matter of expenditure and revenue. At the Center you have to oversee macroeconomic management, which is a whole different game, "Congresswoman Supriya Shrinate said.
"But Modi cannot hide behind his inexperience since he has spent more than six years in power. It is incompetence. "
Shrinate said the government "messed up" the economy and "presided over the death of various sectors."
"This government's economic managers and advisers seem to lack basic knowledge of how the economy works. There is no strategic thinking, "she said.
"The government still refuses the serious crisis. We were among the three fastest growing economies. Now we are at the bottom; among the seven worst performing countries. "
Shrinate said blaming the coronavirus alone was incorrect because the decline began with the November 2016 demonetization. Further mismanagement has resulted in the GDP growth rate falling for eight consecutive quarters, she added.
"There is no concerted effort to stimulate investment, increase exports, stimulate consumption and create more jobs. Empty promises and a divisive social agenda will not help economic recovery, "she said.
As if to flaunt talent within the ranks of Congress contrary to the government's alleged incompetence, Sonia Gandhi formed a committee to monitor the economy and periodically prepare reports on its various aspects.
The committee includes former Prime Minister Manmohan Singh, former Minister of Finance P. Chidambaram, former Minister of Railways Mallikarjun Kharge, former Minister of Rural Development Jairam Ramesh and former Chief Minister Digvijaya Singh .
Sonia, who traveled to Goa on medical advice as extreme pollution worsens her chest congestion, has also formed two other committees on foreign affairs and national security.
The first is composed of Manmohan, Anand Sharma, Shashi Tharoor, Salman Khurshid and Saptagiri Ulaka. The national security committee includes Manmohan, Ghulam Nabi Azad, Veerappa Moily, Vincent Pala and V. Vaithilingam.
The formation of these committees also sends a signal of conciliation to dissidents within the party who felt sidelined to question the drift of Congress.
Azad, Sharma, Moily and Tharoor were among 23 signatories of a letter to Sonia which exposed organizational problems and alleged a leadership crisis. By engaging them under Manmohan's leadership, Sonia tried to contain resentment before the next Congress plenary.
The party will use the reports and assessments of these committees to monopolize the government. Congress has consistently criticized the government's management of the economy over the years, alleging that the wrong actions were taken and expert advice was being ignored.
On Friday, Congress questioned the decision to freeze the high cost allowance for employees of public sector units instead of cutting unnecessary spending on vanity projects like the Central Vista and bullet trains.
"Food inflation has crossed 11% but the Modi government is freezing the AD of central PSUs instead of increasing it," Rahul Gandhi tweeted.
"While buddy capitalists are making a profit, government workers are in distress."
Rahul accused the government of flouting the rights of the poor, first through a poorly planned foreclosure and then wrong with the rural employment guarantee program.
Shrinate said: "In another initiative that will affect revenues, through a circular dated November 19, the government has frozen additional DA payments for PSU employees until June 30, 2021.
"This has an impact on over 14.5 lakh employees in 339 central PSUs. This follows the retrospective reduction of DA for 113 lakh central government employees and retirees, including our armed forces, which was made in April 2020. "
Shrinate said one could only imagine the plight of workers in the unorganized sector when even government workers suffered so much.
"Instead of expanding income support to boost demand (among) those who are most vulnerable, the government is stupidly reducing consumption even for those with a secure income," she said.
"Does the government not understand that cutting the incomes of middle class employees and retirees is not only immoral but fiscally reckless because it squeezes demand even more?"
What Are The Main Benefits Of Comparing Car Insurance Quotes Online
LOS ANGELES, CA / ACCESSWIRE / June 24, 2020, / Compare-autoinsurance.Org has launched a new blog post that presents the main benefits of comparing multiple car insurance quotes. For more info and free online quotes, please visit https://compare-autoinsurance.Org/the-advantages-of-comparing-prices-with-car-insurance-quotes-online/ The modern society has numerous technological advantages. One important advantage is the speed at which information is sent and received. With the help of the internet, the shopping habits of many persons have drastically changed. The car insurance industry hasn't remained untouched by these changes. On the internet, drivers can compare insurance prices and find out which sellers have the best offers. View photos The advantages of comparing online car insurance quotes are the following: Online quotes can be obtained from anywhere and at any time. Unlike physical insurance agencies, websites don't have a specific schedule and they are available at any time. Drivers that have busy working schedules, can compare quotes from anywhere and at any time, even at midnight. Multiple choices. Almost all insurance providers, no matter if they are well-known brands or just local insurers, have an online presence. Online quotes will allow policyholders the chance to discover multiple insurance companies and check their prices. Drivers are no longer required to get quotes from just a few known insurance companies. Also, local and regional insurers can provide lower insurance rates for the same services. Accurate insurance estimates. Online quotes can only be accurate if the customers provide accurate and real info about their car models and driving history. Lying about past driving incidents can make the price estimates to be lower, but when dealing with an insurance company lying to them is useless. Usually, insurance companies will do research about a potential customer before granting him coverage. Online quotes can be sorted easily. Although drivers are recommended to not choose a policy just based on its price, drivers can easily sort quotes by insurance price. Using brokerage websites will allow drivers to get quotes from multiple insurers, thus making the comparison faster and easier. For additional info, money-saving tips, and free car insurance quotes, visit https://compare-autoinsurance.Org/ Compare-autoinsurance.Org is an online provider of life, home, health, and auto insurance quotes. This website is unique because it does not simply stick to one kind of insurance provider, but brings the clients the best deals from many different online insurance carriers. In this way, clients have access to offers from multiple carriers all in one place: this website. On this site, customers have access to quotes for insurance plans from various agencies, such as local or nationwide agencies, brand names insurance companies, etc. "Online quotes can easily help drivers obtain better car insurance deals. All they have to do is to complete an online form with accurate and real info, then compare prices", said Russell Rabichev, Marketing Director of Internet Marketing Company. CONTACT: Company Name: Internet Marketing CompanyPerson for contact Name: Gurgu CPhone Number: (818) 359-3898Email: [email protected]: https://compare-autoinsurance.Org/ SOURCE: Compare-autoinsurance.Org View source version on accesswire.Com:https://www.Accesswire.Com/595055/What-Are-The-Main-Benefits-Of-Comparing-Car-Insurance-Quotes-Online View photos
picture credit
to request, modification Contact us at Here or [email protected]