A focal point for the Bidens democracy summit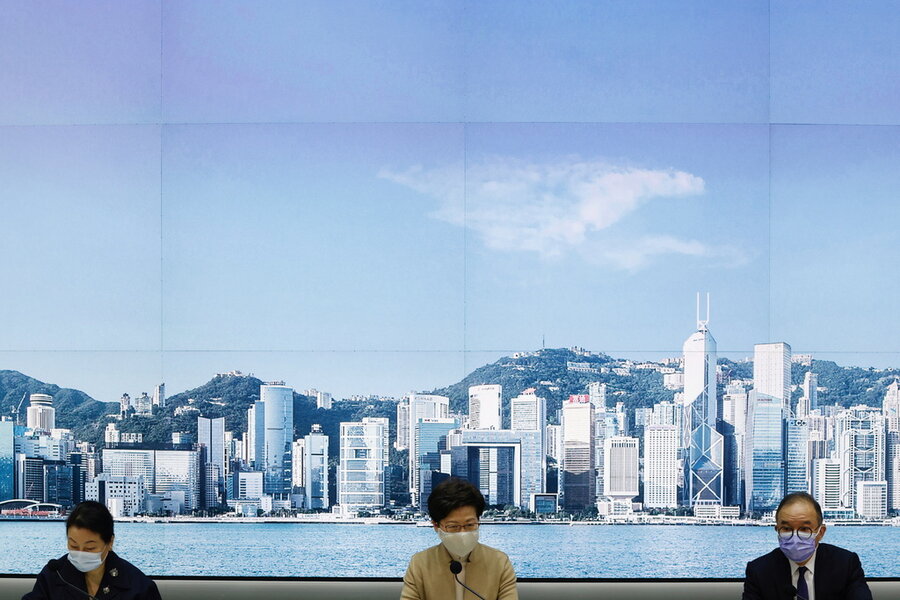 As one of his first acts after taking office, President-elect Joe Biden plans to convene a summit of democracies. The goal is to advance individual rights and equality in democracies and countries with few civil liberties. His plan appears to be aimed at China, where the rights of the people are subordinated to the reign of leader Xi Jinping. One guest Mr. Biden may wish to invite is Judge Anderson Chow of the High Court of Hong Kong.
On Thursday, Judge Chow ruled that the Chinese Territory government violated the Hong Kong Bill of Rights. During massive pro-democracy protests last year, he said, police failed to have ID badges worn and provide an independent review of police abuse. No matter how serious the public emergency, Judge Chow wrote, fundamental rights must always be respected by the government and protected by the courts.
The ruling is a courageous stance for what remains of democracy in Hong Kong and its independent judiciary 23 years after Britain returned the colony to Beijing. Pro-democracy lawmakers have been sidelined, much of the free press has been muzzled, and many protesters have fled for fear of arrest. Hong Kong chief executive Carrie Lam even said in September that there was no separation of powers in government.
Ms Lams' remark stiffened the spine of the judges in court. In a reprimand, Chief Justice Geoffrey Ma Tao-li warned in a statement that the judiciary should not be politicized. While Xi said the rule of law means the law governing the Communist Party, the city's judges see themselves as independent legal professionals working under a constitution focused on the equality of all citizens as having the power to interpret the law and verify the authority of the state without fear or favor of a party.
Both views are exactly what Mr. Bidens' Democracy Summit must address as it takes on the task of dealing with China promoting its unitary and arbitrary model of governance.
I will put values ​​back at the center of our foreign policy, including how we approach the US-China relationship, Biden said in August. He also promises to fully implement Hong Kong's Human Rights and Democracy Law signed by President Donald Trump last year.
China today is no longer the China of Deng Xiaoping, the leader after the anti-Mao law era. Deng said in 1978 that democracy must be institutionalized and enshrined in law, to ensure that institutions and laws don't change whenever leadership changes.
The people of Hong Kong, who have shown the world how much they love freedom, deserve a place in any global forum on democracy. They know first hand how equal rights and the rule of democratic law, rather than the vagaries of personal rule, contribute to a thriving society.
What Are The Main Benefits Of Comparing Car Insurance Quotes Online
LOS ANGELES, CA / ACCESSWIRE / June 24, 2020, / Compare-autoinsurance.Org has launched a new blog post that presents the main benefits of comparing multiple car insurance quotes. For more info and free online quotes, please visit https://compare-autoinsurance.Org/the-advantages-of-comparing-prices-with-car-insurance-quotes-online/ The modern society has numerous technological advantages. One important advantage is the speed at which information is sent and received. With the help of the internet, the shopping habits of many persons have drastically changed. The car insurance industry hasn't remained untouched by these changes. On the internet, drivers can compare insurance prices and find out which sellers have the best offers. View photos The advantages of comparing online car insurance quotes are the following: Online quotes can be obtained from anywhere and at any time. Unlike physical insurance agencies, websites don't have a specific schedule and they are available at any time. Drivers that have busy working schedules, can compare quotes from anywhere and at any time, even at midnight. Multiple choices. Almost all insurance providers, no matter if they are well-known brands or just local insurers, have an online presence. Online quotes will allow policyholders the chance to discover multiple insurance companies and check their prices. Drivers are no longer required to get quotes from just a few known insurance companies. Also, local and regional insurers can provide lower insurance rates for the same services. Accurate insurance estimates. Online quotes can only be accurate if the customers provide accurate and real info about their car models and driving history. Lying about past driving incidents can make the price estimates to be lower, but when dealing with an insurance company lying to them is useless. Usually, insurance companies will do research about a potential customer before granting him coverage. Online quotes can be sorted easily. Although drivers are recommended to not choose a policy just based on its price, drivers can easily sort quotes by insurance price. Using brokerage websites will allow drivers to get quotes from multiple insurers, thus making the comparison faster and easier. For additional info, money-saving tips, and free car insurance quotes, visit https://compare-autoinsurance.Org/ Compare-autoinsurance.Org is an online provider of life, home, health, and auto insurance quotes. This website is unique because it does not simply stick to one kind of insurance provider, but brings the clients the best deals from many different online insurance carriers. In this way, clients have access to offers from multiple carriers all in one place: this website. On this site, customers have access to quotes for insurance plans from various agencies, such as local or nationwide agencies, brand names insurance companies, etc. "Online quotes can easily help drivers obtain better car insurance deals. All they have to do is to complete an online form with accurate and real info, then compare prices", said Russell Rabichev, Marketing Director of Internet Marketing Company. CONTACT: Company Name: Internet Marketing CompanyPerson for contact Name: Gurgu CPhone Number: (818) 359-3898Email: [email protected]: https://compare-autoinsurance.Org/ SOURCE: Compare-autoinsurance.Org View source version on accesswire.Com:https://www.Accesswire.Com/595055/What-Are-The-Main-Benefits-Of-Comparing-Car-Insurance-Quotes-Online View photos
picture credit
to request, modification Contact us at Here or [email protected]