Medan titular's shrill tone faces criticism from Jokowi's in-laws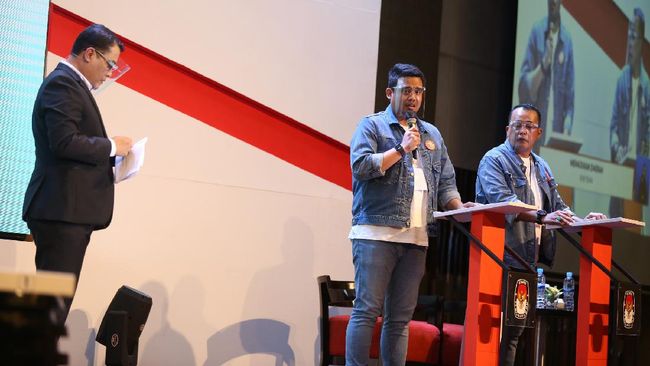 Medan, CNN Indonesia –
Beau-president Joko Widodo, Bobby Nasution, strongly criticized a number of issues in the city of Medan, from potholes to corruption cases. Bobby has been making this review since the start of the second round of debates Medan Pilkadawhich took place at the Mercure Medan hotel, Saturday (21/11) evening.
"The main task of government is to ensure that services to the public can be good, accurate and fast. We can say that the services in Medan are bad. This is exacerbated by the Corruption Perception Index of 12 major cities in Indonesia, Medan being the lowest city. This causes endless flooding. There are potholes everywhere, the corruption is never over, "said Bobby.
In the debate, Bobby Nasution, who was paired with Aulia Rachman, also posed a number of questions that cornered incumbent Akhyar Nasution, who was paired with PKS executive Salman Alfarisi.
"How is it in the Medan Baru sub-district that there have been victims of death and suicide? Because he did not receive social assistance during the Covid pandemic. What Udak Akhyar as acting mayor of Medan who is also chairman of the Medan task force did? "he said.
Medan serial number 01 mayoral candidate Akhyar Nasution, who received a question from his rival, immediately responded aloud. Akhyar admitted that the suicide case was not caused by the victim not receiving assistance during the Covid pandemic.
"Regarding those who committed suicide in Padang Bulan, I was there, I checked that it was a family affair. My property was in the field, I didn't hear the news, but I was directly in the field. This is my answer, so it's not what people say, but I'm going straight to I'm responsible for this problem, "he said.
Then Bobby Nasution said there was no transparency in Medan City. Bobby said Medan City received a budget of IDR 30 trillion. There should be progress every year since the development in Medan.
Akhyar then responded to the statement. Abruptly, Akhyar wondered where Bobby got the data from. According to him, in 2016 the achievement of the Medan regional budget was 4.3 trillion rupees, in 2017 the achievement was 4.4 trillion rupees, in 2018 it was around 4.5 billion rupees and in 2019, it was around 5.055 billion rupees.
"So there are four budget years left. In total, it is only 18 trillion rupees. So ladies and gentlemen, the city of Medan has budget transparency. All that remains is to open the website. of Pemko Medan. So all incorrect data must be corrected. We, the leaders of Medan, must be able to convey information. correct data, do not rely on assumptions and estimates, "Akhyar said with emotion. .
Akhyar again became moved at the question. He said the salaries of paramedics had been delayed because BPJS Kesehatan was convoluted in paying claims from all of Medan's hospitals. Afterwards, Akhyar also seemed moved when Bobby Nasution and Aulia Rachman questioned the salaries of paramedics at Dr Pirngadi Medan hospital which was still on standby and medics at home. the pain is gone. According to Aulia, this condition has a negative impact on Pemko Medan's income.
"It is true that the fees have been delayed. Because
Payment of fees has long been delayed. Pirngadi's income is BPJS. We ask BPJS not to get involved in settling all hospital claims. We ask this public service agency in Medan to be well served by BPJS, "he explained.
(fnr / ex)

[Gambas:Video CNN]
What Are The Main Benefits Of Comparing Car Insurance Quotes Online
LOS ANGELES, CA / ACCESSWIRE / June 24, 2020, / Compare-autoinsurance.Org has launched a new blog post that presents the main benefits of comparing multiple car insurance quotes. For more info and free online quotes, please visit https://compare-autoinsurance.Org/the-advantages-of-comparing-prices-with-car-insurance-quotes-online/ The modern society has numerous technological advantages. One important advantage is the speed at which information is sent and received. With the help of the internet, the shopping habits of many persons have drastically changed. The car insurance industry hasn't remained untouched by these changes. On the internet, drivers can compare insurance prices and find out which sellers have the best offers. View photos The advantages of comparing online car insurance quotes are the following: Online quotes can be obtained from anywhere and at any time. Unlike physical insurance agencies, websites don't have a specific schedule and they are available at any time. Drivers that have busy working schedules, can compare quotes from anywhere and at any time, even at midnight. Multiple choices. Almost all insurance providers, no matter if they are well-known brands or just local insurers, have an online presence. Online quotes will allow policyholders the chance to discover multiple insurance companies and check their prices. Drivers are no longer required to get quotes from just a few known insurance companies. Also, local and regional insurers can provide lower insurance rates for the same services. Accurate insurance estimates. Online quotes can only be accurate if the customers provide accurate and real info about their car models and driving history. Lying about past driving incidents can make the price estimates to be lower, but when dealing with an insurance company lying to them is useless. Usually, insurance companies will do research about a potential customer before granting him coverage. Online quotes can be sorted easily. Although drivers are recommended to not choose a policy just based on its price, drivers can easily sort quotes by insurance price. Using brokerage websites will allow drivers to get quotes from multiple insurers, thus making the comparison faster and easier. For additional info, money-saving tips, and free car insurance quotes, visit https://compare-autoinsurance.Org/ Compare-autoinsurance.Org is an online provider of life, home, health, and auto insurance quotes. This website is unique because it does not simply stick to one kind of insurance provider, but brings the clients the best deals from many different online insurance carriers. In this way, clients have access to offers from multiple carriers all in one place: this website. On this site, customers have access to quotes for insurance plans from various agencies, such as local or nationwide agencies, brand names insurance companies, etc. "Online quotes can easily help drivers obtain better car insurance deals. All they have to do is to complete an online form with accurate and real info, then compare prices", said Russell Rabichev, Marketing Director of Internet Marketing Company. CONTACT: Company Name: Internet Marketing CompanyPerson for contact Name: Gurgu CPhone Number: (818) 359-3898Email: [email protected]: https://compare-autoinsurance.Org/ SOURCE: Compare-autoinsurance.Org View source version on accesswire.Com:https://www.Accesswire.Com/595055/What-Are-The-Main-Benefits-Of-Comparing-Car-Insurance-Quotes-Online View photos
picture credit
to request, modification Contact us at Here or [email protected]