Donald Trump sued for 'disenfranchising black voters' in efforts to overturn Michigan election result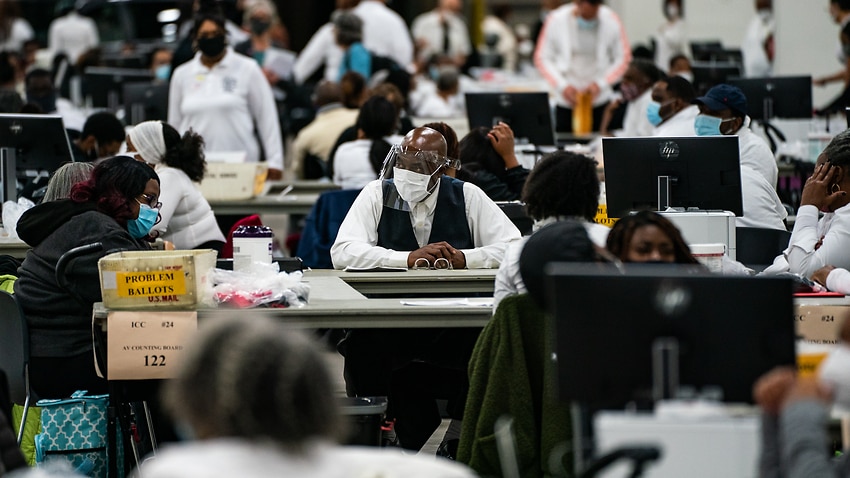 A group of Detroit voters are suing Donald Trump and his campaign for trying to overturn the Michigan election result, claiming he is openly seeking to deny black voters their rights.
A lawsuit, filed in federal court in Washington on Friday, describes the Trump campaign's election fraud allegations as one of the worst abuses in our country's history, accusing him of trying to intimidate and coerce Michigan state and local authorities to replace voters.
Republicans have asked for a two-week delay to allow a full audit of the results in Wayne County, the state's largest county and home to majority-black Detroit. It was won with an overwhelming majority by President-elect Joe Biden.
"To implement this strategy, the defendants openly seek to deny the rights of black voters, including voters in Detroit, Michigan," the lawsuit read.
More than three-quarters of Detroit residents are black, according to US Census data.
At the center of this strategy is the denial of the right to vote of voters in predominantly black cities, according to the lawsuit.
Repeating false allegations of voter fraud, which have been completely debunked, the defendants are pressuring state and local authorities in Michigan not to count the votes in Wayne County, Michigan (where Detroit is the seat of the county), and thus deprive hundreds of thousands of voters.
Mr. Trump has repeatedly wrongly accused several cities, including Detroit and Philadelphia, of orchestrating massive voter fraud.
His campaign claimed, without evidence, that postal voting was corrupt.
No more, says the lawsuit. The Voting Rights Act of 1965 categorically prohibits the efforts of the accused to deprive black people of their voting rights and attack our Republic.
The Michigan Solicitors Council, which includes two Democrats and two Republicans, is due to meet Monday to certify the results.
Republican Party national committee chair Ronna McDaniel and Michigan party chair Laura Cox called on the council to "adjourn for 14 days to allow for a full audit and investigation of these anomalies and irregularities."
Michigan Secretary of State Jocelyn Benson said audits can only be done after certification because officials do not have legal access to the documents needed until then.
Ms Benson posted on Twitter on Saturday that there had been "no evidence" to question the election result.
In a nutshell: 5.5 Million Michigan Citizens Have Voted Their Vote Results Are Clear No evidence has emerged to undermine that we have rules and laws in place to protect the integrity of our elections and the will Voters These rules and laws should govern the days to come. https://t.co/msMw041OM7
Jocelyn Benson (@JocelynBenson) November 21, 2020
Mr. Trump has rarely appeared in public since his election defeat, but has not given up on his provocative Twitter campaign.
Meanwhile, a judge in Pennsylvania on Saturday dismissed Mr. Trump's allegations of widespread electoral fraud in that country.
The decision – heralded in a scathing judgment that refuted Team Trump's legal strategy – paves the way for Pennsylvania to certify Democrat Joe Biden's victory in the state, which is expected to take place on Monday.
Judge Matthew Brann wrote in his ruling that Mr. Trump's team presented "unfounded strained legal arguments and speculative accusations" in their complaints about mail-in ballots in Pennsylvania.
"In the United States of America, that cannot justify the deprivation of the right to vote of just one voter, let alone all the voters of its sixth most populous state," Judge Brann wrote.
"Our people, our laws and our institutions demand more."
Share
Share on Twitter Share on Facebook
Only a limited number of Republicans have so far recognized Mr. Biden as the winner and called on Mr. Trump to concede.
The Pennsylvania court ruling prompted Republican state senator Pat Toomey to join those ranks, saying Biden "won the 2020 election and would become the 46th President of the United States."
"President Trump should accept the outcome of the election and facilitate the presidential transition process," Toomey said in a statement congratulating Mr. Biden while noting that he had voted for Mr. Trump.
– Additional AFP report.
What Are The Main Benefits Of Comparing Car Insurance Quotes Online
LOS ANGELES, CA / ACCESSWIRE / June 24, 2020, / Compare-autoinsurance.Org has launched a new blog post that presents the main benefits of comparing multiple car insurance quotes. For more info and free online quotes, please visit https://compare-autoinsurance.Org/the-advantages-of-comparing-prices-with-car-insurance-quotes-online/ The modern society has numerous technological advantages. One important advantage is the speed at which information is sent and received. With the help of the internet, the shopping habits of many persons have drastically changed. The car insurance industry hasn't remained untouched by these changes. On the internet, drivers can compare insurance prices and find out which sellers have the best offers. View photos The advantages of comparing online car insurance quotes are the following: Online quotes can be obtained from anywhere and at any time. Unlike physical insurance agencies, websites don't have a specific schedule and they are available at any time. Drivers that have busy working schedules, can compare quotes from anywhere and at any time, even at midnight. Multiple choices. Almost all insurance providers, no matter if they are well-known brands or just local insurers, have an online presence. Online quotes will allow policyholders the chance to discover multiple insurance companies and check their prices. Drivers are no longer required to get quotes from just a few known insurance companies. Also, local and regional insurers can provide lower insurance rates for the same services. Accurate insurance estimates. Online quotes can only be accurate if the customers provide accurate and real info about their car models and driving history. Lying about past driving incidents can make the price estimates to be lower, but when dealing with an insurance company lying to them is useless. Usually, insurance companies will do research about a potential customer before granting him coverage. Online quotes can be sorted easily. Although drivers are recommended to not choose a policy just based on its price, drivers can easily sort quotes by insurance price. Using brokerage websites will allow drivers to get quotes from multiple insurers, thus making the comparison faster and easier. For additional info, money-saving tips, and free car insurance quotes, visit https://compare-autoinsurance.Org/ Compare-autoinsurance.Org is an online provider of life, home, health, and auto insurance quotes. This website is unique because it does not simply stick to one kind of insurance provider, but brings the clients the best deals from many different online insurance carriers. In this way, clients have access to offers from multiple carriers all in one place: this website. On this site, customers have access to quotes for insurance plans from various agencies, such as local or nationwide agencies, brand names insurance companies, etc. "Online quotes can easily help drivers obtain better car insurance deals. All they have to do is to complete an online form with accurate and real info, then compare prices", said Russell Rabichev, Marketing Director of Internet Marketing Company. CONTACT: Company Name: Internet Marketing CompanyPerson for contact Name: Gurgu CPhone Number: (818) 359-3898Email: [email protected]: https://compare-autoinsurance.Org/ SOURCE: Compare-autoinsurance.Org View source version on accesswire.Com:https://www.Accesswire.Com/595055/What-Are-The-Main-Benefits-Of-Comparing-Car-Insurance-Quotes-Online View photos
picture credit
to request, modification Contact us at Here or [email protected]