Erdogan says Turkey's place is in Europe ahead of EU summit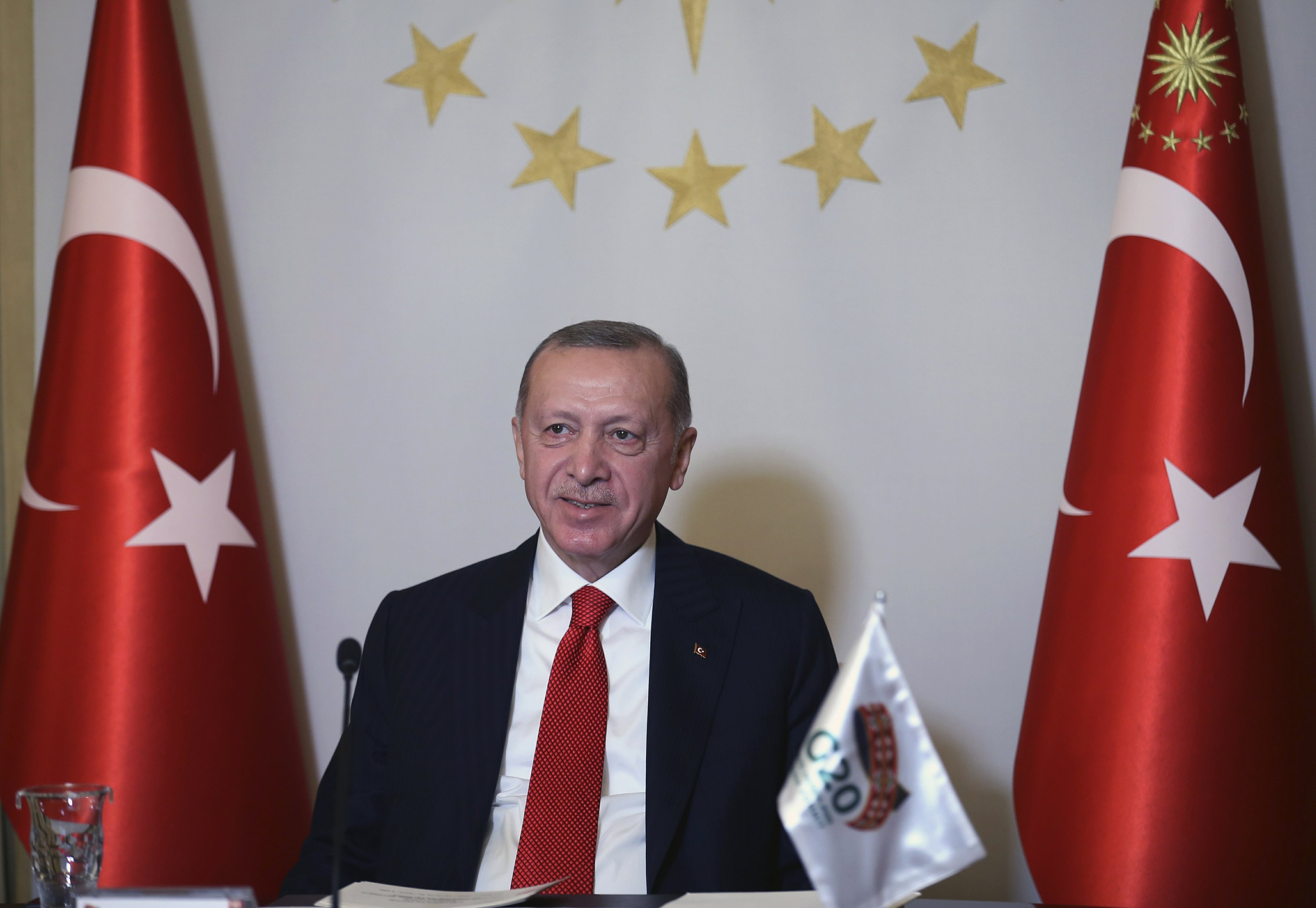 ANKARA, Turkey (AP) Turkish President Recep Tayyip Erdogan on Sunday said Turkey sees itself as part of Europe, but called on the European Union to keep its promises on issues such as the candidacy of the countries and refugees.
He spoke ahead of an EU summit to be held next month. In recent weeks, EU members have raised the prospect of sanctions against Turkey for its gas exploration missions in the Eastern Mediterranean.
We still see ourselves as part of Europe, Erdogan said in a virtual speech to members of the ruling party. We have chosen to favor Europe as long as it does not force us to look elsewhere.
He added: Keep your promises to our country of full membership in the refugee issue. Allows for closer and more effective cooperation together.
Turkey applied for membership in the bloc in 1987 and four years ago signed an agreement with the EU to manage the flow of migrants to Europe.
However, claims of democratic retreat saw its application effectively suspended as both sides accused the other of failing to properly implement the refugee agreement.
Ankara has sent research and drilling vessels to waters claimed by EU members Greece and Cyprus, causing a military escalation over the summer.
Ahead of an EU summit in September, Turkey withdrew the research vessel Oruc Reis from the eastern Mediterranean. The ship returned later and on Saturday Turkey announced it was extending its mission until November 29.
EU leaders are due to meet in Brussels on December 10 and 11 and have expressed concerns about Turkish activity in parts of the Mediterranean that Ankara unilaterally claims as its economic zone. Tensions have also been fueled by Erdogans' insults against French President Emmanuel Macron and Turkey's foreign policy in northern Cyprus and Azerbaijan.
German Foreign Minister Heiko Maas last week urged Turkey to end provocations in the Mediterranean or face possible sanctions. EU foreign policy chief Josep Borrell said the bloc was approaching a watershed moment in our relationship with Turkey.
In a bid to deepen relations, Erdogan dispatched his spokesperson Ibrahim Kalin, who often plays a role in foreign affairs, to Brussels on Friday.
Over the past two weeks, Erdogan has spoken of plans for judicial and democratic reforms to accompany a shift in economic policy, a sign some have suggested as an attempt to take over Europe and President-elect Joe Biden's new administration to the States. -United.
What Are The Main Benefits Of Comparing Car Insurance Quotes Online
LOS ANGELES, CA / ACCESSWIRE / June 24, 2020, / Compare-autoinsurance.Org has launched a new blog post that presents the main benefits of comparing multiple car insurance quotes. For more info and free online quotes, please visit https://compare-autoinsurance.Org/the-advantages-of-comparing-prices-with-car-insurance-quotes-online/ The modern society has numerous technological advantages. One important advantage is the speed at which information is sent and received. With the help of the internet, the shopping habits of many persons have drastically changed. The car insurance industry hasn't remained untouched by these changes. On the internet, drivers can compare insurance prices and find out which sellers have the best offers. View photos The advantages of comparing online car insurance quotes are the following: Online quotes can be obtained from anywhere and at any time. Unlike physical insurance agencies, websites don't have a specific schedule and they are available at any time. Drivers that have busy working schedules, can compare quotes from anywhere and at any time, even at midnight. Multiple choices. Almost all insurance providers, no matter if they are well-known brands or just local insurers, have an online presence. Online quotes will allow policyholders the chance to discover multiple insurance companies and check their prices. Drivers are no longer required to get quotes from just a few known insurance companies. Also, local and regional insurers can provide lower insurance rates for the same services. Accurate insurance estimates. Online quotes can only be accurate if the customers provide accurate and real info about their car models and driving history. Lying about past driving incidents can make the price estimates to be lower, but when dealing with an insurance company lying to them is useless. Usually, insurance companies will do research about a potential customer before granting him coverage. Online quotes can be sorted easily. Although drivers are recommended to not choose a policy just based on its price, drivers can easily sort quotes by insurance price. Using brokerage websites will allow drivers to get quotes from multiple insurers, thus making the comparison faster and easier. For additional info, money-saving tips, and free car insurance quotes, visit https://compare-autoinsurance.Org/ Compare-autoinsurance.Org is an online provider of life, home, health, and auto insurance quotes. This website is unique because it does not simply stick to one kind of insurance provider, but brings the clients the best deals from many different online insurance carriers. In this way, clients have access to offers from multiple carriers all in one place: this website. On this site, customers have access to quotes for insurance plans from various agencies, such as local or nationwide agencies, brand names insurance companies, etc. "Online quotes can easily help drivers obtain better car insurance deals. All they have to do is to complete an online form with accurate and real info, then compare prices", said Russell Rabichev, Marketing Director of Internet Marketing Company. CONTACT: Company Name: Internet Marketing CompanyPerson for contact Name: Gurgu CPhone Number: (818) 359-3898Email: [email protected]: https://compare-autoinsurance.Org/ SOURCE: Compare-autoinsurance.Org View source version on accesswire.Com:https://www.Accesswire.Com/595055/What-Are-The-Main-Benefits-Of-Comparing-Car-Insurance-Quotes-Online View photos
picture credit
to request, modification Contact us at Here or [email protected]