9th anniversary, OJK is determined to increase benefits for the community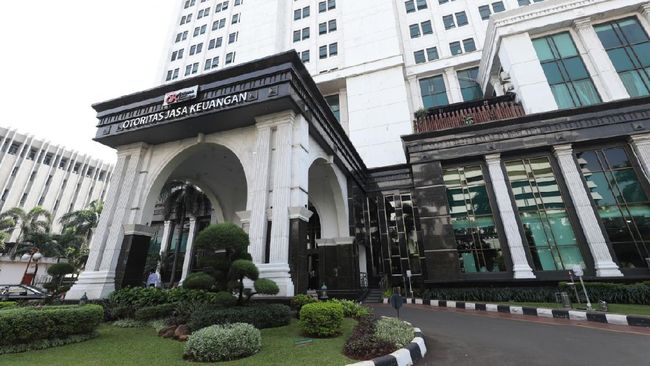 Jakarta, CNN Indonesia –
The Financial Services Authority celebrates its 9th anniversary on Sunday (11/22). This year, the anniversary was livened up with a charity concert featuring a number of national artists to raise funds which will be given to students affected by the Covid-19 pandemic.
In his remarks, the Chairman of the OJK Board of Commissioners, Wimboh Santoso, called on all employees to continue to work hard and maintain integrity, so that the OJK becomes a credible institution, while benefiting the actors. the financial services industry and society as a whole.
"OJK must use internal strength to increase OJK's service and contribution to the advancement of the Indonesian financial services industry and the recovery of the national economy," Wimboh said at an event attended by all. OJK employees in Indonesia.
President Joko Widodo by video congratulated the OJK on its birthday. He called on the OJK to take greater responsibility and share the burden of helping small, medium and large businesses become productive again by moving the wheels of the economy forward.
"Happy 9th birthday to OJK. Congratulations on your hard work and your best dedication to the progress of the country," Jokowi said.
Meanwhile, Vice President Ma'ruf Amin said that the OJK has a very strategic role in the conduct of integrated supervision and supervision in the growth and development of the financial sector, including ultra- scales. micro, micro and small.
"Hopefully the OJK can continue to contribute to maintaining the stability of the financial sector in Indonesia." Increase capacity and collaboration with all stakeholders at central and regional levels, so that the presence of OJK can be a solution to the problems and challenges of the financial sector today and in the future, especially in times of economic recovery from Covid 19, "Ma'ruf said.
Previously, OJK employees took the initiative to help those affected by the pandemic by raising funds of IDR 20.6 billion. The funds come from employee salaries set aside since March. In addition, OJK also distributed IDR 4.7 billion in the form of assistance for repairing facilities and infrastructure for communities and the environment around OJK's offices across Indonesia.
On this occasion, Wimboh also launched the UMKM-MU app, which is a digital platform in the form of a website and an app developed by the OJK to help MSMEs expand access to digitally market. The UMKM-MU is special because it involves the participation of all regional offices / OJK offices across the country to provide advice and assistance to MSMEs; as well as the research, selection and preservation of top quality products in each region.
"We hope that this UMKM-MU can become an ark that can bring Indonesian MSMEs into highly competitive businesses and continue to grow to support the Indonesian economy," Wimboh said.
In addition to a charity concert, the OJK also organized a virtual cycling and running competition to mark the 9th anniversary, in which employees, financial services actors, journalists and the general public participated.
(rea)

What Are The Main Benefits Of Comparing Car Insurance Quotes Online
LOS ANGELES, CA / ACCESSWIRE / June 24, 2020, / Compare-autoinsurance.Org has launched a new blog post that presents the main benefits of comparing multiple car insurance quotes. For more info and free online quotes, please visit https://compare-autoinsurance.Org/the-advantages-of-comparing-prices-with-car-insurance-quotes-online/ The modern society has numerous technological advantages. One important advantage is the speed at which information is sent and received. With the help of the internet, the shopping habits of many persons have drastically changed. The car insurance industry hasn't remained untouched by these changes. On the internet, drivers can compare insurance prices and find out which sellers have the best offers. View photos The advantages of comparing online car insurance quotes are the following: Online quotes can be obtained from anywhere and at any time. Unlike physical insurance agencies, websites don't have a specific schedule and they are available at any time. Drivers that have busy working schedules, can compare quotes from anywhere and at any time, even at midnight. Multiple choices. Almost all insurance providers, no matter if they are well-known brands or just local insurers, have an online presence. Online quotes will allow policyholders the chance to discover multiple insurance companies and check their prices. Drivers are no longer required to get quotes from just a few known insurance companies. Also, local and regional insurers can provide lower insurance rates for the same services. Accurate insurance estimates. Online quotes can only be accurate if the customers provide accurate and real info about their car models and driving history. Lying about past driving incidents can make the price estimates to be lower, but when dealing with an insurance company lying to them is useless. Usually, insurance companies will do research about a potential customer before granting him coverage. Online quotes can be sorted easily. Although drivers are recommended to not choose a policy just based on its price, drivers can easily sort quotes by insurance price. Using brokerage websites will allow drivers to get quotes from multiple insurers, thus making the comparison faster and easier. For additional info, money-saving tips, and free car insurance quotes, visit https://compare-autoinsurance.Org/ Compare-autoinsurance.Org is an online provider of life, home, health, and auto insurance quotes. This website is unique because it does not simply stick to one kind of insurance provider, but brings the clients the best deals from many different online insurance carriers. In this way, clients have access to offers from multiple carriers all in one place: this website. On this site, customers have access to quotes for insurance plans from various agencies, such as local or nationwide agencies, brand names insurance companies, etc. "Online quotes can easily help drivers obtain better car insurance deals. All they have to do is to complete an online form with accurate and real info, then compare prices", said Russell Rabichev, Marketing Director of Internet Marketing Company. CONTACT: Company Name: Internet Marketing CompanyPerson for contact Name: Gurgu CPhone Number: (818) 359-3898Email: [email protected]: https://compare-autoinsurance.Org/ SOURCE: Compare-autoinsurance.Org View source version on accesswire.Com:https://www.Accesswire.Com/595055/What-Are-The-Main-Benefits-Of-Comparing-Car-Insurance-Quotes-Online View photos
picture credit
to request, modification Contact us at Here or [email protected]