Paris climate agreement was "designed to kill the US economy", says Donald Trump | American News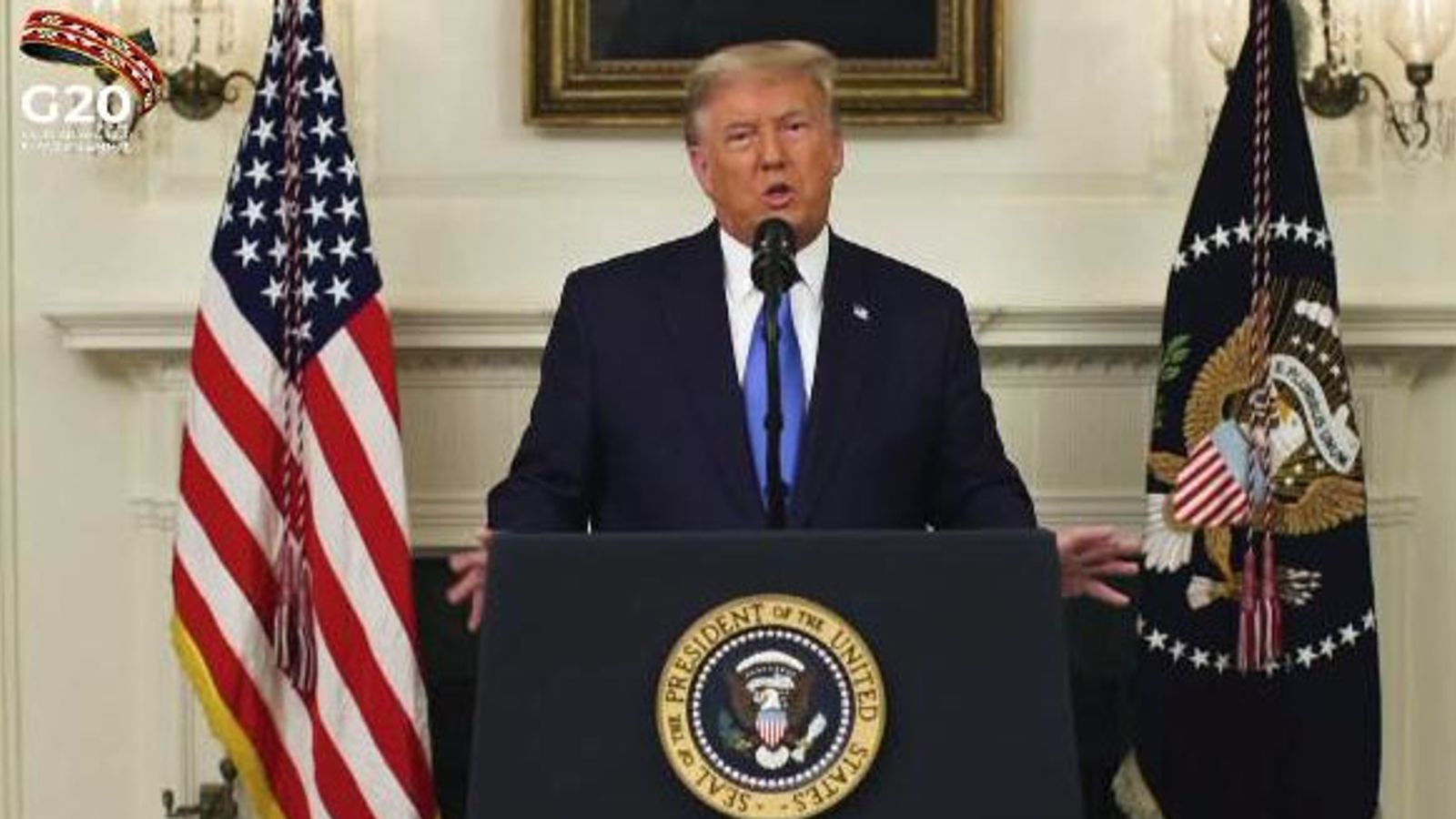 Donald Trump has defended the withdrawal of the Paris climate change agreement, saying it was "designed to kill the US economy" and that he acted to save "millions" of jobs.
The US president announced his country's withdrawal from the deal in June 2017, saying it was "punishing" the US coal industry and risking countless jobs.
The move has sparked consternation among many world leaders and climate change activists.
However, the withdrawal did not officially take place until early this month.
The landmark 2015 deal, reached under President Obama, aims to keep the increase in global temperature this century "well below" 2 ° C above pre-industrial levels and to continue efforts to limit further increasing the temperature to 1.5 ° C.
What is the Paris Agreement?
Speaking at the G20 World Leaders' Meeting – hosted virtually by Saudi Arabia, Mr Trump said: "To protect American workers, I pulled the United States out of the Paris agreement on the unfair and one-sided climate – a very unfair act for the United States.
"The Paris agreement was not designed to save the environment, it was designed to kill the US economy.
"I refused to give up millions of American jobs and send billions of US dollars to the world's worst polluters and environmental offenders.
However, the president also said his administration has made "environmental stewardship" a "sacred obligation".
He said the United States has made significant progress over the past four years to ensure that the country has "the purest air and water on the planet."
Mr Trump's actions and justification for leaving the deal were rejected by US President-elect Joe Biden, who said he would join the deal as soon as he took office.
The president remains in charge of the United States for the next two months, until Mr. Biden's scheduled inauguration on January 20.
His various court challenges over the election result – where he claims a foul play without providing evidence – have so far proved unsuccessful.
Kick in the tall grass? Trump plays golf
Video showed him golfing on Saturday as some of the world's most powerful leaders took part in a G20 session on the global response to the coronavirus pandemic.
Mr Trump tweeted on Sunday that he attended yesterday's meeting early and delivered a speech.
The President attended the morning session, but was playing golf in Sterling, Va. When the afternoon panel took place.
What Are The Main Benefits Of Comparing Car Insurance Quotes Online
LOS ANGELES, CA / ACCESSWIRE / June 24, 2020, / Compare-autoinsurance.Org has launched a new blog post that presents the main benefits of comparing multiple car insurance quotes. For more info and free online quotes, please visit https://compare-autoinsurance.Org/the-advantages-of-comparing-prices-with-car-insurance-quotes-online/ The modern society has numerous technological advantages. One important advantage is the speed at which information is sent and received. With the help of the internet, the shopping habits of many persons have drastically changed. The car insurance industry hasn't remained untouched by these changes. On the internet, drivers can compare insurance prices and find out which sellers have the best offers. View photos The advantages of comparing online car insurance quotes are the following: Online quotes can be obtained from anywhere and at any time. Unlike physical insurance agencies, websites don't have a specific schedule and they are available at any time. Drivers that have busy working schedules, can compare quotes from anywhere and at any time, even at midnight. Multiple choices. Almost all insurance providers, no matter if they are well-known brands or just local insurers, have an online presence. Online quotes will allow policyholders the chance to discover multiple insurance companies and check their prices. Drivers are no longer required to get quotes from just a few known insurance companies. Also, local and regional insurers can provide lower insurance rates for the same services. Accurate insurance estimates. Online quotes can only be accurate if the customers provide accurate and real info about their car models and driving history. Lying about past driving incidents can make the price estimates to be lower, but when dealing with an insurance company lying to them is useless. Usually, insurance companies will do research about a potential customer before granting him coverage. Online quotes can be sorted easily. Although drivers are recommended to not choose a policy just based on its price, drivers can easily sort quotes by insurance price. Using brokerage websites will allow drivers to get quotes from multiple insurers, thus making the comparison faster and easier. For additional info, money-saving tips, and free car insurance quotes, visit https://compare-autoinsurance.Org/ Compare-autoinsurance.Org is an online provider of life, home, health, and auto insurance quotes. This website is unique because it does not simply stick to one kind of insurance provider, but brings the clients the best deals from many different online insurance carriers. In this way, clients have access to offers from multiple carriers all in one place: this website. On this site, customers have access to quotes for insurance plans from various agencies, such as local or nationwide agencies, brand names insurance companies, etc. "Online quotes can easily help drivers obtain better car insurance deals. All they have to do is to complete an online form with accurate and real info, then compare prices", said Russell Rabichev, Marketing Director of Internet Marketing Company. CONTACT: Company Name: Internet Marketing CompanyPerson for contact Name: Gurgu CPhone Number: (818) 359-3898Email: [email protected]: https://compare-autoinsurance.Org/ SOURCE: Compare-autoinsurance.Org View source version on accesswire.Com:https://www.Accesswire.Com/595055/What-Are-The-Main-Benefits-Of-Comparing-Car-Insurance-Quotes-Online View photos
picture credit
to request, modification Contact us at Here or [email protected]