Boris Johnson reluctant to exit lockout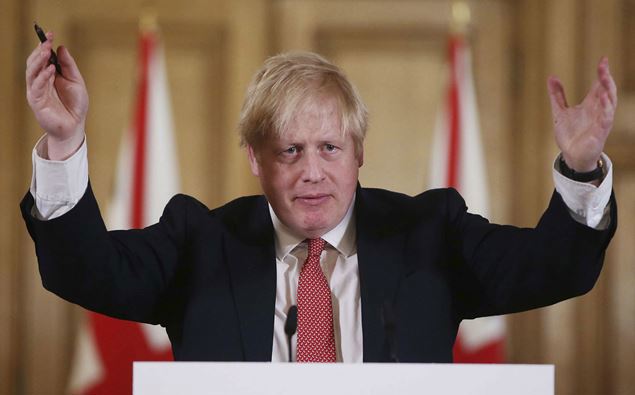 Newly established UK quarantine hotels received their first guests on Monday as the government tries to stop new coronavirus variants from derailing a rapid vaccination campaign that has delivered more than 15 million shots in ten weeks.
Passengers arriving at London Heathrow Airport were escorted by security guards to buses which took them to nearby hotels.
Some of the travelers said they tried and failed to make it to Britain until Monday to avoid quarantine.
Zari Tadayon, who flew to Heathrow from Dubai and was taken to the Radisson Blu Edwardian hotel near the airport, said she had hoped she would be allowed to quarantine her home in London. She said she felt awful about the forced 10 day hotel stay.
How I will cope, I don't know. It's going to be difficult, "she said.
Britain has given a first dose of the coronavirus vaccine to nearly a quarter of its population, but health officials fear the vaccines may not work as well on some new strains of the virus, including one identified for the first time in South Africa.
Under the new rules, residents of the UK and Ireland arriving in England from 33 high-risk countries must stay in designated hotels for 10 days at their own expense, with meals delivered to their doorstep. In Scotland, the rule applies to arrivals from any country.
International travel has already been severely hampered by the pandemic and Britons are currently not allowed to go on vacation abroad.
Critics, however, say UK quarantine hotels are set up too late, with the South African variant already circulating in the UK
Nick Thomas-Symonds, border and immigration spokesperson for the main opposition Labor Party, said reports of passengers from red zone countries mingling with others on planes and at the airport showed that the government's quarantine policy was half done. "
On Sunday, the Conservative government hit its target of giving the first of two doses of the vaccine to Britain's 15 million most vulnerable people, including healthcare workers and those over the age of 70.
Visiting a London vaccination center on Monday, Prime Minister Boris Johnson praised the incredible efforts of scientists, doctors, pharmacists, the military and volunteers who have enabled the fastest vaccine deployment in Europe.
Health Secretary Matt Hancock said the vaccination campaign has now extended to people over 65 and those with underlying health conditions. The government aims to give everyone over 50 their first vaccine before the end of April and to vaccinate the entire adult population by September.
Simon Stevens, managing director of the National Health Service in England, warned that the national immunization campaign consists of two sprints and a marathon, (and) we have just come to the end of the first sprint. He said months of inoculations, and possibly callbacks against new variants, were ahead.
Britain has experienced the worst coronavirus outbreak in Europe, with more than 117,000 deaths, although infections and deaths are now declining steadily after more than a month of nationwide lockdown. The UK recorded 9,765 new cases on Monday, the first time the figure has fallen below 10,000 since October 2. There have been 230 new deaths recorded, almost a third fewer than a week ago.
The government is announcing that it will announce a roadmap to facilitate the lockdown on February 22.
Johnson is under pressure from some members of his ruling Conservative Party to lift the lockdown soon, allowing businesses to reopen and people to visit friends and family.
The Prime Minister, who was accused of being too slow to lock down Britain last spring and then too fast to ease restrictions over the summer, is now taking a more measured tone.
"Although the vaccination program is going well, we still do not have enough data on the exact effectiveness of vaccines in reducing the spread of infection," Johnson said at a press conference.
"We must be both optimistic but also patient," he said. Because we want this lockdown to be the last.
What Are The Main Benefits Of Comparing Car Insurance Quotes Online
LOS ANGELES, CA / ACCESSWIRE / June 24, 2020, / Compare-autoinsurance.Org has launched a new blog post that presents the main benefits of comparing multiple car insurance quotes. For more info and free online quotes, please visit https://compare-autoinsurance.Org/the-advantages-of-comparing-prices-with-car-insurance-quotes-online/ The modern society has numerous technological advantages. One important advantage is the speed at which information is sent and received. With the help of the internet, the shopping habits of many persons have drastically changed. The car insurance industry hasn't remained untouched by these changes. On the internet, drivers can compare insurance prices and find out which sellers have the best offers. View photos The advantages of comparing online car insurance quotes are the following: Online quotes can be obtained from anywhere and at any time. Unlike physical insurance agencies, websites don't have a specific schedule and they are available at any time. Drivers that have busy working schedules, can compare quotes from anywhere and at any time, even at midnight. Multiple choices. Almost all insurance providers, no matter if they are well-known brands or just local insurers, have an online presence. Online quotes will allow policyholders the chance to discover multiple insurance companies and check their prices. Drivers are no longer required to get quotes from just a few known insurance companies. Also, local and regional insurers can provide lower insurance rates for the same services. Accurate insurance estimates. Online quotes can only be accurate if the customers provide accurate and real info about their car models and driving history. Lying about past driving incidents can make the price estimates to be lower, but when dealing with an insurance company lying to them is useless. Usually, insurance companies will do research about a potential customer before granting him coverage. Online quotes can be sorted easily. Although drivers are recommended to not choose a policy just based on its price, drivers can easily sort quotes by insurance price. Using brokerage websites will allow drivers to get quotes from multiple insurers, thus making the comparison faster and easier. For additional info, money-saving tips, and free car insurance quotes, visit https://compare-autoinsurance.Org/ Compare-autoinsurance.Org is an online provider of life, home, health, and auto insurance quotes. This website is unique because it does not simply stick to one kind of insurance provider, but brings the clients the best deals from many different online insurance carriers. In this way, clients have access to offers from multiple carriers all in one place: this website. On this site, customers have access to quotes for insurance plans from various agencies, such as local or nationwide agencies, brand names insurance companies, etc. "Online quotes can easily help drivers obtain better car insurance deals. All they have to do is to complete an online form with accurate and real info, then compare prices", said Russell Rabichev, Marketing Director of Internet Marketing Company. CONTACT: Company Name: Internet Marketing CompanyPerson for contact Name: Gurgu CPhone Number: (818) 359-3898Email: [email protected]: https://compare-autoinsurance.Org/ SOURCE: Compare-autoinsurance.Org View source version on accesswire.Com:https://www.Accesswire.Com/595055/What-Are-The-Main-Benefits-Of-Comparing-Car-Insurance-Quotes-Online View photos
picture credit
to request, modification Contact us at Here or [email protected]