COVID-19: Boris Johnson 'very optimistic', all coronavirus restrictions to end in England on June 21 | Political news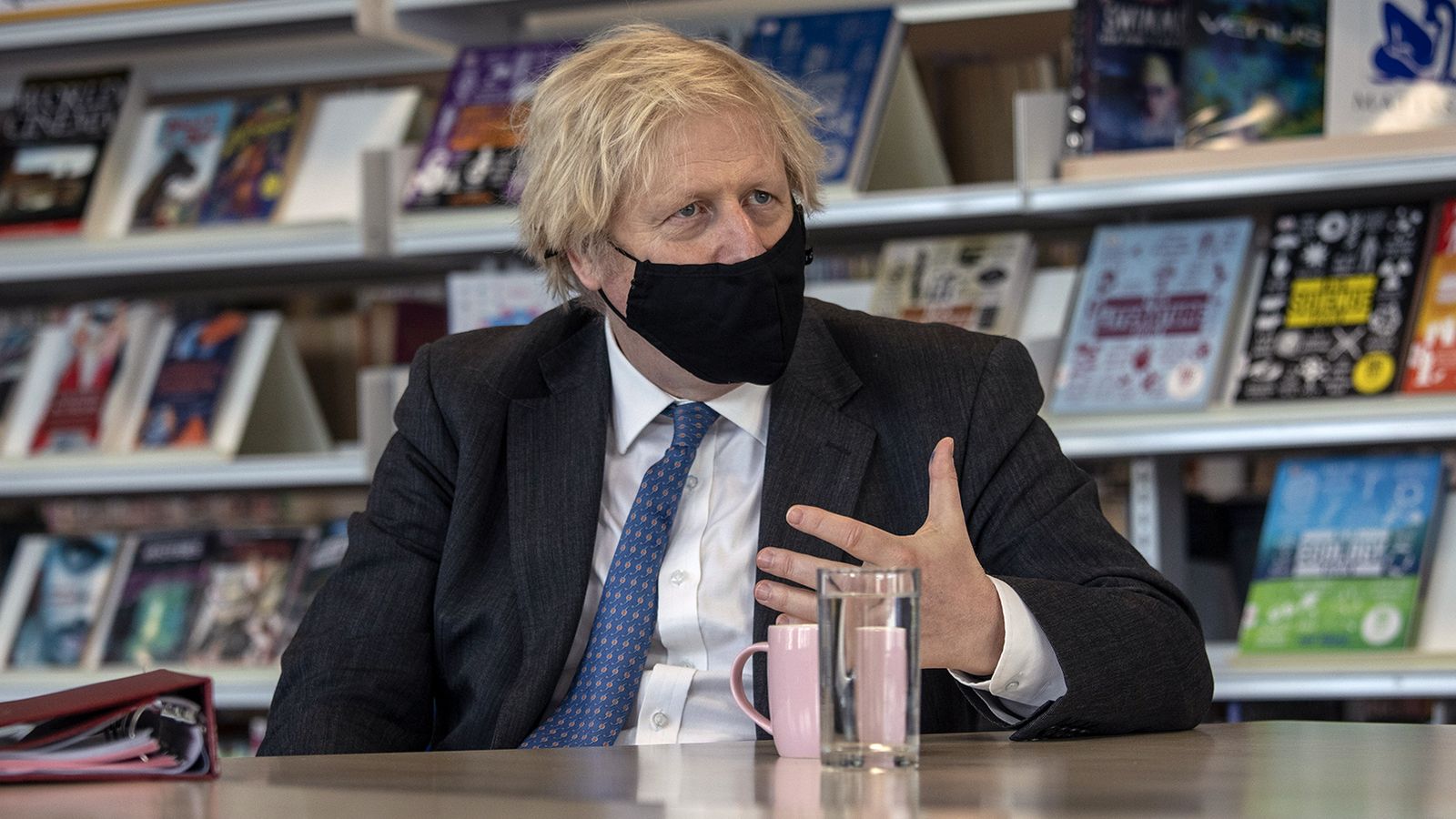 Prime Minister Boris Johnson is "very optimistic" that he will be able to remove all coronavirus restrictions in England by June 21 as part of his four-step plan to lift the lockdown.
Under his roadmap to facilitate COVID measures, the Prime Minister hopes that "all legal limits to social contact can be removed" within the framework of the last of these four stages, which will arrive on June 21 at the earliest.
Asked about his confidence in achieving this goal, Mr Johnson said on Tuesday: 'I have high hopes, but obviously nothing can be guaranteed and it all depends on how we continue to be careful and follow the guidelines. at each step.
"This is why it is so important to proceed in the prudent way that we are.
COVID news live from UK and around the world
"I think people understand that, they can see the logic of what we're trying to do.
"But, really, because of the immense possibilities now offered by the roll-out of vaccination, because science has given us this way of creating a whole shield around our population, we can really look at this date of June 21 with a certain optimism.
"I am very optimistic that we can make it happen."
Some Tory MPs have complained that the Prime Minister's roadmap to lifting the lockdown, starting with all students returning to school on March 8, does not remove the restrictions quickly enough.
Meanwhile, some scientists have expressed skepticism that Mr Johnson can remove all COVID restrictions from June 21.
But Mr Johnson, speaking on Tuesday during a visit to a south London school, said his plan had set the "right" pace to ease restrictions – with a five-week gap between each of the four stages lifting of measures.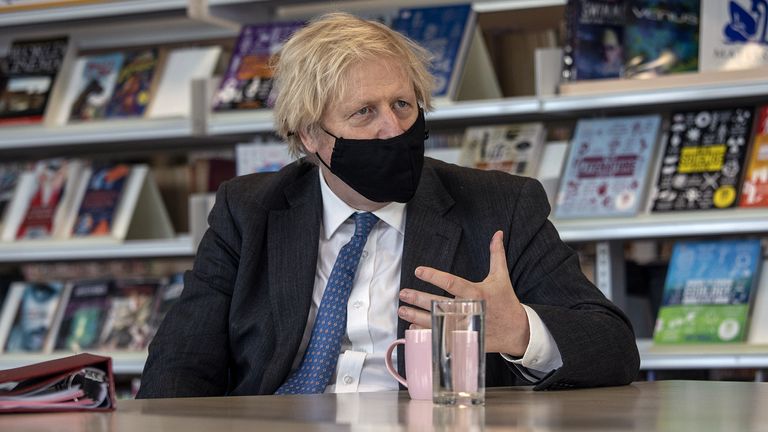 "Some people will say we are going to go too fast, others will say we are going too slow," he said.
"I think the balance is right, I think it's a cautious but irreversible approach, which I think people want to see.
"And the reason for this discrepancy is that it gives us time to consider the impact of each of the changes, of each of the relaxations, of the openings that we make.
"Getting children back to school – extremely important for the country – we need time to assess what this does to the disease, the prevalence of COVID.
"And then again, when you look at the April 12 openings, you have to look at the impact of that – what the non-essential trade does, the open-air hospitality opening, etc.
"You add to the risk budget all the time and you need time to see the impact of that. So we think it's a sensible approach, it's a conservative approach."
Subscribe to the daily podcast onApple podcasts,Google podcasts,Spotify,Spreaker
He added: "But, also, I think people can see that this is happening in an irreversible way and we open up on June 21 in a way that I don't think people would have really believed possible without the deployment of. vaccinations.
"It was these vaccinations, this massive program, led by the NHS, that made all the difference."
Earlier on Tuesday, Health Secretary Matt Hancock warned the timeline for unlocking coronavirus restrictions would not be sped up – and could even be slowed down because ministers remain "vigilant" against infection rates.
He told Sky News that ministers were "absolutely determined" to get out of England's third national lockdown "as quickly and safely as possible, but not faster".
What Are The Main Benefits Of Comparing Car Insurance Quotes Online
LOS ANGELES, CA / ACCESSWIRE / June 24, 2020, / Compare-autoinsurance.Org has launched a new blog post that presents the main benefits of comparing multiple car insurance quotes. For more info and free online quotes, please visit https://compare-autoinsurance.Org/the-advantages-of-comparing-prices-with-car-insurance-quotes-online/ The modern society has numerous technological advantages. One important advantage is the speed at which information is sent and received. With the help of the internet, the shopping habits of many persons have drastically changed. The car insurance industry hasn't remained untouched by these changes. On the internet, drivers can compare insurance prices and find out which sellers have the best offers. View photos The advantages of comparing online car insurance quotes are the following: Online quotes can be obtained from anywhere and at any time. Unlike physical insurance agencies, websites don't have a specific schedule and they are available at any time. Drivers that have busy working schedules, can compare quotes from anywhere and at any time, even at midnight. Multiple choices. Almost all insurance providers, no matter if they are well-known brands or just local insurers, have an online presence. Online quotes will allow policyholders the chance to discover multiple insurance companies and check their prices. Drivers are no longer required to get quotes from just a few known insurance companies. Also, local and regional insurers can provide lower insurance rates for the same services. Accurate insurance estimates. Online quotes can only be accurate if the customers provide accurate and real info about their car models and driving history. Lying about past driving incidents can make the price estimates to be lower, but when dealing with an insurance company lying to them is useless. Usually, insurance companies will do research about a potential customer before granting him coverage. Online quotes can be sorted easily. Although drivers are recommended to not choose a policy just based on its price, drivers can easily sort quotes by insurance price. Using brokerage websites will allow drivers to get quotes from multiple insurers, thus making the comparison faster and easier. For additional info, money-saving tips, and free car insurance quotes, visit https://compare-autoinsurance.Org/ Compare-autoinsurance.Org is an online provider of life, home, health, and auto insurance quotes. This website is unique because it does not simply stick to one kind of insurance provider, but brings the clients the best deals from many different online insurance carriers. In this way, clients have access to offers from multiple carriers all in one place: this website. On this site, customers have access to quotes for insurance plans from various agencies, such as local or nationwide agencies, brand names insurance companies, etc. "Online quotes can easily help drivers obtain better car insurance deals. All they have to do is to complete an online form with accurate and real info, then compare prices", said Russell Rabichev, Marketing Director of Internet Marketing Company. CONTACT: Company Name: Internet Marketing CompanyPerson for contact Name: Gurgu CPhone Number: (818) 359-3898Email: [email protected]: https://compare-autoinsurance.Org/ SOURCE: Compare-autoinsurance.Org View source version on accesswire.Com:https://www.Accesswire.Com/595055/What-Are-The-Main-Benefits-Of-Comparing-Car-Insurance-Quotes-Online View photos
picture credit
to request, modification Contact us at Here or [email protected]