Stories of Stafsus Jokowi trapped and rescued from fire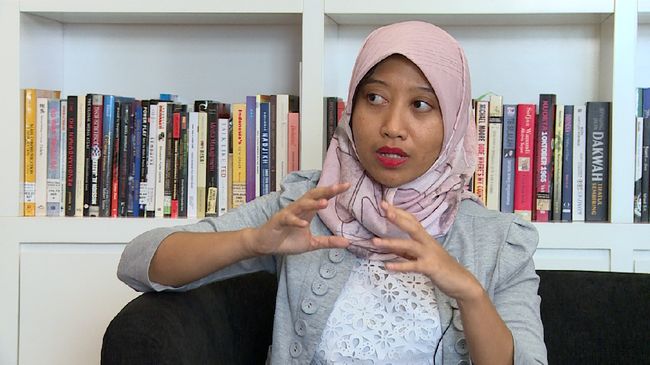 Jakarta, CNN Indonesia –
Special staff (Stafsus) millennium President Joko Widodo (Jokowi), Ayu Kartika Dewi recounts his experience when he was trapped in a fire at the Tamansari Sudirman apartment in South Jakarta on Sunday (4/5). He was trapped for some time before being evacuated by firefighters.
Initially, Ayu said that around 3:00 AM WIB, she woke up in the darkness of her apartment.
"I woke up but I just said in my heart " oh the lights are out " then I fell asleep again"He said in a upload to his Instagram account,@ayukartikadewi.
Ayu allowed itCNNIndonesia.comto quote the download.
Then around 4:30 am WIB, Ayu wakes up again hearing the sound of the engine. But at that moment Ayu thought it was mist and he chose to sleep again.
At around 5:30 a.m., movement formulator Sabang Marauke saw smoke starting to enter his apartment. He then opened the door to the room and saw a hallway full of thick smoke.
"I complained about the reason the fire alarm didn't go off at all and there was no announcement on the speaker, "he said.
Still around 5:30 a.m., Ayu then put on his mask. He picked up a travel bag containing all of the titles, then walked down the fire escape stairs from the 15th floor.
However, after walking only one floor, he couldn't continue. He said the smoke was too thick and couldn't see anything even though he had turned on the flashlight on the cell phone.
At that time, he told me that his eyes were very sore and difficult to open. In addition, his nose and throat were burning.
"If I continue, I might pass out, and I don't know if there's a fire ahead," he said.
Ayu then returned to her apartment and checked the condition of the balcony. Ayu sees clean air and no fire. He then opened the balcony door.
To keep the smoke out, he took a wet towel and closed the slit in the front door with the wet towel. He then chose to wait in his apartment.
While waiting for him, he contacted several people to request information about the fire.
"The information is the same. The fire was put out, the smoke was pumped out with a giant fan. It is safer to wait at the top, the evacuation is still in progress, "he wrote.
While on the resident group's WhatsApp, Ayu reads information from residents on the same floor with her who was already out of breath. Ayu then asked if there were other residents still in the room or not.
At that time, according to him, there were not many people in each unit. He turned out to be one of the most recently evacuated residents.
After waiting a while, Ayu then heard faint footsteps. The steps came closer to his room and there was a cry of "evacuation".
Ayu then opened the door and shouted to say his position. At that time, he said there were four to five officers who entered his apartment covered in sweat and streaked with black ash.
According to Ayu, at this time, the officers stopped for a while in her apartment to breathe, as it was only in Ayu's unit that the air was still clean enough.
After that, he was then evacuated from his apartment by officers via emergency stairs.
Ayu said that when she got downstairs, she saw that there were nearly 25 fire trucks deployed with over 100 officers.
"They arrived at the scene within nine minutes of being called by residents. If they weren't there, I don't know what happened to me. Thank you firefighters. Me and hundreds of residents owe our lives"Ayu said.
A fire broke out yesterday at the TamansariSudirman apartment in Setiabudi.
The fire is said to have taken place around 3:38 p.m. WIB which struck the electric transformer in the basement of the apartment located at number 42 of Jalan Bek Murad, Kelurahan Karet Kuningan, Setiabudi district.
The fire did not engulf the entire unit, but rising smoke evacuated the occupants.
There were no fatalities in the blaze and the cause of the fire in the electrical transformer is also unknown.
(yoa / south)


[Gambas:Video CNN]
What Are The Main Benefits Of Comparing Car Insurance Quotes Online
LOS ANGELES, CA / ACCESSWIRE / June 24, 2020, / Compare-autoinsurance.Org has launched a new blog post that presents the main benefits of comparing multiple car insurance quotes. For more info and free online quotes, please visit https://compare-autoinsurance.Org/the-advantages-of-comparing-prices-with-car-insurance-quotes-online/ The modern society has numerous technological advantages. One important advantage is the speed at which information is sent and received. With the help of the internet, the shopping habits of many persons have drastically changed. The car insurance industry hasn't remained untouched by these changes. On the internet, drivers can compare insurance prices and find out which sellers have the best offers. View photos The advantages of comparing online car insurance quotes are the following: Online quotes can be obtained from anywhere and at any time. Unlike physical insurance agencies, websites don't have a specific schedule and they are available at any time. Drivers that have busy working schedules, can compare quotes from anywhere and at any time, even at midnight. Multiple choices. Almost all insurance providers, no matter if they are well-known brands or just local insurers, have an online presence. Online quotes will allow policyholders the chance to discover multiple insurance companies and check their prices. Drivers are no longer required to get quotes from just a few known insurance companies. Also, local and regional insurers can provide lower insurance rates for the same services. Accurate insurance estimates. Online quotes can only be accurate if the customers provide accurate and real info about their car models and driving history. Lying about past driving incidents can make the price estimates to be lower, but when dealing with an insurance company lying to them is useless. Usually, insurance companies will do research about a potential customer before granting him coverage. Online quotes can be sorted easily. Although drivers are recommended to not choose a policy just based on its price, drivers can easily sort quotes by insurance price. Using brokerage websites will allow drivers to get quotes from multiple insurers, thus making the comparison faster and easier. For additional info, money-saving tips, and free car insurance quotes, visit https://compare-autoinsurance.Org/ Compare-autoinsurance.Org is an online provider of life, home, health, and auto insurance quotes. This website is unique because it does not simply stick to one kind of insurance provider, but brings the clients the best deals from many different online insurance carriers. In this way, clients have access to offers from multiple carriers all in one place: this website. On this site, customers have access to quotes for insurance plans from various agencies, such as local or nationwide agencies, brand names insurance companies, etc. "Online quotes can easily help drivers obtain better car insurance deals. All they have to do is to complete an online form with accurate and real info, then compare prices", said Russell Rabichev, Marketing Director of Internet Marketing Company. CONTACT: Company Name: Internet Marketing CompanyPerson for contact Name: Gurgu CPhone Number: (818) 359-3898Email: [email protected]: https://compare-autoinsurance.Org/ SOURCE: Compare-autoinsurance.Org View source version on accesswire.Com:https://www.Accesswire.Com/595055/What-Are-The-Main-Benefits-Of-Comparing-Car-Insurance-Quotes-Online View photos
picture credit
to request, modification Contact us at Here or [email protected]