Covid-19 in India: hard lockdown ruled out, Prime Minister Modi says focus on testing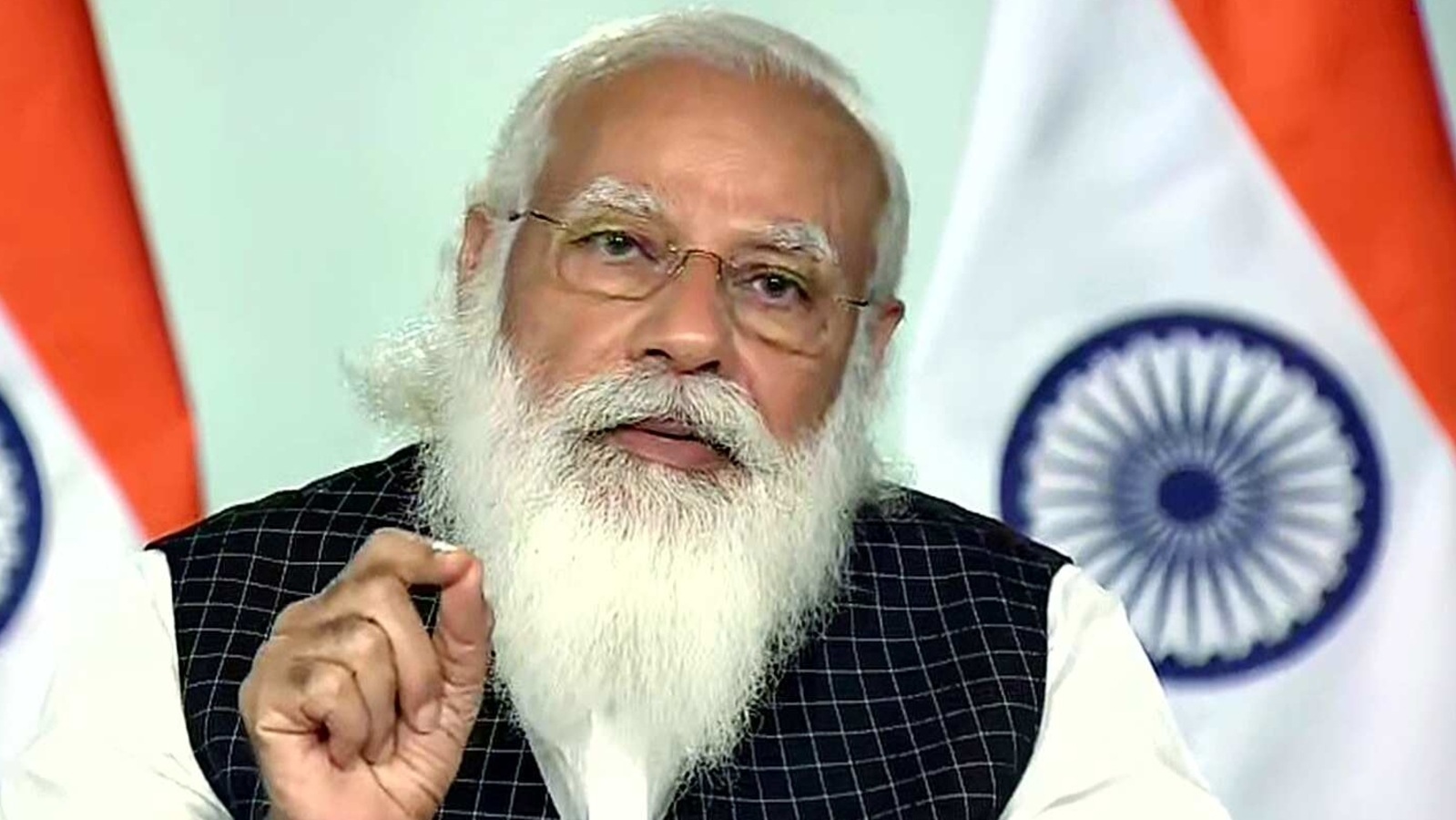 Prime Minister Narendra Modi on Thursday effectively ruled out the imposition of another strict national lockdown, defended his government's approach to vaccination and repeatedly and at length stressed the importance of screening, tracing and of the safe behavior of Covid, which, he stressed. , helped India defeat the first wave of Covid-19 infections in the country, and at a time when it was not even certain that a vaccine would be discovered to prevent the disease.
Modis' comments came during an emergency meeting with all chief ministers, in which he called for 100% testing in containment areas and tracing of at least 30 contacts in the 72 hours to ensure that symptomatic patients can be followed quickly and that the spread of disease can be prevented. .
With many states imposing partial lockdowns, there were fears in some quarters of a nationwide lockdown, which would have hit a recovering economy hard, and the PM has all but ruled out imposing a lockdown.
He also called on chief ministers to launch a special vaccination campaign April 11-14 (supposed to coincide with the birthdays of Jyotirao Phule and BR Ambedkar) focused on zero dose wastage.
At the meeting, many CMs demanded more vaccines and suggested inoculation of younger people.
The PM argued that the Center should prioritize vaccines based on affected areas and suggested states reduce dose wastage for better vaccination management.
The Center cannot focus on just one area, he says; he has to watch everyone. He also added that work is underway to improve immunization capacity.
Factories don't come overnight, he said.
But time and time again, the PM returned to testing.
Don't take the tests lightly. We need to talk more about tests than vaccines, and the emphasis should be on testing as much as possible. We need to contain the human source of Covid and everyone needs to be tested in containment areas, Modi told CMs and joked that in wave two we forgot about testing and focused on vaccines.
The PM prescribed that testing should be scaled up to achieve positivity rates below 5%.
The focus should be on reducing the case fatality rate, Modi said. Government officials have repeatedly stressed that this is the main goal of the government and explained that this is the driving idea behind the prioritization of vaccines.
At the meeting, some states raised the issue of vaccine shortage, but the Union Health Ministry stressed that vaccines are not given for an extended period such as a month but for a maximum of 7 to 8 days.
States were also informed that there was no shortage and that replenishments would arrive every three or four days.
Modi observed that in some states the administration is also showing signs of weariness, even as people have become flippant to follow safe behavior against Covid-19.
People have become casual and in most states the administration can be seen as weary, the prime minister said, asking states to focus on creating well-defined micro-containment zones and renaming the covers. night lights in corona curfews.
Referring to criticism of the government's handling of vaccine collection, the prime minister said he was avoiding politicizing the issue.
Those who want to be in politics can continue to do so, but we must all come together to beat the disease, he said. Over the past two days, largely over vaccine supply, there has been a lively dialogue between the Center and the states.
On Thursday, Modi appeared to want to end this and said no government should be held responsible for a high number of cases.
Don't think you've done it wrong. If the test leads to more positive numbers, let it be. Our target must be 70% RT-PCR tests, he said, referring to the Covid-19 benchmark test. He also expressed concern and said he heard that in many places the sampling was not being done properly.
If you do not take the samples correctly, there will be false reports. If a person is found positive, there will be treatment. Otherwise, the person will not be detected.
Calling for more speed in tracing contacts to ensure no one remains untested, Modi called on young Indians to become role models of appropriate Covid behavior.
He also asked them to get involved in the vaccination campaign by ensuring that all eligible people (all those over the age of 45) are vaccinated, especially in areas with high incidence of the disease.
We must also remember that after receiving a vaccine, people still need to be careful. From day one, I insisted on dawai bhi, kadai bhi (you have to take the inoculation and stay vigilant), he said.
The Prime Minister also called on states to involve governors and suggested that the CM and the governor could address all elected representatives and reach out to social influencers such as religious leaders, artists, writers and society. civil society to raise awareness of appropriate Covid-19 behavior.
What Are The Main Benefits Of Comparing Car Insurance Quotes Online
LOS ANGELES, CA / ACCESSWIRE / June 24, 2020, / Compare-autoinsurance.Org has launched a new blog post that presents the main benefits of comparing multiple car insurance quotes. For more info and free online quotes, please visit https://compare-autoinsurance.Org/the-advantages-of-comparing-prices-with-car-insurance-quotes-online/ The modern society has numerous technological advantages. One important advantage is the speed at which information is sent and received. With the help of the internet, the shopping habits of many persons have drastically changed. The car insurance industry hasn't remained untouched by these changes. On the internet, drivers can compare insurance prices and find out which sellers have the best offers. View photos The advantages of comparing online car insurance quotes are the following: Online quotes can be obtained from anywhere and at any time. Unlike physical insurance agencies, websites don't have a specific schedule and they are available at any time. Drivers that have busy working schedules, can compare quotes from anywhere and at any time, even at midnight. Multiple choices. Almost all insurance providers, no matter if they are well-known brands or just local insurers, have an online presence. Online quotes will allow policyholders the chance to discover multiple insurance companies and check their prices. Drivers are no longer required to get quotes from just a few known insurance companies. Also, local and regional insurers can provide lower insurance rates for the same services. Accurate insurance estimates. Online quotes can only be accurate if the customers provide accurate and real info about their car models and driving history. Lying about past driving incidents can make the price estimates to be lower, but when dealing with an insurance company lying to them is useless. Usually, insurance companies will do research about a potential customer before granting him coverage. Online quotes can be sorted easily. Although drivers are recommended to not choose a policy just based on its price, drivers can easily sort quotes by insurance price. Using brokerage websites will allow drivers to get quotes from multiple insurers, thus making the comparison faster and easier. For additional info, money-saving tips, and free car insurance quotes, visit https://compare-autoinsurance.Org/ Compare-autoinsurance.Org is an online provider of life, home, health, and auto insurance quotes. This website is unique because it does not simply stick to one kind of insurance provider, but brings the clients the best deals from many different online insurance carriers. In this way, clients have access to offers from multiple carriers all in one place: this website. On this site, customers have access to quotes for insurance plans from various agencies, such as local or nationwide agencies, brand names insurance companies, etc. "Online quotes can easily help drivers obtain better car insurance deals. All they have to do is to complete an online form with accurate and real info, then compare prices", said Russell Rabichev, Marketing Director of Internet Marketing Company. CONTACT: Company Name: Internet Marketing CompanyPerson for contact Name: Gurgu CPhone Number: (818) 359-3898Email: [email protected]: https://compare-autoinsurance.Org/ SOURCE: Compare-autoinsurance.Org View source version on accesswire.Com:https://www.Accesswire.Com/595055/What-Are-The-Main-Benefits-Of-Comparing-Car-Insurance-Quotes-Online View photos
picture credit
to request, modification Contact us at Here or [email protected]