Turkish N-Bomb: A New Favorite Of Indian Propaganda Machinery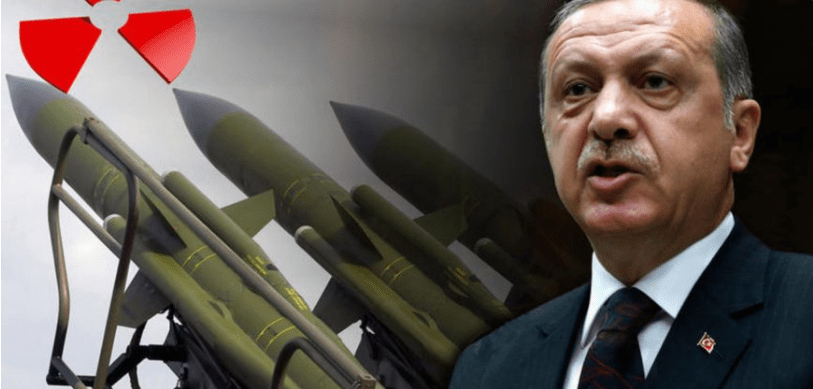 Developing a nuclear bomb has become a difficult task, thanks to strict non-proliferation standards and international control measures. Iran's nuclear program is a good example. Despite this, reports and comments about Turkey's acquisition of nuclear and bomb technology have increased in recent years.
Turkish President Recep Tayyip Erdogans' comments on nuclear weapons during his meeting with his party members in September 2019 fueled the discussion. Several countries have missiles with nuclear warheads, not one or two. But [they tell us that] we cannot have them. This is what I cannot accept, remarked the President.
But several other factors have drawn extensive scrutiny of Turkey's nuclear ambitions in the press. These include the fallout from Turkey's relations with the United States and NATO, the development of relations with China and Pakistan and the defense agreements with Russia.
Read more: Turkish sanctions on Russian weapons: a very real risk?
The comments of the Turkish president on the possession of nuclear weapons and bombs by Western countries and the restrictions placed on others to develop them can only indicate his anger and discomfort at the ineffectiveness of the Non-Treaty. nuclear proliferation.
Nuclear-weapon states have pledged under the treaty to disarm against the non-weapon states' pledge not to develop them. It also signed the NPT in 1980. Turkey also signed the Comprehensive Nuclear-Test-Ban Treaty (CTBT) in 1996, which bans nuclear tests in all their forms.
Developing a bomb in secrecy is not easy and any public initiative in this regard will drag Turkey into a crisis with the world community, especially the United States and Israel. Of course, Turkey hosts 50 nuclear weapons under the US-NATO nuclear umbrella.
Read more: NATO welcomes Turkey, Greece canceling military exercises
India's accusations
A recent reviewitemin Times of India by SD Pradhan goes one step further to propagate a Sino-Pak-North Korea-Turkey nexus for nuclear proliferation. He claims that China, Pakistan and North Korea are helping Turkey build nuclear bombs and missiles by providing them with materials and technology.
Referring to the Pakistan-Turkey High Level Military Dialogue Group meeting in December 2020, editorial author SD Pradhan claimed nuclear delivery technology was one of the main agenda items. . The point is that the military dialogue group has been held regularly for several years and the most recent was its 15eMeet.
Issues relating to mutual defense cooperation, military training and education, and counterterrorism are discussed in group meetings. Assigning nuclear issues to the meeting without any fact is an Indian author's hypothesis.
Read more: S-400 system or F-35 jets: Turkey decides between Russia and the United States
The author also claimed that the Chinese ship bound for Pakistan was detained at the port of Deendayal in February 2020, which was carrying an industrial dryer. India had alleged that it was carrying an autoclave for use in manufacturing ballistic missiles and was wrongly declared as an industrial dryer.
Pakistan and China had rejected the Indian claim and called it an Indian attempt to assert itself in the Indian Ocean region. After almost a year of detention of the vessel, the author of the said article linked Turkey with him without any evidence or source. The author claims that the alleged autoclave was destined for Turkey from the Pakistani port Qasim in Karachi.
The comment comes mainly from countries with strained relations with Turkey such as the United States, India and other like-minded countries. These views and opinions are for the most part unfounded and misleading, consisting of mere accusations and not producing any fact or evidence.
India's launching of these accusations is also due to Turkey's open criticism of India's illegal action and policies in India-occupied Jammu & Kashmir (IOJ & K). Turkish President Erdogan has openly criticized India's unilateral end to OIJ & K's special status by removing Articles 370 and 35A from the Indian Constitution.
Read more: Turkey urges India to end violence in Kashmir
Any suspicion of a Sino-Pakistani-North Korea-Turkey link?
Turkey has also strengthened its ties with Pakistan over the years and the partnership is growing in the defense sector with other areas such as economy, tourism and culture.
The collapse of Turkey's relations with NATO and the strengthening of relations with Pakistan did not welcome many countries. Commentators also expressed their suspicion of nuclear cooperation between Pakistan and Turkey without any basis and simply because of their growing partnership.
Read more: Pakistan again extends T129 helicopter deal with Turkey
India also disagrees with China over the 2017 stalemate in Doklam and the crisis in the Ladakh region of IOJ & K in 2020. India is also part of the Quadrilateral Security Dialogue, or Quad, made up of l 'Australia, India, Japan and the United States Chinese presence in the region. As a result, reports and comments about China in Indian media are mostly negative.
In addition to China and Pakistan, the North Korean link is established by the author with Turkey's nuclear program to add to the sensationalism. However, he is simply ignoring reports that India has close ties with North Korea.
According to areportIndia has provided training to several North Korean scientists at its research centers, even after the UN sanctions against North Korea. In other reportIndia has repeatedly violated UN resolutions while trading with North Korea.
Read more: India reportedly falsely declared its stockpile of nuclear weapons
Young Indian Foreign Minister Vijay Kumar Singh, who also served as Chief of Staff of the Indian Army from 2010 to 2012, had visitedNorth Korea in May 2018. Based on these reports, it can also be said that India supports North Korea's nuclear ambitions.
The policy of nuclear proliferation
To sum up, the remarks of Turkish presidents can only show his discomfort with the policy of nuclear weapons rather than any serious approach to acquiring them.
But his comments have prompted alarmists to make false assumptions about Turkey getting a nuclear bomb. India and several other countries are not comfortable with the growing partnership between Pakistan and Turkey.
Read more: NATO chief expresses serious concerns about Turkey's new alliance
Therefore, they will to some extent undermine that relationship, and the use of the non-proliferation card is a vicious attempt in that regard. Pakistan and Turkey can curb these malicious efforts by exposing them and countering them with the truth.
The author is a research assistant at the Center for International Strategic Studies in Islamabad. He tweets on @ Samranali6. The article was first published on the Center for Strategic and Contemporary Research (CSCR) Islamabad, and has been republished with permission of the author. The opinions expressed in the article are those of the author and do not necessarily reflect the editorial policy of Global Village Space.
What Are The Main Benefits Of Comparing Car Insurance Quotes Online
LOS ANGELES, CA / ACCESSWIRE / June 24, 2020, / Compare-autoinsurance.Org has launched a new blog post that presents the main benefits of comparing multiple car insurance quotes. For more info and free online quotes, please visit https://compare-autoinsurance.Org/the-advantages-of-comparing-prices-with-car-insurance-quotes-online/ The modern society has numerous technological advantages. One important advantage is the speed at which information is sent and received. With the help of the internet, the shopping habits of many persons have drastically changed. The car insurance industry hasn't remained untouched by these changes. On the internet, drivers can compare insurance prices and find out which sellers have the best offers. View photos The advantages of comparing online car insurance quotes are the following: Online quotes can be obtained from anywhere and at any time. Unlike physical insurance agencies, websites don't have a specific schedule and they are available at any time. Drivers that have busy working schedules, can compare quotes from anywhere and at any time, even at midnight. Multiple choices. Almost all insurance providers, no matter if they are well-known brands or just local insurers, have an online presence. Online quotes will allow policyholders the chance to discover multiple insurance companies and check their prices. Drivers are no longer required to get quotes from just a few known insurance companies. Also, local and regional insurers can provide lower insurance rates for the same services. Accurate insurance estimates. Online quotes can only be accurate if the customers provide accurate and real info about their car models and driving history. Lying about past driving incidents can make the price estimates to be lower, but when dealing with an insurance company lying to them is useless. Usually, insurance companies will do research about a potential customer before granting him coverage. Online quotes can be sorted easily. Although drivers are recommended to not choose a policy just based on its price, drivers can easily sort quotes by insurance price. Using brokerage websites will allow drivers to get quotes from multiple insurers, thus making the comparison faster and easier. For additional info, money-saving tips, and free car insurance quotes, visit https://compare-autoinsurance.Org/ Compare-autoinsurance.Org is an online provider of life, home, health, and auto insurance quotes. This website is unique because it does not simply stick to one kind of insurance provider, but brings the clients the best deals from many different online insurance carriers. In this way, clients have access to offers from multiple carriers all in one place: this website. On this site, customers have access to quotes for insurance plans from various agencies, such as local or nationwide agencies, brand names insurance companies, etc. "Online quotes can easily help drivers obtain better car insurance deals. All they have to do is to complete an online form with accurate and real info, then compare prices", said Russell Rabichev, Marketing Director of Internet Marketing Company. CONTACT: Company Name: Internet Marketing CompanyPerson for contact Name: Gurgu CPhone Number: (818) 359-3898Email: [email protected]: https://compare-autoinsurance.Org/ SOURCE: Compare-autoinsurance.Org View source version on accesswire.Com:https://www.Accesswire.Com/595055/What-Are-The-Main-Benefits-Of-Comparing-Car-Insurance-Quotes-Online View photos
picture credit
to request, modification Contact us at Here or [email protected]