China's arrogance unites rivals in the United States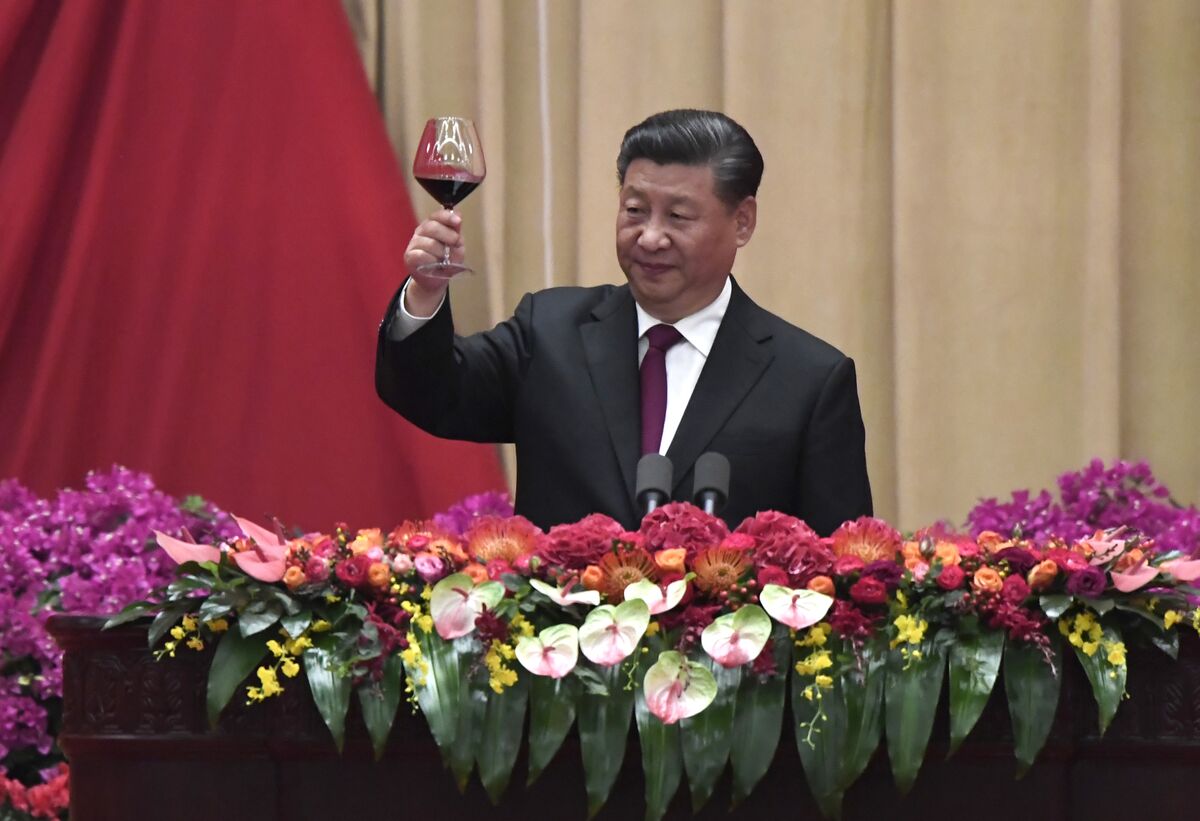 Over the past century, globally ambitious autocracies have often made two fatal mistakes. First, they underestimated the United States, a country whose chaotic democracy masks its formidable resilience and strength. Second, they haven't seen how their own aggressive behavior will end up driving their multiplying enemies together. Judging by recent events, Xi Jinping's China is making both mistakes at the same time.
Xi doesn't think much of America at the moment. In speeches he has mentionned that "the world undergoes changes seen once a century" like China mounted and the United States is hesitant. In a meeting with officials from Joe Biden's administration in Alaska last month, his diplomats ridiculed the idea that a divided and distracted America could speak to Beijing from a "position of strength."
A country that has suffered more than 550,000 deaths from Covid-19, which has seen its capital sacked by its own citizens and which has spent four years under President Donald Trump attacking the international system, is in great difficulty , according to Chinese propaganda organizations Argue. Why shouldn't Beijing push for advantage in the South China Sea, the Taiwan Strait, and many other fronts at once?
Still, Xi might not sound so confident if he looked at the story a little more. In the years leading up to WWII, Adolf Hitler correctly expected America's eventual hostility, but he recklessly belittled its purpose and strength. During much of the Cold War, Joseph Stalin and his Soviet successors argued that the "correlation of forces" was moving in favor of socialism. So there came a shock when, in the 1980s, the economic and military resurgence of the United States left a dying Soviet Union far behind.
Leaders of systems based on harsh political discipline have often scoffed at the difficulties of a broken democracy – to the point where that democracy invokes its power and buries their geopolitical ambitions.
Aggressive autocrats also find it difficult to see how the usual belligerence can pull the geopolitical knot around their own necks. Hitler's aggression ultimately led the major capitalist powers, the United States and the United Kingdom, to forge an unlikely alliance with the main Communist power, the Soviet Union. At the start of the Cold War, Stalin believed that the Soviet Union would triumph because the capitalist world would tear itself apart again. He did not foresee that his own threatening behavior would cause the capitalist world to pull itself together and leave the communist world behind.
Xi is on a similar path today. The United States may appear to be in advanced domestic decline. But its problems are not much worse than they were in 1937, when the country was mired in a seemingly endless depression, or in 1968, when its cities were ablaze with protests and violence far exceeding what is known. happened last summer, or 1979, when America was beset by stagflation and unrest. On the contrary, Xi should be more worried about China's long-term prospects, including imminent The economic, financial and demographic challenges make America's admittedly serious problems seem rather easy to solve.
He should also be worried about the return of the global offensive from China. After a fatal beating with Chinese soldiers in the Himalayas, India has accelerated its long and gradual movement towards the United States Since Beijing renounced the rule of law in Hong Kong, the United Kingdom has spoken join the Quad – now comprising Australia, India, Japan and the United States – and seeking to limit its technological dependence on China.
France is first multilateral naval exercises which are undoubtedly directed towards Beijing. And in response to Chinese threats to Taiwan, several prominent democracies are now, albeit quietly, releasing their consultations on how they might respond to an invasion of that island.
Xi even managed to jeopardize his most important diplomatic coup of last year, the Comprehensive Investment Agreement with the European Union, signed in December over objections from the new Biden administration. After the EU sanctions Chinese officials for human rights abuses in Xinjiang, Beijing retaliated with counter-sanctions targeting – among others – MEPs and experts from think tanks who had criticized Chinese policies . By effectively demanding that European countries muzzle their own citizens, China has thrown the CAI in doubt.
Xi thus gives Biden many opportunities to keep his promise of a more multilateral strategy to compete with China. At some point in the next few years, the Chinese leadership may realize that the strategic balance does not shift irreversibly in their favor and that Beijing faces geopolitical encirclement as it provokes hostility over several azimuths.
Paradoxically, this is not great news for the United States: this realization could simply lead Xi to act more aggressively to reap the international gains he seeks – perhaps starting with a forced reunification with Taiwan. .
This, unfortunately, is also a historical model. Like Michael Beckley and I have written, revisionist powers become more aggressive when their growth slows down, their strategic enmities multiply and they discover that they have little time to achieve their goals. Imperial Germany fell in this trap before WWI, Imperial Japan did the same before WWII, and China can follow the same path today.
The frightening reality of US-China relations is that we may soon be entering a period of even greater tension. Over-confident autocrats who think the world is moving in their direction can be very dangerous. Desperate autocrats who suddenly realize their window is closing can be even more dangerous.
To contact the editor responsible for this story:
Tobin Harshaw to [email protected]
What Are The Main Benefits Of Comparing Car Insurance Quotes Online
LOS ANGELES, CA / ACCESSWIRE / June 24, 2020, / Compare-autoinsurance.Org has launched a new blog post that presents the main benefits of comparing multiple car insurance quotes. For more info and free online quotes, please visit https://compare-autoinsurance.Org/the-advantages-of-comparing-prices-with-car-insurance-quotes-online/ The modern society has numerous technological advantages. One important advantage is the speed at which information is sent and received. With the help of the internet, the shopping habits of many persons have drastically changed. The car insurance industry hasn't remained untouched by these changes. On the internet, drivers can compare insurance prices and find out which sellers have the best offers. View photos The advantages of comparing online car insurance quotes are the following: Online quotes can be obtained from anywhere and at any time. Unlike physical insurance agencies, websites don't have a specific schedule and they are available at any time. Drivers that have busy working schedules, can compare quotes from anywhere and at any time, even at midnight. Multiple choices. Almost all insurance providers, no matter if they are well-known brands or just local insurers, have an online presence. Online quotes will allow policyholders the chance to discover multiple insurance companies and check their prices. Drivers are no longer required to get quotes from just a few known insurance companies. Also, local and regional insurers can provide lower insurance rates for the same services. Accurate insurance estimates. Online quotes can only be accurate if the customers provide accurate and real info about their car models and driving history. Lying about past driving incidents can make the price estimates to be lower, but when dealing with an insurance company lying to them is useless. Usually, insurance companies will do research about a potential customer before granting him coverage. Online quotes can be sorted easily. Although drivers are recommended to not choose a policy just based on its price, drivers can easily sort quotes by insurance price. Using brokerage websites will allow drivers to get quotes from multiple insurers, thus making the comparison faster and easier. For additional info, money-saving tips, and free car insurance quotes, visit https://compare-autoinsurance.Org/ Compare-autoinsurance.Org is an online provider of life, home, health, and auto insurance quotes. This website is unique because it does not simply stick to one kind of insurance provider, but brings the clients the best deals from many different online insurance carriers. In this way, clients have access to offers from multiple carriers all in one place: this website. On this site, customers have access to quotes for insurance plans from various agencies, such as local or nationwide agencies, brand names insurance companies, etc. "Online quotes can easily help drivers obtain better car insurance deals. All they have to do is to complete an online form with accurate and real info, then compare prices", said Russell Rabichev, Marketing Director of Internet Marketing Company. CONTACT: Company Name: Internet Marketing CompanyPerson for contact Name: Gurgu CPhone Number: (818) 359-3898Email: [email protected]: https://compare-autoinsurance.Org/ SOURCE: Compare-autoinsurance.Org View source version on accesswire.Com:https://www.Accesswire.Com/595055/What-Are-The-Main-Benefits-Of-Comparing-Car-Insurance-Quotes-Online View photos
picture credit
to request, modification Contact us at Here or [email protected]