PM Modi's heart remains anchored in the realities on the ground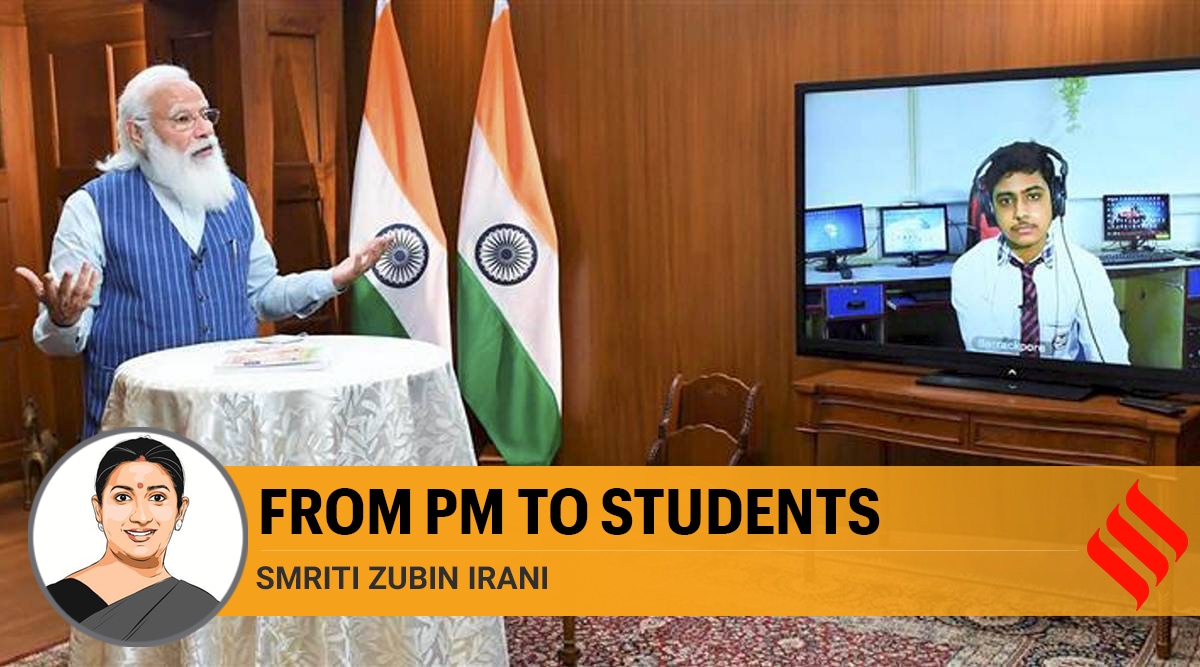 One wonders how one of the most powerful men in the world, faced with so many important decisions at one point, still finds time to share some of his learned wisdom with the children. He has, in the truest sense of the word, been a guide and mentor, giving confidence boosters year after year to students preparing for exams.
Pariksha Pe Charcha has become a breath of fresh air for the students. With everyone around them in a deep frenzy about exams, results and career, Prime Minister Narendra Modi comes across as a man with a sense of poise and foresight. The life lessons he distils for children come from his lived experiences.
Whether it's the PM's memory hack of involving, internalizing, associating and visualizing a lesson instead of just trying to memorize it, or its formula for parents not only to stay young but also to close the generational gap. , these are things he observed in his vast experience of living all over India. It sounds simple but is actually the result of a lifetime of observing human behavior. The way in which Modi is able to observe routine interactions and learn such insightful lessons from them is extraordinary.
During Pariksha Pe Charcha 2021, in order to allay a student's fear of difficult subjects or questions during exams, PM Modi took a sheet from his own book. He said that instead of running away from difficult subjects, why not face them in the morning? As chief minister of Gujarat and now as prime minister, he applies the same principle to his daily routine, he said. Anything that takes the extra effort or seems complicated, take it first in the morning with a fresh mind. What he finds easy and has a marginal margin of error, he leaves for later. It goes against our usual instinct to choose what is easy first, then move on to the difficult parts. But it could be because we are instinctively afraid to face difficult tasks and are more likely to procrastinate or sit on them indefinitely.
The examples he cites provide a glimpse of a man who rose to the top, but only after going through his fair share of struggles and disappointments and finally finding a way out. This is the reason why people instantly connect with him as he dissects human behavior and motivations on a deeper level.
Take, for example, his response when a seemingly distressed parent from Punjab asked PM Modi how to make sure children do what is expected of them without having to run behind him. It is, in fact, a common refrain among parents, often leading children to fall back into their shells or act in a way that confuses parents. But the Prime Minister's response to the question gave enough food for thought for parents as to the root of the problem.
Instead of realizing a child's unique potential, parents try to frame it within pre-existing societal norms and structures. He rightly pointed out that we tend to overlook an extremely important step in training the mind for self-motivated action. Training cannot take place in isolation. It is part of the child's daily experience at home. By presenting children with the benefits of instilling a habit creatively instead of constantly nagging them, parents can set the stage for shaping their minds in a certain way. This opens up the possibility for a child to feel motivated enough to make it part of their routine. This would not only save energy for parents, but also create a positive and more open environment for children to engage with parents without feeling stressed or threatened.
Often, to have such information about a child's mind, you have to be a child psychologist or someone who has children of their own. But PM Modi does not fall into either of these two categories. Yet his knowledge is not taken from books, but is gained through a lifetime of lived experiences, especially from his pre-CM days, when he traveled extensively through his state and country. His discernment of human behavior reflects the fact that he has spent considerable time closely studying families.
Although he holds the highest office in the country and enjoys widespread popularity gained once a century, Prime Minister Modi does not indulge in imposing or complicated jargon. Even after being at the center of the most powerful circle of people, he has a rare ability to think like a person who is part of every family in India.
His heart remains rooted in the realities on the ground. His voice is the voice of an ordinary man. Its values ​​reflect the best values ​​of any average Indian family. His practical knowledge emanates from the earthly wisdom which forms the foundation of Indian civilization.
This column first appeared in the print edition on April 9, 2021 under the title From PM to Students. The writer is Minister of the Union for the Development of Women and Children and Minister of Textiles
What Are The Main Benefits Of Comparing Car Insurance Quotes Online
LOS ANGELES, CA / ACCESSWIRE / June 24, 2020, / Compare-autoinsurance.Org has launched a new blog post that presents the main benefits of comparing multiple car insurance quotes. For more info and free online quotes, please visit https://compare-autoinsurance.Org/the-advantages-of-comparing-prices-with-car-insurance-quotes-online/ The modern society has numerous technological advantages. One important advantage is the speed at which information is sent and received. With the help of the internet, the shopping habits of many persons have drastically changed. The car insurance industry hasn't remained untouched by these changes. On the internet, drivers can compare insurance prices and find out which sellers have the best offers. View photos The advantages of comparing online car insurance quotes are the following: Online quotes can be obtained from anywhere and at any time. Unlike physical insurance agencies, websites don't have a specific schedule and they are available at any time. Drivers that have busy working schedules, can compare quotes from anywhere and at any time, even at midnight. Multiple choices. Almost all insurance providers, no matter if they are well-known brands or just local insurers, have an online presence. Online quotes will allow policyholders the chance to discover multiple insurance companies and check their prices. Drivers are no longer required to get quotes from just a few known insurance companies. Also, local and regional insurers can provide lower insurance rates for the same services. Accurate insurance estimates. Online quotes can only be accurate if the customers provide accurate and real info about their car models and driving history. Lying about past driving incidents can make the price estimates to be lower, but when dealing with an insurance company lying to them is useless. Usually, insurance companies will do research about a potential customer before granting him coverage. Online quotes can be sorted easily. Although drivers are recommended to not choose a policy just based on its price, drivers can easily sort quotes by insurance price. Using brokerage websites will allow drivers to get quotes from multiple insurers, thus making the comparison faster and easier. For additional info, money-saving tips, and free car insurance quotes, visit https://compare-autoinsurance.Org/ Compare-autoinsurance.Org is an online provider of life, home, health, and auto insurance quotes. This website is unique because it does not simply stick to one kind of insurance provider, but brings the clients the best deals from many different online insurance carriers. In this way, clients have access to offers from multiple carriers all in one place: this website. On this site, customers have access to quotes for insurance plans from various agencies, such as local or nationwide agencies, brand names insurance companies, etc. "Online quotes can easily help drivers obtain better car insurance deals. All they have to do is to complete an online form with accurate and real info, then compare prices", said Russell Rabichev, Marketing Director of Internet Marketing Company. CONTACT: Company Name: Internet Marketing CompanyPerson for contact Name: Gurgu CPhone Number: (818) 359-3898Email: [email protected]: https://compare-autoinsurance.Org/ SOURCE: Compare-autoinsurance.Org View source version on accesswire.Com:https://www.Accesswire.Com/595055/What-Are-The-Main-Benefits-Of-Comparing-Car-Insurance-Quotes-Online View photos
picture credit
to request, modification Contact us at Here or [email protected]