Indonesian Professional Academy, targeting current designer candidates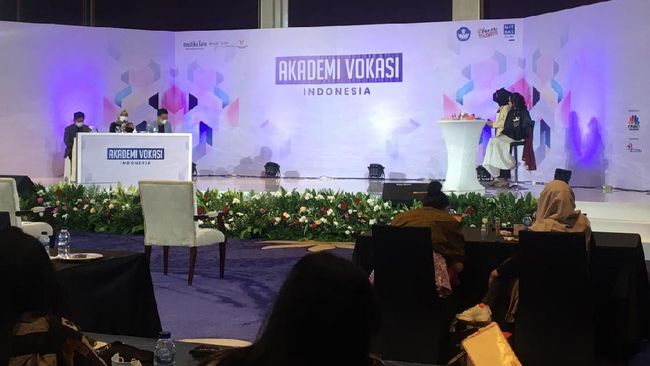 Jakarta, CNBC Indonesia – The Ministry of Education and Culture Research and Technology of the Republic of Indonesia, through the General Directorate of Vocational Education, is once again holding a prestigious competition, namely the Indonesian Professional Academy (AVI).
The Indonesian Vocational Academy is an event to explore a number of potentials for vocational students in Indonesia. After successfully taking place in Jakarta, the Indonesian Professional Academy is now present in the hometown of President Joko Widodo, namely Surakarta City, Central Java with the theme of the field of fashion expertise.
The second volume of Indonesian Professional Academy is also supported by industry world (DUDI) namely PT Sri Rejeki Isman Tbk and leading local fashion designers.
Kasubag Mitras Dudi administration Yudil Chatim said vocational education could be the answer to industry needs in the future amid rapid technological development. Indeed, the business world industry needs increasingly competent and qualified human resources. Therefore, a strong synergy is needed between the vocational education institution with the business world and the industrial world, one of which is through the Indonesian Vocational Academy.
"Vocational education can meet the needs of industry in the future with rapid technology. Therefore, it is necessary There is a strong synergy between vocational education and the industrial world, "Yudil said during the Indonesian Professional Academy speech, citing a written statement in Jakarta on Tuesday (4/5/2021).
Meanwhile, according to the head of administration of the General Directorate of Courses and Training of the Ministry of Education and Research, Heri Susanto, believed that the implementation of the Indonesian Vocational Academy could be a step for vocational students who have interesting talents and ideas to be seen by the industry.
"We have to give them a stage to show their work, for people to know, especially in industry, they have to understand, oh it turns out that the profit of students in vocational training is worthy of our support" , Heri said.
The Indonesian Professional Academy event is also fully supported by PT Estima Industry where later 5 participants with the highest points will receive a laptop award from Estima. CEO of Estima, Joko Sutrisno believed that the professional academy event can produce professional talents proficient in their field.
"This Professional Academy event is very good, and it will give birth to professional talents. These candidates will be experts in the professional field," said Joko.
The Textile and Textile Products Industry (TPT) itself was chosen because TPT has a strategic role in national development through its contribution to employment, meeting national garment needs, as well as a which generates foreign exchange for non-oil and gas exports with significant value. In terms of employment of professional workers, PT Sri Rejeki Isman Tbk claims to have absorbed nearly 700 workers who have graduated from vocational training.
"From 2019-2021, Sritex itself absorbed vocational training graduates with a total of almost 700 people, yes. In terms of performance, these vocational students are faster in terms of practice, so just lead and provide a little more training, "said PT Garment Executive Director. Sri Rejeki Isman Tbk, Shan Shan Huang at CNBC Indonesia.
The same was also conveyed by a prominent local designer, Rory Wardhana, who rated the potential of vocational students in the field of fashion design as very important and promising, although they still need training. , in particular in the delivery of their works.
"They have ideas and inspiration on the design. So what we're building here, when they're active again, how do they express their work, "Rory said.
For this fashion designer competition, the General Directorate of Vocational Education is collaborating with CNBC Indonesia and PT Sri Rejeki Isman Tbk, and to offer direct internship opportunities at Sritex to discover the opportunity to work in the textile industry. In addition, there were also tens of millions of rupees cash prizes from Bank Mandiri and an original Estima laptop made in Indonesia.
[Gambas:Video CNBC]
(yun / yun)
What Are The Main Benefits Of Comparing Car Insurance Quotes Online
LOS ANGELES, CA / ACCESSWIRE / June 24, 2020, / Compare-autoinsurance.Org has launched a new blog post that presents the main benefits of comparing multiple car insurance quotes. For more info and free online quotes, please visit https://compare-autoinsurance.Org/the-advantages-of-comparing-prices-with-car-insurance-quotes-online/ The modern society has numerous technological advantages. One important advantage is the speed at which information is sent and received. With the help of the internet, the shopping habits of many persons have drastically changed. The car insurance industry hasn't remained untouched by these changes. On the internet, drivers can compare insurance prices and find out which sellers have the best offers. View photos The advantages of comparing online car insurance quotes are the following: Online quotes can be obtained from anywhere and at any time. Unlike physical insurance agencies, websites don't have a specific schedule and they are available at any time. Drivers that have busy working schedules, can compare quotes from anywhere and at any time, even at midnight. Multiple choices. Almost all insurance providers, no matter if they are well-known brands or just local insurers, have an online presence. Online quotes will allow policyholders the chance to discover multiple insurance companies and check their prices. Drivers are no longer required to get quotes from just a few known insurance companies. Also, local and regional insurers can provide lower insurance rates for the same services. Accurate insurance estimates. Online quotes can only be accurate if the customers provide accurate and real info about their car models and driving history. Lying about past driving incidents can make the price estimates to be lower, but when dealing with an insurance company lying to them is useless. Usually, insurance companies will do research about a potential customer before granting him coverage. Online quotes can be sorted easily. Although drivers are recommended to not choose a policy just based on its price, drivers can easily sort quotes by insurance price. Using brokerage websites will allow drivers to get quotes from multiple insurers, thus making the comparison faster and easier. For additional info, money-saving tips, and free car insurance quotes, visit https://compare-autoinsurance.Org/ Compare-autoinsurance.Org is an online provider of life, home, health, and auto insurance quotes. This website is unique because it does not simply stick to one kind of insurance provider, but brings the clients the best deals from many different online insurance carriers. In this way, clients have access to offers from multiple carriers all in one place: this website. On this site, customers have access to quotes for insurance plans from various agencies, such as local or nationwide agencies, brand names insurance companies, etc. "Online quotes can easily help drivers obtain better car insurance deals. All they have to do is to complete an online form with accurate and real info, then compare prices", said Russell Rabichev, Marketing Director of Internet Marketing Company. CONTACT: Company Name: Internet Marketing CompanyPerson for contact Name: Gurgu CPhone Number: (818) 359-3898Email: [email protected]: https://compare-autoinsurance.Org/ SOURCE: Compare-autoinsurance.Org View source version on accesswire.Com:https://www.Accesswire.Com/595055/What-Are-The-Main-Benefits-Of-Comparing-Car-Insurance-Quotes-Online View photos
picture credit
to request, modification Contact us at Here or [email protected]