Congress denounces Narendra Modi's obsession with Central Vista project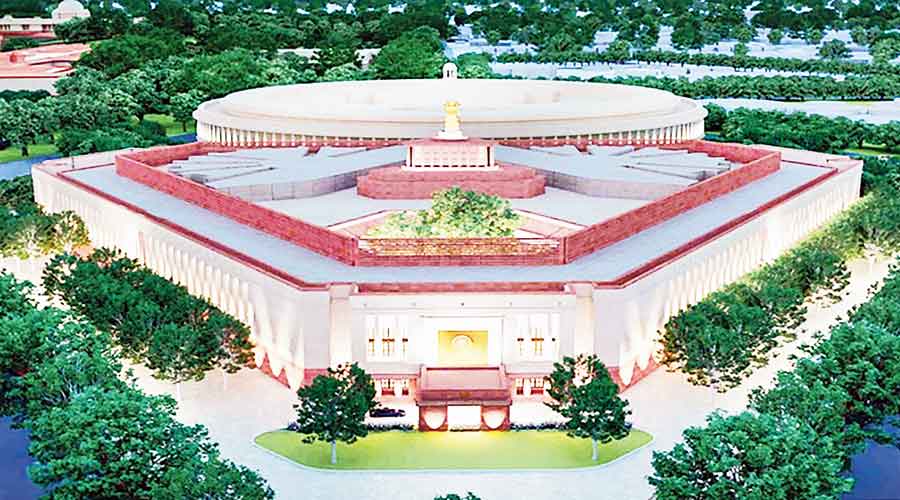 The opposition party described the prime minister as a 'sultan' whose 'ego was bigger than people's lives'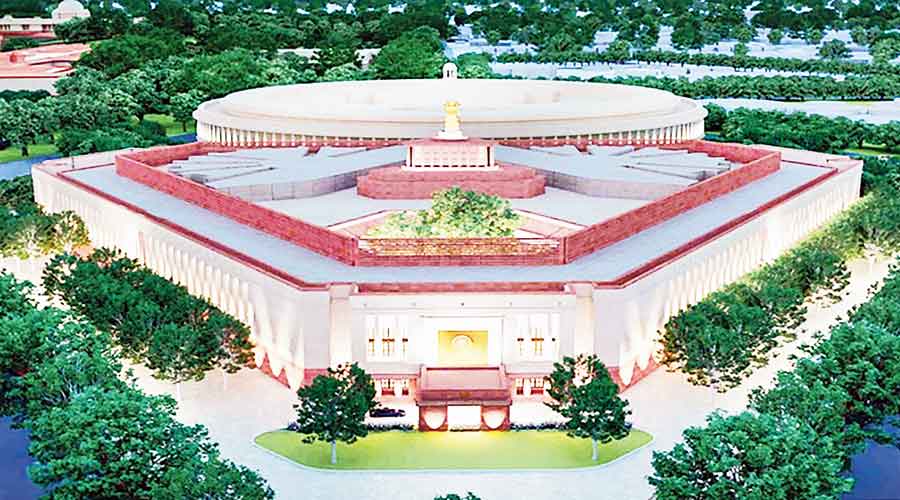 ---
---
While the 'Sultan' should have built hospitals and supplied oxygen to Covid patients, he is building a palace for himself, Congress said on Tuesday, questioning the thousands of crore rupees spent on the Central Vista project by Narendra Modi at a time when Indians are dying for want of treatment.
"Rs 13,450 crore for Central Vista. Or, to completely vaccinate 45 Indian crores. Or, for a crore of oxygen cylinders. Or, to give two families NYAY crore of Rs 6,000. But the prime minister's ego is bigger than people's lives, "Rahul Gandhi wrote on Twitter, highlighting how the money spent on the project, which includes a new house for the Prime Minister and a new Parliament building, could have been used.
The project, for which Modi did a bhoomi pujan in December, has been classified as an "essential service" and work continues even though Delhi is on lockdown. The central public works department said the parliament building will be completed by November 2022 and the prime minister's new residence will be ready by December 2022, according to PTI.
"Awaam ke paise se mauz karo (Have fun using public money). This is Modi's state of mind, "Congressman Shaktisinh Gohil said at a press conference.
"We know him from Gujarat. When he became Chief Minister there, eight bungalows near the official residence of the Chief Minister were acquired. Hundreds of rupees were spent on renovating the Chief Minister's residence and a "sheesh mahal" was also built for Modi's personal use. A luxurious bedroom with glass fittings; we don't know what he was doing there. But he is used to living like sultans, "added Gohil, originally from Gujarat.
Modi used to describe the UPA government as the "Sultanate of Delhi" before becoming Prime Minister in what seemed to be an insinuation that Congress was pro-Muslim. The Hindutva ecosystem relishes unflattering stories about sultans – Muslim emperors – building castles while ignoring mass suffering.
Rs 13,450 crore for Central Vista. Or, to completely vaccinate 45 Indian crores. Or, for a crore of oxygen cylinders. Or, to give two families NYAY crore of Rs 6,000. But prime ministers' ego is bigger than people's lives
– Rahul Gandhi
Gohil said: "Even at the secretariat, a new block has been built for a posh office of the chief minister…. The priorities of the Sultan have not changed. While he should have built hospitals and arranged oxygen for dying patients on the war footing, he is focused on building a palace for himself.
The Congress leader continued: "While they should have planned the second wave and the oxygen crisis as warned by experts, the government's own group and the Standing Committee of Parliament, the Sultan and Wazir ( a reference to Interior Minister Amit Shah) ventured to seize power in Bengal. Now they are obsessed with the new palace. They are a stain on democracy. "
Rahul Gandhi, who since February 2020 has repeatedly warned of the threat of Covid and the need to prepare both the health system and the economy to deal with the pandemic, said the only way to stop the virus was now a lockdown.
"I just want to clarify that foreclosure is now the only option due to a complete lack of strategy on the part of the Indian government. Rather, they have made it possible to actively help the virus reach that point where there is no other way to stop it. A crime has been committed against India, "said the former president of Congress.
A lockdown is what many health experts, including Dr Anthony Fauci of the United States, are advising to stem the devastating second wave that has left crematoriums overflowing in Indian cities.
Modi, who cracked down on a nationwide lockdown on four hours' notice in March last year when cases were far fewer and repeatedly extended for months, has now told states to avoid lock and only use it as a last resort.
"The Indian government does not understand. The only way to stop the spread of Corona now is with full lockdown – with NYAY's protection for vulnerable sections. The government's inaction is killing many innocent people, "Rahul said. NYAY refers to a program to transfer Rs 6,000 per month to the bank accounts of the poor who are put out of work in a lockout.
What Are The Main Benefits Of Comparing Car Insurance Quotes Online
LOS ANGELES, CA / ACCESSWIRE / June 24, 2020, / Compare-autoinsurance.Org has launched a new blog post that presents the main benefits of comparing multiple car insurance quotes. For more info and free online quotes, please visit https://compare-autoinsurance.Org/the-advantages-of-comparing-prices-with-car-insurance-quotes-online/ The modern society has numerous technological advantages. One important advantage is the speed at which information is sent and received. With the help of the internet, the shopping habits of many persons have drastically changed. The car insurance industry hasn't remained untouched by these changes. On the internet, drivers can compare insurance prices and find out which sellers have the best offers. View photos The advantages of comparing online car insurance quotes are the following: Online quotes can be obtained from anywhere and at any time. Unlike physical insurance agencies, websites don't have a specific schedule and they are available at any time. Drivers that have busy working schedules, can compare quotes from anywhere and at any time, even at midnight. Multiple choices. Almost all insurance providers, no matter if they are well-known brands or just local insurers, have an online presence. Online quotes will allow policyholders the chance to discover multiple insurance companies and check their prices. Drivers are no longer required to get quotes from just a few known insurance companies. Also, local and regional insurers can provide lower insurance rates for the same services. Accurate insurance estimates. Online quotes can only be accurate if the customers provide accurate and real info about their car models and driving history. Lying about past driving incidents can make the price estimates to be lower, but when dealing with an insurance company lying to them is useless. Usually, insurance companies will do research about a potential customer before granting him coverage. Online quotes can be sorted easily. Although drivers are recommended to not choose a policy just based on its price, drivers can easily sort quotes by insurance price. Using brokerage websites will allow drivers to get quotes from multiple insurers, thus making the comparison faster and easier. For additional info, money-saving tips, and free car insurance quotes, visit https://compare-autoinsurance.Org/ Compare-autoinsurance.Org is an online provider of life, home, health, and auto insurance quotes. This website is unique because it does not simply stick to one kind of insurance provider, but brings the clients the best deals from many different online insurance carriers. In this way, clients have access to offers from multiple carriers all in one place: this website. On this site, customers have access to quotes for insurance plans from various agencies, such as local or nationwide agencies, brand names insurance companies, etc. "Online quotes can easily help drivers obtain better car insurance deals. All they have to do is to complete an online form with accurate and real info, then compare prices", said Russell Rabichev, Marketing Director of Internet Marketing Company. CONTACT: Company Name: Internet Marketing CompanyPerson for contact Name: Gurgu CPhone Number: (818) 359-3898Email: [email protected]: https://compare-autoinsurance.Org/ SOURCE: Compare-autoinsurance.Org View source version on accesswire.Com:https://www.Accesswire.Com/595055/What-Are-The-Main-Benefits-Of-Comparing-Car-Insurance-Quotes-Online View photos
picture credit
to request, modification Contact us at Here or [email protected]