Teenage Immigrant Raducanu's Dream Ride: From ITF Pune 2019 to US Open 2021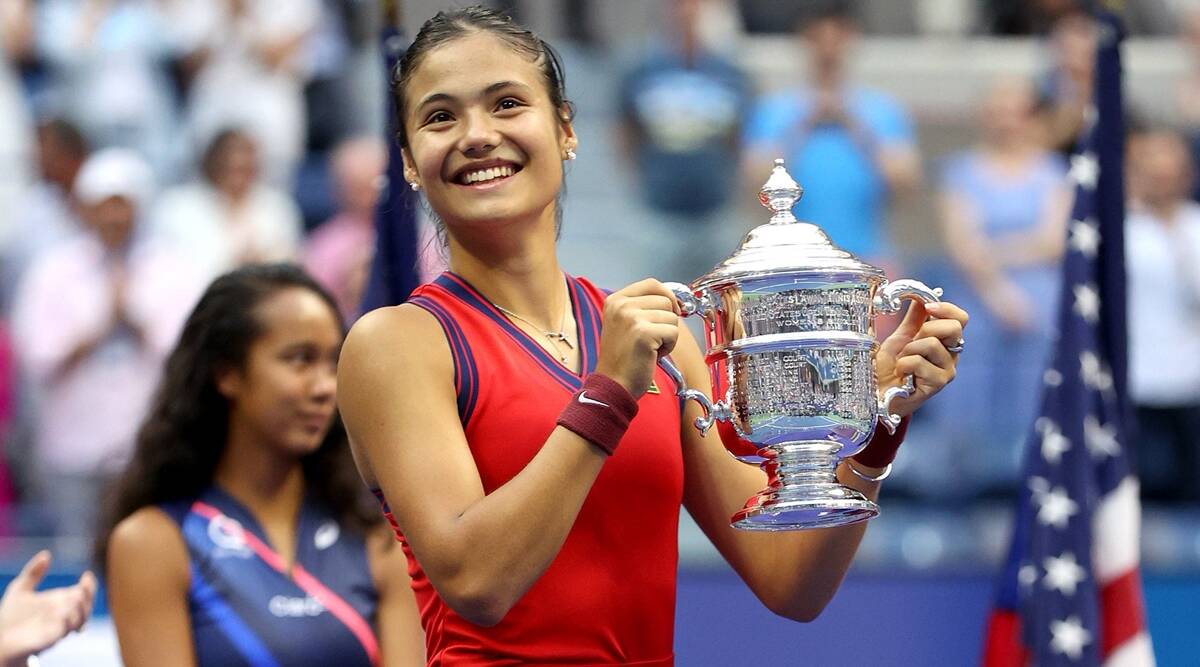 Emma Raducanus's smile only grew as Sweet Caroline's chorus blared through New York's Arthur Ashe Stadium. She joined in singing Britain's enduring sports anthem as Union Jack-clad fans in the top rows waved along to the soundtrack reserved for their revered champions across the sport. It was the most British celebration imaginable to mark Raducanus' 6-4, 6-3 victory over Canadian Leylah Fernandez in the US Open final.
It also ended a 44-year title drought. No English woman had won a tennis major since Virginia Wade won Wimbledon in 1977. It would take something spectacular, someone beyond anyone's wildest imagination, to break that streak. Raducanu, an 18-year-old with barely any experience on the WTA Tour, fit that bill. Her biggest title to date was at a Futures event at Pune's Deccan Gymkhana courts in 2019, she spent three weeks in India and even played an ITF tournament in Solapur. However, the Cinderella story was realized in the early hours of Sunday on the largest tennis court with 23,000 seats.
At a time when Brexit policies are being polished, and in the week when the British government has threatened to send migrant boats back to France, it took a Canadian-born teenager with a Romanian father and a Chinese mother to put England at the sporting focal point. place .
Raducanus parents were not in New York to witness the unprecedented title run due to Covid-related visa restrictions. But it allowed her mother to take home the Kent Player of the Year Award on her behalf at Bromley's local tennis club Sundridge Park, while the youngster took home the biggest award of her career.
Both of her parents work in finance and her father would have liked to hire another coach to help her practice every shot. He even practiced with her on the street in front of their house last year during the lockdown. However, the immigrant background of the residents of South East London does not do justice to the chances she has overcome to win the US Open.
Raducanu is currently ranked 150th in the world, which will now rise to 23rd when the rankings are updated on Monday. She barely had any experience on the WTA Tour, winning only four out of seven regular tour matches. She first introduced herself as a Wild Card entrant in the Wimbledon main draw in June.
At the time, she was ranked 338 in the world, winning three rounds comfortably claiming the scalp of former World No. 21 Sorana Cirstea and 2019 French Open finalist Marketa Vondrousova. She withdrew from the competition in the fourth round after suffering respiratory problems. At the time, the then-British women's No. 10 player run promised to be nothing more than a storm-in-a-teacup episode. And she too was realistic about her chances at the US Open.
So much so that she booked a return flight to England once the qualifying rounds were over. As it turned out, she stayed two weeks longer, becoming the first ever qualifier to win a Grand Slam title, without dropping a set. She also became the lowest-ranked player since the unranked Kim Clijsters (2009 US Open on comeback) to win the American Slam.
With this, Raducanu earned a check for no less than 2.5 million dollars. This, for a player who had so far, won just $303,376, and the 2019 Pune Futures event. Branding experts estimate she could earn up to GBP 25 million in notes next month.
And if it wasn't already clear, the attention of the teenagers has now only shifted to tennis.
As a child, Raducanu had forays into karting, motocross, ballet, horseback riding, tap dancing and even table tennis during those annual trips to her mother's home in Shenyang, China. But according to people who knew her, her main priority was academics.
Everyone thinks I'm an absolute fan of my school results, the straight-A student said at Wimbledon, according to an AFP report. They think I have such an inflated ego about it. Actually, I would say that I have high standards for myself. That has helped me get to where I am in terms of tennis and also in terms of school results.
This focus on academics kept her from becoming a big name on the junior tour, with a top 20 ranking. In fact, it was on the junior tour that she once ran into Fernandez before their all-teenage title clash Sunday. The duo had played a second round match at the 2018 Junior Girls event at Wimbledon, with Raducanu taking the win.
At the US Open over the past three weeks, Raducanu has attracted quite a few heads and left colleagues and fans in awe, including her biggest critic. My dad told me you're even better than I thought, so that was reassuring. My dads are definitely very hard to please, but I made it, she said.
Sources
2/ https://indianexpress.com/article/sports/tennis/teen-immigrants-dream-ride-from-pune-title-2-yrs-ago-to-us-open-crown-7504784/lite/
The mention sources can contact us to remove/changing this article
What Are The Main Benefits Of Comparing Car Insurance Quotes Online
LOS ANGELES, CA / ACCESSWIRE / June 24, 2020, / Compare-autoinsurance.Org has launched a new blog post that presents the main benefits of comparing multiple car insurance quotes. For more info and free online quotes, please visit https://compare-autoinsurance.Org/the-advantages-of-comparing-prices-with-car-insurance-quotes-online/ The modern society has numerous technological advantages. One important advantage is the speed at which information is sent and received. With the help of the internet, the shopping habits of many persons have drastically changed. The car insurance industry hasn't remained untouched by these changes. On the internet, drivers can compare insurance prices and find out which sellers have the best offers. View photos The advantages of comparing online car insurance quotes are the following: Online quotes can be obtained from anywhere and at any time. Unlike physical insurance agencies, websites don't have a specific schedule and they are available at any time. Drivers that have busy working schedules, can compare quotes from anywhere and at any time, even at midnight. Multiple choices. Almost all insurance providers, no matter if they are well-known brands or just local insurers, have an online presence. Online quotes will allow policyholders the chance to discover multiple insurance companies and check their prices. Drivers are no longer required to get quotes from just a few known insurance companies. Also, local and regional insurers can provide lower insurance rates for the same services. Accurate insurance estimates. Online quotes can only be accurate if the customers provide accurate and real info about their car models and driving history. Lying about past driving incidents can make the price estimates to be lower, but when dealing with an insurance company lying to them is useless. Usually, insurance companies will do research about a potential customer before granting him coverage. Online quotes can be sorted easily. Although drivers are recommended to not choose a policy just based on its price, drivers can easily sort quotes by insurance price. Using brokerage websites will allow drivers to get quotes from multiple insurers, thus making the comparison faster and easier. For additional info, money-saving tips, and free car insurance quotes, visit https://compare-autoinsurance.Org/ Compare-autoinsurance.Org is an online provider of life, home, health, and auto insurance quotes. This website is unique because it does not simply stick to one kind of insurance provider, but brings the clients the best deals from many different online insurance carriers. In this way, clients have access to offers from multiple carriers all in one place: this website. On this site, customers have access to quotes for insurance plans from various agencies, such as local or nationwide agencies, brand names insurance companies, etc. "Online quotes can easily help drivers obtain better car insurance deals. All they have to do is to complete an online form with accurate and real info, then compare prices", said Russell Rabichev, Marketing Director of Internet Marketing Company. CONTACT: Company Name: Internet Marketing CompanyPerson for contact Name: Gurgu CPhone Number: (818) 359-3898Email: [email protected]: https://compare-autoinsurance.Org/ SOURCE: Compare-autoinsurance.Org View source version on accesswire.Com:https://www.Accesswire.Com/595055/What-Are-The-Main-Benefits-Of-Comparing-Car-Insurance-Quotes-Online View photos
to request, modification Contact us at Here or [email protected]