Lasith Malinga, an undisputed legend in T20 cricket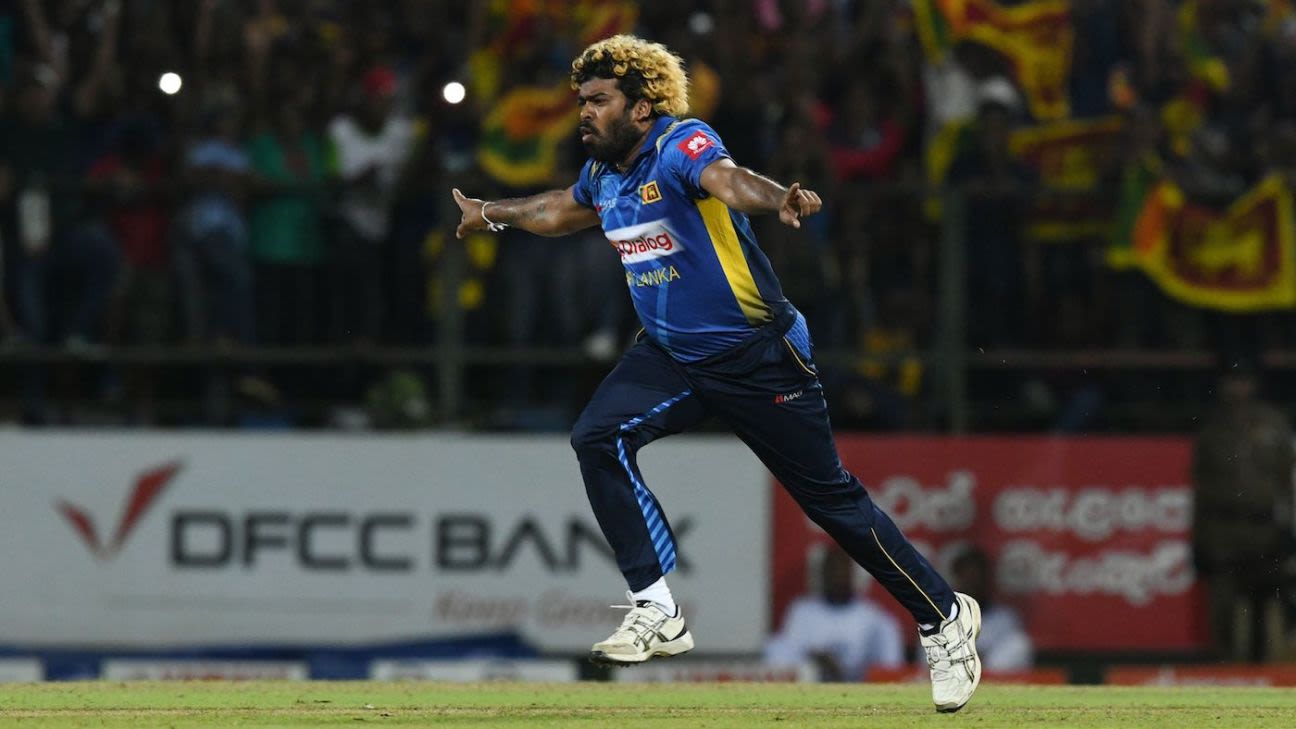 Statistical Analysis
A quick look at the fast bowler's performance in the shortest format
107 Lasith Malinga signs off as the leading wicket taker in Twenty20 Internationals Men, with the narrowest margins. He has one more than Shakib Al Hasan (106). Malinga became the first man to peak at 100 T20I wickets in 2019, while playing against New Zealand.
170 Wickets for Malinga in the Indian Premier League, the most by a bowler. In 2013, he became the first player to complete 100 wickets in the league, progressing to 150 (in 2017) before anyone could catch him as well.
390 Malinga ends his career with 390 wickets in T20 cricket, the fourth highest of all bowlers. Malinga was the leading wicket taker in this format between February 2014 and April 2016, before Dwayne Bravo passed him and emerged as the first bowler with 300 T20 wickets.
195 Wickets for Malinga while representing Mumbai Indians, most by a bowler for a team in T20s. He took a wicket with his second ball on the debut, while his last ball delivered a championship-winning scalp.
6 for 7 Malinga's best bowling figures in the T20s came in the 2012-13 Big Bash League for Melbourne Stars against Perth Scorchers. Those numbers are still the best in the history of BBL cricket.
7.82 Malinga's economy rate in death overs (17-20) in IPL, the best of 41 bowlers who have made at least 250 deliveries during this period. He threw 152.5 overs on death in an IPL match and allowed only 1196 runs while claiming 90 wickets, which is also a league record.
37 Wickets for Malinga against Chennai Super Kings, the most joint for any player against a single opponent in T20 cricket. Andrew Ellis also had 37 strikes against New Zealand's northern districts.
5 Five wicket hauls for Malinga in T20s, second only to David Wiese. Two of them came in internationals, also the joint-most for a bowler. The Sri Lankan pacesetter leads the list of the most four-and-more-wicket hauls in T20s, with a whopping 15 to his name.
152 Wickets from Malinga's 390 in the T20s were 'bowled', the most for every player. Those 152 wickets also equal 38.97% of his career wickets, the highest percentage for anyone with over 200 wickets in this format.
9 Instances of Malinga claiming wickets on consecutive deliveries in the IPL but none of them converted into a hat-trick. Only Umesh Yadav (10) has scored more hat-tricks than Malinga, while Imran Tahir has also scored nine times. Malinga had seven such instances in T20Is, two of which turned out to be hat-tricks, making him the only bowler to have multiple hat-tricks in this format. Only Umar Gul (8) had more chances than Malinga to take a hat-trick in the men's T20Is. He never ended up with one.
Sampath Bandarupalli is a statistician at ESPNcricinfo
Sources
2/ https://www.espncricinfo.com/story/stats-lasith-malinga-an-undisputed-legend-in-t20-cricket-1277984
The mention sources can contact us to remove/changing this article
What Are The Main Benefits Of Comparing Car Insurance Quotes Online
LOS ANGELES, CA / ACCESSWIRE / June 24, 2020, / Compare-autoinsurance.Org has launched a new blog post that presents the main benefits of comparing multiple car insurance quotes. For more info and free online quotes, please visit https://compare-autoinsurance.Org/the-advantages-of-comparing-prices-with-car-insurance-quotes-online/ The modern society has numerous technological advantages. One important advantage is the speed at which information is sent and received. With the help of the internet, the shopping habits of many persons have drastically changed. The car insurance industry hasn't remained untouched by these changes. On the internet, drivers can compare insurance prices and find out which sellers have the best offers. View photos The advantages of comparing online car insurance quotes are the following: Online quotes can be obtained from anywhere and at any time. Unlike physical insurance agencies, websites don't have a specific schedule and they are available at any time. Drivers that have busy working schedules, can compare quotes from anywhere and at any time, even at midnight. Multiple choices. Almost all insurance providers, no matter if they are well-known brands or just local insurers, have an online presence. Online quotes will allow policyholders the chance to discover multiple insurance companies and check their prices. Drivers are no longer required to get quotes from just a few known insurance companies. Also, local and regional insurers can provide lower insurance rates for the same services. Accurate insurance estimates. Online quotes can only be accurate if the customers provide accurate and real info about their car models and driving history. Lying about past driving incidents can make the price estimates to be lower, but when dealing with an insurance company lying to them is useless. Usually, insurance companies will do research about a potential customer before granting him coverage. Online quotes can be sorted easily. Although drivers are recommended to not choose a policy just based on its price, drivers can easily sort quotes by insurance price. Using brokerage websites will allow drivers to get quotes from multiple insurers, thus making the comparison faster and easier. For additional info, money-saving tips, and free car insurance quotes, visit https://compare-autoinsurance.Org/ Compare-autoinsurance.Org is an online provider of life, home, health, and auto insurance quotes. This website is unique because it does not simply stick to one kind of insurance provider, but brings the clients the best deals from many different online insurance carriers. In this way, clients have access to offers from multiple carriers all in one place: this website. On this site, customers have access to quotes for insurance plans from various agencies, such as local or nationwide agencies, brand names insurance companies, etc. "Online quotes can easily help drivers obtain better car insurance deals. All they have to do is to complete an online form with accurate and real info, then compare prices", said Russell Rabichev, Marketing Director of Internet Marketing Company. CONTACT: Company Name: Internet Marketing CompanyPerson for contact Name: Gurgu CPhone Number: (818) 359-3898Email: [email protected]: https://compare-autoinsurance.Org/ SOURCE: Compare-autoinsurance.Org View source version on accesswire.Com:https://www.Accesswire.Com/595055/What-Are-The-Main-Benefits-Of-Comparing-Car-Insurance-Quotes-Online View photos
to request, modification Contact us at Here or [email protected]