Prospect of no shot, no visa for Australian Open tennis stars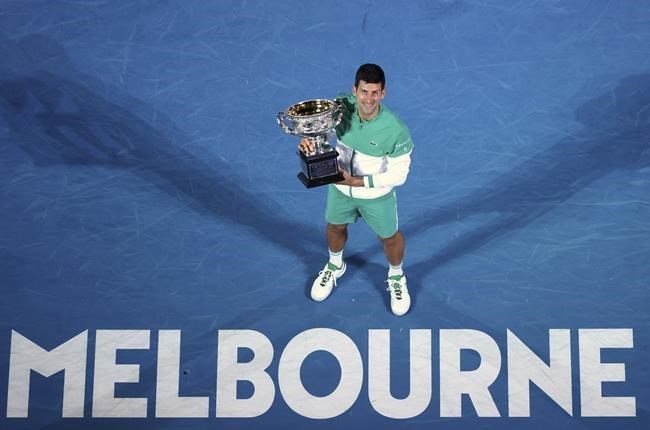 Elite tennis players are urged to get vaccinated against COVID-19 or risk missing the Australian Open in January.
Elite tennis players are urged to get vaccinated against COVID-19 or risk missing the Australian Open in January.
Victoria Premier Daniel Andrews, whose state hosts the season opening in Melbourne Park, has already introduced a vaccine mandate for professional athletes competing in domestic sports competitions and those working in some industries.
On Tuesday, he increased the pressure on tennis players traveling from abroad.
I don't think an unvaccinated tennis player will get a visa to enter this country, Andrews said. If they did get a visa, they would probably have to quarantine for a few weeks, while other players don't have to."
Australian Federal Immigration Minister Alex Hawke said the policy will be the same for all incoming arrivals, including international athletes.
Our health advice is that when we open the borders, everyone coming to Australia should be double vaccinated, Hawke told the Australian Broadcasting Corp. early Wednesday.
Australia is preparing to reopen its international borders for the first time in more than 18 months, but it will be a gradual state-to-state process starting next month and will depend on vaccination rates across the country. Fully vaccinated people in Australia will have fewer restrictions than those who are not.
The vaccination debate has been raging in the tennis world since international competition began to resurface last year after a global shutdown.
Some players, including men's No. 1 Novak Djokovic, have argued that the decision to get the vaccine should be a personal choice. Others, including Andy Murray, have said it should be made mandatory in the interests of the majority.
Djokovic, who has won the Australian Open title nine times and shares the Grand Slam record of 20 men's titles with Roger Federer and Rafael Nadal, has not confirmed whether he has been vaccinated against COVID-19. If he doesn't get vaccinated, he risks missing the tournament he's won over the past three years.
The Australian immigration minister thought there would be no exceptions for anyone.
I have a message to anyone who wants to visit Australia: you need to get double vaccinated," Hawke told ABC. "That's a universal application, not just for tennis players.
At the US Open, which ended on Sept. 12, spectators were required to show proof of at least one dose of a COVID-19 vaccine to attend matches, although players were not required to get a chance.
Victoria Azarenka, two-time Australian Open champion and three-time runner-up at the US Open, thought that was a mixed message. She reached the US Open final in 2020, when no fans were allowed.
I find that a bit bizarre that fans should be vaccinated and players not, Azarenka said. So I think it's inevitable in my view that it will be made mandatory at some point, like other leagues do.
Both the men's and women's tours recommend that all players be vaccinated, but have so far not enforced it. Just before the US Open, about half of the elite male and female players were vaccinated.
Prior to the Australian Open earlier this year, all players had to be quarantined for two weeks and undergo regular testing under strict Australian regulations on COVID-19 measures.
Most were given limited time to practice, but anyone who tested positive or we considered close contacts of a positive case, which in some cases meant they were just on the same charter flight, had to perform a hard shutdown. Those players were not allowed to leave their hotel rooms.
Melbourne, which hosts season-opening races of the Formula 1 Grand Prix, the richest horse race in the Southern Hemisphere and the largest football crowd in Australia, has in recent months either closed crowds or moved sporting events to the other states during the lockdown months in recent months.
There are plans for crowds at the Australian Open.
____
More AP tennis: https://apnews.com/hub/tennis and https://twitter.com/AP_Sports
John Pye, The Associated Press
Sources
2/ https://www.coastreporter.net/national-sports/prospect-of-no-jab-no-visa-for-australian-open-tennis-stars-4527876
The mention sources can contact us to remove/changing this article
What Are The Main Benefits Of Comparing Car Insurance Quotes Online
LOS ANGELES, CA / ACCESSWIRE / June 24, 2020, / Compare-autoinsurance.Org has launched a new blog post that presents the main benefits of comparing multiple car insurance quotes. For more info and free online quotes, please visit https://compare-autoinsurance.Org/the-advantages-of-comparing-prices-with-car-insurance-quotes-online/ The modern society has numerous technological advantages. One important advantage is the speed at which information is sent and received. With the help of the internet, the shopping habits of many persons have drastically changed. The car insurance industry hasn't remained untouched by these changes. On the internet, drivers can compare insurance prices and find out which sellers have the best offers. View photos The advantages of comparing online car insurance quotes are the following: Online quotes can be obtained from anywhere and at any time. Unlike physical insurance agencies, websites don't have a specific schedule and they are available at any time. Drivers that have busy working schedules, can compare quotes from anywhere and at any time, even at midnight. Multiple choices. Almost all insurance providers, no matter if they are well-known brands or just local insurers, have an online presence. Online quotes will allow policyholders the chance to discover multiple insurance companies and check their prices. Drivers are no longer required to get quotes from just a few known insurance companies. Also, local and regional insurers can provide lower insurance rates for the same services. Accurate insurance estimates. Online quotes can only be accurate if the customers provide accurate and real info about their car models and driving history. Lying about past driving incidents can make the price estimates to be lower, but when dealing with an insurance company lying to them is useless. Usually, insurance companies will do research about a potential customer before granting him coverage. Online quotes can be sorted easily. Although drivers are recommended to not choose a policy just based on its price, drivers can easily sort quotes by insurance price. Using brokerage websites will allow drivers to get quotes from multiple insurers, thus making the comparison faster and easier. For additional info, money-saving tips, and free car insurance quotes, visit https://compare-autoinsurance.Org/ Compare-autoinsurance.Org is an online provider of life, home, health, and auto insurance quotes. This website is unique because it does not simply stick to one kind of insurance provider, but brings the clients the best deals from many different online insurance carriers. In this way, clients have access to offers from multiple carriers all in one place: this website. On this site, customers have access to quotes for insurance plans from various agencies, such as local or nationwide agencies, brand names insurance companies, etc. "Online quotes can easily help drivers obtain better car insurance deals. All they have to do is to complete an online form with accurate and real info, then compare prices", said Russell Rabichev, Marketing Director of Internet Marketing Company. CONTACT: Company Name: Internet Marketing CompanyPerson for contact Name: Gurgu CPhone Number: (818) 359-3898Email: [email protected]: https://compare-autoinsurance.Org/ SOURCE: Compare-autoinsurance.Org View source version on accesswire.Com:https://www.Accesswire.Com/595055/What-Are-The-Main-Benefits-Of-Comparing-Car-Insurance-Quotes-Online View photos
to request, modification Contact us at Here or [email protected]